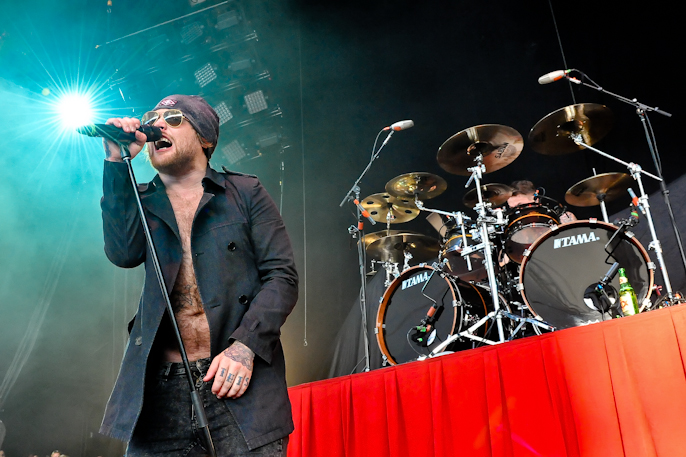 The Woodlands, TX – August 10, 2014. In the picturesque and nearly ostentatious Houston suburb The Woodlands, a motley crew of metal heads, substance abusers, and angst-filled hard rock acolytes converged for a day long high-octane music fest.  In what might be the longest title and location for a show — 2014 Rockstar Energy Drink Mayhem Festival at the Cynthia Woods Mitchell Pavilion — nearly 14,000 people crammed themselves into the two stage set up on the fest's last day of tour duty.
That oppressive ball of nuclear fusion in the sky was in full force, but that didn't stop anyone from adhering to the strict dress code for the black tee event.  The walking fashion show featured tops with skull encased band logos, pro-marijuana attitudes, and vulgar phrases that would make a morally corrupt Ozzy blush.  Leather masks that went over jaws and noses — a la Hannibal Lector — were inexplicably trending as well on this steamy Sunday.
The gender ratio was one bikini-and-cutoffs-clad woman for every 666th drunken man.  Ok, it wasn't lacking that much diversity, but as with most metal shows, female rockers were noticeably absent from stage — this issue is changing with growth in popularity with acts like Butcher Babies, Mortillery, and Austin's Ume.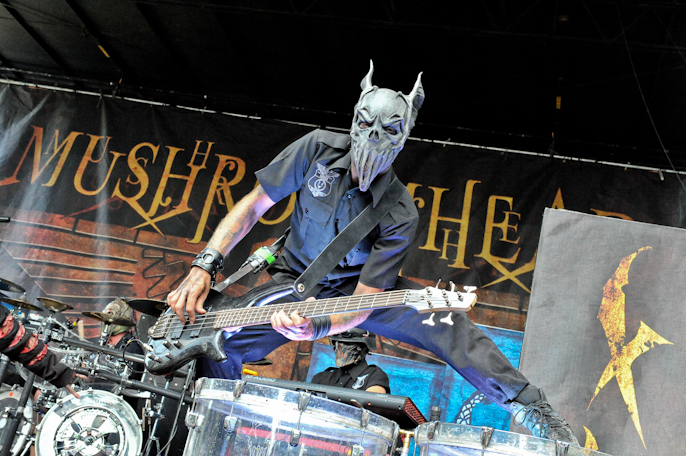 I made my way to the Coldcock Whiskey side stage where I saw nine-piece masked industrial metal band Mushroomhead. Drums with water-splashing effects every time the skins were slapped, rap-sung-scream deliveries, and blunt basslines made for a mosh-worthy set.  "Our Apologies" and "Empty Spaces/Born of Desire" did the most in the aggression expelling department–with the latter seeing a couple of guised band members body surf.
You don't stick around for two decades like Mushroomhead without a dedicated following, and though some heat-indifference could be felt halfway back from the stage, the group's live performance is as rock steady as it's ever been.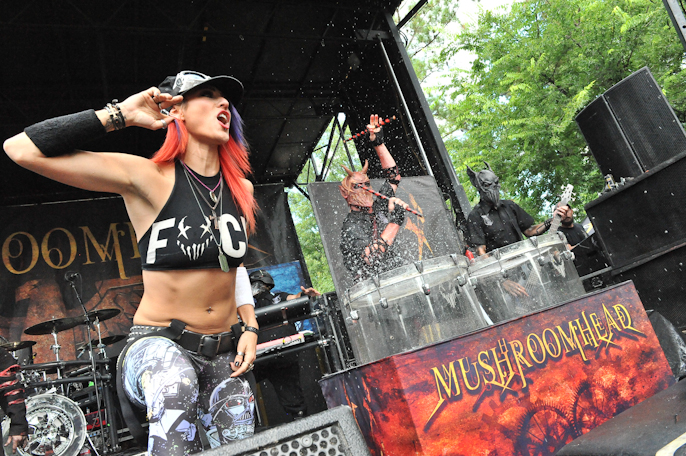 There was extreme deathcore energy and an antagonistic demeanor from Emmure's lead singer Frankie Palmeri. Emmure assaulted the crowd with pillaging riffs, vexed groans, and unabashed angst.  In textbook divisive Emmure's fashion, "Bring A Gun To School" was focused on sending shockwaves rather than going for shock value, which it achieved.
The crowd embraced the bitter nu-metal moments of "Most Hated."  Love or hate Emmure–it's worth googling the band to read the laundry list of online disdain thrown their way–the band does whatever it wants and on this day they wanted to "fuck shit up" as they would say–and did.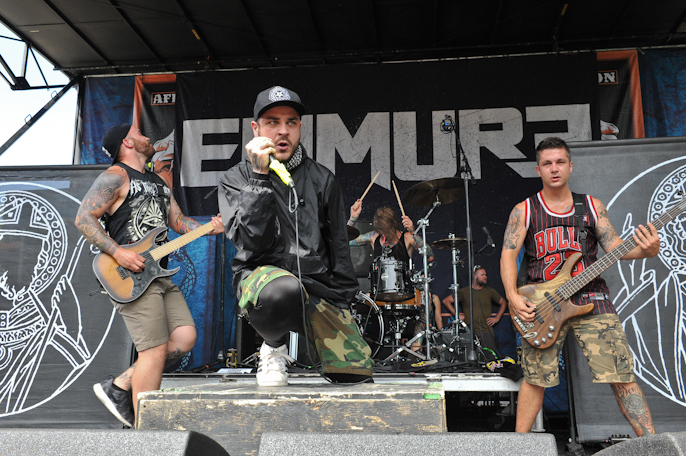 The highlight of the Coldcock Whiskey speakers and scaffolding area was Miss May I.  A 25-minute concert suspension due to thunderstorms–which never came–couldn't stop this metalcore band's unadulterated willingness to rock.  Frontman Levi Benton plays the part of conductor well.  He stops on a dime when going from guttural death rattle to clean vocals while the band is consistently playing at break-guitar-necks speed.
"Relentless Chaos" boasted video game shredding and contagious hooks.  "Day By Day" teetered on screamo at times, but finished heavier than it started.  After the precipitation-free rain delay, "Gone" saw a man leave the stage in a blue elephant costume–and a GoPro strapped to his chest–and led a mobile circle pit around the premises.  Before a "Hero With No Name," Miss May I asked for members of the military to raise their hands so we could all praise them and thank them with a beer on us.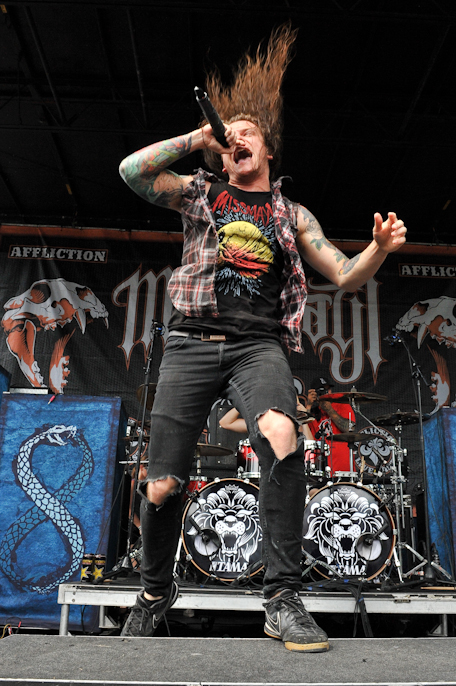 After a trip to the press tent for interviews, I unfortunately was only able to catch one song of Cannibal Corpse, and a stanza of Trivium. The consensus of the few people I asked was that Cannibal Corpse was aggressive, and Trivium put on a helluva performance.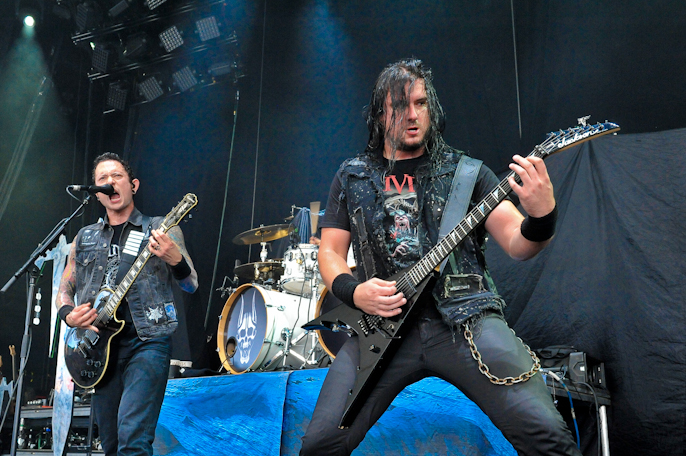 Now it was time to move to the amphitheater. 
A drum solo kicked off Asking Alexandria's set as the English metal act sauntered onto the floorboards while the largest response heard up until this point was given.  The sociopathic "Don't Pray For Me" got everyone singing to the canopy during the melodic chorus and scathing during the pulsing verses.  "Run Free" was an anathematic luxury most had not yet been afforded that day.
Acoustic axe in hand for the power ballad "Moving On," it was clear that there practically wasn't any style of rock singing that Danny Worsnop couldn't croon.  Introspection, bpm blasting, and sorrowful riffs in "The Death Of Me" beautifully put a button on a stirring set.
(see additional photos on our Facebook Page)
Check out part two for a Korn interview, and Avenged Sevenfold review.
Review by Donny Rodriguez