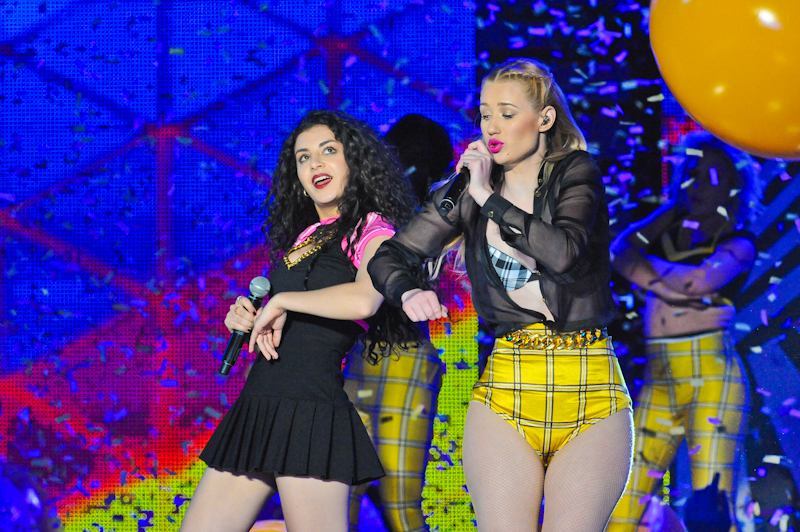 March 13, 2014 – Austin, Texas: Buzz bands, brisket, corn-syrup soda, and airborne condoms, welcome to the 2014 mtvU Woodie Awards.  Occupying an otherwise empty lot off of Cesar Chavez and Red River, the Woodies went from a non-televised mid-day music fest, to a lights, cameras, and action packed award show, sort of.
Two makeshift stages were set side by side as to alternate between acts quickly and limit the amount of time consuming striking and setting up.  Each band was to play a 30 minute set.  This was perfect for the largely college-aged, ADD crowd who were perpetually taking photos, then posting said pics to social media, then stayed tuned to the results in real time to see if any of their friends or followers, liked or favorite'd the image.
In all fairness, among the fresh-faced multitaskers, there were some astute indie rock and underground hip hop fans lusting to latch on to the next big thing.  The silver-tongue, breakout star of MTV's Girl Code, Nessa came out to introduce the festival's first band, Wild Cub.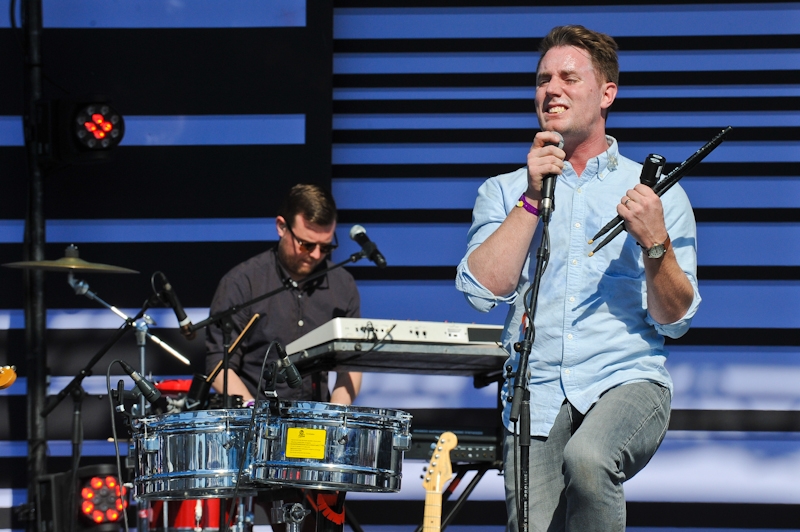 Hailing from Nashville, but looking like they are from the hipster-mecca in Los Angeles — Silver Lake, the four piece band christened the stage with the synth-pop track "Colour".  Lead singer Keegan DeWitt's voice is airy and growly when he has to come down and catch his breath.  In "Thunder Clatter", Paul Simon-esq riffs danced with seductive melodies, and three-man drum circle.
Vic Mensa out of Chicago was brought on to stage by the events other host, MTV elder, Sway.  Mensa and his DJ wasted no time getting all to transform this open-aired grounds into a roof raising get down.  The rapper has a Drake vibe, but with a more agitated message, and rawer flow.  Mensa asked two ladies to get on stage and then proceeded to serenade them with a joint that was about a threesome.  As raunchy as it sounds the gals and the audience of consenting adults had no problem with this.  Who says romance is dead?  Vic Mensa is a showman with passion for days, go see him live.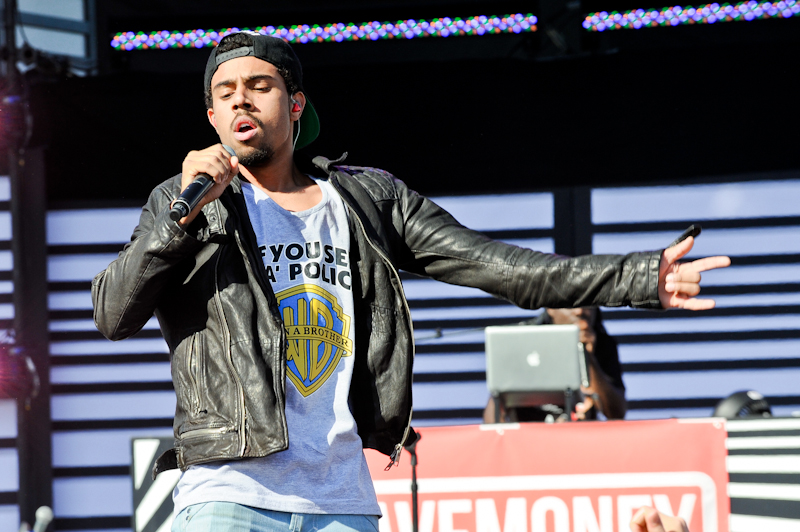 So-Cal sibling band, EchoSmith was the first band where you could sense that members of the crowd were aware of their music prior to today.  Lead singer, and the only female of the brood, teenaged Sydney Sierota bared a striking resemblance to pint-sized actress Anna Kendrick.  That's not where the similarities to other artists stops.  The band's sound—and even look– reminded me of the indie-dance-pop era and the now dissolved group Rilo Kiley.  I couldn't help but overhear two girls next to me say that Sydney reminded her of Haley Williams of Paramore to which their male counterpart quipped, "Para more-or-less".  EchoSmith is a young band with a major record label deal under their belts.  The musicianship is there, Sydney's vocal range is nothing short of impressive, EchoSmith may not be now, but they're certainly next.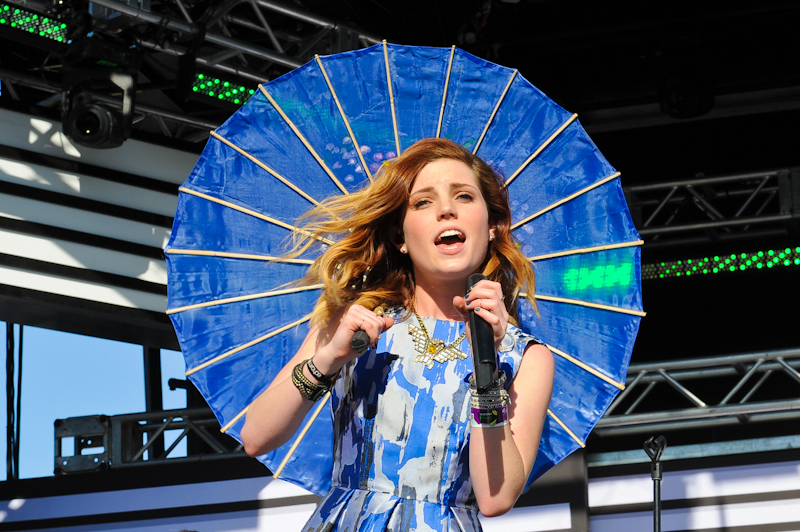 The most accomplished star of the fest was undoubtedly, Jack Antonoff of the band fun.  The Oscar nominated Antonoff's current side project is the new aged New Wave, Bleachers, where he pulls double duty as frontman and lead guitarist.  There was not one note in their set that didn't set out to be epic.  Antonoff's lion-heart is on his sleeve with catchy, emo-concious lyrics in songs like "Shadow" and anthems like the radio hit "I Wanna Get Better".
Three piece, English trip-hop band London Grammar mellowed out the crowd with the atmospheric brand of hymnals.  Hannah Reid's vocals have a Lana Del Rey cadence, but Ms Reid is far more active and moves dexterously through octaves.  Low level BPM's on the drum pads, sustained keyboard chords, and high fret guitar parts make it easy to be distracted by your own reflection, and that's a compliment to how complex their peaceful music is.  Download the track "Strong", if you don't believe me.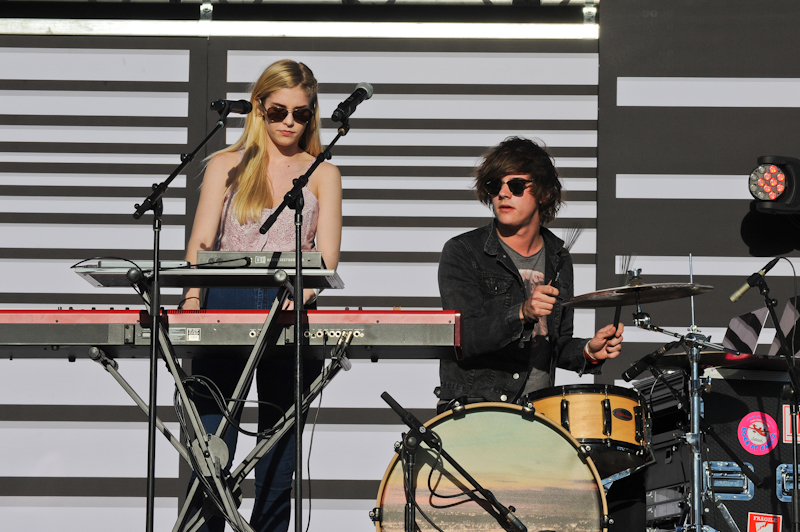 Sam Smith is a powerhouse R&B vocalist.  The UK crooners falsetto is euphoric.  His songs scream of desperation without the stench of being desperate, â la Adele. Throughout the night, a concert goer started a hilarious trend of blowing up the free condoms that were handed out into balloons and setting them adrift.  During "Leave Your Lover", the instinctively sophomoric males, didn't launch a single prophylactic, this was baby making music, you're gonna need those fellas.
NYC Electronic Dance Rockers Phantogram, had the largest legion of fans out of all the bands playing the festival chunk.  With her pageboy haircut, and gold striped black pants, lead singer Sarah Barthel was theatric in her movements, and cinematic with the script she sang.  "Fall In Love" wasn't a suggestion, it was hypnotic chant that forced you to do the bidding of the Dub-Step, EDM, Hip-hop hybrid hook.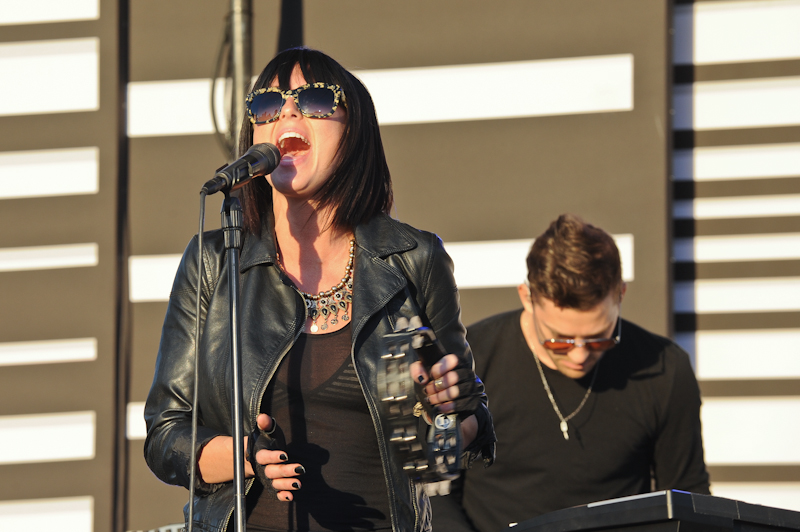 The last band to go on before the award show portion started was American Authors.  No group on the bill was as Top 40 radio ready and poised to break as American Authors.  Their indie-pop sound is truly a blend of their backgrounds–they are Berklee College of Music grads who have been living in Brooklyn. Their tune "Luck" has Mumford and Son's strumming and percussion with One Republic grandiose harmonies. The optimistic "Best Day of My Life" is already a battle tested hit, but the group insisted on giving it their all in a memorable performance.
Spoiler Alert: Commencing Award Show Results and Review: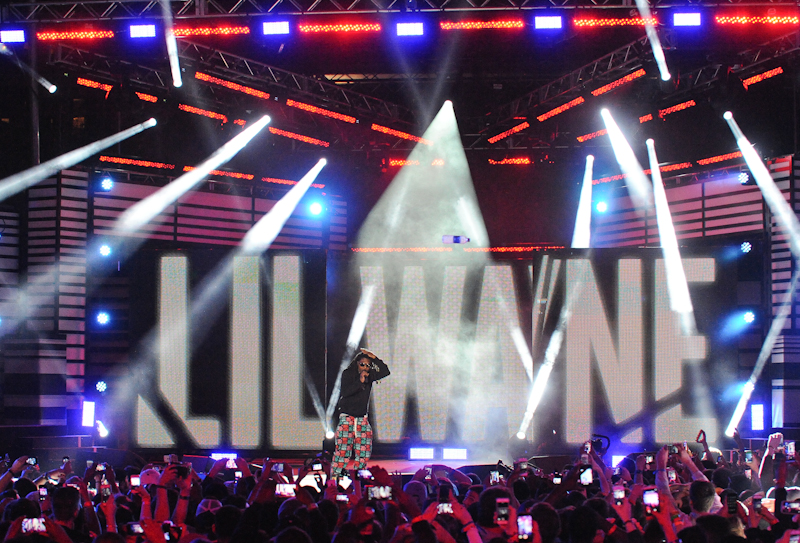 The lights ceased for ten seconds, and when they returned, they had surprise guest Lil' Wayne in tow.  With his trademark explosive stage presence, Weezy, devastated the award show attendees with four verses and abruptly went into a the spoken word intro welcoming the soon to be TV audience.  We'd been had for TV ratings.  The crowd was a Lil' disappointed.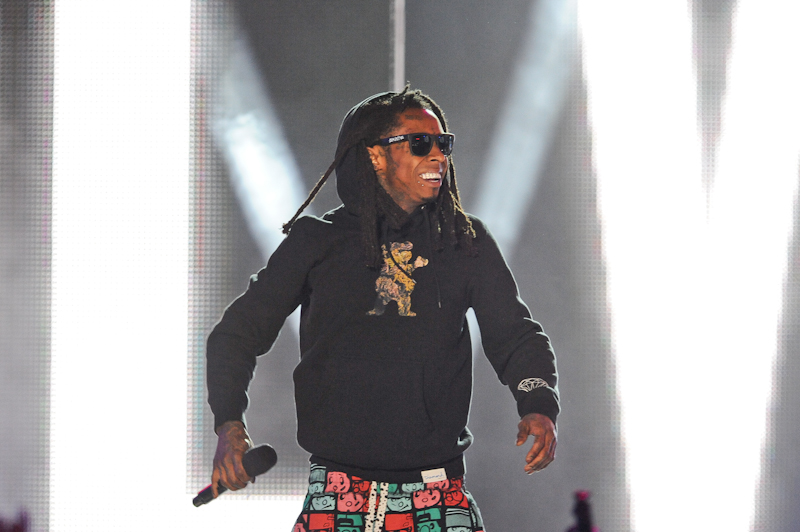 In efforts to redeem itself, the show saw the prompt ushering of Manchester alt-rockers, The 1975's.   Nimble lead guitarist/singer Matthew Healy plays the role of heartthrob just about as good as he mans the axe and scales vocal scales.   The track "Girls"–which has the essence of Whitney Houston's "I Wanna Dance With Somebody"– got everyone's attention.
After their five song set, The 1975 won the Woodie for Breaking Woodie, to which Healy said in his acceptance speech he plans on getting "turnt up"–American slang knows no boundaries.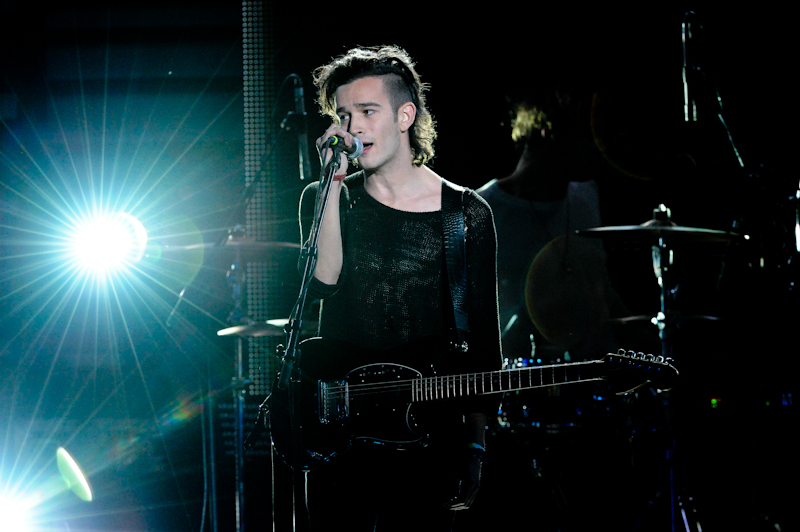 Down-under rap sensation, Iggy Azalea, put on the kind of show that's usually reserved for huge events like the MTV VMA's.  Confetti, memorizing video graphics, and oversized beach balls made sure the level of visual quality matched the audio.  "Fancy" featuring  Charli XCX, highlighted the incongruity between her lovely exterior and course rhymes.  Azalea is not a diva, she's the boss.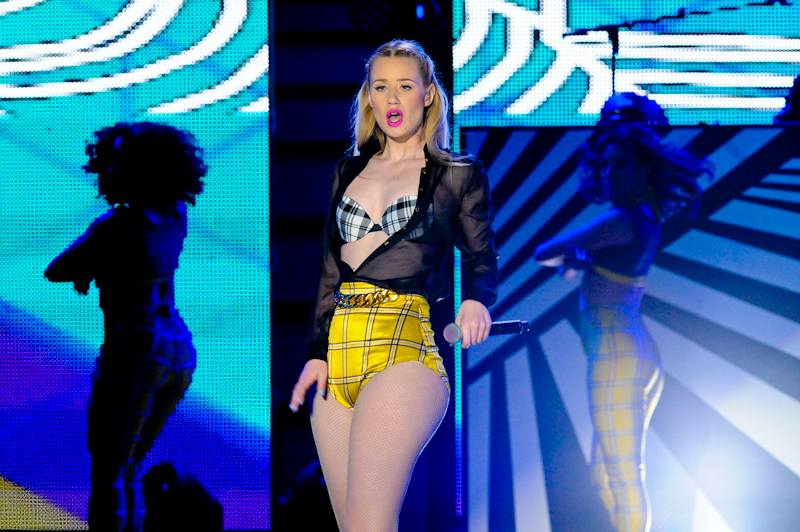 Cute young (and talented) actors Shailene Woodley and Theo James promoted "Divergent", a young adult fiction series come movie franchise. Alright, now that that's out of the way, let's drum up some excitement and have them hand out the Performing Woodie.  And the winner was, Ed Sheeran, who was not in attendance.  Buzz kill.
It's time for another award, the Woodie of the Year.  Wiz Khalifa received a huge pop when he came out to present.  When he announced Drake as the winner, a bigger roar wrapped around the venue.  "Unfortunately Drake..", everyone knew what was to follow.  Accepting the award on Drake's behalf was Lil Wayne. Another buzz kill.
Decorated alt-comic Hannibal Buress, introduced to the stage his friend and fellow comedic actor, Donald Glover aka Childish Gambino, but not before a jarring but funny joke about internet porn and racism that probably won't make the telecast.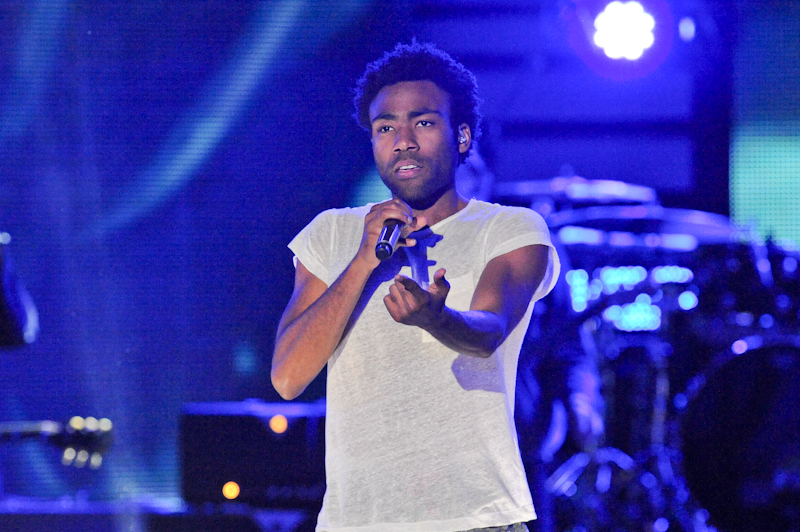 TV Cameras were locked on a dark figure in the shadows.  A string of LED lights were strung haphazardly to what looked like a sweater on Gambino's body.  Bars to "3005" were uttered as the figure moved through the crowd.  A five-piece live band awaited him on stage.  Once Childish Gambino got on stage, he shifted into singing the hook of the ditty.  It's apparent the he's a one man do-it-all performer.  He chooses to collaborate on his own rap song by tapping himself to sing the chorus.  The only other R&B singer/Rapper that can pull that off is Pharrell.
Donald Glover is a swiss-army knife performer,  he's a stand-up comedian,  a regularly working actor, and his first two albums (Camp and Because the Internet) have combined to sell nearly 500,000 units in an era when album sales are near extinction. Donald was the star power the show needed.  He's like a human BuzzFeed with all the pop culture references in his slideshow of verses.  He optimizes the mtvU spirit.  The delicate "What Kind of Love", and the beast mode "Sweatpants" show his true chameleon nature.  Gambino won the Woodies.
The Woodies didn't feel like an award show, it was more of a party. Celebrate with the telecast this Sunday at 8pm.
Review by Donny Rodriguez