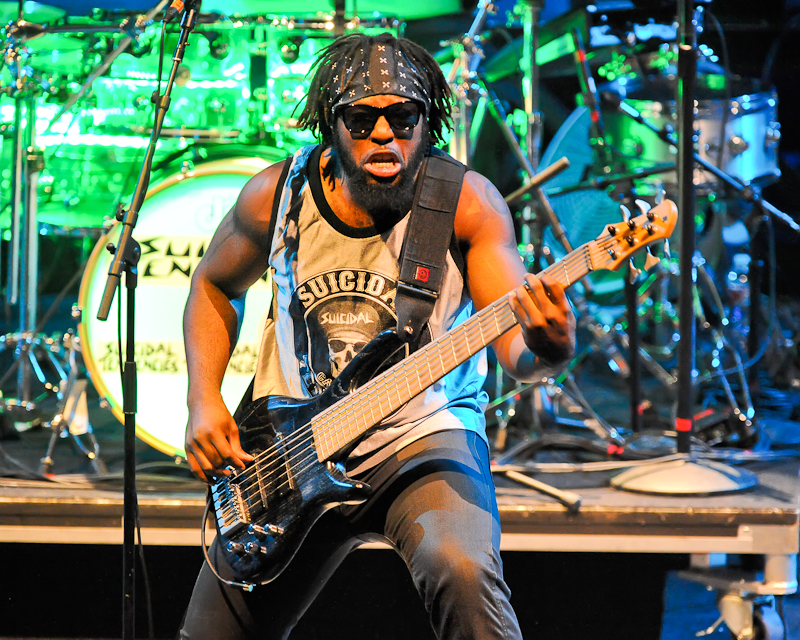 Austin, Texas – November 20, 2014: In the Christian Bible Jesus turned water into wine, but on tour Slayer turns music venues into mosh-pits and boring Tuesday nights into full-throttle metal outings. Following a busy summer tour schedule, Slayer has continued touring heavily this fall season. However, the thirty-three year old band shows absolutely no signs of slowing down or tiring, as they absolutely slayed the crowd with a high-energy performance on Tuesday night.
Exodus and Suicidal Tendencies joined Slayer at the Moody Theatre, creating the complete Rock Trinity on this tour. It comes as no surprise that venue was absolutely sold out for this night of hard rock music. Personally, this was my first time to catch any of the three bands, and I had an incredible time people watching the aggressively spirited mosh-pitting from my balcony seat. There are few things in life comparable to the energy of a metal show mosh-pit, especially when the legendary Slayer is involved.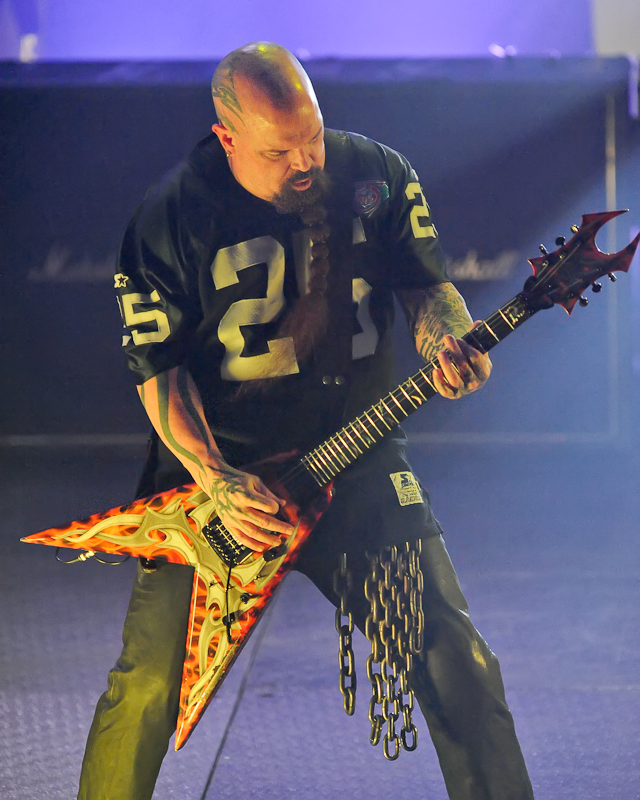 Having been nominated for five Grammy Awards and winning one in 2007 for "Eyes of the Insane" and in 2008 for "Final Six" from Christ Illusion, Slayer has earned their stripes in the metal community since their inception in 1981. The band has withstood and thrived through public criticism for their lyrics covering controversial topics like Satanism, serial killers and anti-religion.
Since Slayer has been around and rockin' it for quite some time, it was to be expected that Tuesday night was not the original band. Founding member and former guitar player Jeff Hanneman passed away in 2013. Dave Lombaro, another founding member and former Slayer drummer was fired from the band in 2013 (after already resigning and coming back in 2009). Jon Dette, who was Lobaro's fill in drummer, is no longer with the band either.
The packed theater waited in anticipation for Slayer to finally take the stage after Suicidal Tendencies' set. A giant curtain shielded the band in the moments leading up to their grand intro, then in one gloriously metal moment the curtain dropped and revealed the full legendary band now consisting of Tom Araya, Kerry King, Paul Bostaph and Gary Holt in all of their rockstar splendor in front of four upside down crosses and the notorious Slayer skull. The band immediately gripped the crowd with their heavy rock sound and intensely seizing strobe lights.
Shortly into the set, the band took a moment to reflect and Araya thanked their fans for longtime support. During this time a vast majority of the audience held up their metal horns, even most of the balcony seating audience took this opportunity to demonstrate their respect with a standing ovation.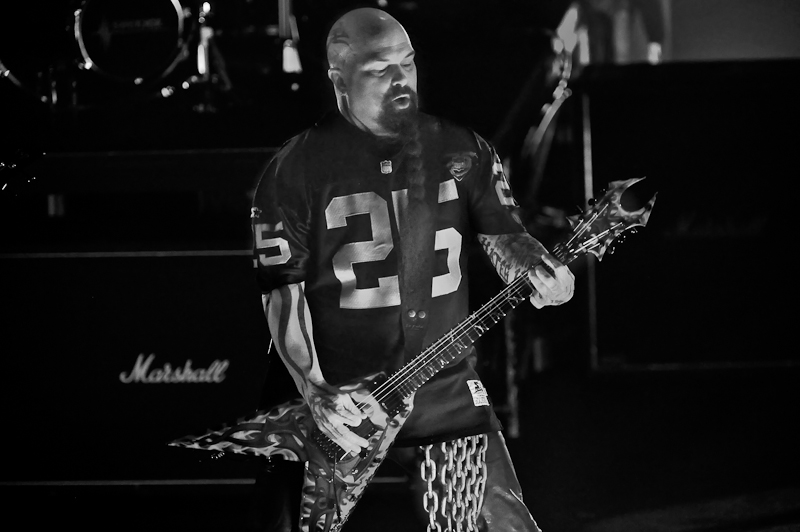 Slayer made it a point to switch between new and old material, which kept fans of all generations on the edge of their seats. The band whipped out "At Dawn They Sleep" from 1985 album Hell Awaits, in which Araya let the crowd know was for all blood sucking creatures. Staying on the morbid note, Araya later announced "Dead Skin Mask" as a love song for his wife about when you have so much passion for someone that you want to kill that person. He explained to the crowd that's what passionate love is, then the band proceeded with a full fledged passionate rock out.
The band's performance of "Angel of Death" was perhaps the show's highlight. In a moment of intensity the backdrop of four upside down crosses and the skull fell to reveal a new backdrop that stated "Angel of Death: Hanneman – Still Reigning". This was a tribute to deceased founding member Jeff Hanneman who actually wrote the "Angel of Death" song.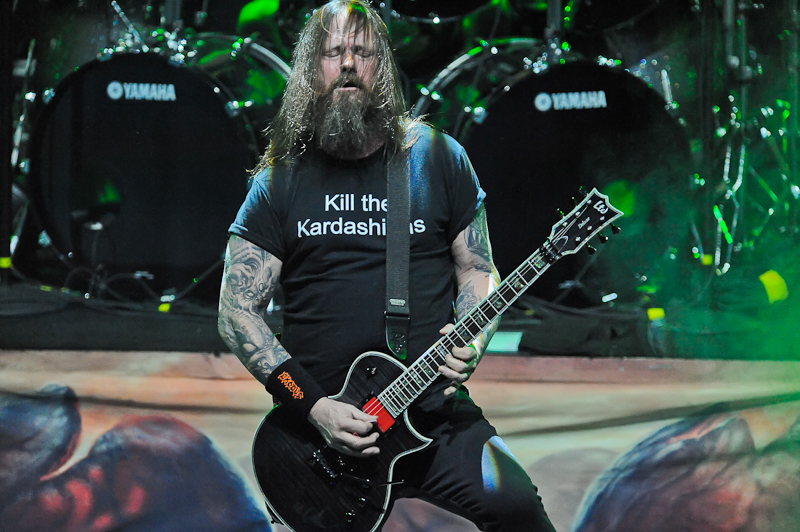 Prior to the Slayer climax, California-based thrash metal band Exodus opened the night in their signature zombie metal-esque fashion. Exodus definitely knows how to make a statement with a background of flesh eating zombies, and guitar player Gary Holt wearing a shirt that read: "Kill the Kardashians". Additionally, vocalist Steve Souza did a great job of hyping up the crowd during their early opening set. He ran around the stage and demanded the balcony crowd get out of their seats.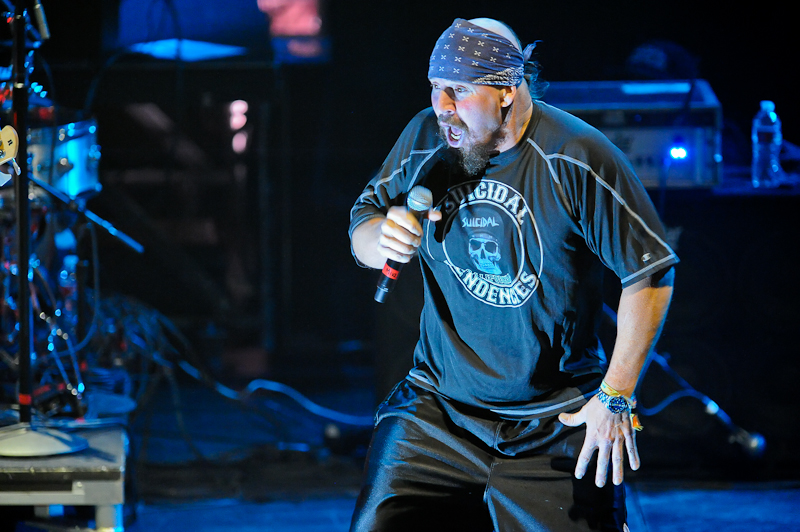 "Let's see that fucking pit Austin, you know how to do it," Souza said to the crowd. The moshing then ensued.
Suicidal Tendencies kept the energy high and floor crowd moshing as they took the stage shortly thereafter. They opened up their set with an "ST" chant that the entire audience joined along with in unison. The band rocked through songs "War Inside My Head" and "Freedumb", then took a heartfelt moment to introduce skate punk anthem "Possessed to Skate". They explained the song is about conviction and knowing what you did wrong to get back up. It was introduced as a skateboard anthem for those who skate, as well as for those who skate through life.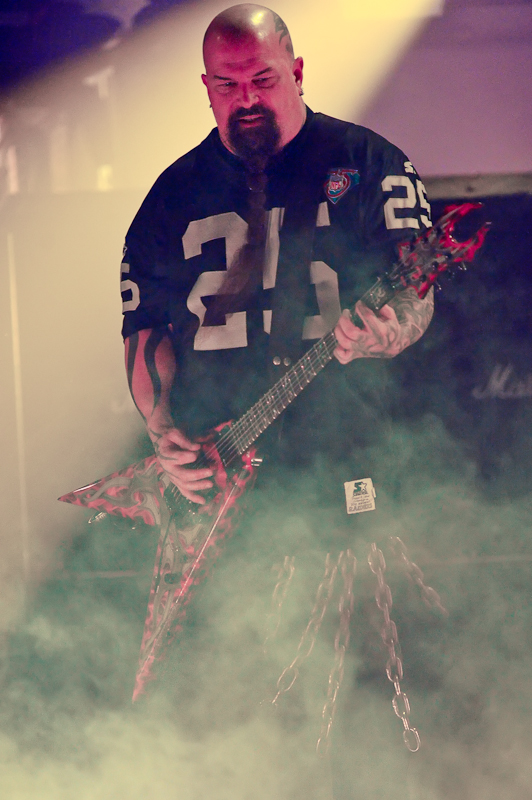 Tuesday night's show was definitely a bit out of my element, but I enjoyed every moment of the chaos. I don't typically listen to thrash metal, but catching Slayer, Suicidal Tendencies and Exodus live was a hardcore and high-energy experience that I will never forget. The full rock trinity was the ideal introduction to a new realm of live entertainment.
Review by Jacki Moon