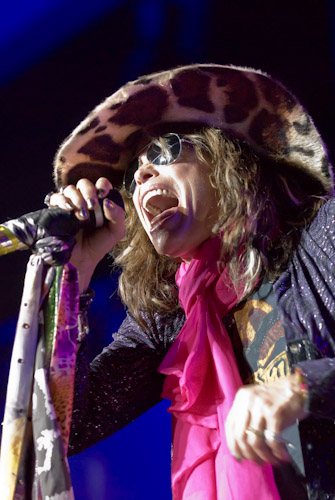 Thursday night August 5, the stage at the Cynthia Woods Mitchell Pavilion in Houston was cleansed of bad karma and evil spirits with a large burning bundle of sage just before Aerosmith took the stage. The lights were low, the humidity in the open air pavilion about 100% and the giant curtain with the Aerosmith logo hang in front of the stage.
Earlier in the evening, what seems to be the happiest rock star on the planet, Sammy Hagar warmed up the audience with his rock-n-roll form his Cabo Wabo Cantina. Sammy still can't drive 55, but he can jump 6 feet in the air!
As I was standing in the world's smallest photo pit, I looked behind the curtain and saw Joe Perry take his spot, and Steven Tyler was dancing and gyrating to ready himself for the curtain to drop. The curtain dropped to a thunderous applause, and they played "Train", "Elevator" and "Fallin' in Love" in a rocking and wild succession. Steven Tyler was all over the stage, left right and running down the long center stage towards the audience. Joe Perry was like a rock in the wind, literally, the air fans on the stage must have been 5 feet in diameter and blowing out gale force wind causing Joe Perry's hair to blow back as if he was captain Ahab standing on the deck of the Pequod. Joe Perry must have an excellent stylist, he looked great and with an amazing tan, or maybe good make up. His guitar playing, as usual, was spot on. Hard to notice all the drama swirling around the band during the past few years. The not-break-ups, stage falls, rehab, motor cycle accidents, string of canceled concerts, and now the American Idol surprise disclosure by Steven Tyler. But as Joe Perry said on The Cowhead Show "..we take this playing live seriously… I have so much regard  for our fans and so we put out 110% and now it's a 120% … when the curtain goes down it's like 1971…"
Steven Tyler wore some strange long, purple shimmery nylon looking robe that might have looked better on an elderly lady with blue hair. The scarf around the face seemed kinda odd also. After the second song, he got rid of the robe and scarf and just concentrated on the songs and the show. Once the third song was over, the photographers were escorted out of the photo pit and out of the venue, hence I can't report on how the rest of the show was. But be sure to check out the 27 images photo gallery!
The complete set list included: Train, Elevator, Fallin In Love, Edge, What It Takes, SOS To Bad, Last Child, Cryin', Come Together, Stop Messing, Miss a Thing, Sweet Emotion, Baby Please, Draw The Line, Dream On, Walk This Way, Toys.