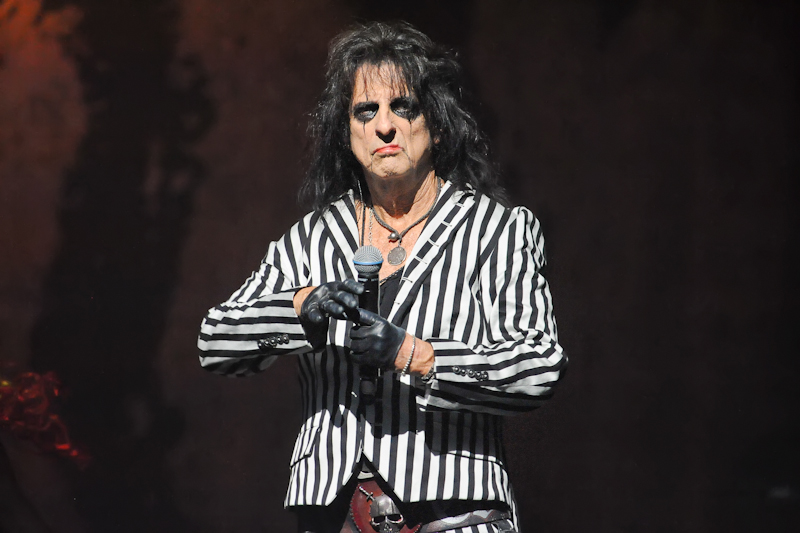 Alice Cooper has discovered the fountain of youth. I'm certain of it. One who is uninitiated in the realm of Cooper's live shows might wonder if (and how) a man of 68 years of age can still convincingly put on a rock and roll metal show. Well, to the uninitiated, I can confidently state that yes, the man can still rock; as to how he does it… I can only assume heavy doses of black magic and sorcery are used. Ladies and gentleman, when Alice Cooper comes to Austin he brings Hell with him.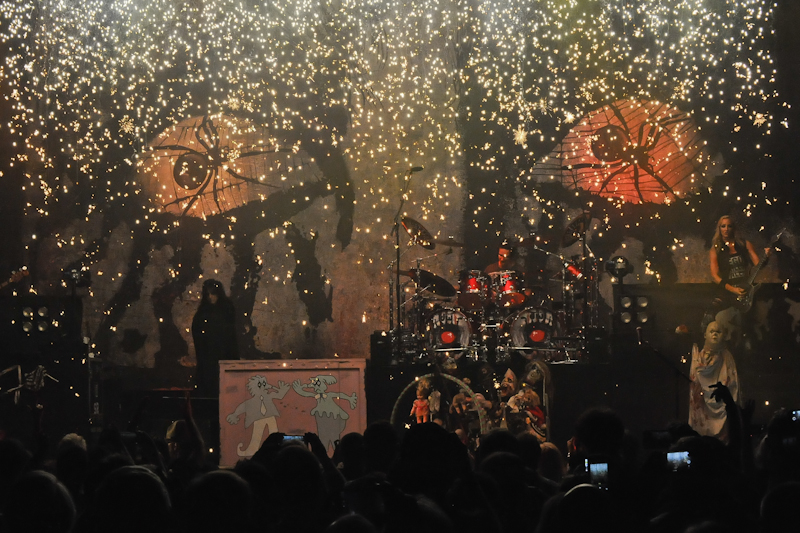 The stage at the ACL Moody Theater was covered in a dark curtain, and covering the curtain was a close up on two eyes, each with a sinister black spider couched inside where an iris and pupil should be. Once the lights were dimmed and this veil was lifted, the crowd erupted. Alice Cooper himself wasn't even out yet, but his band was, and they're all rock legends in their own right. An unholy trinity of guitar, Tommy Henriksen, Ryan Roxie, and Nita Strauss brought the ground floor to its feet easily. Chuck Garric ripped his bass along with them, long black hair swaying rhythmically back and forth. Above them all, on a fully loaded drum kit was Glen Sobel in a skeleton t-shirt. He pounded out a driving beat for the electronic ripping below, flipping his sticks along for additional flair.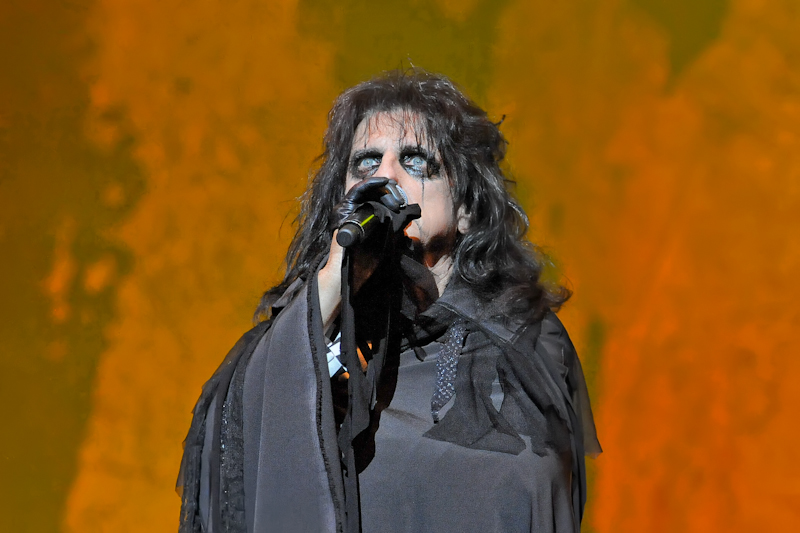 When Alice Cooper arrived on stage, people flipped out. The man carries a presence with him that borders on the uncanny. He looks like something out of a child's nightmare, with pinstripe black and white pants along with a tattered shirt and coat. The stage is littered in playroom paraphernalia. Mannequin-like dolls litter the stage, some with bodies, some without. Below the drums is an array of toys, only it looks like a set-up for a devils' playdate. Torn off doll heads decorate the display alongside hula hoops… and maybe weapons? It looks like a daycare Satan would run, or pick to send his kid to. A large pink toy box is tucked away on stage between the levels leading up to the drums, and it pops open when Alice gets to the front. A lithe little minion covered in bright rainbow garb jumps out and delivers Cooper his signature cane. The Evening with Alice Cooper has officially begun.
The band launches into 'The Black Widow,' which makes sense because before the curtain was lifted we heard the little bit of dialogue that precedes the track on the album, Welcome to My Nightmare. Cooper used this trick to great effect throughout the show, employing the creepy vocals before a lot of different numbers. As soon as the Widow is over, the band flew into 'No More Mr. Nice Guy' keeping the crowd on its feet and singing along.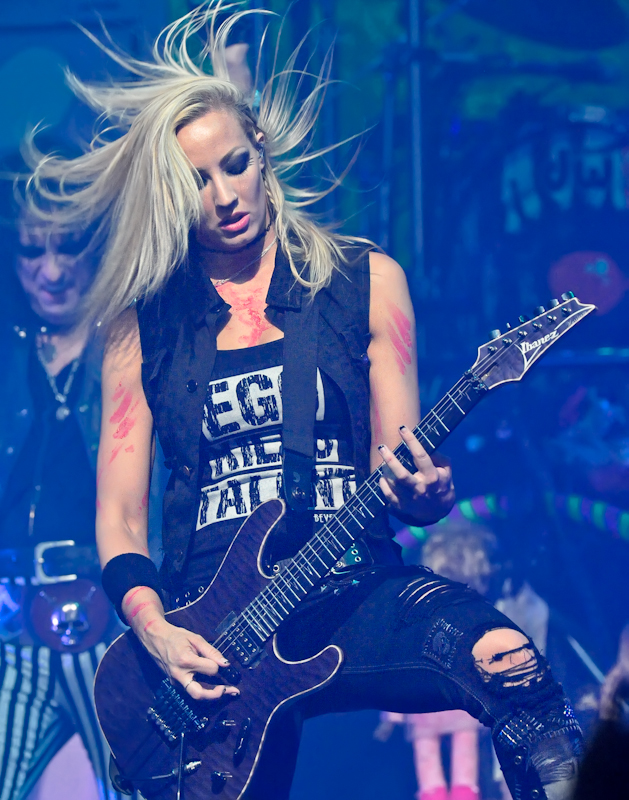 And it may be hard to believe, but for the next 2 hours this energy is kept and thrust upon the crowd with little room to rest. Even the moments where costumes needed to be changed, or props brought to the stage, Alice Cooper and his goons of Goth managed to keep the rock flowing. Nita Strauss took center stage for the first costume change. She was frequently running backstage herself to change guitars. The woman is a master of the axe and she isn't even thirty yet; it's metal magic to watch her shred, and shred she did. Her fingers traced the strings, pulling of licks of straight from the underworld; she worked the whammy bar with a gleeful wickedness. Later Garric thumped along, backing up Sobel in a drum solo that I'm fairly certain literally melted faces in the front row.
Nasty guitar duels were also common, most often by Roxie and Stauss, leaning on each other, pushing on one another, pulling out riffs and ripping across arpeggios without looking at their fingers. Alice himself owned the stage with a masters' ease, directing his guitarists around sometimes like a torturous school teacher or corrupt conductor; he doles out shoves or kicks, orders guitar solos, commands a performance, and the band obliges. If Alice didn't have a mic in his hand, it was in a holster at his hip and he had a bladed weapon or cane instead. Sometimes he used both. This is a rock metal icon that is half-musician half-magician. No, scratch that. Wizard. Or maybe warlock would be more appropriate. We see Alice get turned into a 10 foot tall monster in "Feed My Frankenstein," and then later get decapitated by a guillotine. e dances with a life-sized stuffed doll, murders her, and then performs a disturbed performance of "Only Women Bleed" as the doll comes back to life and dances around the stage as a macabre wind-up ballerina. It's a moment of weird that is ratcheted up to 11 by the grim tenderness that pervades the performance.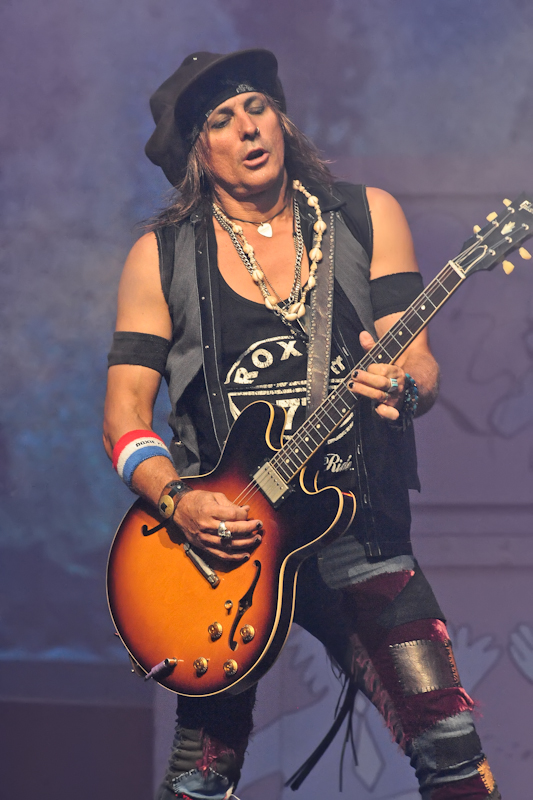 After Alice comes back to life, we understand—in part by a voice-over speaking to us and Cooper—that Alice Cooper has once again cheated death. Fog dissipates and Alice is alone save for gravestones of former rockers legends. I spy Jimi Hendrix, and one I think that reads John Lennon. Soon the band rejoins Alice and they launch into a medley of tribute to the deceased members of Alice Cooper's rock family. It starts off with Pinball Wizard as black curtains in the back drop down to reveal "Keith Moon 1946-1978." After that David Bowie is revealed and we're treated to a crunchy, raucous cover of "Suffragette City." Next is a nod to Lemmy, as the group, this time in large part led by Garric, blast out "Ace of Spades."
The whole show ends on "School's Out" and by then, we're all changed by the rock that has taken place before us. In fact, during one of Strauss's shreddings in front of the audience an overzealous caveman of a fan reached out, attempting to touch the Rock Goddess. She brushed him aside with a flourish of the guitar pick, and I think he might have burst into flames right then and there, scattered across the Moody as ash.
Alice's voice seems un-phased by the years. He growls, yelps, and roars with a quality that some young rock-emo singers would sell their soul for. His guitar players were frequently at mics as well, helping to blast us with a wall of vocals and rock harmonies. Of course there's an encore, and what song could Alice Cooper possibly top his most famous one with other than his new single "Elected." Carrying echoes of the Ramones, this punk-metal number is decidedly classic Cooper. He moans about the state of the world and then shrugs with a sneer "I don't care!" Then singing, yelling "I wanna be ELECTED!" Zombie caricatures of Hillary and Trump appear on stage during the song, beating each other to a pulp before the Tangerine Tyrant carries Clinton off, leaving only Alice and his cast of musical cretins. The number ends, appropriately enough, with fireworks.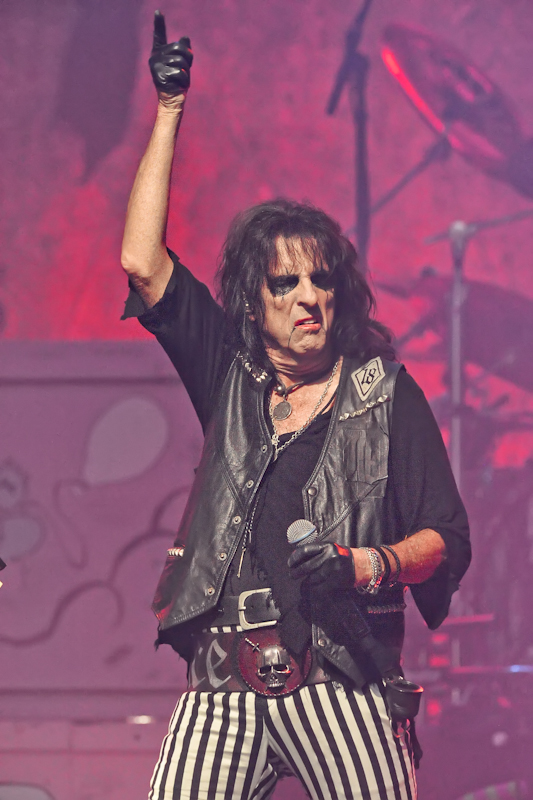 As the band gets together for a final goodbye, throwing picks into the audience for those who weren't lucky enough to snag one of Alice's canes, the rest of the cast and crew come on stage as well. For this kind of spectacle of a show Alice Cooper knows it takes a team to pull off the dream, ah, err… nightmare. All parts of the show are recognized and celebrated. We're clearly grateful for these masters of metal and they genuinely seem grateful towards us, the fans. Despite the pageantry of horror we have all just witnessed, there is a sincerity here that a lot of rock performances fail to reach. After experiencing an evening like that, I found myself thinking one thing walking to my car in the humid, drunken Austin night. It was an inane, cryptic thought, but it sounded right bumping around in my skull. It went something like this: Alice Cooper For President 2016.
Review by: Shane Gannaway