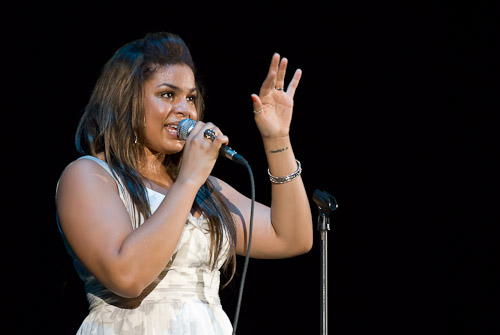 Tuesday night March 16, Jordin Sparks, season six winner of American Idol, sang at Rodeo Austin. The rodeo events in Texas have become quite impressive concert venues not only for major country music stars but also rock and pop stars. Jordin's band consisted of Jin Joo on guitar, Jesse Stern on bass, Michael Bedard on drums, and Scotty Granger on keyboard with back ground vocals Devan Michael, Leah LaBelle and Brandon Winbush.
At age 17, Jordin was the youngest American Idol winner. In addition her self titled album sold 2 million copies and her single with Chris Brown was the most paid downloaded song by any American Idol contestant ever with 4 million digital copies sold.
As usual at these rodeos, there are the bucking broncos, bucking bulls and bucking everything else on four legs. After all the animals were either roped, subdued or wrestled to the ground it was time for the circular stage to be rolled out to the middle of the arena. Jordin was driven up to the stage in a pickup truck as the audience whistled and clapped. This was a family crowd consisting mostly of parents with young children and teenagers.
It is no wonder that Jordin won American Idol, she has a power full voice and wonderful stage presence, she connects with the audience in a special way, the audience loved her performance. Because she has no gimmicks, all the focus is on her performance and voice, which usually is a good indication that an artist will be around for a long time.