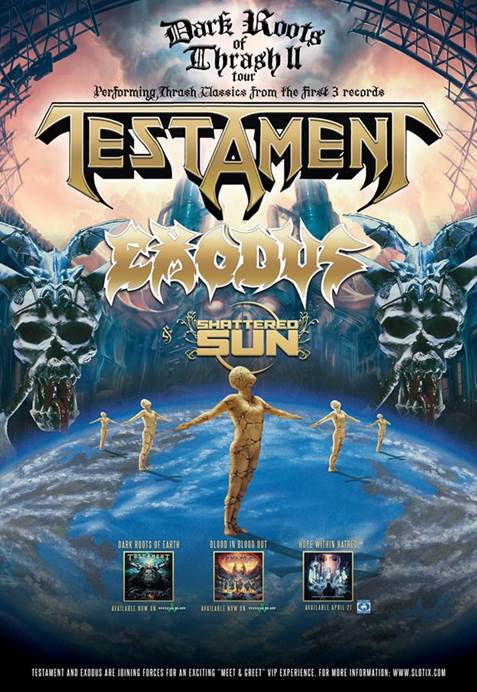 Bay Area thrash metal giants TESTAMENT recently announced what will surely be the greatest heavy metal tour of 2015, the Dark Roots of Thrash II tour! The Dark Roots of Thrash II tour will include support from fellow Bay Area-thrashers EXODUS and Texas melodic metal assailants SHATTERED SUN. As of today, several new dates have been added to the run, including dates in Philadelphia, PA, Cincinnati, OH and more. See below for all new dates, listed in red.
All tickets go on sale on Friday, February 27th – visit venue web locations for more ticketing information.
TESTAMENT, EXODUS and SHATTERED SUN "Dark Roots of Thrash II" Dates:
04/01/15   Regency Center Grand Ballroom – San Francisco, CA
04/02/15   House Of Blues – Hollywood, CA
04/03/15   Livewire – Scottsdale, AZ
04/04/15   Sunshine Theater – Albuquerque, NM
04/06/15   Aztec Theater – San Antonio, TX
04/07/15   House Of Blues – Houston, TX
04/08/15   House Of Blues – Dallas, TX
04/10/15   Pop's – Sauget, IL
04/11/15   Mojoes – Joliet, IL
04/12/15   Harpo's – Detroit, MI
04/13/15   The Intersection – Grand Rapids, MI
04/15/15   Phoenix Concert Theatre – Toronto, ON – CANADA
04/16/15   Rapids Theatre – Niagara Falls, NY
04/17/15   Starland Ballroom – Sayreville, NJ
04/18/15   The Palladium – Worcester, MA, New England Metal & Hardcore Festival
04/19/15   The Paramount – Huntington, NY
04/21/15   Mercury Ballroom – Louisville, KY
04/22/15   Cannery Ballroom – Nashville, TN
04/23/15   Masquerade – Atlanta, GA
04/24/15   The International – Knoxville, TN
04/25/15 – Metropolitan Park – Jacksonville, FL, Welcome To Rockville Festival (Festival Date, NO SHATTERED SUN)
04/26/15 – Culture Room – Ft. Lauderdale, FL
04/28/15 – The Fillmore – Silver Spring, MD
04/29/15 – The Chance – Poughkeepsie, NY
04/30/15 – The Trocadero – Philadelphia, PA
05/01/15 – Farm Bureau Live – Virginia Beach, VA, Lunatic Luau 15 (Festival Date, NO SHATTERED SUN)
05/02/15 – Bogarts – Cincinnati, OH
05/03/15 – Charlotte Motor Speedway – Concord, NC, Carolina Rebellion 2015 (Festival Date, NO SHATTERED SUN)
The Dark Roots of Thrash II tour is your chance to meet TESTAMENT and EXODUS via a combined VIP Meet & Greet Experience package – available for the first time during this tour via www.slotix.com. VIP packages for all dates will be available on Friday, February 27th. The combined VIP experience includes:
·         One Premium Reserved ticket or One General Admission ticket
·         A Meet & Greet with select members of TESTAMENT and EXODUS
·         Individual & Group Photo opportunities with select members of TESTAMENT and EXODUS
·         Exclusive TESTAMENT/EXODUS poster
·         Collectible TESTAMENT/EXODUS commemorative laminate
·         On-site check-in staff
In addition to its monumental line-up, the Dark Roots of Thrash II tour sees TESTAMENT serving up another surprise for die-hard fans of their early tenure. Each night, TESTAMENT will perform an epic headlining set that digs deep into the early discography that launched their worldwide career spanning two-and-a-half decades. TESTAMENT's exclusive set will feature full-album performances of 1987's classic body of work The Legacy and 1988's unrelenting The New Order, in addition to select tracks from 1989's mainstream crossover Practice What You Preach.
The Dark Roots of Thrash II tour marks the live re-introduction of TESTAMENT bassist Steve DiGiorgio. This isn't DiGiorgio's first time playing with TESTAMENT, as he is credited for recording bass on 1999's The Gathering and 2001's First Strike Still Deadly. Additionally, the tour will mark the live debut of Alex Skolnick's anticipated brand new signature ESP guitars and Budda amps. Learn more about the guitars and amps at these links.