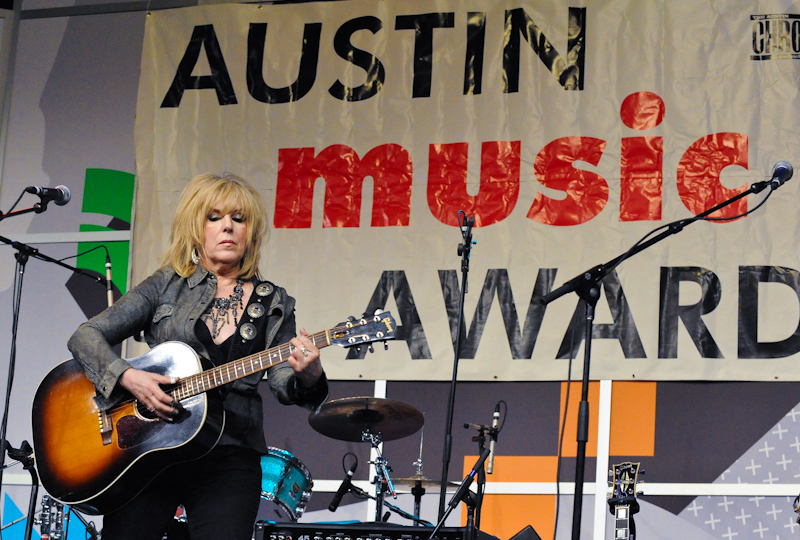 Editor's Note: The Texas Rock Report is deeply saddened by the terrible event that took place outside of Mohawks early Thursday morning.  The Austin Music Awards finished just minutes before this tragic incident.  Our thoughts are with all affected.
March 12, 2014 – Austin, Texas: The 32 annual Austin Music Awards reminded anyone who's piled into town for SXSW, that there's a reason why musicians flock to and settle down in the live music epicenter of the world.  Although the talent was local, the contributions made by all the nominees and performers at the Austin Convention Center Wednesday night, speaks to the universal language spoken here, music.
Pre-show entertainment was brought to you by the punk-rock circus freak show that is the Minor Mishap Marching Band.  This 20-30 piece symphony of non-conformist marched wearing honey-bee black and yellow garb while brandishing brass instruments and back-breaking bass drums.  Welcome to Austin tourists, this is normal here.
Emceeing tonights proceedings was Austin based Esquire Magazine writer–among other titles, Andy Langer.  Langer made reference to wanting to hold the event in a 56-foot Doritos vending machine stage, but Lady Gaga had claimed dibs on that makeshift concert hall first.  He would end up peppering and tagging every acceptance speech with a quip or a jab, serving as the nights main source of comic relief.
The theme of this celebration was Margaret Moser, founder and show runner of the AMA's who is stepping down from this gig and her Austin Chronicle post in May.  More on the most important women in Austin's music scene later.
Now for the Awards themselves, the Austin Chronicle closed fan voting back in February, and as it were, the only musicians in attendance were the one's who were notified before hand that they won.  There was no suspense, no crowd disbelief or outrage when a certain artist won or didn't, the Austin Music Awards, kept it weird compared to the Award shows we're all used too.  John Travolta and his apathy towards name pronunciation was nowhere to be found.
By my count there were at least twelve audible "F-bombs" and "Bullshit's" proudly plopped in to the microphones, but hey that's rock and F'n roll for you.  National reaching acts and Austinites like The Voice contestant Jonny Gray, and ever-growing superstar Gary Clark Jr won Best Male Vocalist and Best Blues act respectively.  Buzz bands such as Wild Child, Gina Chavez, Shakey Graves, Quiet Company, and Wheeler Brothers all added to their career's steam engines with AMA plaques.  En vogue throwback rock queen Emily Bell won Best New Artist. Bob Schneider can't be beat, so don't even try to challenge the Best Songwriter and Album of the Year victor.  Profusely creative husband and wife duo Riders Against The Storm were crowned the night's champions by rightly taking home Best Hip-Hop Act, Band of the Year (the first time a hip-hop act won Band of the Year, host Langer noted.)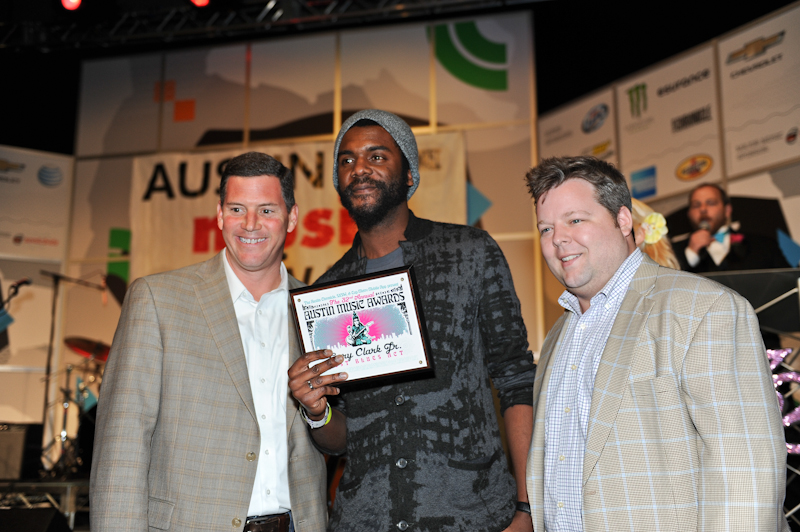 Strange Brew, and Empire Control Room get the privilege of displaying AMA Best Venue Winner stickers inside of their front doors of their establishments.
Acceptance Speeches ranged from simply thanking nuclear family members and fans for brevity sake, to memorable one's which all seemed to come from the eccentric members of Swing-a-delic jazz band—winner of Best Jazz Act–Jitterbug Vipers.  The band swept their respective instrumentalist Awards and said thanks in varied ways with stand-out one-liners like the defiant "Ass to the people", the emotional "Proud to be here, I'm proud to be anywhere", and the frank "I can't talk English".  (Un)fortunately, there was no Matthew McConaughey "alright, alright" moments here.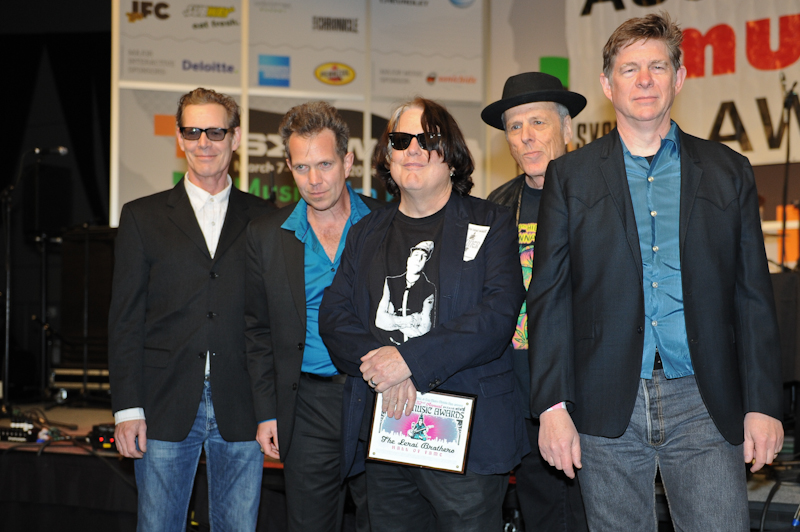 The Hall of Fame induction sections were a mixed bag of underdog success stories (The Hickoids), Alt-Country rockers (The Gourds), Platinum selling artists (Kathy Valentine of The Go-Go's, and Fastball "The Way"), bar band boys done good (The LeRoi Brothers) to a somber moments of reflection (Nick Curran).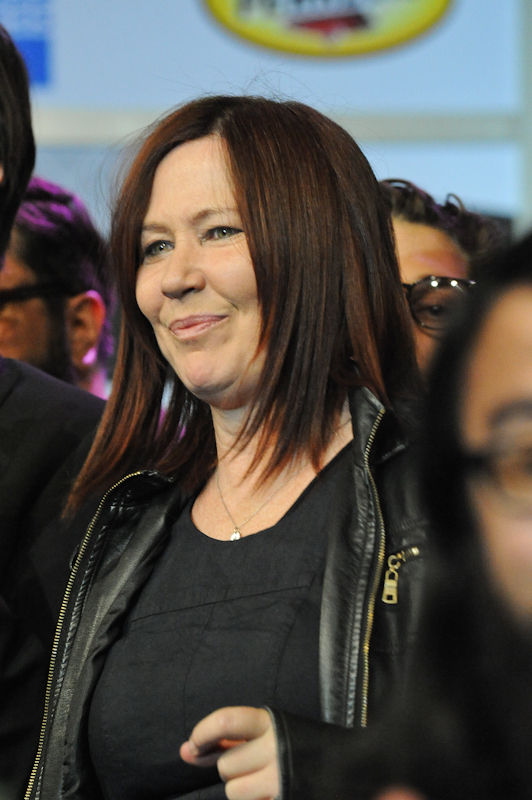 The few performances alone were worth the price of admission.
YoungBloods Choir, is a collective comprised of the future of Austin's music scene, who's parents were a part of it's past.  Finley and Marlon Sexton, Grace London, Lilly & Lo Hickman, David & Victor Ziolkowski, Christiane Swenson, and William Harries Graham formed their own mini-groups and did justice to covers of Elliot Smith's "Between The Bars", Daniel Johnston's "True Love Will Find You In The End", and "Miserlou" by Dick Dale and His Del Tones of Pulp Fiction opening theme fame.  Commit all those names to memory, there will be a quiz in five years when they're taking other city's by storm like they did Austin.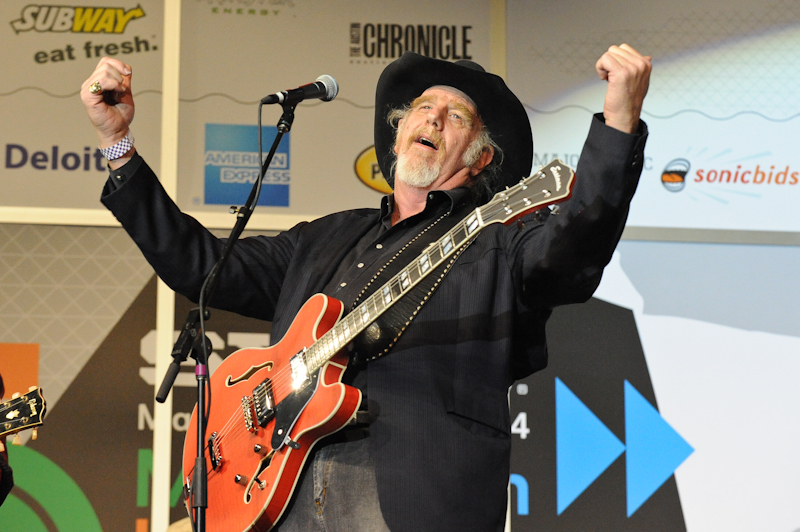 The Continental Club staple, Church On Monday with guest Ray Benson personified jazz in Texas.  After winning Best EDM Act, Francis Preve put on the coolest stage show by manipulating a tablet with lights that pulsated to the beat, along with a quartet of dancers, two trumpeters, and a long-haired vocalist with vibrato and gusto.
Lucinda Williams was best in show.  Her bombastic folksy voice paralyzed the room, while her guitar playing and delicate looks memorized them.  "Passionate Kisses" "Lake Charles" and "Drunken Angel" made you feel love, loss, and everything that's at the heart of singing and songwriting.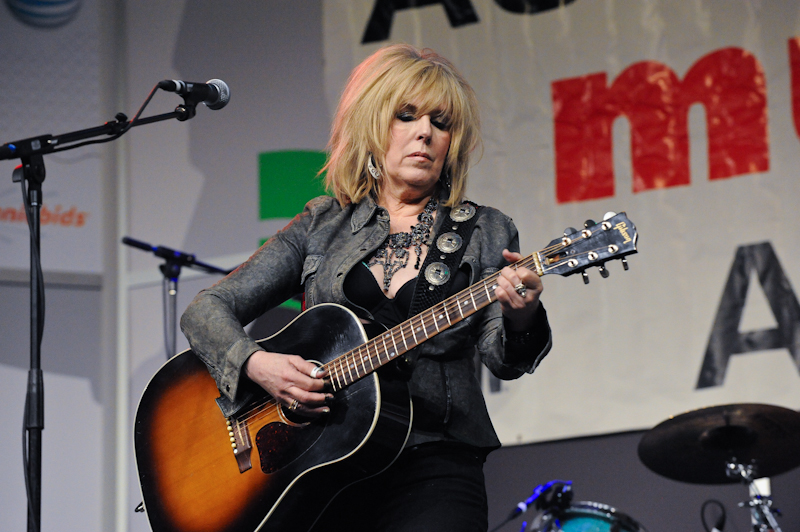 Other noteworthy items were surprise guests. That list included Blondie (only as presenters), Jimmie Vaughan, and Alejandro Escovedo–who led a supergroup jam band in a spirited take of The Velvet Undergrounds "White Light/White Heat".  There was a special tribute to departed radio icon Larry Monroe when he posthumously won Best Radio Program for Blue Monday.  A stirring message on Monroe's behalf was given when it was said that Monroe fought everyday for local musicians and radio like KDRP.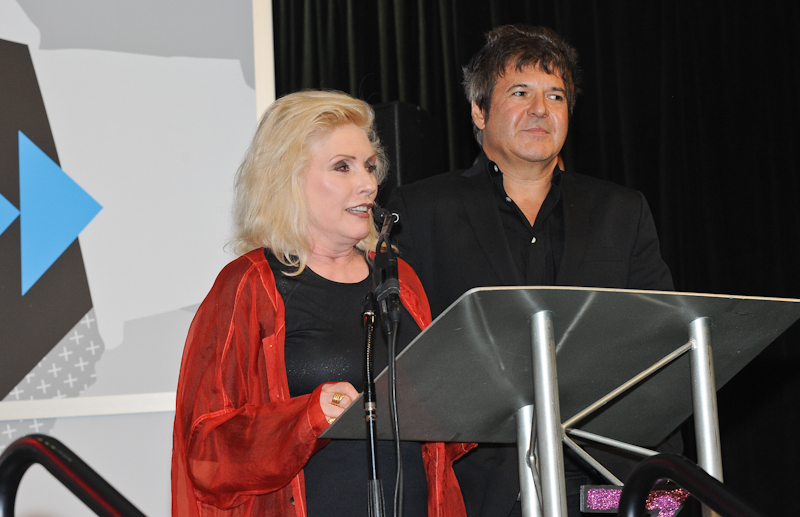 The few criticisms of the show to be made is that after a winner was announced, their music wasn't played while they walked up.  If you were a out-of-towner with a SXSW music badge, you would just have to take the voters words that the winning acts sound good.  You could loop a 15 second clip of the winners music in Garage Band, and it would only take a novice one minute to learn.
Also, it would have been nice if the Hall of Famers performed.  There's more to booking an Awards show than just asking recipients to play, I understand that, but how about at the very least play a music video of theirs on a low volume while they're giving out thank yous.  Those minor audio/video critiques aside, the show was well put together and had a purpose outside of the Awardss, Margret Moser.
And now it's time for the reason why we're literally all here.  The creator of the Austin Music Awards and storied music writer in Austin, Margret Moser, seemed at times a bit uncomfortable with the adulation she received from the artists that she's supported over the years.  She's used to singing their praises not the other way around.  About half the presenters and acceptance speeches thanked Moser.  Lucinda Williams shared a story about how they both went to the same junior high school in Louisiana, but didn't know it at the time.  Austin's Mayor sent a proclamation declaring March 12, 2014 to be Margret Moser Day.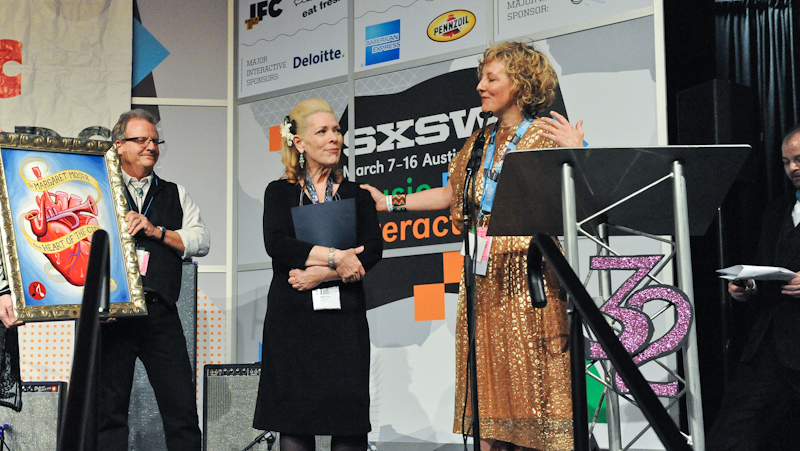 Watching people pay homage to an unsung trailblazer and the overall display of gratitude, was one of those instances in life where it's okay to be over come with emotion for a stranger.   Not all of us get to be rockstars, but a few hard-working and lucky one's–like Moser–do.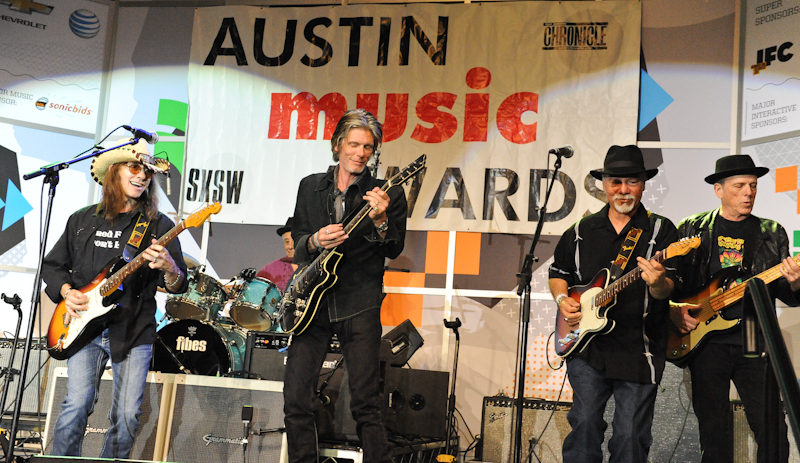 The Texas Tornados with Charlie Sexton rocked out a six song set that made the floor vibrate, and audience members gyrate.  "(Hey Baby) Que Paso" was muy bueno. "Adios Mexico" was grandiose.  The last song called for Moser to join the band on stage, along with 30-80 artists that Moser helped along the way.  There's no telling where music in Austin is headed towards in the next 32 years, but we all can say with great confidence that it's been in great hands since 1981.
Review by Donny Rodriguez