AUSTIN, TX – April 24, 2014 / The 2nd Annual Mack, Jack, and McConaughey fundraiser for empowering kids illuminated the star struck—and studded—crowd at ACL Live in Austin Thursday night, April 24th.  University of Texas coaching icon Mack Brown, country music award winning singer-songwriter Jack Ingram, and the biggest celebrity on earth over the last year, Matthew McConaughey, joined forces for an evening of auctions, music, and five great foundations (more information on these charitable institutions can be found at the end of this article).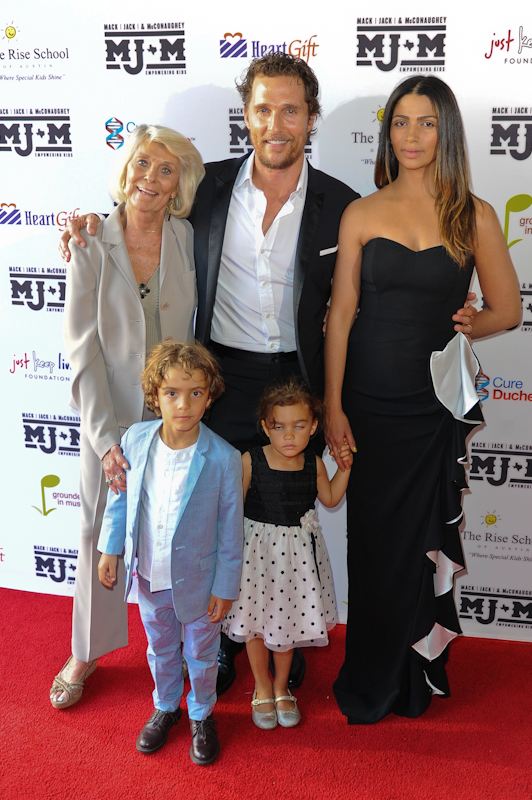 Last night's gala was filled to capacity with Central Texas' affluent elite, professional athletes, and glamorous socialites.  It could have doubled as a UT Longhorn Football Hall of Fame ceremony as two-time Super Bowl champion Aaron Ross, two-time Pro-Bowler Vince Young, and UT's all-time career Passing Yards and Touchdown Leader, Colt McCoy, could be seen mingling throughout the venue.
Some of the gems for the private silent auction were: various Rose Bowl memorabilia, a trip to LA for the Interstellar premier—McConaughey's epic sci-fi film due in the fall, and a 2014 Aston Martin, which was auctioned for $200,000.  Last year, M, J & M raised nearly $1 million dollars, this year, the two-day event should pull in more because, as Ingram stated during the press room Q&A,"This goes a lot easier when one of you just won an Oscar [McConaughey]."
Though it wasn't a requirement, all the men at the pre-show sell-off wore business casual blazer-dress-shirt-dark-denim combinations, and the women donned the type of cocktail dress you'd wear just once—or possibly twice, if you knew you wouldn't run into the same people.  The bottom section of the concert hall was transformed into a Golden Globes-esque setting.  It was a sea of round tables with the wait staff circling like vultures with wine bottles in hand, waiting for their moment to revive dying glasses of Bordeaux.
As the auctioneer delivered his final words faster than a Spanish soap opera during sweeps week, the balcony started to fill with those who bought concert tickets months in advance.  Ingram and his band took the stage around 8:45 PM.  Jack wore all black accented with swooping blonde rock star hair, and his band looked like all two-weeks of SXSW.  The set opened with "Mustang Burn," which was more rockabilly than the country most folks know Ingram for.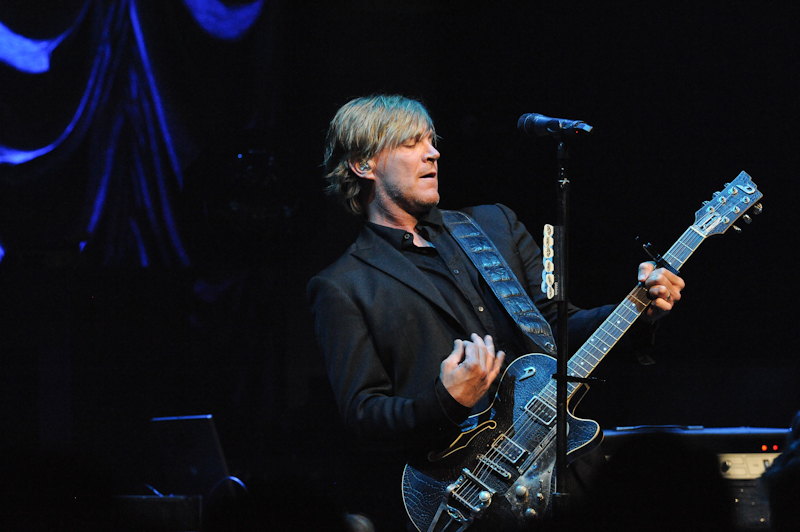 "Keep on Keepin On" featured Jack White riffs, drawl-tinged vocals, and honky tonk jam extensions.  Ingram shared a story about his first gig in a "Dallas shit hole," as he articulated it, where a bunch of off-duty cops would binge drink, and stuff the jukebox with quarters for some country cuts.  Once it was his time to go on, he told the officers to fear not, he played country music, to which a policeman responded, "Prove it."  "I've been trying to prove it my entire life," Ingram told the crowd as he went into the poignant mid-tempo "Wherever You Are".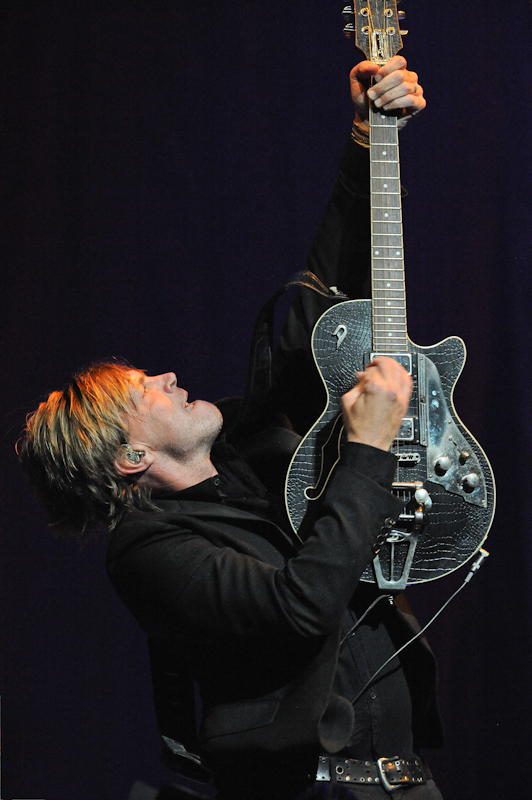 The easy drinking, easier listening "Barbie Doll" gave the two-story feel of the Moody Theater a Continental Club on a Saturday night vibe.  The call and response chorus was the highlight of Ingram's lightning quick set. Like most professional musicians, he told us that he loved us—with the song "Love You" —and left before we got a chance to beg him to stay.
And if this wasn't exhausting enough, it was time to see the future shoe-in Rock and Roll Hall of Famer—when she's eventually eligible in 2018—Sheryl Crow play a 90-minute greatest hits set.
With a red, white, and blue electric guitar proudly waving the first few notes of "Steve McQueen", Crow planted her flag in a flowing glitzy top, airtight black pants, and heels as high as her perennial chart position.  She had a six-piece band in tow to back her up.  From the start, her rhythm-guitar playing was automatic, her stage presence was emphatic and when she held the notes in between the syncopated parts during the chorus, what came out of the speakers was damn near climatic.
Unlike most divas that sold tens of millions of records, Crow opts for guitar changes in between songs rather than costume changes.  For "All I Wanna Do," she readied herself with an acoustic axe twice her size, and began hacking away at the stiffness of the room and yelled timber with the unmistakable timbre of her voice.
"Can't Cry Anymore" garnered a big reaction at the first lyric when Crow sang "took your car and drove to Texas".  After the ditty was done, Crow crooned a carol and inquired if libations were flowing—not only is she a prolific musician, but she was all-in for working the crowd.
Next up for this near-flawless performer was the bluesy, Adult Top 40 hit "My Favorite Mistake".  Accompanying Ms. Crow on part of her drummer's drum kit, was the pocket-sized, aggressively adorable five-year old son of Camila Alves and Matthew McConaughey, Levi.  This kid had chops on the skins; he stayed in beat most of the time for the three songs he sat in on.  Levi's proud parents danced and cheered him on from the front row and I could only help but wonder, "Is this real life?"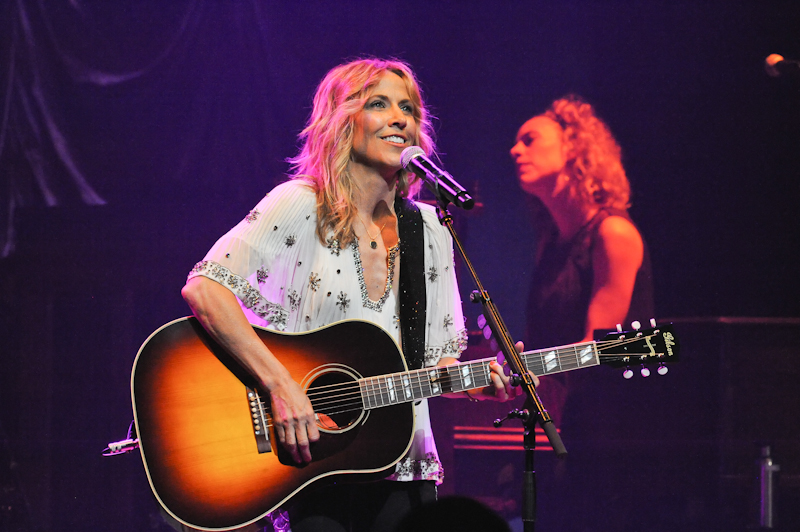 In the second half of her career, Crow has enjoyed major success with her last few Nashville-twanged albums.  Her most recent offering "Feels Like Home", boasts the country hit "Easy" to which this Austin crowd enjoyed immensely.  She then seamlessly went into "Strong Enough"—though from her folksy troubadour mid-90's days, it could easily be a hit on Country Radio tomorrow.
"Leaving Las Vegas" was a deeper cut from her catalog that brought life to Crow die-hards.  Crow brandished her inner outlaw in the roadhouse tune "Best of Times".  Her weapon of choice during the bridge was a harmonica that arrested us all.  Crow even quipped, "Guys like girls playing harmonica."  The joke was on her; we didn't "like" it, we "loved" it.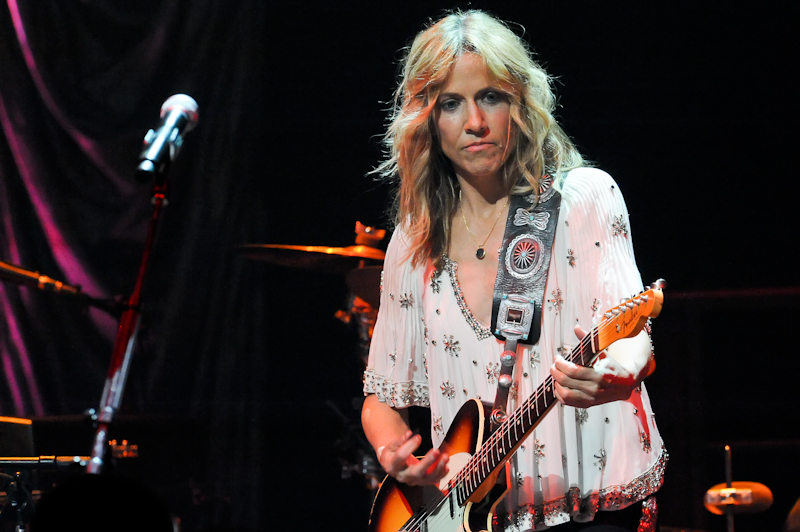 Songwriting power couple Jessi Alexander (Lee Brice's "I Drive Your Truck") and Jon Randall (Brad Paisley's "Whiskey Lullaby") joined Crow for the powerful "Give It To Me".  Although the harmonies were beautiful, Crow would carry notes like she was singing for her supper.  Her emotiveness was effortless.
"Home" and "The First Cut Is The Deepest" were mellow and sweet.  "Shotgun" was rowdy, but wore off as midnight approached.  The masses reengaged when the singer shared a story about how the only time she sang karaoke was to her own song "Picture," of which she then played a few bars.
Earlier in the night, an opportunity to sing with Sheryl Crow was auctioned off for $20,000 dollars.  The winner, Desiree Gutierrez, got to sing "If It Makes You Happy".   Her generosity will ultimately make a lot of children happy one day.   The dance inducing "Soak Up The Sun" had everyone abandoning their tables and chairs—ostensibly making them sport coat and purse racks.
A rocked out version of "Everyday Is A Winding Road" triggered a sing-along reflex, with the guitar whammy bar bolstering the good vibrations in the room.  For the encore, Led Zeppelin's "Rock And Roll" had Crow going on vocal runs that would make Robert Plant jealous.
The roof was blown out, funds were raised, stars shined brightly; calling last night a success would be a gross understatement.  Bravo to all involved.
If you'd like to get involved or donate to the beneficiaries of M,J & M foundation check out: CureDuchenn; to help raise awareness and find a cure for muscular dystrophy.  Grounded in Music; Jack Ingram's charity, that helps children find more out of life with music.  HeartGift; providing heart surgery for kids in developing countries.  Matthew McConaughey's just keep livin foundation; giving inner city high school students the tools to take control of their lives and make healthy choices.  The Rise School of Austin; the Mack Brown sponsored RSA, helps in the early education of toddlers and preschoolers with Down Syndrome and development disabilities.
Review by Donny Rodriguez