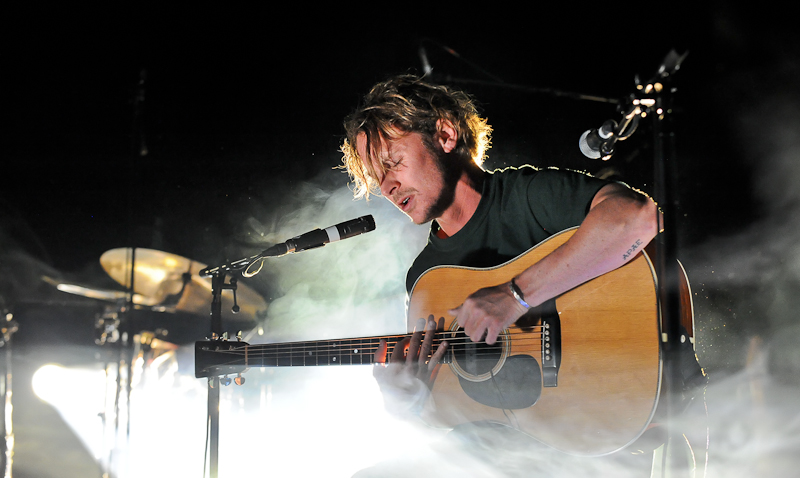 Honing both an ambient and earthy sound, Ben Howard mesmerized a sold out house at Austin Music Hall on Friday, January 16th.
Restless, eager high school students and droves of hip millennials poured in to the venue around 7:30 that evening, fighting hard to conceal their intense excitement. Couples dressed in their best plaid flannel and skinny jeans linked fingers and tried to subtly maneuver their way through the crowd to gain a clearer view. If ticket-holders were not aggressive in finding a solid square-foot of property before the opener, they were stuck listening to the concert from behind the backs of 18 year olds pretending their Lone Star covered with paper was not beer.
Opening for Ben Howard was Willy Mason, a broad blonde folk singer with a voice as withered and beautiful as granite. His drummer, a spritely woman with a florescent bleached Mohawk and stretched ears, accompanied him on drums and contributed to backing vocals. Her haunting, smoky voice on "Save Myself" clicked perfectly with Mason's sandpaper-like tone to create a harmony so tight I couldn't help but let a satisfied sigh escape from my lips.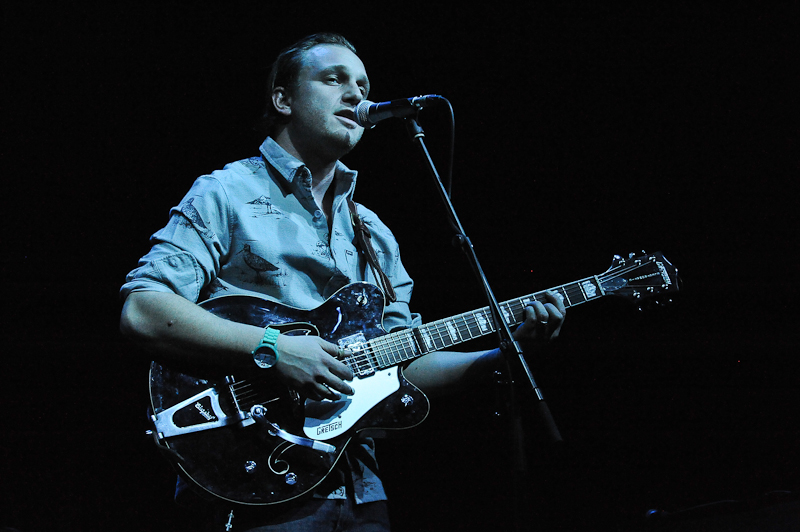 Willy Mason's groggy, lethargic songwriting sounds like the abrasive truths spoken by a tipsy bar patron at 2 AM. It's hypnotizing and highly affective, if the listener is able to hear it. Throughout his short 30-minute set, giggles, gossip, and chatter invaded the venue from every angle. At one point, a fellow Ben Howard fan leaned over to me and lamented, "It sounds like a cacophonous gaggle of geese in here!"
Fortunately, once the audience squeezed back to their spots after the break, the venue fell silent. With the exception of snapping beer cans and subtle whispers, the crowd at Austin Music Hall anxiously awaited the entrancing sounds of British musician Ben Howard.
Howard's second full length album, "I Forget Where We Were," trades the sandy, relaxed tone from 2011's "Every Kingdom" for a deeper orchestral sound. With his latest album reaching The Billboard 200 this year, it's no wonder audience members had to buy their tickets at least two months in advance.
The six-piece band started the set with "Small Things," a pulsing, electronic whirlwind of bass guitars, pounding percussion, and haunting vocals. The lights swirled and swayed in a psychedelic array of blue and white until the band seamlessly segued into "Time is Dancing." After "End of the Affair," Howard continued with the crowd favorite "She Treats Me Well." He barely played the first chord from his smooth, love ballad before the women in the front row jumped up and down in excitement. During the song's bridge, the spotlights focused on Howard and his upright bass player while they dueled out a seemingly spontaneous duet. Howard, with his rhythmic guitar-tapping technique, fed off the rhythms dished out by the bassist in a grooving, jazzy interlude.
This musical treat proved an ideal warm up for the crowd's unanimous favorite "Only Love." From the backroom bar all the way to the VIP seats above the stage, every soul inhabiting Austin Music Hall for the evening could be heard shouting the song's chorus in an overwhelming timbre of appreciation.
Transitions consisted of washes of white light beaming into the audience, causing a stunned and delayed burst of applause from the audience. Favoring a theatrical approach, the musicians rarely engaged in witty banter during their set. Instead of begging for the audience's attention, they commanded it. The band's synchronicity and focus rivaled those of cirque performers, and the result was just as breathtaking.
One especially intriguing musician was Howard's female vocalist. At one instant she could be seen playing the keyboard while bobbing her straight chestnut hair, and in the next moment she'd elegantly sound a cello. Blink again and she had a tambourine in hand. During "I Forget Where We Were" she seamlessly slipped her electric bass behind her back to pick up drum sticks and jump in with the tune's driving rhythm.
Following "Conrad" and "Rivers in Your Mouth," the musicians revisited Howard's first album and the song that initially inspired Ben Howard fans back in 2011. "The Fear," an all-too honest account of how worry can dilute the quality of life, had revelers dancing with abandon. Although not typically thought of as a fist-pumping, rowdy nightclub anthem, it definitely brought out the funkiest grooves from the people around me. From the finger pointing by the man in his mid-forties to the high school girls' saucy hip swaying, the floor became a disco-tech and nobody cared what they looked like.
For the encore, Howard played an acoustic version of "In Dreams." He left his band and all visual intricacies behind for the simple, three-minute homage to his singer/songwriter roots. Audiences caught a glimpse of Ben Howard's younger days when he was a budding musician playing songs in coffee shops and basements. His tribe of musicians then flocked to the stage for one final curtain call, a simple bow to honor and thank the audience for supporting their musical endeavors throughout the years.
Review by Elisa Regulski