The record-setting, multi-platinum selling English band Culture Club, featuring Boy George in all his flamboyant magnificence, stopped by the Statesman Skyline Theater in Austin Tuesday night to take everyone on a colorful trip back in time to the 80s.  Original band members–Mikey Craig (bass guitar), Roy Hay (keyboards and lead guitar), and Jon Moss (drums)–reunited with their front man Boy George along with a few additions (a dynamic, powerhouse trio of background vocalists, a horn section, a percussionist, and an additional guitarist) to brave the Texas heat and provide the soundtrack to the ultimate 80s dance party under the sun.  This was but one of many stops of their 2016 world tour which includes cities in Australia, The Philippines, Mexico, Japan, and the United States.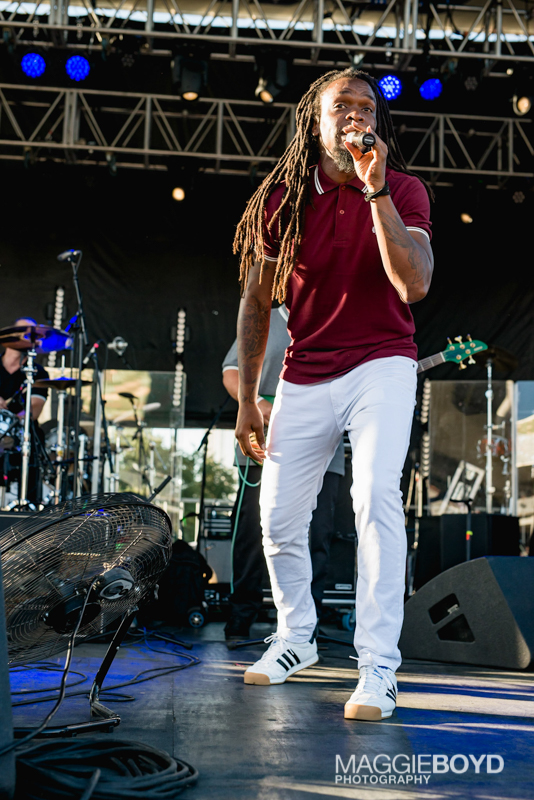 Super fans–completely decked out in sequins, shiny fabrics, prismatic colors, ribbons, and hats much like Boy George's signature style–showed up in great numbers.  After being properly prepped and primed by the opening act, Ska/Reggae band English Beat, the crowd was super amped beginning with the first drum note from Culture Club's drummer, Jon Moss.  As the band took the stage of this grand open air theater, they were received with a standing ovation of roaring applause and cheers.  Hands to the sky, the sea of concert goers danced with fervor as the band blared their first tune, "Church of the Poison Mind."
Ironically, the next song played was "It's A Miracle"–ironic because it's truly a miracle how they could stand the intense heat which they were obviously not used to.  As a matter of fact, Boy George apologized continuously to his stylist as he removed his vibrant jacket in an effort to get more comfortable.  Determined not to let the heat deter them, they kept up the energy with the lively dance tune, "I'll Tumble 4 Ya," which included a dynamic drum solo in which Moss clearly showed that he still has some pretty amazing "chops."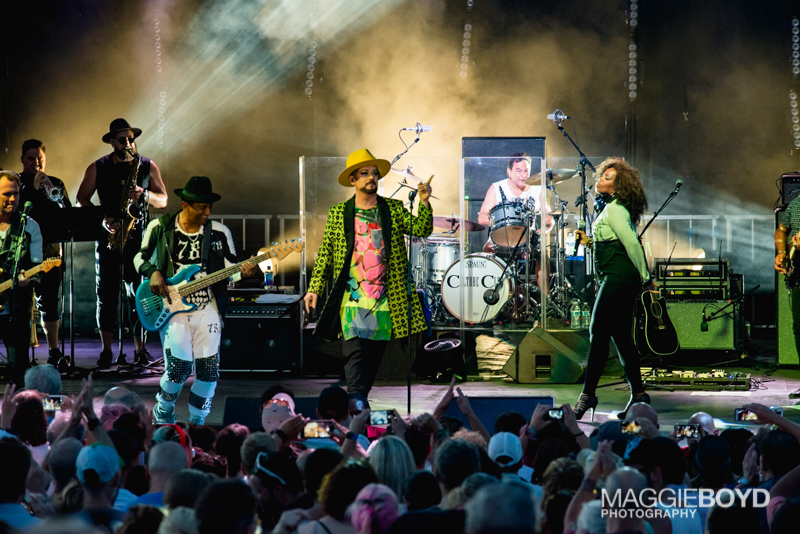 The band's repertoire of music is just as diverse as its members, moving from pop dance hits like "Move Away" to reggae tunes like "Everything I Own" to ballads like "Black Money", infused with R&B soulfulness highlighted by one of his incredible background vocalists.  There was clearly something for everyone, which was apparent in the fact that entire audience remained on their feet during the entire set.  Whether familiar with the tunes or not, audience members swayed to the music under the moonlight with the beautiful Austin skyline as their backdrop.
Eager to get the dance party back grooving, Culture Club went into what Boy George described as his favorite song, "Time (Clock of the Heart)" followed by one of their more recent cuts–a funk tune called "Like I Used To", both of which featured unbelievable saxophone solos.  Giving us more of their new music (from an album that has been "forthcoming" for about 2 years), they performed "Different Man", a song Boy George said he was inspired to write after watching a Sly Stone (of Sly and the Family Stone) interview and realizing that wisdom doesn't always come with age.  Next, they got the crowd back rocking with "Miss Me Blind" while Roy Hay wailed on lead guitar.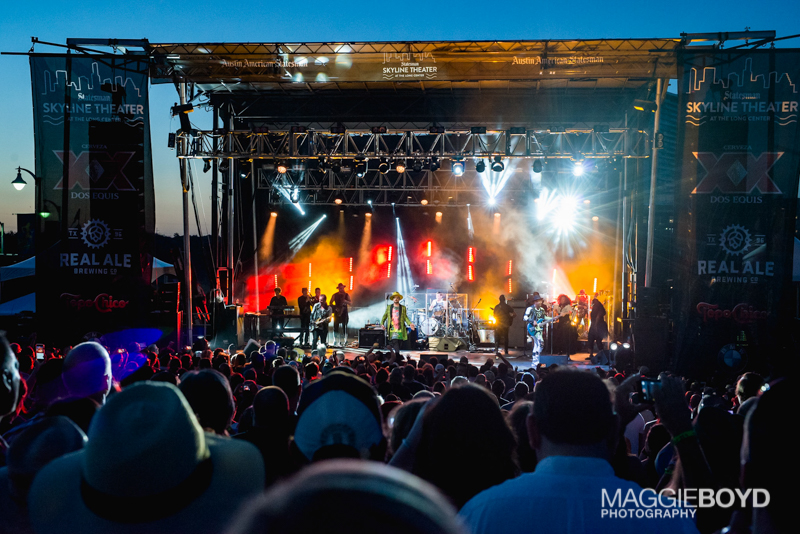 Boy George gave quite a fantastic intro to the next song, "Do You Really Want to Hurt Me" stating this was the song that started Culture Club's musical journey.  "I live in this song," he stated.  However, it seemed to be a little hard for him to get his life.  In the only real low point of the show, it took him about 3 attempts to start the song and finally get into the groove.  It seemed that his aim was to deliver a compelling, emotional intro before being joined by the rest of the band; yet, he chastised the sound-man about his inability to hear himself in his inner ear monitors as he struggled get the intro just right.  It honestly seemed that maybe his voice had grown weary at this point in the show.  His voice has obviously changed since their reign in the 80s.  The song finally got going once the beat dropped and the rest of the band joined in.
Rounding out the rest of the set, Culture Club went into "Victims", showcasing Roy Hay on piano, "More Than Silence", and "The War Song"–a cut that Boy George disclosed they don't normally do, but added to their set list because people kept calling for it.  Throughout the show, Boy George repeatedly referenced the "tight curfew" they were given to stop playing, so it was almost believable that Culture Club would actually end the concert without performing one of their biggest hits in the U.S., "Karma Chameleon."  Believable or not, applauding fans played into the "goodnight, everyone" routine as the band departed the stage.  A few minutes later, they returned to render "Karma Chameleon" and an energetic rock tune, "Give It All."  Overall, it was a fun trip down memory lane as everyone relived the 80s.
Review by Shonta L. Roberson