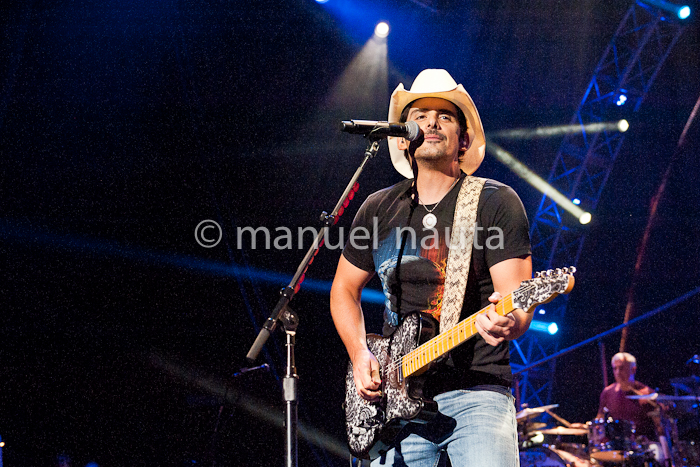 Jul 28, 2013 at 07:00 PM — Brad Paisley hit clean up with the Henningsens, Lee Brice, and Chris Young at bat before him, in that order. The Woodlands Pavilion Live music's version of the ball park, was nearly full on this Sunday night.
There was a reasonable breeze coming in over the right field wall and those who came to see these Nashville Stars play got a stellar performance from the visiting team. First up were the Henningsens who just came into the C&W Capital from their working farm in Illinois.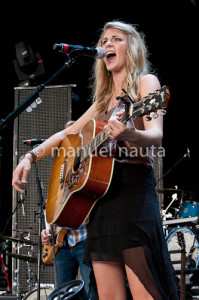 This family band consists of Dad with two of his eight children, a son and daughter. Collectively, they brought a lot of talent to the stage and performed some pretty nice tunes to boot. It's tempting to compare them to the Band Perry and I believe they have as much talent if not more.
There were more 'on time' patrons than usual for this opener. Still, I wish even more had been there to experience the Henningsens set. Maybe next time.
I had the opportunity a few months back to meet the Henningsens. They seemed well grounded, polite, and very appreciative of their growing number of fans. It will be no surprise to those who've had the pleasure of listening to them to see the Henningsens star continue to rise.
Lee Brice was up next and did a respectable job. He ran thru a song set that included Hard to Love, Beer, A Woman Like You, and a new tune that he said he is contemplating putting on his next CD called Drinking Class. It's cleverly written and effectively showcased what he's all about. It will probably do well on Country radio as it's another Drinkin' song.
Do you think Bud Light endorsed or encouraged Brice to include that song? He opened one on stage and made sure it was very visible to the crowd and camera crew!
I have not really been a fan of Brice's music but this night his stock went up with me. I thought he worked hard on stage, saw no posturing or ego. He engaged the crowd with a big grin and lots of enthusiasm. My wife and I decided he was the real deal. His vocals were also better than okay. Certainly no Randy Travis, Clint Black or George Jones but fun and easy to listen to.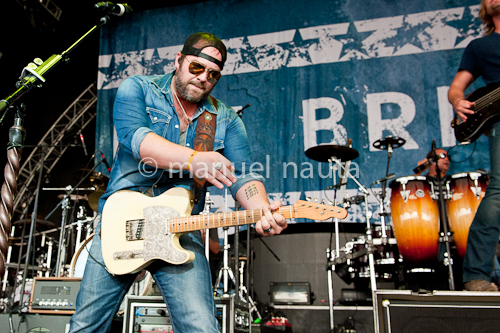 So conversely to Brice, I HAVE been a fan for a while of Mr. Chris Young and his band. He was the winner of season 4 of Nashville Star back in 2006 and I've had a fondness for his music ever since then.
He just always seems to be enjoying himself. I admire greatly the fact that he's kept his style the same rather than falling into step with so many cookie cutter 'Nashvillers'. You won't hear pseudo country-rap and see backward facing ball caps from this guy. That's all I'm going to say about that.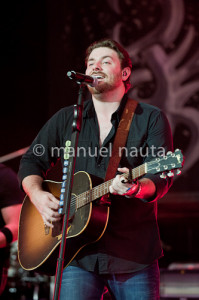 Chris may not be the most dynamic entertainer I've ever seen, but he does have an excellent voice and good material. I think that combination will keep him around the country concert circuit and radio stations for many years to come.
Simply put, the boy has talent. I'd say an apt comparison would be the career path, style and song choices of Josh Turner. Keep after it Chris and engage a little more with your fans while on stage. No doubt it will continue paying off!
The headliner, Brad Paisley, came out swinging for the fences. And even if you were not a big BP fan when he first took the batter's box, it wasn't long before you were on your feet.
New fans were born on this night with hit after hit. By show's end you knew you'd just witnessed a long booming home run! Paisley sang all the crowds favorites and more. The 'more' was him playing his paisley electric guitar.
Did I mention he played his paisley electric guitar A LOT!? I love listening to terrific guitar work especially from the legendary guitar players this country's produced like Eric Clapton, Joe Bonamassa, and the late Stevie Ray Vaughn. Perhaps closer to his genre, Paisley is aspiring to be a Keith Urban caliber player.
I'd say give up the rock star posing with your cool guitar and do a little more singin' Brad. Just enjoy the huge success you've had doing what you do best …sing. You are without a doubt a Nashville All Star. Thanks for bringing this All Star Show with an All Star Lineup to the Houston area fans. It was a great WIN for the hometown crowd who came out to enjoy you and your team!
Until next time remember there is no time to kill!
Written by Dave Clements from Houston Music Review