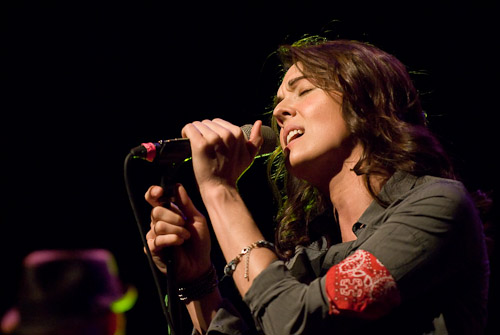 Saturday March 6, Brandi Carlile performed at Hogg Auditorium on The University Of Texas campus in Austin. The twins Tim and Phil Hanseroth played guitar and bass respectively with Josh Neumann on cello and Allison Miller on drums. The auditorium looks like a very large old fashioned lecture hall with linoleum tiles on the floors, teal green leather upholstery on the seats and some wood wall paneling with brown velvet curtains covering the windows. The stage was decorated like a Pier One store, with numerous candles, some carpets, tree branches rising up over the drum set and a nice pink and purple background glow.
The first song of the show was an acapela Hebrew song that the band sang together. Then she sang "Oh Dear" and "Looking Out". For the next song "Late Morning" she ditched the microphone and sang as loud as she could standing at the edge of the stage. The audience loved it and gave her a rousing applause. Before she sang "I Will" she told audience that she had written that song in Austin and when she performed at the Cactus Cafe, she had walked outside and sang it to the people waiting in line! She performed a beautiful rendition of the Dylan song "Times Are Changin" and then got three part harmony audience participation with "Turpentine". The complete set list included:
Oh Dear
Looking out
Late Morning
What Can I Say
Dying Day
I Will
Closer/Falling
Times Are Changin – Dylan
Dreams
Turpentine
Story
Sounds of Silence – Simon/Garfunkle
Folsom – Johnny Cash
Brandi
Pride and Joy
Mad World
Each and every song connected with the audience, this was the kind of show that once you get home you have a hard time falling asleep. All the songs just stick in your head, and you keep thinking about the meaning of the words. This is a must see show, there are just a few more American dates before the tour goes to every major city in Europe this April and May.