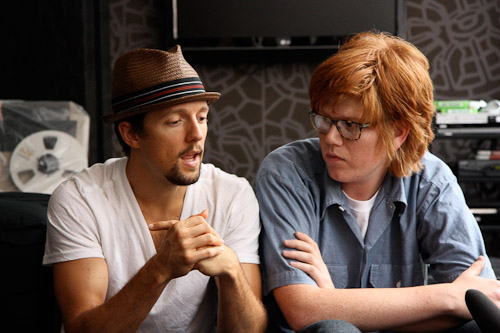 Brett Dennen once again has created a wonderful musical collaboration, this time with New York based Brazilian ex-pats band Forro In The Dark. In addition, Brett recorded the song "Long Road To Frogiveness" with long time friend Jason Mraz. After listing to the tracks on this new EP I feel like taking a Caribbean vacation, smoking a cuban cigar and watching moon rise over the ocean during a warm summer's night. Recently I had a change to ask Brett how his summer went and about this new EP he has put out:
Manuel Nauta: Brett, how was your summer? You did a lot of festival performances, how is it to perform in front of festival audiences?
Brett Dennen: My summer was amazing. I played some great festivals as well as opened for OAR. I love playing festivals. It's a good opportunity to get in front of some new fans.
MN: Was there one festival that was particularly good for you this summer?
BD: Outside lands is a new festival in San Francisco, in Golden Gate Park. I love playing in SF, the crowd is always wonderful. Plus there was an oyster booth in the food area. Oyster's are my favorite food.
MN: You have a new EP with Jason Mranz and New York based Brazillian ex-pats Forro in the Dark, how did this collaboration come about?
BD: I've been into samba and forro music for a long time. I recently discovered the band Forro In The Dark through a friend of mine. Jason and I have been friends for a while and he came in while I was recording with FID to record a song that we wrote together a year ago.
MN: On this EP you have reworked some songs from previous albums, such as Make You Crazy, Blessed why did you pick these particular songs?
BD: I thought they would lend themselves nicely to samba and forro grooves.
MN: I love the your video "Weed Money Man" by FTE. I read that this song came about as a competition between you and O.A.R who could write a better song about weed and money, is that correct?
BD: That's right. We won.
MN: On November 13th you are starting a US tour with Grace Potter and The Nocturnals, that should be quite a rocking tour?
BD: Yeah. They can really rock. I hope I can keep the energy up when I come on stage after them.