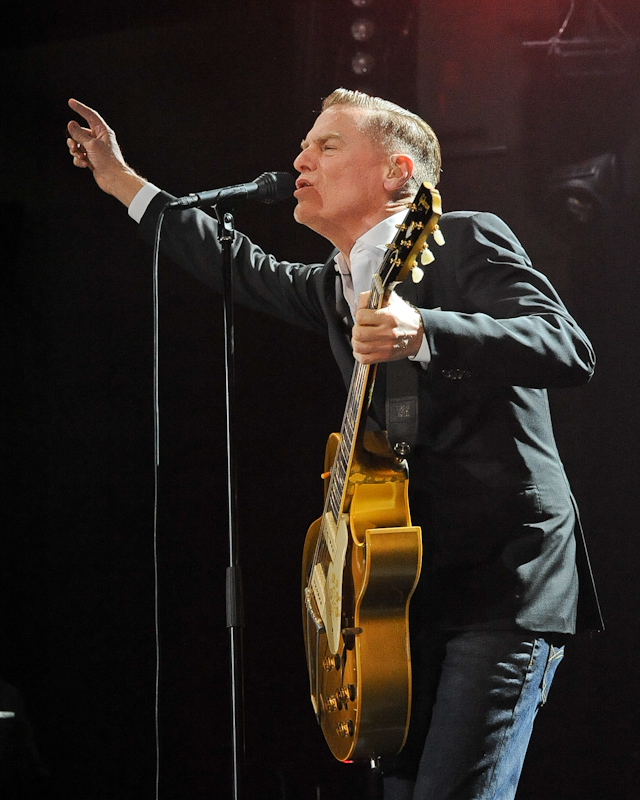 Sundays in Austin typically consist of discounted mimosas, luxurious naps in hammocks, and sleepy smiles. On Sunday , however, people traded in their lethargic evenings for a revved up stadium show from Bryan Adams. Ranging in ages, the ticketholders came prepped to party. Whether they were dolled up for a night out on the town or still wearing the shirt they slept in, the crowd at The Cedar Park Center felt young and restless.
There was no need for an opening band at this show, so the concert got rolling promptly at 8:00. This night was all about two things: his his latest album Get Up and giving back to charity.Adams is known for his philanthropic efforts, and this tour is no exception. All proceeds from the concert's CD sales went straight to the Shriner's Hospital for Children. So not only is Adams a celebrated Grammy-winning artist, he also seems to be a genuinely nice guy.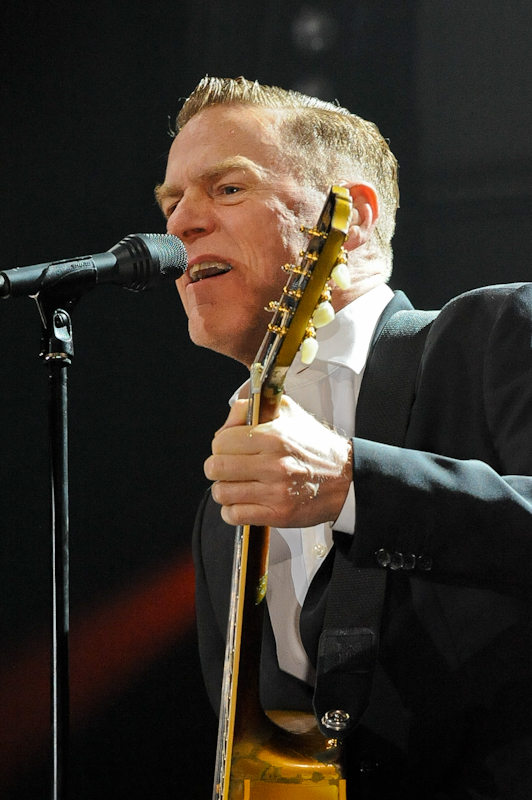 Adam's opening song, "Do What you Gotta Do," sparked tangible excitement, even though, admittedly, very few people knew the words well enough to sing along. The chorus is infectious, though, and in true Bryan Adam's fashion, this two-minute brisker turned into a fight song for youth and spontaneity. Let's not forget about that hook, either. While not every song can be as iconic as "Summer of '69," you have to hand it to an artist who can still write a song that everyone instantly gets into.
Thousands of euphoric faces lit up when Adams screamed the title, "She's Only Happy When She's Dancing." And, oh yes, the crowd's fabulous dance moves finally made an appearance. Pelvic thrusts and popping chests along with disco arms and shouts for joy permeated the arena. Some people, still lost in that mimosa coma, remained seated, but even their chair boogies would make you want to raise a toast in their honor.
If it were feasible, a stampede of tennis shoes and high heels would have bolted toward the stage during "Run to You." The crowd's singing almost masked the sound of Adam's strong, resonant voice, but he didn't seem to mind. Hearing the fans' collective tone gave him more energy, and he graciously thanked them for it. In fact, the first verse of "Heaven" came entirely from all of us in the seats. If there were any tone-deaf singers in the audience, nobody could hear them. The wash of sound was so angelically in tune, that you'd think Adams hired them himself.
Ebbing that roller coaster of enthusiasm, Adams sprinkled a few of his lesser-known songs through the concert. His set list was masterfully engineered. You wouldn't want an audience's energy to peak too soon, but you still want to keep them on their toes. So when Adam's slipped the life-affirming anthem "Summer of '69" in the middle of the show, the entire crowd thought he was being a tease. The rhythmic vamp only lasted for a few bars, but it seemed to stretch with anticipation. The audience's explosion of giddiness burst like a cannon as he sang about his first real six-string.
The quiet, sentimental balled "(Everything I do) I do it for you" softened the previous tide of overflowing adrenaline as the memories rolled in. The audience's attentions turned toward each other rather than to the stage. Adams was merely a beautiful backdrop for the crowd's intimate recollections. Heads nestled into shoulders and arms wrapped around waists as the audience drifted into their own personal love stories.
But did I mention that Adams is a show-stopper? After the sentimental sighs and romantic gleams subsided, he launched right into "If Ya Wanna Be Bad Ya Gotta Be Good." In addition to the George Thorogood-esque edge and bluesy undertones, this song came complete with a bright yellow spotlight. The stadium's bravest soul eagerly begged for the beam to land on her, and when it did, the dancing escalated into a frenzy of excitement. Her sassy hip swivels were projected across the screen like a kiss-cam at a sporting game, and she hammed it up like her life depended on it.
Adam's newest album may not shape up to be the soundtrack of the summer, but it's chock full of jams that can catapult a good mood. Even with all of the new material blasting through the speakers on Sunday, the crowd at the Cedar Park Center felt the reverberating joy cutting like a knife.
Review by Elisa Regulski