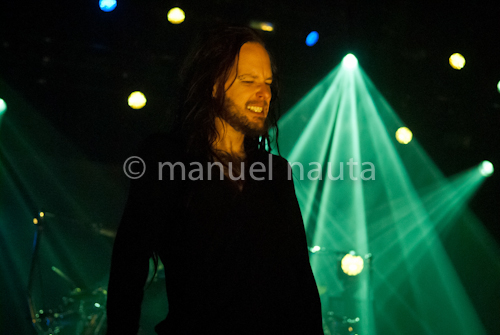 Buzz Fest 2012, presented by Houston's 94.5 FM The Buzz, once again rocked the Cynthia Woods Mitchell Pavilion for 10 hours on Saturday April 21, 2012. Fourteen bands performed on two stages starting at 1:20 in the afternoon and the last band wrapped up at 10:45 in the evening. The line up was as follows: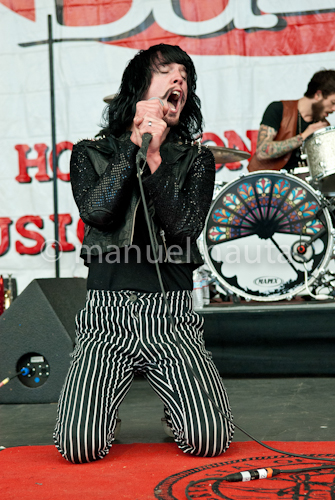 Main Stage
The Features 1:20 to 1:50pm
Foxy Shazam 2:20 to 2:50pm
MuteMath 3:20 to 4:00pm
Cage the Elephant 4:35 to 5:20pm
Blue October 5:55 to 7:00pm
Evanescence 7:40 to 8:40pm
Korn 9:25 to 10:45pm
Side Stage
Aranda 1:00 to 1:20pm
Hurt 1:50 to 2:20 pm
Dead Sara 2:50 to 3:20pm
Band of Skulls 4:00 to 4:35pm
Neon Trees 5:20 to 5:55pm
The Dirty Heads 7:00 to 7:40pm
Evans Blue 8:40 to 9:25pm
The weather was amazing, a clear blue sky, cool in the shade and warm in the sun. The band Foxy Shazam is showing up at almost every music festival you can imagine. The lead singer Sean Nally seems to have perfected the trick of standing on his head, rolling on stage and other contortions. The keyboard player, Sky White, is equally entertaining as he moves and slides over, up, down and across his keyboard with amazing style and technique. Non of the songs are that memorable, but it sure is a fun band to have around. Since they played early in the day at the Main Stage, there were not that many people, this is an extremely large space to fill.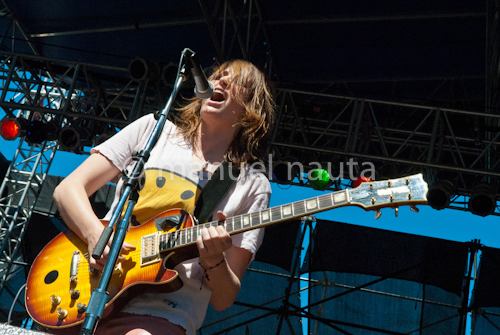 On the Side Stage, Dead Sara performed to a pumped up crowd. The Side Stage seemed to be where the action was. Beer was flying in the air, non stop crowd surfing, lots of smoke rising up filling the air with a sweet party scent. The lead singer for Dead Sara, Emily Armstrong seemed to have fallen in favor with the likes of Garce Slick and Courtney Love for whom she did some backup singing. Emily whales and screams out her lyrics and works up a sweat while doing this. Here popularity has rising among the fans ever since her hot single "Weatherman" has been out. Look out for Dead sara to be on many festival stages this year.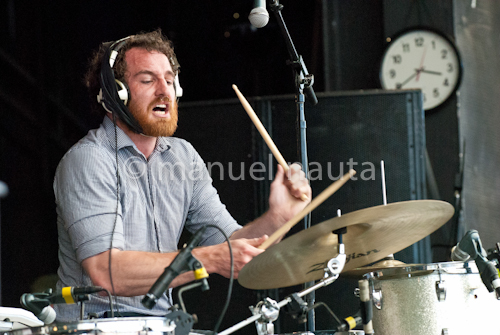 As usual, the drummer for Mutemath, Darren King, walked out on stage and demonstratively took duct tape and taped his headphones to his head! Since Darren has a full beard, it must be painful to remove the tape, kinda like a facial wax situation. Mutemath's first music video "Typical" (2007) was anything but typical because they played the whole song backwards. Since then the band has made numerous festival appearances and concert tours. I recall seeing them at ACL 2009 and was blown away by their songs from "Armistice." What did surprise me at Buzz Fest was that they did not have the overwhelming "wall of sound" quality during their set. I am not sure if this was due to the sound engineer or if the speakers were way to high up and all the sound went over my head while in the photo pit. Regardless, this band gives an amazing rock performance with heavy emphasis on the rhythm section with amazing beats and tempos.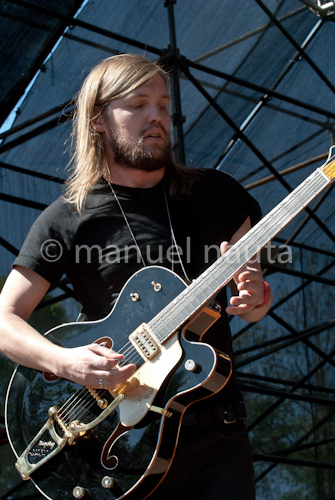 Band of Skulls, the British alternative rock band from Southampton, has been on tour and also made a successful showing at SXSW 2012. Band of Skulls consists of Russell Marsden on guitar and vocals, Emma Richardson on bass and vocals with Matt Hayward on drums. I might be uninitiated about the latest alternative rock trends, but they seemed positively boring to me. Judging form the crowd, I must be wrong because they went nuts with cheering, crowd surfing and screaming.
Cage the Elephant with hyper active front man Matthew Shultz made a reappearance at the Buzz Fest, but this time at the Main Stage. Again, this band would have generated way more crowd support if they would have played the Side Stage were the energy was way HIGH. Next on the Main Stage was Blue October, the band which is quickly turning in to "Where Are They Now" VH1 subject matter. Justin Furstenfeld the master of man-liner, might not be able to out do "Hate Me", the 2006 platinum hit. Justin still puts on a great show with loads of angst and power. Buzz Fest's headliners were about to take the Main Stage. First came Amy Lee the 5 ft 3 inches lead singer with Evanescence. The Main Stage outdoor area was sold out with fans as far as the eye could see. It's by no means easy to photograph an Evanescence show, because the light is low with unpredictable bursts, and Amy Lee moves around the stage with feverish passion and energy. However, she gave an awesome show in her Phoenix like outfit, rising form the ashes to proclaim the glory of Rock.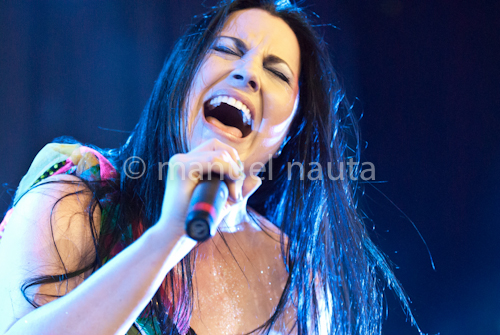 Korn clossed out Buzz Fest 2012 with an awesome brooding and macabre nu metal show. Korn is the reincarnation of the metal band L.A.P.D. with current lead singer Jonathan Davis, guitarist James 'Munky' Shaffer, bass player Reginald "Fieldy" Arvizu and drummer Raymond Lee "Ray" Luzier. With 35 million album sales world wide, Korn knows how to do metal and it was fantastic. Jonathan's custom mic stand is an amazing work of art that incorporates sensuality and myth in one hell of a swinging microphone (http://www.hrgiger.com/music/korn.htm).  and The tour in support of The Path Of Totality is rocking through the U.S. and eastern european music festivals.