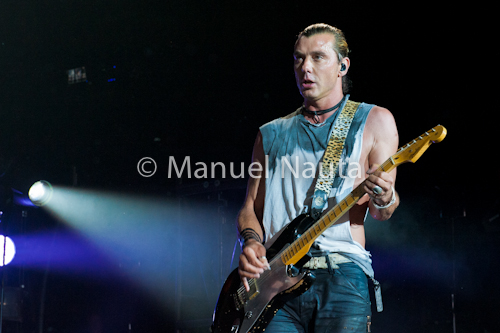 April 20, 2013 – The Woodlands, Texas.  Once again, the radio station 94.5 FM The Buzz put on their annual Buzz Fest at The Cynthia Woods Mitchell Pavilion. The artist line up was a "who is who" from past Buzz Fests including Shinedown, P.O.D., Bush, Hollywood Undead, Stone Sour, The Dirty Heads, Papa Roach, Oleander and Sick Puppies. New bands to the festival included The Virgin Marys, A Silent Film, IAMDYNAMITE, Beware Of Darkness and Youngblood Hawke.
Youngblood Hawke, VH1's "You Oughta Know" artist for March 2013, started their set at 2:50 pm on the side stage. This is quite a large group with band members Nik Hughes, Alice Katz, Simon Katz, Sam Martin, Omar Ahmed and Tasso Smith. You might know them from their song "We Come Running."
Another favorite for me was the rap rock band Hollywood Undead from Los Angeles. I had not seen these guys before, but they give one hell of a performance. They come out on stage with some amazing designer masks and present the audience with a complex blend of hip hop, alternative rock and dance music. The lyrics are not for the faint of heart but they sure will shake you up and make you move to the songs.  You can see all 127 images from Buzz Fest in the photo gallery.