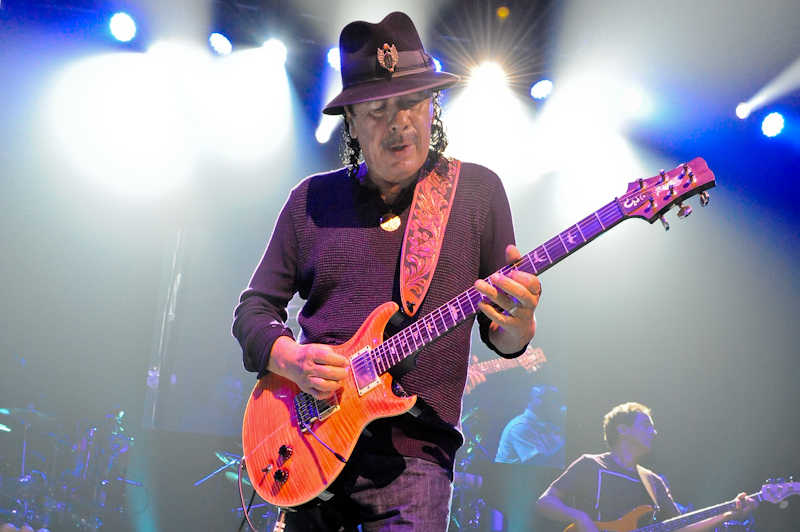 Austin, TX – September 27, 2014: Forty-Five years ago a young, rambunctious and extremely talented Carlos Santana played for a Woodstock crowd of around 400,000 people with his original band, before even releasing an album. The footage of the performance has become a staple in festival culture and the band's first album, Santana, instantly went Gold, before eventually reaching Platinum status. Santana has since earned himself a household name reputation after selling 100 million records and winning several prestigious awards including: 10 GRAMMY Awards, 3 Latin GRAMMY Awards and the Billboard Century Award.
It comes as no surprise that the legendary Santana's Corazon tour stop at ACL Live – Moody Theater was a packed show. The current tour is in light of Santana's latest album and collaborative effort, Corazon, which came out this May via RCA/Sony Latin Iberia. Although it's been nearly 45 years since the original Santana album release, the legend himself does not disappoint; Saturday night was full of godly guitar solos, Latin-laced rhythms and uplifting speeches.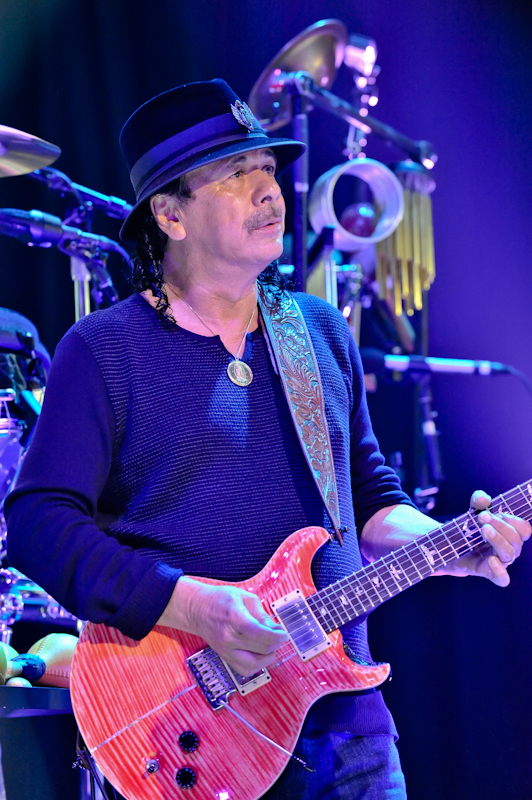 Carlos stayed true to his roots by continuously switching between Spanish and English, as well as new and old music. The band opened with a Spanish song, then moved onto seductive classic "Black Magic Woman." The full band and two singers, Andy Vargas and Tony Lindsay, brought the classic song to life as Carlos shredded away on his guitar.
The incredible synergy between Carlos and bassist Benny Rietveld was immediately visible; the duo appeared to be speaking an instrumental language that only the two of them could understand. Although Benny is not Santana's original bassist from the 60's, his bass intertwines with Carlos' guitar so flawlessly that it seems as though the two have been playing music together for lifetimes.
"Oye Como Va" merited the first of several standing ovations after one of Carlos' notoriously epic guitar solos. While the crowd's energy was at that soaring high, Carlos dedicated the moment to fellow rock icon, the late Stevie Ray Vaughn.
"I miss you, my brother," Santana spoke out loud about Stevie Ray Vaughn in a sincere and graceful tone.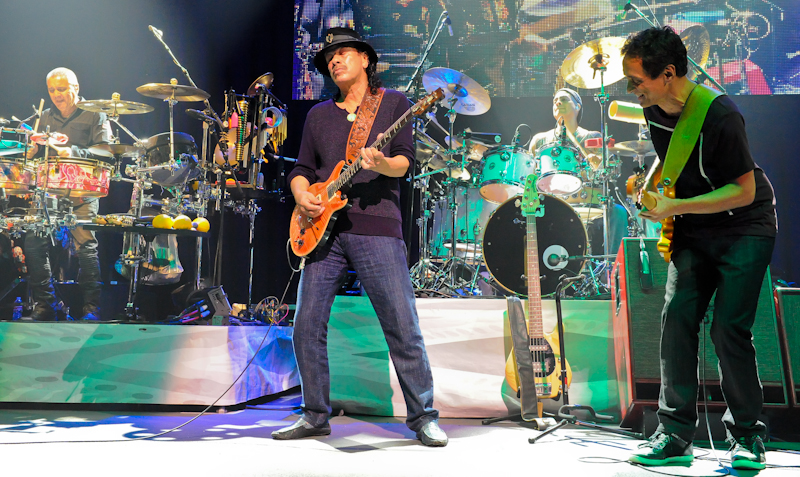 Carlos went on to further the moment's dedication by taking a political stand in acknowledging those who have had the courage to be non-violent throughout history. He proceeded to remind the crowd that he grew up in the 60's when there were organizations like the Black Panthers that had to fight, but he now believes in fighting with compassion and forgiveness. Carlos is clearly as idealistic as he was in the 60's, but with a more mature mentality.
Before transitioning into music again, Carlos switched to a much more light-hearted tone. He dedicated the next song to all the ladies that he wanted to make "hot and crazy", then smoothly transitioned into the chart-topping crowd favorite "Maria, Maria". Looking around, there didn't seem to be one person in the crowd who wasn't belting along with the song's lyrics. Crowd participation continued strong through Santana's version of "Tequila".
The night was also an extra special birthday for one of Santana's onstage vocalist, Tony Lindsay. The band ventured away from the set-list to sing Tony their version of "Happy Birthday" on stage. The crowd sang along in unison as both a cake and a bouquet of flowers were presented to the beaming singer.
The band continued on with playing a few new songs from Carlos' latest release, Corazon.
" 'Corazon' means 'heart' in Spanish," Carlos explained to the crowd about his inspiration behind the new album. "When corazon is used, we can have world peace."
In a graceful balancing act manner, Carlos seamlessly transitioned from new music of Corazon back to classic hit "Smooth". This crowd favorite brought the audience's energy level up to a climatic high – the band then took a pause for air. This brief pause after the song's ending caused an uproar from the crowd and another standing ovation, full of hopefulness that this was not yet the end of the show. Luckily, it wasn't.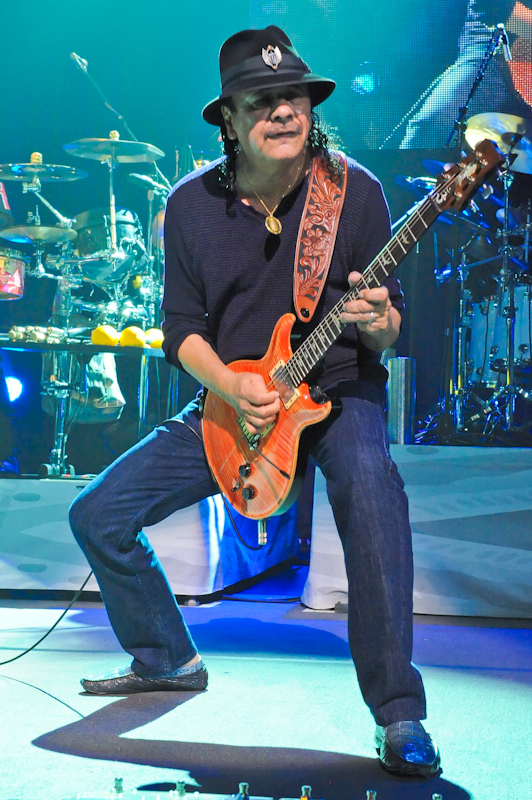 The venue transformed into a time machine during "Soul Sacrifice", as a video from young Carlos' legendary Woodstock performance played in the background when the band started back up. It was impossible to not stop and appreciate how long Carlos Santana has managed to keep himself more than relevant since his first festival appearance in 1969.
The performance ended in the classiest way possible. Carlos introduced the band to the audience where each member played an instrument solo of their choice, before everyone exited the stage. None of the members are from the original Carlos Santana touring band; however, they all flawlessly harmonized and created an unforgettable evening.
It was truly awe-inspiring to witness the diversity of people who are continuously touched by Santana's music; the crowd that gathered at ACL Live for this special performance was as diverse as they come. Regardless of age or origin, the entire crowd got lost in dance to the sound of Santana  — even looking up in the balcony seats, I observed most everyone on their feet and dancing.
Overall, Santana at ACL Live on Corazon Tour was one of the most epic shows I've ever attended. After all of these years, the man is still magic. Black Magic.
More photos on our Facebook page https://www.facebook.com/texasrockreport
Review by: Jacki Moon