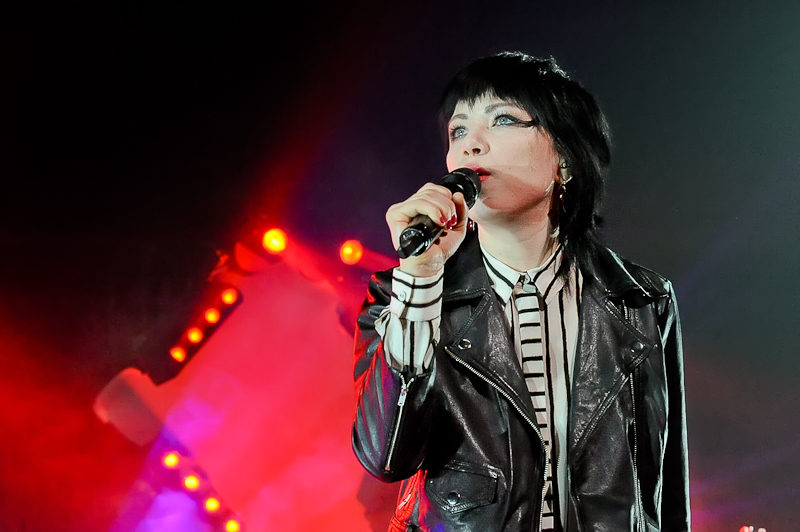 It's not often that you party with bombastic pre-teens, modest millennials and amenable aging-hipsters all in the same night. It takes a unique, cosmic convergence to bring these disparate forces together. On a calm and unseasonably warm Saturday night in February, pitch-perfect pop melodist, Carly Rae Jepsen transformed the Moody Theater into a rawkus, generation-bridging, fire-emoji-hot dance soiree.
Sects of the congregation featured sincerely hip mothers with their fabulous mini-me's in tow, gaggles of city-chic "squad goals" battalions, done-up Round Rockian suburban types and disgustingly adorable affectionate couples.
Men's outfits ranged from vibrant v-necks to dapper oxfords with quirky animal prints. Female ensembles stayed on the 50 shades of black-charcoal spectrum. High-waist jeans and light leather coats were en vogue. Both genders dipped into the revealing tanks trend as well.
The pre-show conversing was at a low decibel level. Once the house lights went down, a seismic eruption came seemingly out of nowhere, like grackles crowing at dusk. A four-piece crew of unassuming maestros cantered onto the stage. They played a few bars before their conductor made her way to evening's limelight.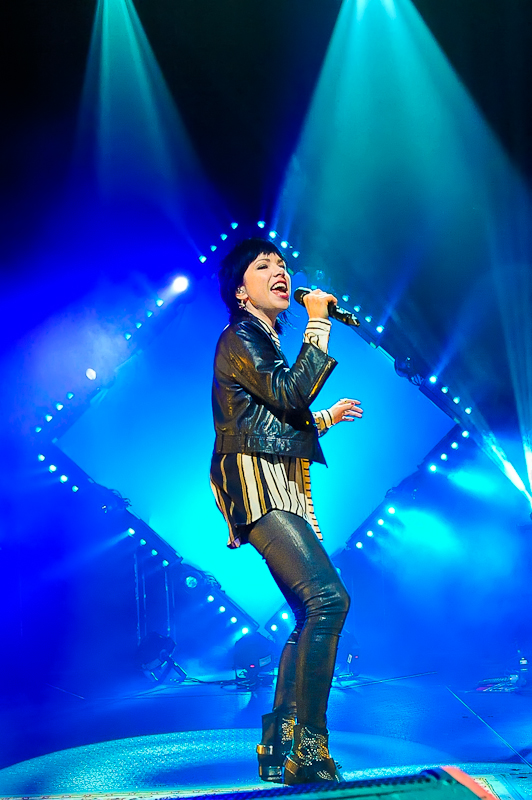 The pint-sized canuck, looked the part of a modern day pop-pusher. From her 80's model-mullet to her painted on oxhide pants, Jepsen had her stardom on full display. "Runaway With Me", off her new record Emotion,  introduced a sense of urgency to match the crowds expectations to escape and be moved. 80's-esque saxophone ripped through the atmosphere.
"Making the Most of the Night" had Miami Vice percussion and was the backing beat to the makeshift competition of who was having more fun; Jepsen or her acolytes. Her battle cries during the bridge were tingle-inducing. The Owl City and Jepsen Billboard Top Ten darling "Good Time" boasted a bouncing wordless hook that upped the ante, even though the songstress was already, "all in".
There's not a inch (or equivalent of whatever the Canadians use in their metric system of measurement) that the singer doesn't grace with her presence. At times it appears her goal is to make eye contact with everyone in paid attendance. She's beyond engaging.
"Emotion" was pulsating with pathos as the apt title would suggest. As percussive as the organ that gives one "all the feels", the ditty did its job. Charming yet slightly creepy, "Warm Blood" was a mid-tempo number that crescendo-ed with some participatory clap-alongs.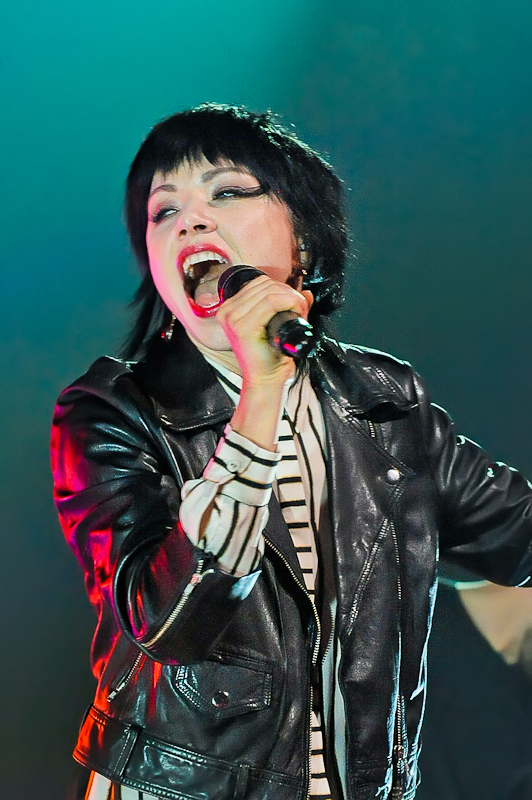 In an exhibition of vocal acrobatics, "Boy Problems" was word painted by speed-up speak, and slowed-down revelations set to disco licks. This number was a melodious commiserating session where heart-to-hearts sparked toe-tapping and hip shaking.
"This Kiss" was a synth seduction that was set to the perfect minimalist mood lighting. After one of the few banter sessions, this one about falling for a broken-english speaking Swedish fellow, "Gimmie Love" gave grooving feet a break and worked out the muscle that deals with introspection.
If I would have surrendered myself to the music like most of the audience had, I might have thought I was at the Red River dance club staple, Barbarella, during the frenetic rendition of "Tiny Little Bows". The angered and empowered hymnal "I Didn't Just Come Here To Dance" displayed a bass line ballet with 90's Eurodance keys pirouetting to and fro. The alluring aural message was less propositional and more a proclamation.
"Tonight I'm Getting Over You" incited fist pumps and shouting to the vaulted ceilings at the Moody Theater. Driving guitars and soaring vocals helped the energy nearly compromise the structures concrete. Lyrical flip-flopping in "Your Type" helped ground the set in vulnerability. "When I Needed You" was flirty but never overtly sexual.
"Love Again" demonstrated Jepsen's  nack to be in complete control as a show woman yet lose herself in the message. Artsy and industrial, "LA Hallucinations", had some powerful notes pumping out in between the talk-sing hooky conversations.
"All That" was like the climax of an 80's romantic flick. While new album b-side jams "Favorite Colour" and the sax solo fueled "Let's Get Lost" kept the party going, I took pause to realize that Emotion is itself an unparalleled pop record. It commits to a theme and sound and isn't just a vehicle to sling singles. It's as catchy as it is creative. This was a concert where the new tracks were embraced more than old favorites.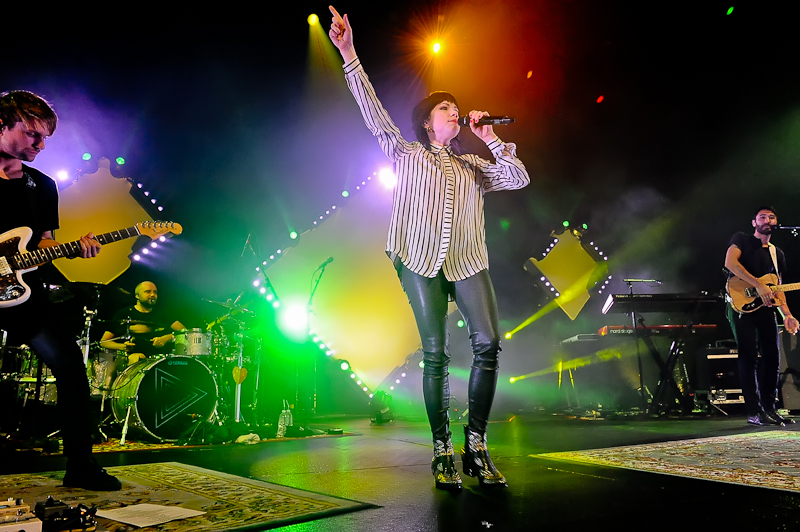 Acoustic cautionary tale "Curiosity" paved they way for the nights sonic coup de grace.
Ok, Obviously, "Call Me Maybe" elicited a resounding reaction. Though her recent effort is a critical, Pitchfork-ian hit, Jepsen would be playing Stubb's or The Mohawk's indoor venues if it were not for the 2012 ubiquitous chart-topper. Fans who couldn't hold their Austin Eastciders or Vodka Tonics burst through the double-doors after a bathroom break to witness this piece of top 40 pop history. Every word was amplified by the masses, but it didn't have as a profound effect as "I Really Like You".
With the concert coming to a close, this was the last chance to remain in this pop-up safe-space, escape place. Akin to an EDM tent at a festival, the general admission floor erupted into a VIP dance club. Making it past the proverbial velvet ropes was a family of four consisting of two uber-minors and their middle-aged guardians. The girls flapped their appendages as if they're trying to free themselves from them and the parents played along at first, but were swept up in the moment. It was a sweet moment and reminder that pop music is meant to be fun for all.
Carly Rae Jepsen's place in the music landscape is still up for debate, but her affect on the hipsters, people who "woke up like this" and those aforementioned tykes isn't.
Review by Donny Rodriguez