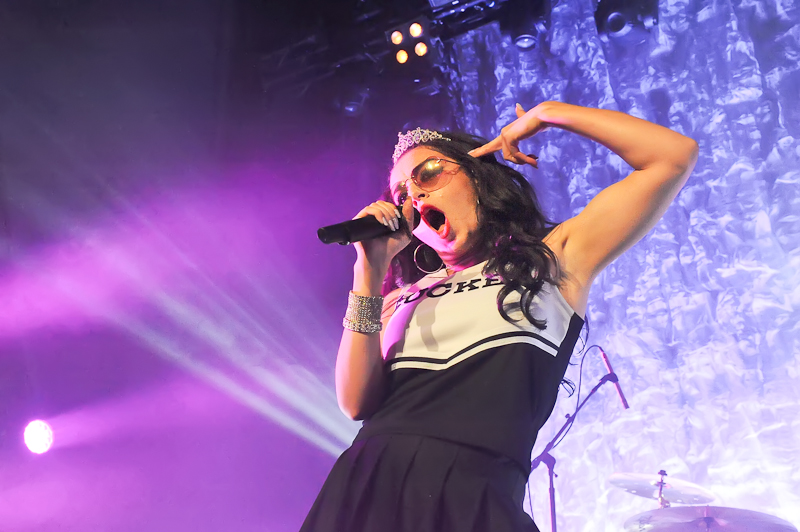 AUSTIN, TX – October 17, 2014 / Emo's came to life with an edgy radiance for the Charli XCX, Elliphant and Femme show Friday night. The night's glamorous, yet edgy girl power essence was immediately apparent upon walking into the venue – there were several hair styling stations lined up for show patrons, complete with vanity mirrors and professional stylists providing rock-star hairstyles, courtesy of Bead Head by TIGI. Thus, a good majority of the crowd exuberated nearly as much style as the night's fashionista performers.
Charli's current headlined American fall tour is in light of her new album, entitled Sucker. Fittingly, Charli and a complete girl band entered the stage one-by-one wearing cheerleader uniforms with "SUCKER" printed across the front. Charli immediately gripped the crowd's attention with her new album's title track "Sucker", and held it closely into "Breaking Up", then throughout the entire duration of the show. Personally, I didn't have much prior knowledge of the Charli XCX experience before Friday night, but I was pleasantly surprised by the fact that she performed with a full band, of whom she referred to as her "angels".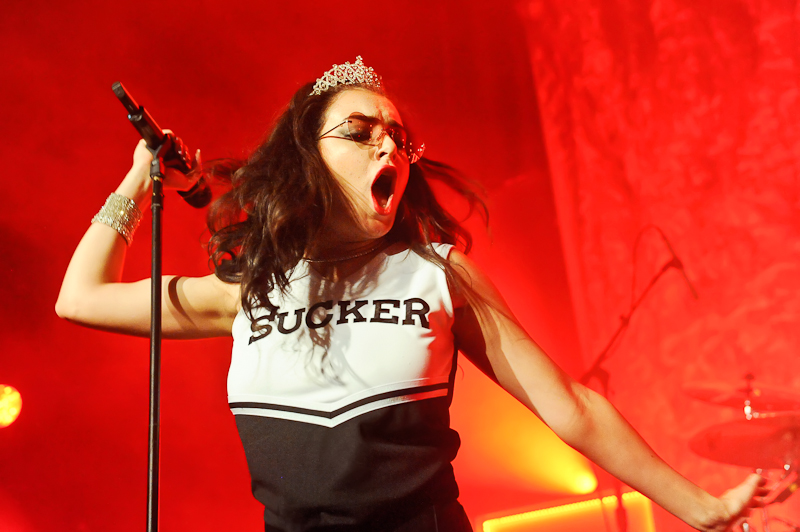 While the crowd's energy was already soaring high after the first two songs, it seemed to come to a complete climax when the band played American and UK chart-topper "I Love It", which is Charli's collaboration with Icona Pop. While I've heard the original electronic version of the song many times, Friday's show was the first time I've witnessed it with a full live band; this definitely was an interesting spin on the originally EDM influenced song. Charli jumped, danced and flayed around the stage during "I Love It", but her diamond tiara stayed perfectly intact on top of her head.
The pop rock princess, still flying on high energy, continued on to bust out a new song entitled "Famous", then the band seamlessly transitioned into the hit single "Superlove", then "Black Roses" from album True Romance and "Caught in the Middle" from Sucker. Charli and her band of angels continued to switch up discography throughout the set, as "I Need Your Love" from album Sucker was followed by track "Stay Away" from Romance.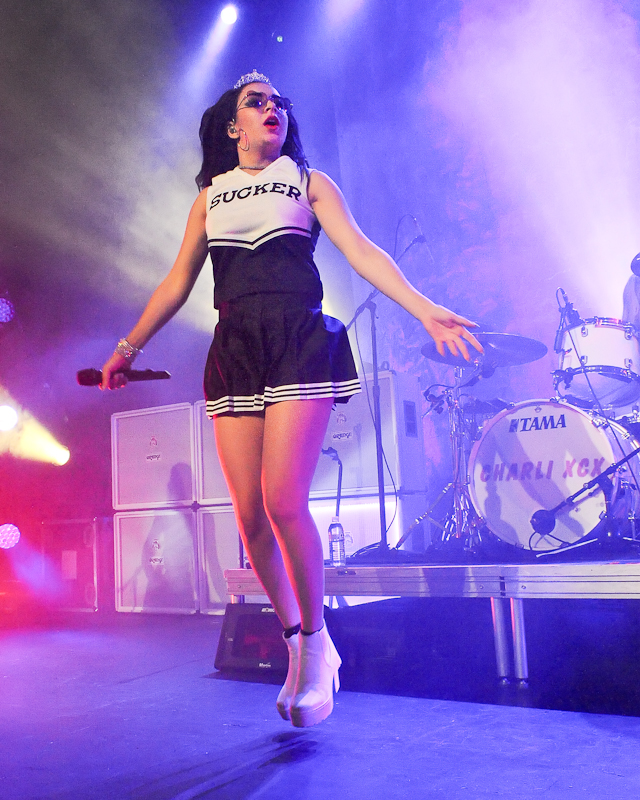 Right when the crowd's energy seemed to start showing signs of dwindling down, Charli whipped out her own unique rock-band cover to a classic 80's song "Money", where most of the crowd joined her in singing (even screaming) along. Charli immediately transitioned into rebel anthem "Break the Rules" as the crowd went crazy. Charli carried that high energy into "Grins" and "Gold Coins"; the band then proceeded to exit the stage with an essence of unfinished businesses.
When Charli and her band left the stage, everyone in the crowd was left waiting for an encore, because crowd favorites "Boom Clap" and "Fancy" had not yet been played. Therefore, it came as no surprise that the ladies re-entered the stage mere moments later. Charli made a call to action for the crowd to chant "pussy power" along with her as the band starting playing the tune of chart-topper "Fancy". The crowd screamed and chanted along, then began singing the words to "Fancy" along with Charli when she finally began the song after a few moments of crowd chanting. The song is a collaborative effort with rapper Iggy Azalea, but Charli successfully sang the parts that are usually rapped by Iggy; it was very well executed.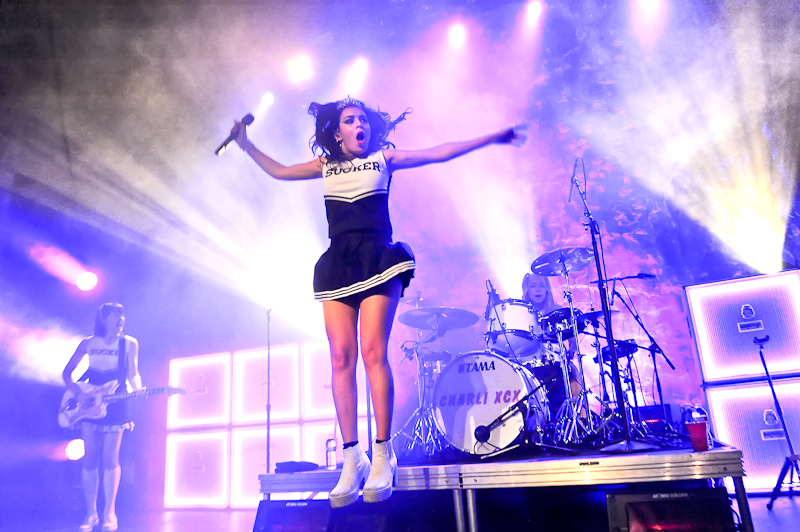 Charli and her band finally ended with crowd favorite "Boom Clap", where Charli asked the crowd to make a heart with their hands and hold it up in the air. In addition to being a favorite from her new album Sucker, "Boom Clap" is also the official track of feature film 'The Fault in Our Stars'. The well-known song was the perfect way for Charli to close out such a high-energy night.
Charli has been taking the music industry by storm as of late. With a unique rock-pop star style and several contagiously catchy songs, its no surprise that Charli has been nominated for 2 MTV EMA awards. In addition to headlining this current tour, Charli will be supporting Katy Perry on her European tour in February. In all honesty, I'm not the biggest pop-rock fan, but after catching Charli XCX live, I'm now a believer and was reminded to keep an open mind when it comes to musical genres.
The supporting acts for Charli XCX further proved the greatness of pop-rock music. Prior to the Charli XCX full band whirlwind, Femme opened the night by taking the stage in an all black leather outfit. She announced to the crowd that she had traveled all the way from London, and the night's show was her first appearance in Austin, Texas.
The highlight of Femme's opening performance was when she whipped out her cover of Aretha Franklin's "Respect". While the song is not the easiest one to execute an awesome cover to, Femme nailed it with confidence while swinging her hips around as the crowd sang along. Femme ended her performance out on a fun note; she jumped off the stage and into the crowd, which got everyone stoked from Elliphant to take the stage next.
Elliphant took the stage in the most posh, yet high-energy manner possible. The same DJ that joined Femme during her prior performance of the night accompanied Elliphant, and the two absolutely crushed it in the best way possible. If anyone knows how to get a crowd hyped up, it's definitely Elliphant – she lit up Emo's with her unyielding charisma. The best way to describe her sound would be grunge rock meets heavy bass. The combination of Elliphant's contagious enthusiasm and Femme's attractive edginess was the perfect way to get the crowd warmed up and rocking for Charli XCX.
Overall, the night was a lot of fun and completely exceeded my expectations. I'm extremely glad I stepped outside of my comfort zone to experience my first pop-rock concert to date; I was reminded to never judge a live music performance by it's genre.
Additional photos at our Facebook page https://www.facebook.com/texasrockreport
Review by Jacki Moon