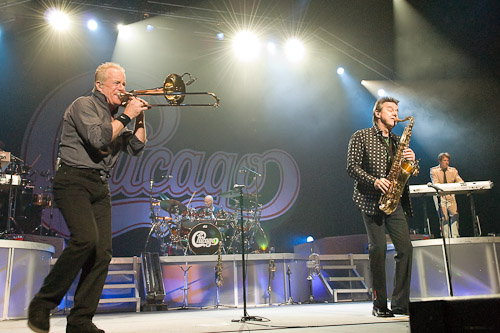 Friday April 9, the pop rock band Chicago took the stage at the Majestic Theater in San Antonio. This band is a bona-fide hit machine with over 100 million albums sold world wide. It is amazing how song after song, the audience could sing along, dance in the aisles and celebrate memories from when they first heard  "If You Leave Me Now" and "Just You 'n Me." The line up included four original Chicago members with Robert Lamm on keyboards and vocals, Lee Loughnane on trumpet, James Pankow on trombone and Walt Parazaider on woodwinds. Jason Scheff, who joined the band in 1985, was on bass and vocals with Keith Howland (1995) on guitar, Tris Imboden on drums, Lou Pardini on keyboards and vocals and Drew Hester on percussion.
The show was also a fundraiser for breast cancer research, and one audience member was pre-selected to  come on stage and sing along with Jason Scheff on "If You Leave Me Now" (VIP Fan Experience, Sing With Chicago). The audience loved the show, some would run up to the stage and wait for Jason to give them one of his guitar picks. During "If you Leave Me Now" a lady on the first row held up a cell phone for Jason Scheff to sing into. It looks like this world tour will be great success.
The set list included:
Dialogue, Stop The Hurtin, Alive Again, If You Leave Me Now, Along Comes A Woman, Searching, Mongo, Feel, Call On Me, Old Days, Habit, Inspiration, Beginnings, I'm A Man, Time, Just You and Me, Saturday, Hard To Say, Get Away, Feelin Stronger, Ballet, Free and 25.