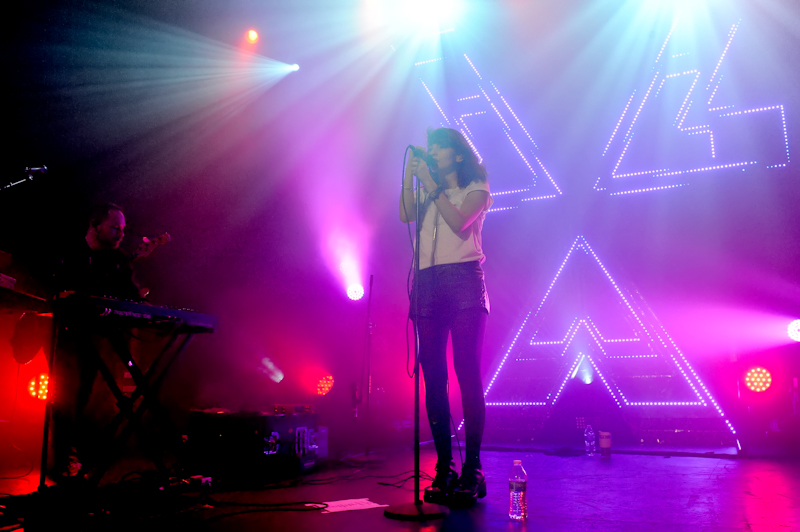 AUSTIN, TX – October 10, 2014 / Austin's (seemingly ceaseless) festival cycle continues on with ACL Festival setting up base camp in Zilker Park for the second weekend in a row. The plus side to Austin being inundated with wristband-ed, inhibition-less, substance indulgers is that there are ample opportunities to catch buzz bands outside of the fest.
The immensely popular synth-pop trio Chvrches out of Glasgow–who's been on the road since November 2012–took to the stage at Emo's for an Official ACL After-Party show that suited the outfit better than their earlier daytime sets in an intimacy-lacking park.
The group is composed of vocalist Lauren Mayberry (a dead ringer for actress Carey Mulligan sans blonde pixie-cut), post-rock architect Iain Cook (who, Mayberry reiterated, is named Iain, not Liam as most American's call him), and synth-and-sampler hypnotist Martin Doherty.
The crowd looked like it was on a big street style blog. The gals rocked literary tattoos and floor length dresses or shorts that left most of their femurs uncovered.  The guys wore shirts with busy prints and had the same undercut haircut that rapper Macklemore dons.  These people had been at a fest all day, so there was a hint of body odor and weed in the air.
The drink of choice was oddly non-alcoholic.  Bottles of water and slim cans of sugar-free Red Bull were guzzled down at an alarming rate (most likely due to the day-drinking and in some instances, partying with pills).  Of course, the occasional hipster-rocket fuel, Pabst Blue Ribbon, could be seen in hands.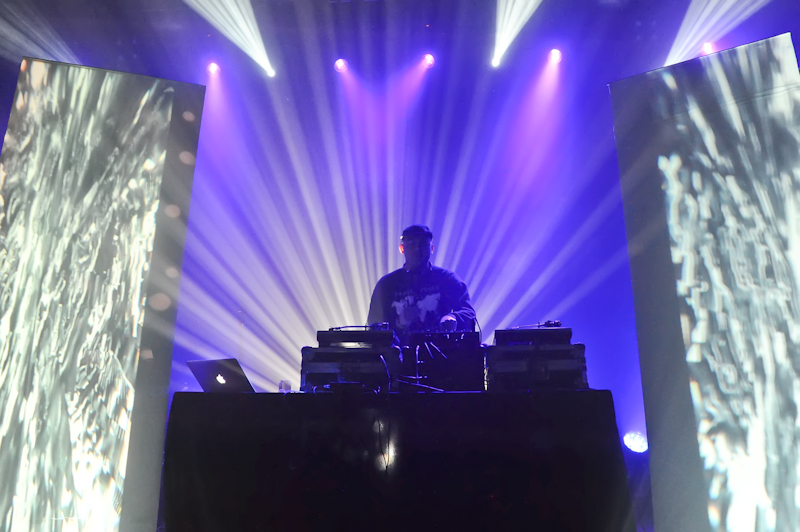 DJ/Producer The Range opened the gig.  He was animated and jumped as if his bass notes were a trampoline.  The crowd went mild, or indifferent, but to no fault of The Range.  They were just exhausted and shockingly saw an EDM set as the time to rest.  Twenty minutes in, he started playing R&B and rawer hip-hop mixes, but the crowd still danced more ironically than actually.  To The Range's credit, he put on one hell of a set that the concertgoers will look up on SoundCloud later, and be upset that they didn't appreciate it at the time.
At 12:10 in the a.m., it was now time for Chvrches to take the stage.  The band scissor-kicked things open with "We Sink"; Moog wavelengths synced with the pulsating lights, drum machine samples vibrated bodies, and the sentiment of revenge filled the room with adulation.  The agro "What the fuck were you thinking" lyric was shouted louder by the audience than was calmly sung by the Topo-Chico-cool frontwoman.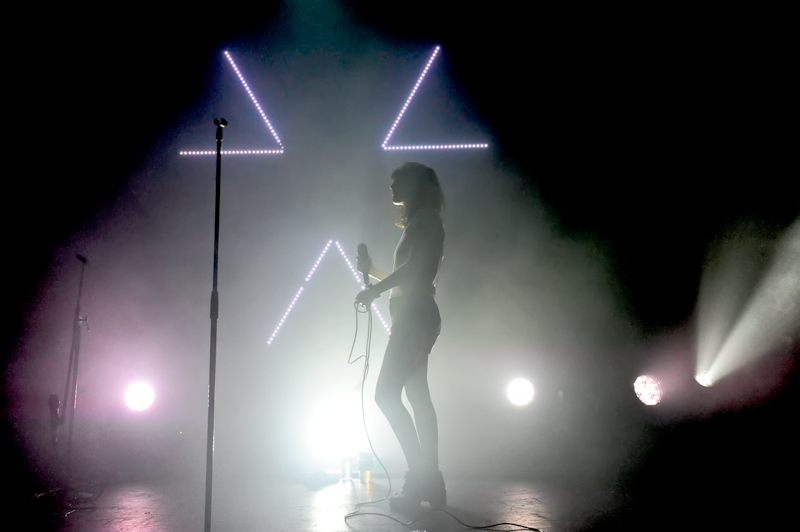 The LED trim on Cook's and Doherty's stations and the 15-foot illuminated installation behind them served as the fourth member of the band.  It punctuated and articulated every evocative moment.  The Depeche Mode-y "Lies" featured thump and crackling percussion with Mayberry staying utterly composed as she slung bitter notes with her crisp, beautiful, and innoxious timbre.
"Lungs'" industrial sound has melodic feng shui strategically adorning in its surroundings.  The hook was inescapable and repeated so much that it became not enough.  On "Gun," the vocal scales were compact, but loaded with firepower as the bass guitar drubbed and smelled of gunpowder.
Expansive New Wave gem "Night Sky" had a sense of urgency during its choruses after some purposeful, slow burning, passive versus.  The bridge was effects-laden and the outro boasted a glitchy-shooting-stars-across-the-song's soundscape.
Video game chords from the buzz saw synth made "Strong Hand" a bombastic dancing-in-place soundtrack.  "Science/Visions" was a cinematic, sci-fi masterpiece.  There were lyrics, but it was hard to pay attention to them because the ominous and futuristic score demanded full attention.
The most anathematic and emotional cut of the night goes to "Recover."  The entire track was dunked in pathos, dusted in optimism, and packaged in catharsis perfection.  Hand claps, vulnerable vocals, and each chorus gaining my steam than the last, made "Recover" guilty of stealing the show.  
Dark Wave ballad "Tether" kept building, and building, pulling energy into its core until it burst into a sonic-nova that overtook everything in its path.  "Under The Tide" had neon-retro glitter all over it as the bouncy Doherty sold every lyric he sang as he fronted the band for their latest single.  Chvrches indie-dance career definer, "The Mother We Share," connected well and the effortless runs by Mayberry destroyed the lot.
Exit Chvrches, enter "one more song" chants.  The troupe did them two better than their request.
Again, with Doherty leading, "You Caught The Light" was a soft-spoken somber chillwave jam that got real dreamy as the show went past 1:00 am.  The new track "Richard Pryor" was datarock whose prose was about forward-thinking on a grand scale.  It was executed with emotive phrasing and smacked of the good-kind of desperation.
And closing their set was the declaration of independence "By The Throat" (insert topical Scotland voting to stay in the United Kingdom joke here).   There were great call and response spots, lavish loops, and matter of fact delivery. It was a swan song that felt more important than serious.
At one point, Mayberry shared how America has been the kindest to them over their rise in the last two years.  The group has a few more intercontinental dates lined up in the next month, and then plan to hit the studio in January to record a new album.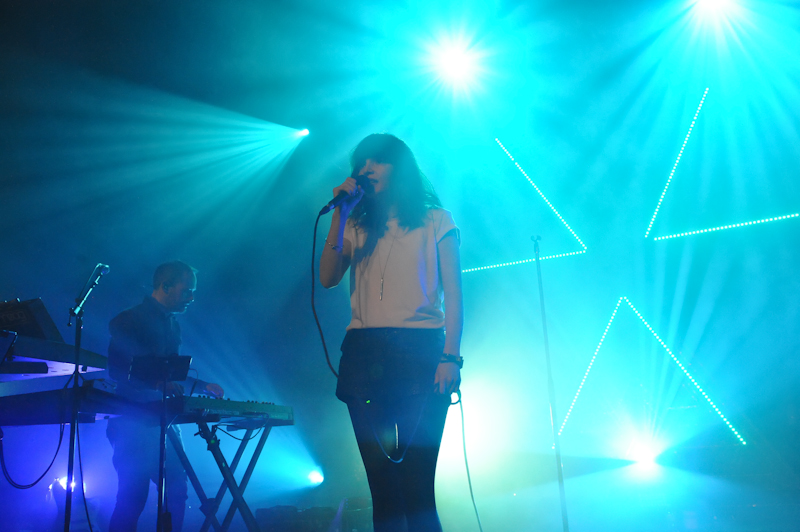 Chvrches are master pop-tune crafters. Whatever direction they turn, the record will be a success.  They've already got the honesty, authenticity, and passion part down–which most major label electronic acts struggle with after success rears its two-faced head.  Their performance at Emo's bookended their North American rise as their first ever show was at SXSW.  So now, all you can do is sit back and enjoy the anticipation for their next indelible chapter.
Review by Donny Rodriguez