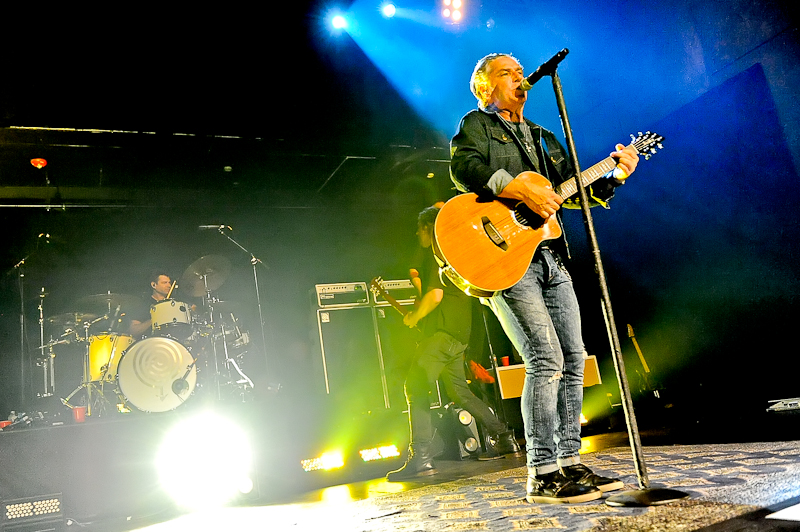 This review is dedicated to the memory of J. Dennis "Denny Mac" Thomas, our friend and fellow concert photographer who left us on Friday, November 20, 2015.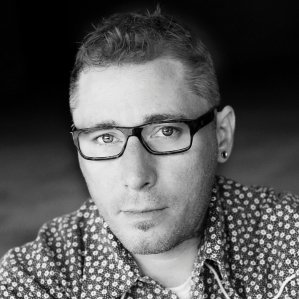 ---
It's not a rock concert unless you get a little beer spilled on you, right? As the sticky, fizzy beverage poured over my head and onto my scarf, my eyes readjusted to the surroundings. The venue was wild. I would typically imagine this rowdy scene taking place at a Motely Crue or Van Halen concert, but don't underestimate Collective Soul fans. They come ready to party.
As the lights pulsed and guitars wailed, thirsty music fans carelessly chugged beer and worshiped the music. The maze of swarming revelers thickened with each passing song, making a quick trip to the bathroom or merch table feel like Spartan feat of strength. But still, tipsy music lovers plowed through the swarm and managed to replenish their libations at the bar. They may not have returned to their pristine viewing area, but Collective Soul kept the energy buzzing in every corner of the venue.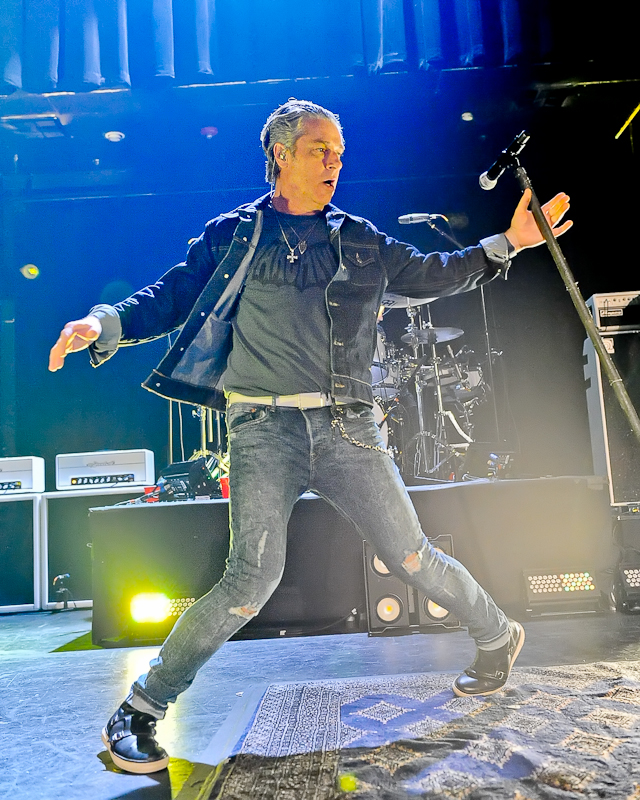 Collective Soul gained popularity in the early nineties, but they haven't lost their relevancy in the millennial age. Their latest album, See What You Started by Continuing, has some hard hitters. Still embodying their iconic alt rock timbre, Collective Soul's ninth studio album makes for an energetic live show. The band has shuffled guitar players throughout their twenty two year tenure, but most of the original band members remain. Friday night's concert featured singer/keyboardist Ed Roland, rhythm guitarist Dean Roland, bassist Will Turpin, drummer Johnny Rabb, and lead guitarist Jesse Triplett.
Of course, their opening song "December" definitely sparked latent memories from 1995. Some listeners revisited their high school graduation and the unique freedom that accompanies that pomp and circumstance. Others, like myself, were sent back to their early childhood. Their catchy blend of rock and pop accompanied many of my summer road trips, and it was formative in developing my musical taste.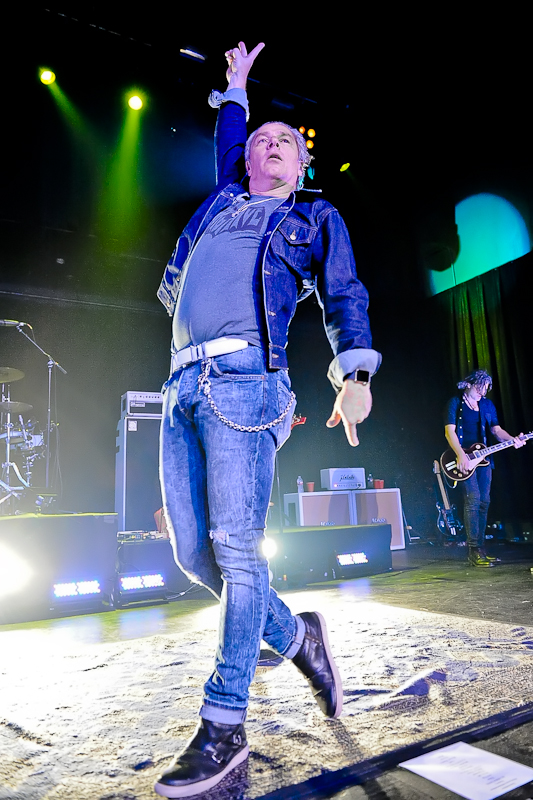 Once we finished singing along to the chorus of "turn your head, now baby just spit me out," Ed Roland raised two fingers against the lights and flashed the first peace sign of the night. Many more followed, and soon we didn't even need to follow his cue.
Leaving little room for applause, Roland jumped into another 90s hit, "Precious Declaration." This four-minute brisker included some of the flashiest microphone choreography I've ever seen. As his golden vocals wailed, Roland tipped the mic stand toward the stage and, just when it looked close to crashing, caught it in one hand. All of this was performed with the ease and elegance of an olympic gymnast. If Roland had two microphones, I have no doubt that he would end up juggling them by the end of the night.
The band dug into some of their earlier discography with 2004's "Better Now." As the catchy, repetitive hook beat through our heads, Ed Roland stared beady-eyed at the rolling waves of adrenaline surging through the venue. When his attention caught the sight of a front row fan holding his CD up high, Roland instantly motioned the disc forward. A Sharpie serendipitously appeared somewhere amongst the crowd, and soon that CD was covered in smeared signatures.
Quiet introspection followed when Collective Soul went into "World I Know." Though this song has played for twenty years, the lyrics sounded new, polished and revived. The melody flowed out of Roland as if for the first time. The lyrics "I laugh at myself while the tears flow down" are as chilling as ever.
As the final chord fizzled out, the audience was slow to respond. Roland was right. It's hard to find a song to follow that one, but their artfully crafted set list continued with "Confession." Beginning with serene acoustic guitar flutters, this new track kicks up in the chorus with an avalanche of guitars and falsettos.
The long-awaited "Shine" graced the set as the clock reached 11:00. On their album, Hints, Allegations & Things Left Unsaid, this anthem runs a crisp five minutes. But at Emo's on Friday night, this celebratory jam session seemed to stretch for hours. Roland drank up the applause and sent his focused eyes across each and every fan. Our deafening display of appreciation was apparently not enough for them, for they jumped right back in for another three minutes of the song. The excitement throttled.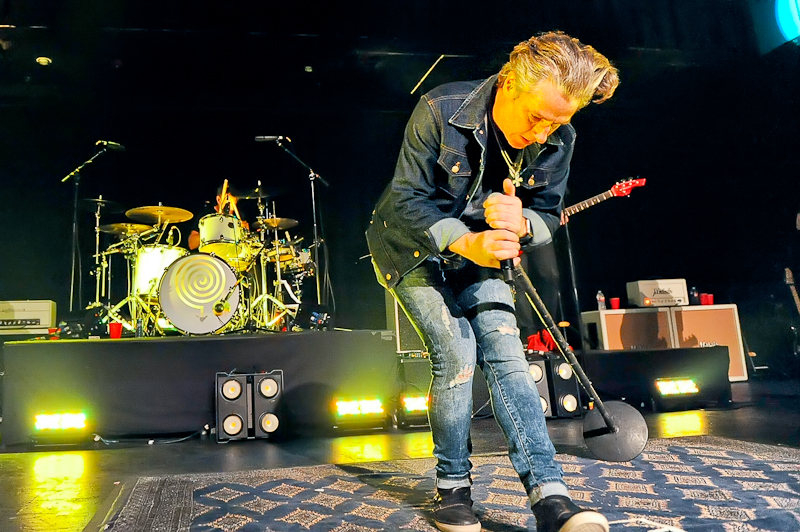 The electric guitars switched to acoustic for their closing song, "Run." Once again, the band milked this number for all its worth. After he traversed through the first chorus, Roland turned the mic toward us and let our voices travel through the speakers. The effortlessly simple melody harmoniously suited everyone's unique vocal texture, and soon the band realized the song didn't even need to be plugged in. Roland conducted the repeating vamp of "Have I got a long way to run" until the crowd felt lulled into collective trance. Our smiles grew with each repeating phrase. No matter how many times we've heard that song, we sang along like it was the first time.
More photos at our Facebook Page https://www.facebook.com/TEXASROCKREPORT
Review by Elisa Regulski