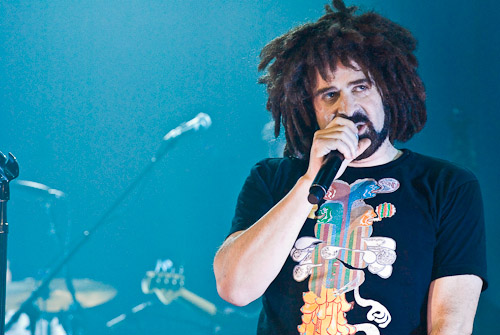 AUSTIN, TX – AUGUST 3, 2009. The Counting Crows, Michael Franti and Augustana, known as the Saturday Night Rebel Rockers Traveling Circus & Medicine Show was one man short Monday night, August 3rd 2009 at Austin Music Hall. Michael Franti was forced to cancel the show due to a ruptured appendix. Hope he gets well soon!
This tour sets itself apart form other shows in that all the artists perform on stage at the same time, there is no opening band. In the pre-show blurb Adam Duritz warns the audience to show up on time "Cuz when the curtain rises…THE CIRCUS BEGINS". Indeed, in front of the stage there was a circus like tarp hanging as stage curtain complete with stains, rope and what I notice was a moldy "circus" smell.
The curtain rose, and the Counting Crows and Augustana were on stage singing together some of the standard Counting Crow's song. The stage was full with band members, 11 if my counting is correct. For Counting Crows Adam Duritz (vocals), David Bryson (guitar), Charles Gillingham (keyboards), David Immergluck (guitar), Dan Vickrey (guitar), Jim Bogios (drums), and Millard Powers (bass). Augustana, with Dan Layus (vocals), Jared Palomar (bass), Justin South (drums), Chris Sachtleben (guitar) and John Vincent Fredericks (piano).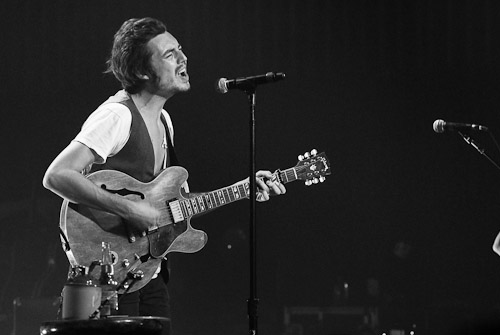 The audience loved the high energy on stage as they sang the 1954 Willie Dixon song "I just wanna make love to you". Then Augustana show-cased some of their own songs as the Counting Crows left the sage for a while. Dan Layus sang All The Stars And Boulevards which got a rousing applause as he started. Next they rolled the upright piano to center stage and he sang Boston, also used as sound track to The Hills television show. At some points during the song he changed Boston to Austin which was well received by the audience. It's always good to get the local crowed on your side.
The bands then joined together again on stage and rocked Austin Musical hall. Latter on the audience hushed as Adam Duritz sang Washington Square, a wonderful song about memories form a place that once was home.
The "no opening band" format seemed to work for these guys, maybe it will catch on.