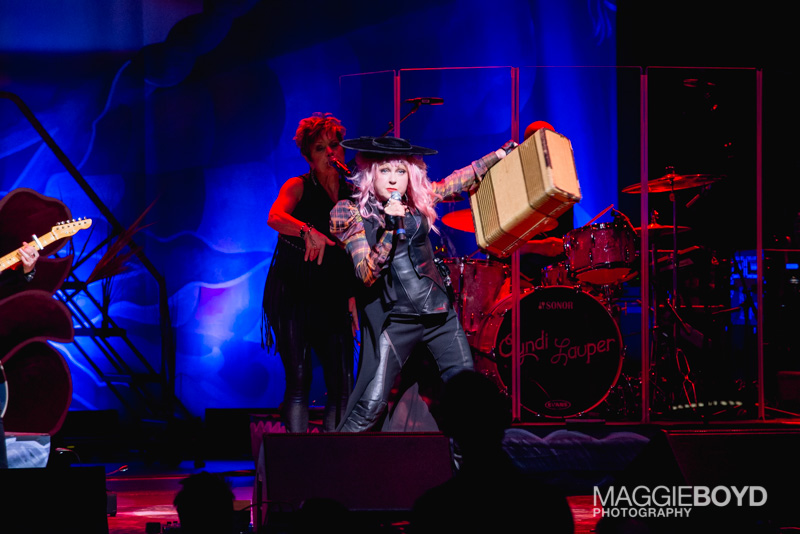 Cyndi Lauper, the Queens, New York-born 1980s pop icon and LGBT activist has traveled an illustrious career that includes Grammy Awards for Best New Artist in 1985 and Best Musical Theater Album for Kinky Boots in 2014. Most recently, the 63-year-old entertainer has been reminiscing on her past and has released an album featuring country western cover songs from the likes of Wanda Jackson and Patsy Cline. Quite literally a detour from the work that made her famous, the second leg of Lauper's Detour tour stopped at Austin City Limits Live at the Moody Theater, for two nights – a taping on Friday night and a sold out second date on Saturday night. The selection of venue was quite fitting as it sits on a boulevard named after Willie Nelson– Austin's own country legend.
Kicking of the night was a solo set by an up and coming Texan musician. With guitar in hand, Denton singer-songwriter Sarah Jaffe warmed up the crowd that was shuffling into the theater with her smooth and soulful vocals. The tall blonde 30-year-old, dressed in all white with the exception of gold heels, stripped down her electro-pop leanings to a more country-like sound that provided a nice bridge to the headliner. On the last song of her short set, "Talk" from 2012's "The Body Wins," Jaffe substituted the drum machine beats in the original by having the crowd clap along to the lyrics, "All my young life, I've opened my mouth too many times, now that I'm down talking, here you come walking."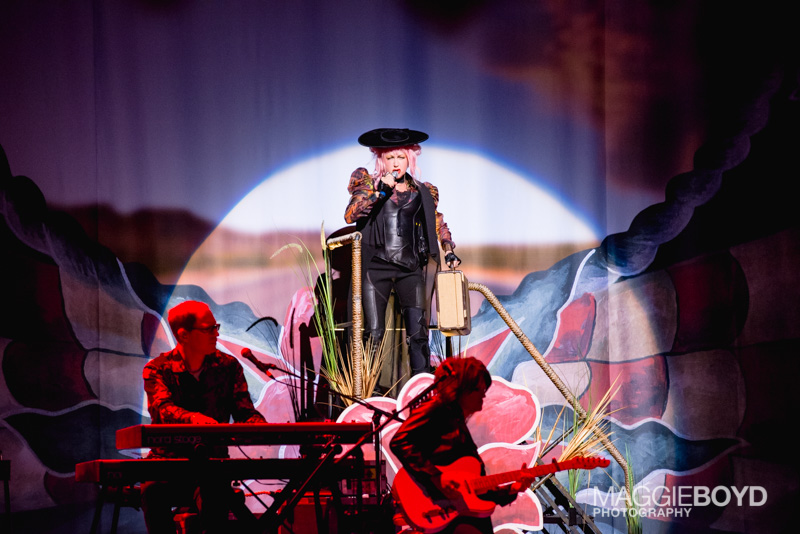 Cyndi Lauper's die-hard fans came out in droves on Saturday night and 1980s fashion abounded as many concert-goers donned tutus, glitter, tights, and lots of pink. As the lights grew bright during the 9:08 pm start time, a large backdrop revealed Lauper atop a staircase with vintage suitcase in hand. She wore a large black hat and black leather corset and leather pants with billowing puffy shoulders in brown – an outfit that felt more steampunk than country western. Starting with "Funnel of Love," a Wanda Jackson cover, from her "Detour" Album, got the crowd buzzing. In a nearly identical set from Cyndi's ACL taping, she followed up with "She-Bop" from her 1984 debut "She's So Unusual" where she took off her large round hat to show off her iconic pink mane.
After the first two songs, Lauper took a break to chat with the crowd. An enthusiastic fan countered Lauper's "How you doin'?" with a "I fucking love you Cyndi!" that drew warm applause from the audience. She explained that she always wanted to do an album like "Detour," but it took nearly 20 years. She continued with the question, "What the hell does Queens have to do with country?" Lauper explained that growing up in the 50s and 60s, American television was inundated with country western television shows and musicians and an encounter with Patsy Cline on the Arthur Godfrey show had a profound impact on her – seeing Cline as a role model to emulate.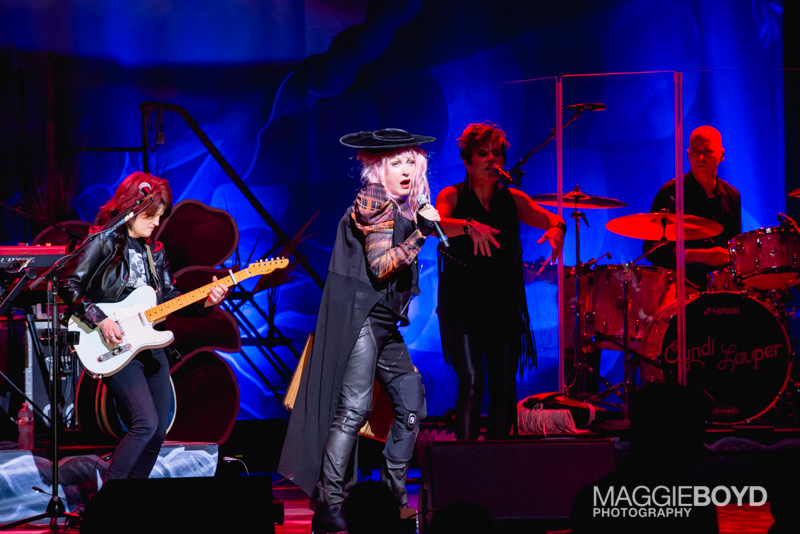 Continuing in to her set, Lauper launched into the Ray Price cover song "Heartaches by the Number" then "I Drove All Night" from "A Night to Remember," where she performed atop a vintage travel chest, rolling around and kicking up her feet as she belted out her vocals. "Walking After Midnight," a Patsy Cline cover, was a fan favorite and "I Want to Be a Cowboy's Sweetheart", was lighthearted and campy as Lauper and her back-up singer rode a classic stick pony across the stage. After the popular Prince cover, "When you Were Mine," which Lauper mentioned had been in her repertoire for years, she concluded her first set with "Money Changes Everything," that drew a standing ovation from the crowd.
For her Encore, Lauper sang "Misty Blue," from "Detour" longingly into an old-timey rotary phone. This was followed by the opening lyrics of the 1970 Five Stairsteps "O-o-h Child" before launching into "Time After Time," where the crowd rushed the stage with cell phones in hand. For "Girls Just Wanna Have Fun," Lauper brought Jaffe back on to the stage and asked the crowd, "where my ladies at?" Nearly all of the audience stood and began dancing and singing "they just wanna, they just wanna" in unison. Before closing out her set with the solo vocals from her anthem "True Colors," Lauper reminded the audience of the important upcoming presidential election. She said, "I don't tell you who to vote for but you need to vote" and "you're not included unless you include yourself." As a contestant on Donald Trump's Celebrity Apprentice in 2010, she pulled no punches when she stated, "running a reality show is nothing like running a country." A clear message that resonated deeply with her followers.
Review by Alex Freeman