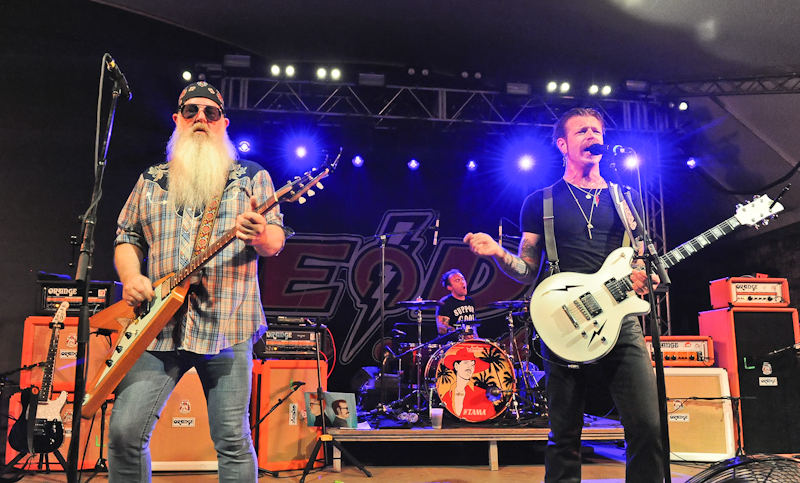 From one perspective, it's gotta suck to be in Eagles of Death Metal. They will probably always be "that band" – the most famous rock group in the world for a few weeks following the massacre during their concert at the Bataclan, part of the November 2015 Paris Attacks. On the flipside, they survived against terrifying odds, which – despite obvious trauma – instilled in them a new appreciation for life, their music and their fans.
"This has to be the biggest personal show we've played in the U.S.," said frontman Jesse Hughes (aka Boots Electric) during the quartet's Saturday night gig at Stubb's. "You make me feel like a solid-gold, 18-inch John Holmes boner wrapped in diamonds!"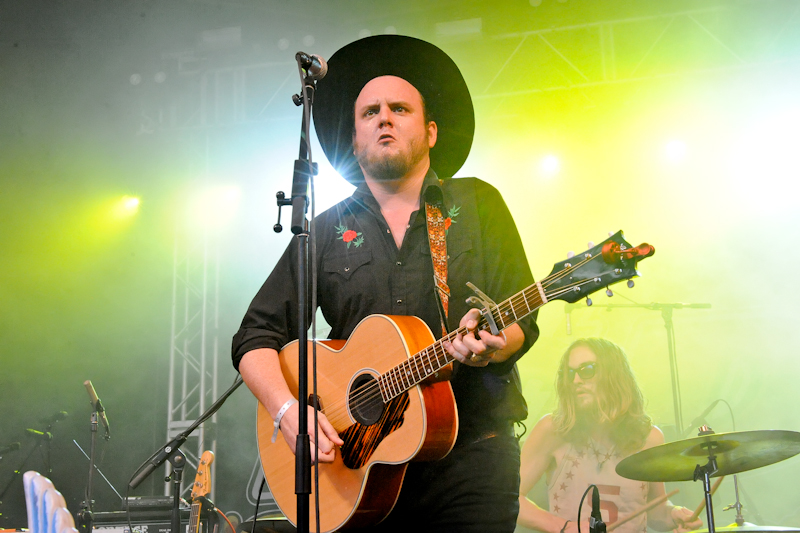 A compliment hinging on a classic porn actor reference might seem strange, but not for an outfit whose last three albums – officially penned solely by Hughes and Queens of the Stone Age frontman Josh Homme, not present this night – were titled Death By Sexy (2006), Heart On (2008) and Zipper Down (2015). Raunchiness and rowdiness are just part of the program for EODM, right down to the opening acts, which included the rough n' tough alt-country of East Texas native Paul Cauthen, plus a set ranging from punk- to Black Sabbath-inspired tunes "all about fucking … and butt-fucking" from Nashville's Thelma and the Sleaze.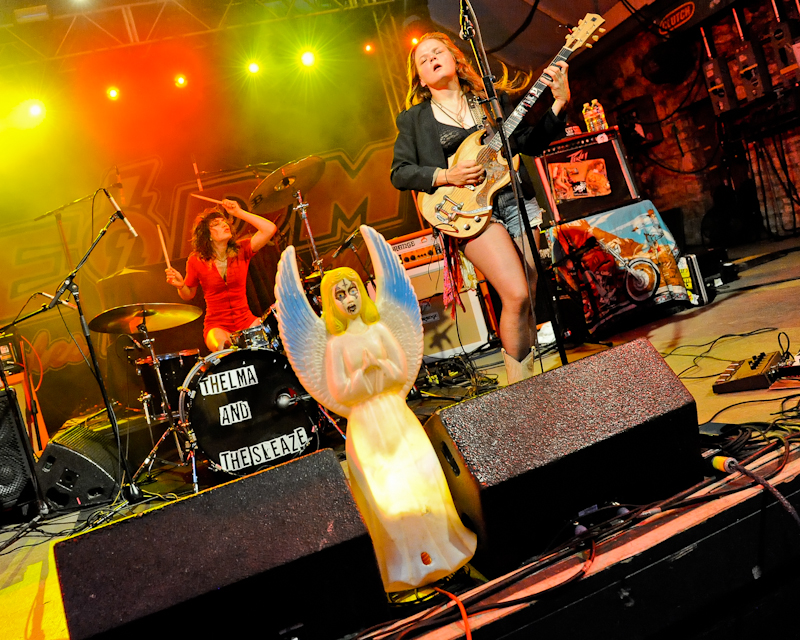 EODM powered through a whopping 22 songs, peppering the grooviest originals off their latest disc ("Complexity," "Got a Woman," " I Love You All the Time") throughout the nearly 2-hour set. A lot of those tunes sounded like regurgitated, rearranged versions of older featured favorites like "I Got A Feelin' (Just Nineteen)," "I Like to Move in the Night" and the encore-closing "Speaking in Tongues."
Yet that self-professed samey-ness (I recall Hughes once proudly proclaiming that every song they write is based on the Rolling Stones' "Brown Sugar") also provided the upshot: all the selections were downhome, dance-worthy jams, even if the majority of folks were only able to fully sing along to covers of Duran Duran's "Save a Prayer" – a perfect compliment to Hughes sultry crooner voice – and Stealers Wheel's "Stuck in the Middle With You" (which featured the clever lyrical swap "Stuck in the metal …").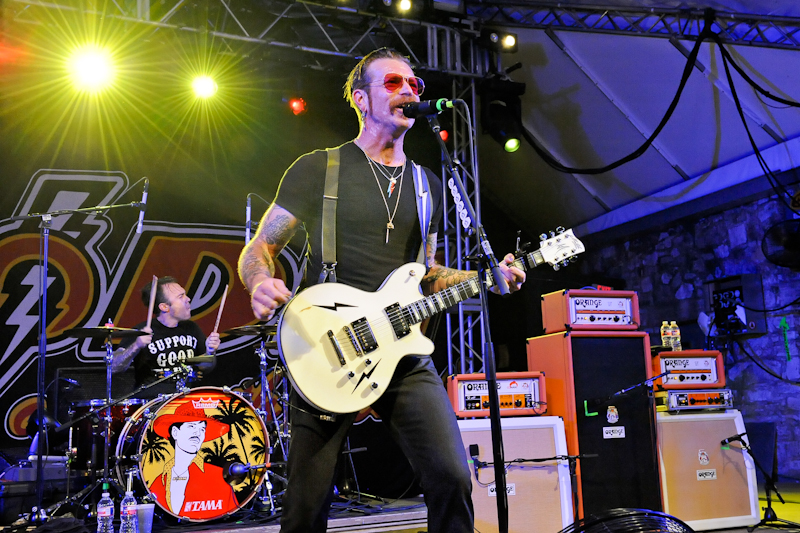 Though the concert didn't sell out – the venue reported selling 1,500 tickets of its roughly 2,200 capacity – both fans and band members strived to make the evening special. Hughes spent much of the show in the photo pit, gyrating and singing in fans' faces, and when he jumped down during lead-off cut "Secret Plans," one person handed him a painted portrait of his and Homme's likenesses, which – after pressing it to his heart and raising it above his head in appreciation – he proudly propped up for display by the drum kit.
"When I come out on stage, I don't necessarily wanna start crying like a baby, but you almost got me there," Hughes said. "This is the fucking shit we needed tonight – ya'll did not let us down!"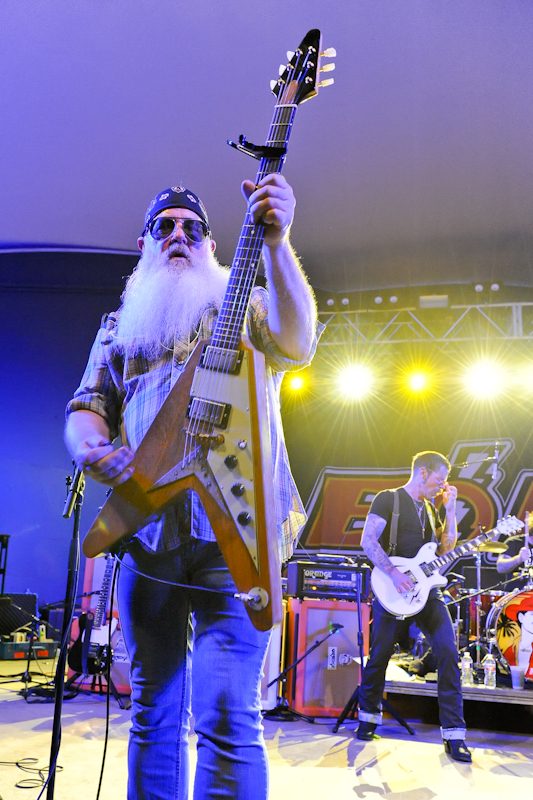 Hughes also took time at the beginning of the encore to take (shouted) requests for a 3-song solo run, eventually settling on the snappy "Cherry Cola" and swampy "Midnight Creeper," with an abbreviated cover of Dan Seals' "Three Time Loser" sandwiched between. So yeah, it blows for Eagles of Death Metal that much of their current fame stems from their wrong-place-at-the-wrong-time circumstances at the Bataclan – they're far from being the world's actual biggest band. But to their faithful fans' benefit, they're now a badass rock group with some of the biggest hearts. From the beginning until forever: peace, love, death metal.   More pictures on our Facebook page.
Review by: David Brendan Hall