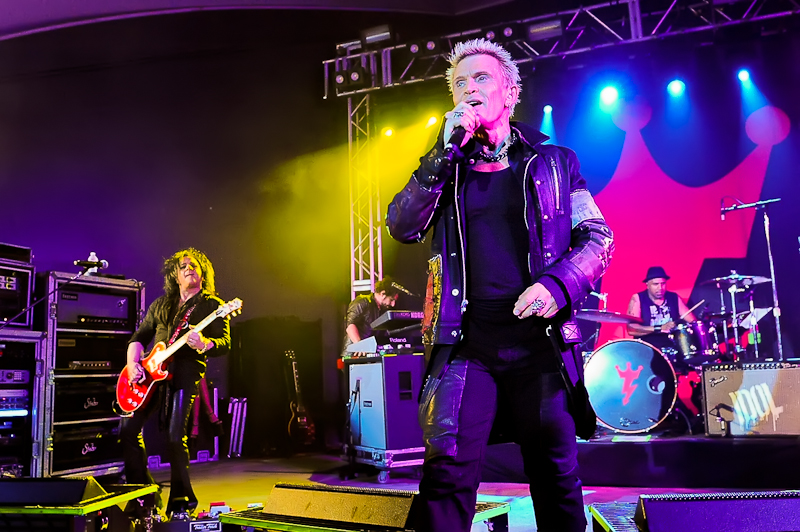 Ahead of the punk rock demigod's inexplicably early (4pm) slot at the ACL Festival (really, you're gonna have Billy f***ing Idol play before indie buzz bands and EDM knob twisters?), Idol played to a sold out crowd at Stubb's Thursday night October 1, 2015 in Austin as part of The Official 2015 ACL Festival Late Night Shows.
As summer heads to the southern hemisphere for the winter, she still makes her presence felt as temps were in the high-80's as doors opened and in the complaint-free 70's zone by twilight. Using a science less sound than even the census bureau's, I surmise the crowd ranged from a scant number of millennials to countless parents of millennials and from fun-loving middle-aged divorcees to homebodied husbands and wives.
A street-style photographer on this night would have captured male concertgoers donning boxy-band-tees with comfortable short-pants, while their female counterparts rocked flirtatious baby doll dress and boots or tight bedazzled tops with frayed denim looks.
This needs to be said, Stubb's has the most reasonable drink prices of all the major venues in the capital city. The drinks most imbibed were malty Brooklyn Lagers and Tito's and sodey-water, all for under $8 with tip. In a town with a rising cost of living, this was clutch.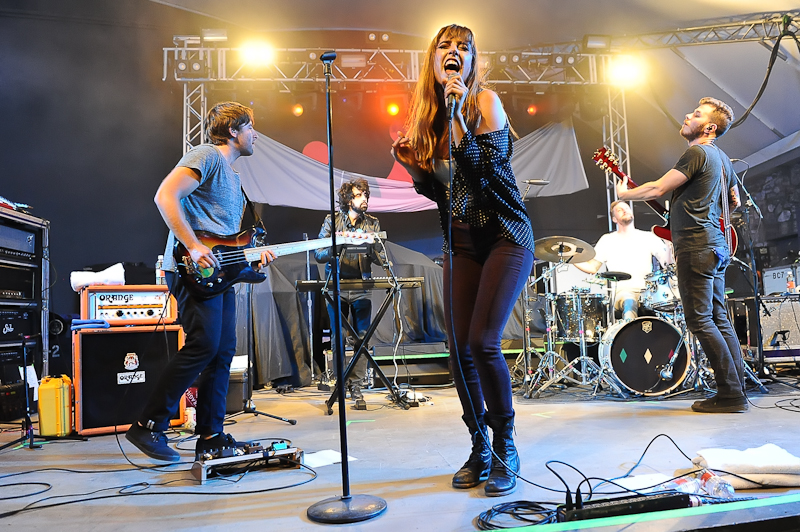 Tapped to open the show was the stardom-bound, 23 year old tune-smith Ryn Weaver. The front woman is dainty in appearance but a category-5 hurricane in performance. Her sound is lush with melody, energy and urgency. There were some radio-ready, Imagine Dragons-adjacent moments during her set–if Imagine Dragons were more earnest.
"Pierre" was dipped in pathos, "Traveling Song" was dusted in sincerity and "Promises" was chock full of Florence and the Machine like cinematic soulfulness. "OctaHate" is criminally catchy, and will hold Weaver in creativity captivity, charged with a life sentence of hit making with no chance for parole.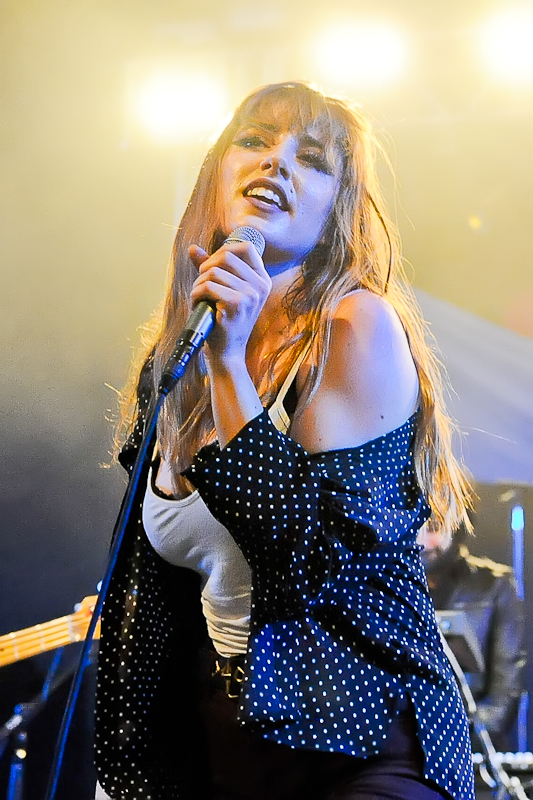 A forty minute intermission meant it was time for the lot to grab a chopped beef sandwich and more economically-sound suds.
From his latest offering, 2014's Kings & Queens From The Underground, the pressing and pensive narrative of "Postcards From The Past" jumpstarted the chatty crowd. Roars rattled and selfie devices now became filmmaking tools capturing the spry Billy Idol.
While Idol is only a head-scratching 59 years of age, he doesn't look a day over immortal.
His voice was ever articulate and the vibrato unleashed shook harder than the fist pumps he commanded all night.
Idol had a five-piece backing band behind him, which included his partner-in-crime, guitarist Steve Stevens. "Cradle of Love" had basslines that bounced like bungie cords and saw the showman seduce the masses. His yells were as crisp as his signature spiked follicles.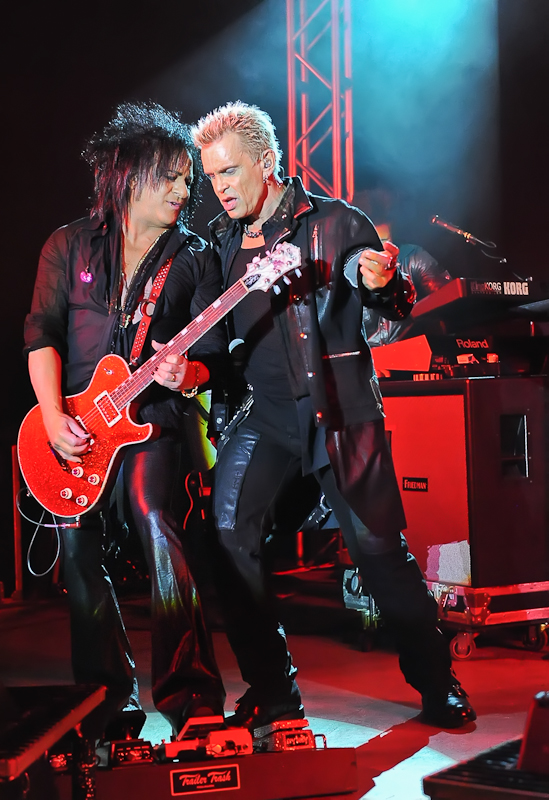 The newer "Can't Break Me Down" was a power-pop battle cry that the crowd embraced even though not too many lips mouthed the lyrics. "Dancing With Myself" may be the cause for strained hip and back muscles today, because without warning, everyone bursted into dance like it was a flash mob or teen movie prom scene. The Elvis-esque baritone he went in and out of during phases were masterful. Idol augmented lyrics and asked "Austin" to dance which only felt cheesy in retrospect.
"Flesh For Fantasy" was a tawdry tale with Idol's sexual prowess at the forefront. The synthesizer parts haven't aged nearly as well as the singer, but it did do a good job of giving the song that late 80's, smutty basic cable programming vibe. "Save Me Now" was surprisingly impassioned and dynamic for a newer cut.
The Generation X ditty "Ready Steady Go" was devoid of the gloss that made Idol's punk sound come off shiney and refined in his MTV heyday. It wins the golden safety pin award for punkiest punk number.
After some profanity laced banter which was hard to hear over the liquored up loud-talkers, Idol played the acoustic lead, mid-tempo "Sweet Sixteen".  It was a perfect pace setter for the set and meant a lot to the diehards.
"Eyes Without A Face" explored the soundscape and incited a donnybrook of reminiscing and lyrical reciting. Stevens was now on full display during a guitar solo session. His flamenco and shredding chops crafted a delightful and dramatic aria. A few bars of "Stairway To Heaven" were abandoned in jest.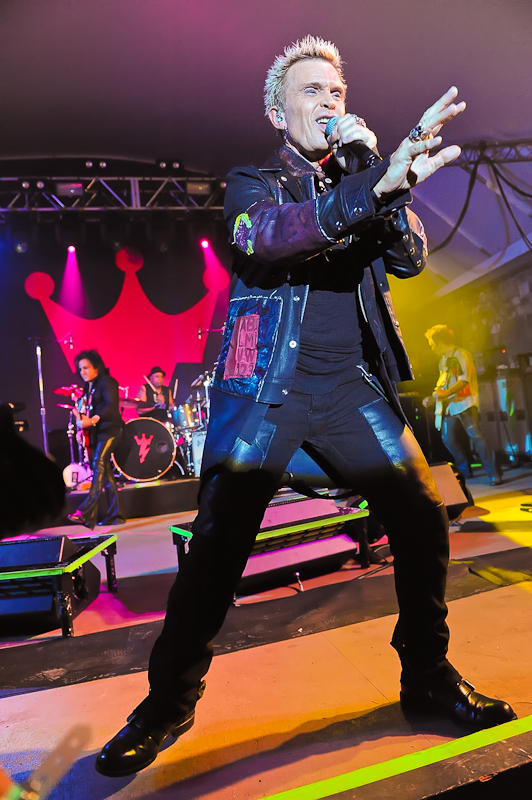 The dingy roadhouse "Whiskey and Pills" was indulgent in the non-life wrecking way. "Blue Highway" was a crowd pleaser but featured an extended jam session, like most hymnals of the night did–personally I feel like these could have been trimmed down and made room for "Hot In The City" or "To Be A Lover".
"Rebel Yell" took no prisoners. The collective angst was nuclear and the unadulterated joy slapped on everyone's face was radioactive.
The band vacated the stage for a duration brief than a snapchat message, Idol and Stevens reappeared which saw Idol thanking the crowd and his longtime guitarist for making his life "[expletive]-ing great."
Armed with just an acoustic axe and Idols platinum pipes, the duo cordially invited the audience to attend their "White Wedding". With the moon watching with an unobstructed view behind the clouds from the cheap seats, the dusty knoll was illuminated by the campfire singalong that bursted into flame during the reprise when the full band plugged in and joined the twosome.
After curfew-pushing band intros and a drum solo, this Thursday night Stubb's affair transformed into the karaoke bars or pubs of anytown, USA that pumps the unforgettable notes to "Mony, Mony".  This massive hit struck a chord like no other song did this night–like it does any night it's heard in the aforementioned joints that keeps the song alive. After the rendition was over the applause continued as patrons exited the venue.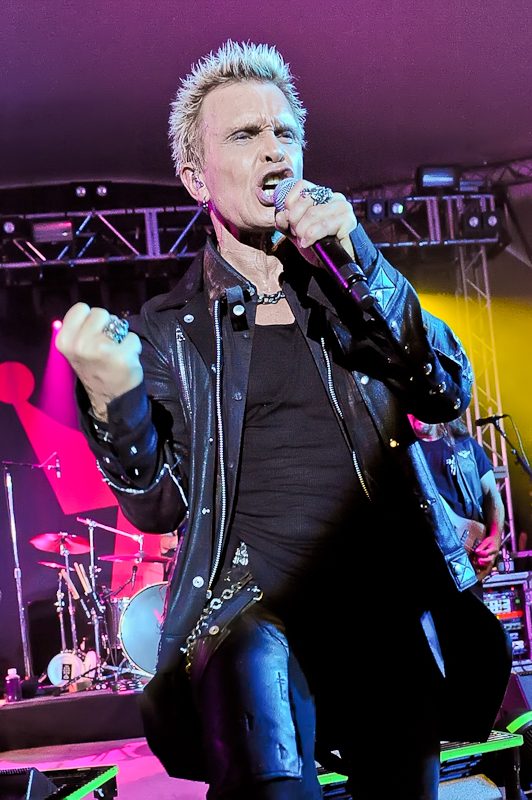 As smartphones summoned Lyft's and Uber's the banter bandied about amongst lovers and friends on the ever-changing Red River St. was much of the same, "man, Billy f***ing Idol f***ing rocked". Billy's VIP spot in rock and roll history is already reserved with titanium stanchions adorning leather ropes, but visitation hours to his punk rock display is open to the public indefinitely as only stars fade out, not Idol's.
Review by Donny Rodriguez