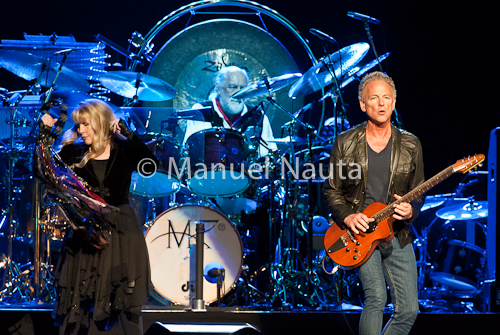 A 'Hump Day' night visit by one of the best Classical Rock Bands of my era got a very full house over the hump at the Toyota Center this Wednesday evening.
Still Christine McVieless Fleetwood Mac (FM) came roaring into H-Town ready to give their fans their money's worth with non-stop music.
Early on Stevie Nicks shared that she was happy to be back in Texas as she had been a resident of our fine state for over 5 years.  Lindsey Buckingham shared that from his perspective 'the story' of  FM is already long but it still isn't over.  He wasn't sure what the next chapters were going to look like but there was more coming, perhaps even a new album soon.  He mentioned that an EP, Extended Play, was out and considerable new material had already been recorded.
The foursome started the show with three songs from Rumours, first Second Hand News, then The Chain and Dreams. Next was Sad Angel off the new EP.
In a recent Rolling Stone article Buckingham said, and I quote, 'I wrote this song last year for Stevie [Nicks], who always had to fight for everything. One lyric line goes 'Sad angel, have you come to fight the war?'   He went on to share that he and Stevie have known each other since high school.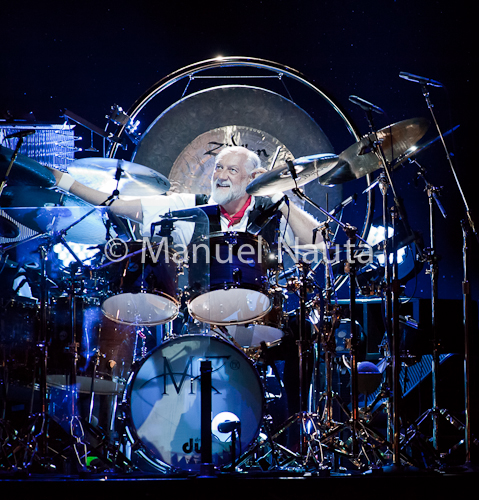 As I was unable to stay for the entire concert I asked a couple of friends who were in attendance from beginning to end to share their comments regarding the show. First Christine, a lifelong FM fan shared with me that she…Had an amazing night!  I've waited over thirty years to see Fleetwood Mac live and I was not disappointed.  Seeing your all-time favorite group perform and being there to experience true rock legends, left me at a loss for words.  Often bands don't live up to your expectations.  But, this was not the case! Stevie, John, Lindsey and Mac killed it!
Heather, who turned 20 something that night writes….First I have to say that FM took it to the next level with this year's performance!  They blew it out of the water!!
The amazing duo of Lindsey and Stevie owned the stage. They spent quite a bit of time in a dark, dreamy state, facing each other as if their voices were singing the sounds of eternal love, heartache, as well as reconciliation, but there was an interesting twist of solo-act competition that was quite evident throughout the evening. The personal side notes and stories as told through both of them were honest, hopeful and nostalgic as well.
I must mention that the four songs from Tusk were absolutely incredible with a guitar solo/riff like I have never seen from Buckingham, almost as if he was working out the past frustration of the last 35 years via his guitar. Not being performed on stage since 1981, Sisters of the Moon was a haunting recollection of the mesmerizing powers that Stevie Nick's has over the band and her fans.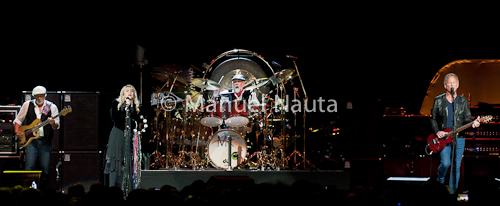 Ethereal, glittery backgrounds added to the ambiance of the evening and the laid back mood of the night. As usual, Christine McVie was missed, but Mick Fleetwood made sure that we were pleasantly sidetracked by his theatrical drum performances and quirky facial expression.
After two amazing encores, the very last song, "Say Goodbye", was a bittersweet reminder of all the numerous struggles and successes that this band has endured throughout its long musical history.
Heather, happy birthday, whatever the number and thanks to you and Christine for the terrific perspectives you provided.  Based on what I saw you were both spot on.
I must add  before closing that having seen one of the best  concerts of my life  back in mid 80's when Christine McVie was with FM it just isn't quite the same, or as good with her not around. I do hope she is enjoying retirement…how can you criticize her for that?
Until next time hope you keep it between the navigational beacons.
Review by David Clements / Photos by Manuel Nauta