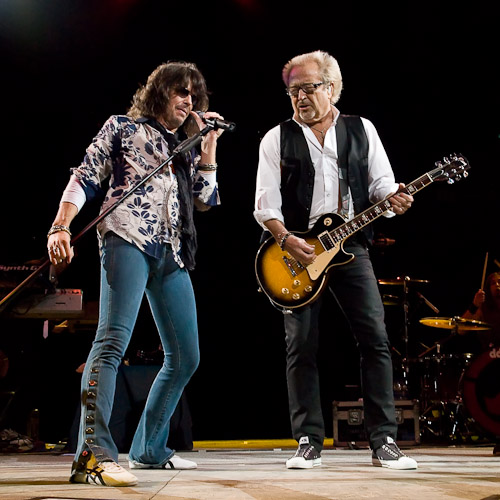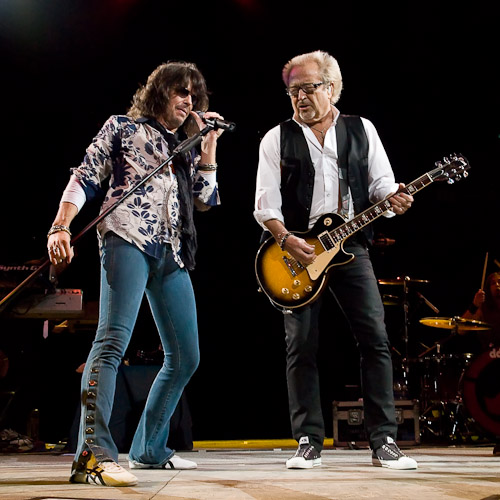 The British arena rock band Foreigner headlined the Friday night San Antonio stock show and rodeo at the AT&T Center. The band's world tour is in support of their new album "Can't Slow Down", exclusively available through the big-box retailer Walmart. Foreigner joins bands such as KISS, AC/DC and Journey by making an exclusive distribution deal with Walmart, a formula that seemed to have payed off well for the bands. Currently Mick Jones is one of the only original band members, the line up included: Kelly Hansen – lead vocals, Mick Jones – guitar, keyboard and vocals, Tom Gimbel – rhythm guitar, keyboards, sax and flute, Jeff Pilson – bass (used to be with Dokken), Michael Bluestein – keyboards and Brian Tichy – drums.
The evening started of with the rodeo spectacle, one American tradition that I still can't quite understand or appreciate. There were laser lights (similar to a Ghost Land Observatory show), smoke, lights, parades, running cows, horses, and cowboys who perpetually lost their cowboy hats as they struggled calves to the ground all to burst of rock anthems such as "We Will Rock You".
Foreigner took the stage at 10:30 PM; a circular stage was rolled out to the center of the arena floor, which was still covered with the dirt from the rodeo show. The band was driven to the stage in a Texas size pick-up truck. There was not an empty seat in the giant stadium when the veteran rocker Mick Jones jumped on stage and started off the show with their mega hit "Double Vision". In addition, the set list included such car-stereo hits as: "Head Games", "Cold As Ice", "Dirty White Boy", "Can't Slow Down", "Star rider", "Feels Like The First Time", "Urgent", "I Wanna Know", "Hot Blooded", and of course "Juke Box Hero". The crowd loved the show as screaming fans clapped, cheered and sang along to their favorite Foreigner songs. During the song "Head Games", lead singer Kelly Hansen jumped off the stage and ran up to the audience with arms in the air giving high-fives and ran a full circle before heading back on stage. Mick Jones still rocked the stage with his stylish white hair and designer reading glasses, no wonder the band has sold 65 million albums world wide.
Not only was this a round stage, but also rotated! I found myself literally running ahead to position my self to take the next photograph, it must have been a funny sight to see the photographers and video people jogging around the stage.