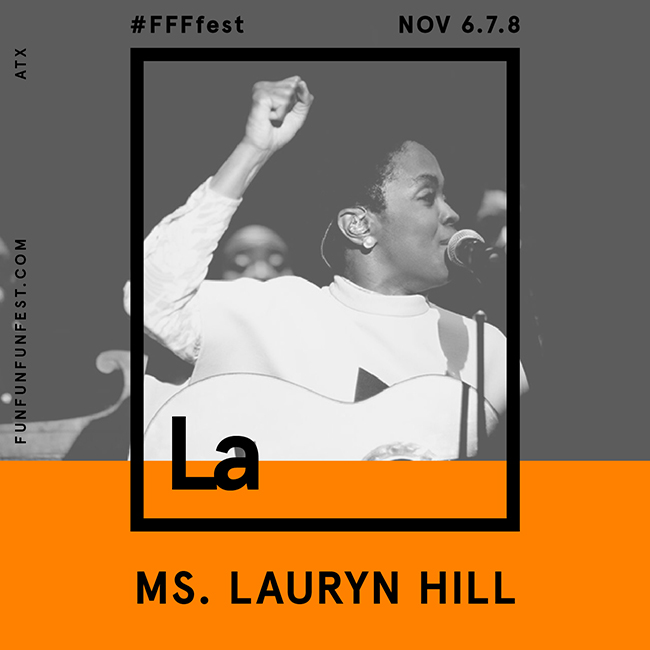 AUSTIN, TEXAS – October 28, 2015 – Fun Fun Fun Fest (FFF Fest) is proud to welcome the addition of the critically acclaimed musical artist Ms. Lauryn Hill to the 2015 music lineup for the tenth annual festival, November 6-8 in Austin, Texas. Ms. Hill replaces D'Angleo and The Vanguard as the Sunday night festival headliner. D'Angelo and The Vanguard canceled their slated FFF Fest performance due to illness.
This is a rare performance for Ms. Hill, and FFF Fest is her only 2015 Texas date. As a member of The Fugees, Ms. Hill went multi-platinum with the 1996 release, The Score. The Fugees became one of the most prominent rap acts with hit singles "Killing Me Softly," "Ready or Not," and "No Woman, No Cry." In 1998, Ms. Lauryn Hill released her solo debut album, The Miseducation of Lauryn Hill, and became the first woman or hip-hop artist to win five Grammy Awards—for album of the year, best new artist, best female R&B performance, best R&B song ("Doo Wop (That Thing)") and best R&B album. Most recently, Ms. Hill executive produced and recorded six songs for the 2015 release Nina Revisited: A Tribute to Nina Simone.
Ms. Hill joins the FFF Fest 2015 music and comedy lineup, which includes headliners Jane's Addiction, Venom, Wu-Tang Clan, Chromeo, NOFX, Grimes, Rae Sremmurd, Future Islands, Eric Andre, and ODESZA, Travis Barker playing in ANTEMASQUE along with a roster full of indie, hip-hop, punk, electronic, metal, and more. The FFF Fest NITES lineup includes a full set from GZA, performances from Andrew W.K. (solo), Lagwagon, Mayhem, Skinny Puppy, Subhumans, Tig Notaro, Le Sins (Toro Y Moi DJ set), and more. NITES will also include performances from Hyundai GRAMMY Amplifier artists Cramer, Bonavox, and Barnaby Saints. The NITES shows are free for festivalgoers thanks to Hyundai and the GRAMMY Amplifier program. Check out the full festival lineup at funfunfunfest.com.