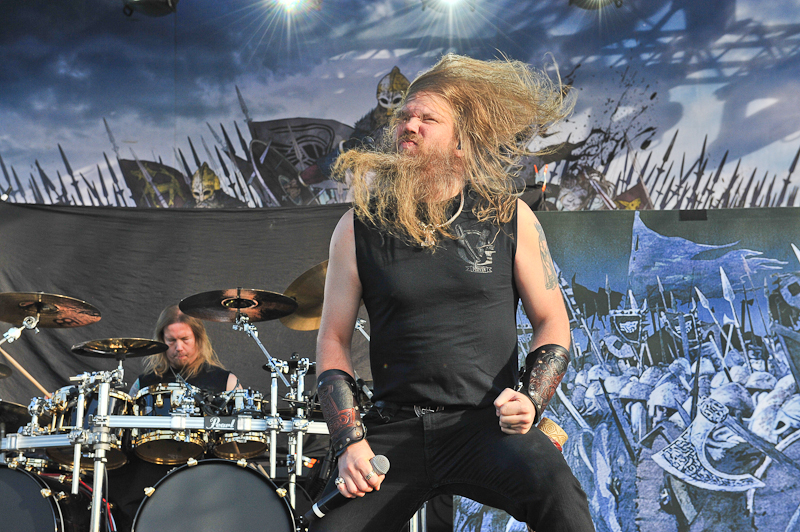 AUSTIN,TX – November 7, 2014: In this town's never ending festival cycle, FunFunFun Fest feels the most Austin of the hip and indie corporate-sponsored festivals.  The headliners aren't keepers of the platinum crosses like Eminem and Pearl Jam were at ACL Music Festival, but rather artful acts who've reached modest commercial success and tons of critical praise like that of Alt-J and Nas.  FFFFest '14 felt like a thank you from the festival gods for Austinites enduring the throngs of tourists for SXSW, X-Games, and all the other one-offs throughout the year.
Save for the extended "Will Call" waits (by some accounts of annoyed Facebook friends, it took nearly two hours to get their wristbands), day one of FFFFest couldn't have been a better peace offering.  In perhaps what was the last opportunity to get sun kissed by that flirty ball of nuclear fusion in the sky, the temp started out in the mid-70's but would drop 20 or so notches by night's end.  The crowd had to wear three seasons worth of wardrobe in one day.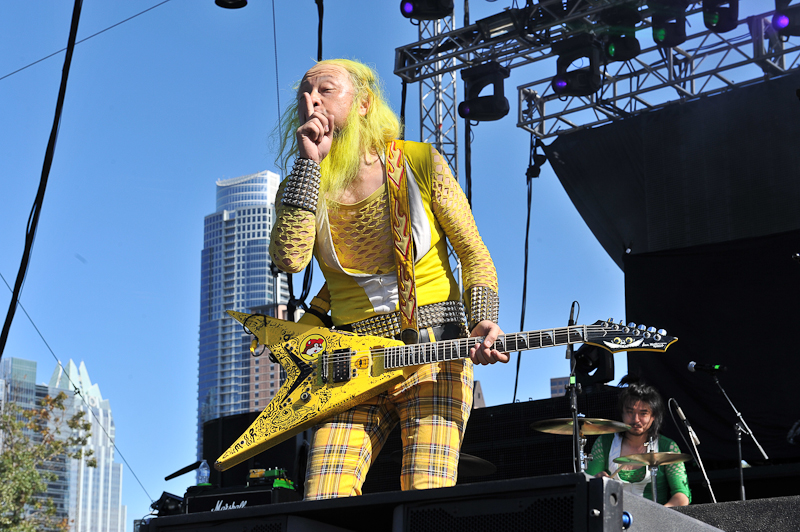 Shiner Bock won the rights to be the sole beer cheers-ed and chugged, while Absolute vodka was readily available for those watching their gluten intake.  The most local part of the day was the food truck food-court.  Plenty of reasonably overpriced bovine burgers, pescatrian, and vegan options for the ATX lot.
The set up was engineered to not have too much sound bleed over from each of the four stages.  To help navigate genres with ease, the stages color coordinated. Black was for metal and punk, Blue was EDM and Hip Hop, Yellow for comedy and other music varieties, and Orange was for indie rock and folk.
As I waited in the Will Call around 12:30 P, nestled right on the other side of the gate was the Black Stage teenaged band of brothers, Radkey.  Texas Rock Report covered Radkey during this year's SXSW (http://www.texasrockreport.com/spin-medias-sxsw-party-review/) and was blown away by their wielding of chaos and provocative output.  After calling the road home since the Spin Media party, the brothers have bloomed into polished performers.  The teacher fantasy cut "Feed My Brain," which felt frenetic before, now came off effortless with vocal runs that are still traversing the trails of Lady Bird Lake.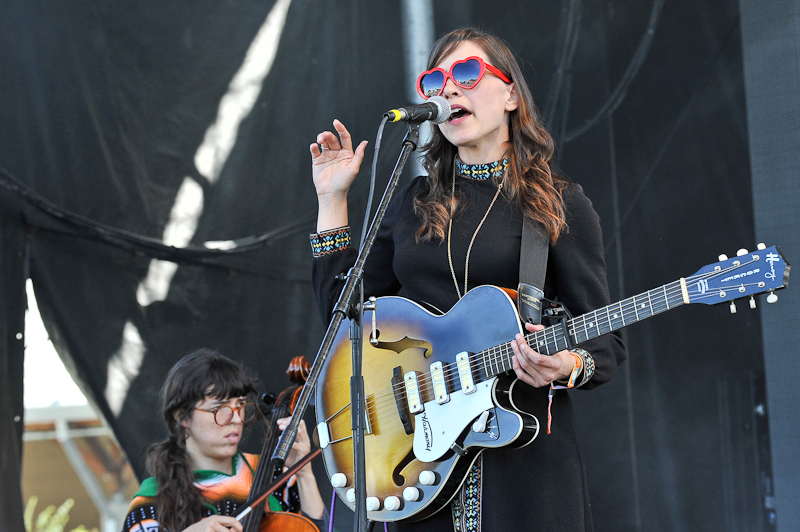 Over at the Orange stage was Austin's own Dana Falconberry, whose vocals are lighter than air, yet densely packed melodic elements with folk arrangements that are grounded in orchestral musings. The melodist's nonchalant stage presence added to her mystique.
Indie, Emo vets (the good kind of emo–the old school variety), Knapsack played an inspired punk rock set to a crowd that had pockets of diehards mouthing lyrics that were first uttered in the 90's.  Newcomers to Knapsack had no problem jutting to their jagged lyrics, anguished choruses, and calm distorted verses.
Over at the comedy tent, I caught homegrown sketch troupe Bad Example. There are two sketch groups in the US that perform an entirely new show each week: The New Movements' Bad Example and the televised institution known as Saturday Night Live.  BE's set saw Jeff Whitaker and Ariel Greenspoon play UT students who performed a crowd-crushing live listicle (ostensibly) of the ten rules for having sex (re: let your partner know if you're one of those weird 'nightmare persons"–this is not your secret to keep).  Also, Vanessa Gonzalez's Spanglish mother character who's selling Valentine's arts & crafts to help pay for her son's diabetic medication was as dark as it was uproarious.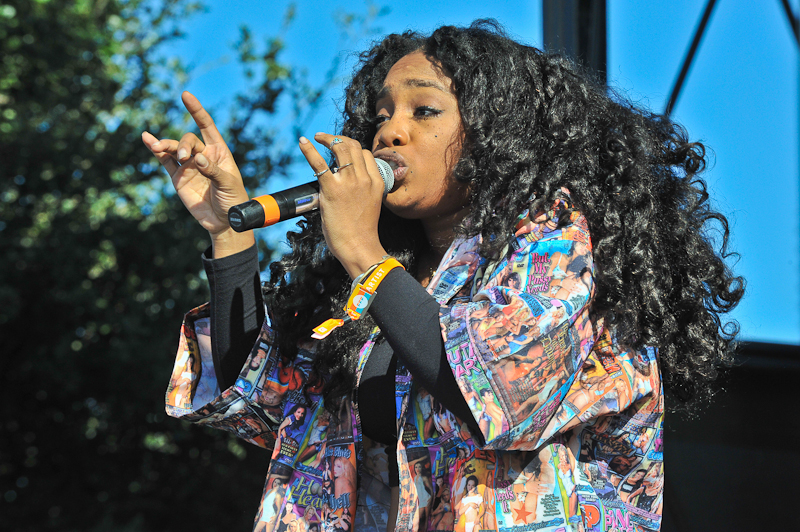 Just because the elections were over didn't mean you had to be apolitical to Dead Kennedy's frontman Jello Biafra.  His new group Jello Biafra and The GuanTanamo School of Medicine lambasted the track "New Feudalism" with their pulsing drums and bass, while the talk-sing syncopated high-gear punk ditty "Barackstar OBummer" banged heads for subjective reasons.
DJ Lunice viscerally felt every BPM exuded from the one's and two's.  Dynamic ATX Emo band Mineral did not disappoint with rabid confessionals like the fevered riff-ladened "Gloria" and shout-along, squawk & hooks anthem "Slower."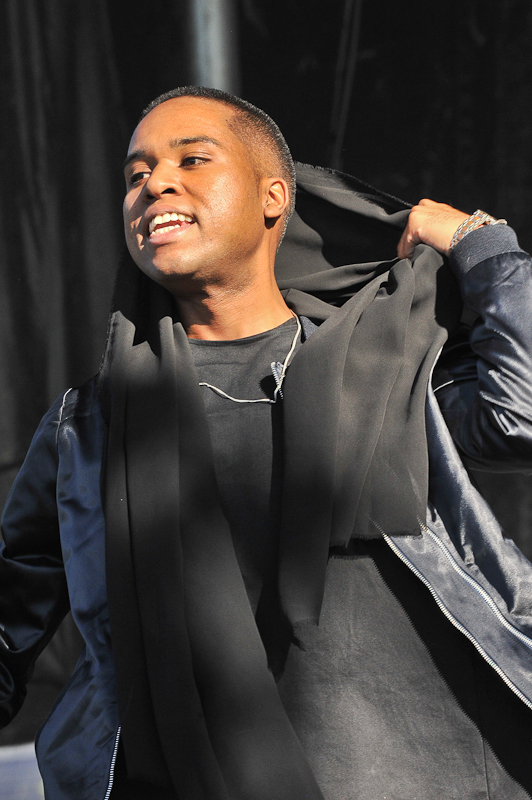 Epic Viking metal from Amon Amarth served as the soundtrack to the first pit of the day as the fret board planks were carved to sawdust and gale force vocal waves crashed Auditorium Shores. "War Gods" and "For Victory or Death" beat eardrums into submission.
The biggest name in indie hip-hop is Run The Jewels.  Comprised of rappers El-P and Killer Mike, the duo sauntered out to Queen's "We Are The Champions" as if it was a coronation–judging by the crowd reaction, it was.  The song that shares their moniker, "Run The Jewels," opened up in a bombastic and arm bouncing way. "Oh My Darling Don't Cry" was aggressive and its beat set off a seismic shift in the soil.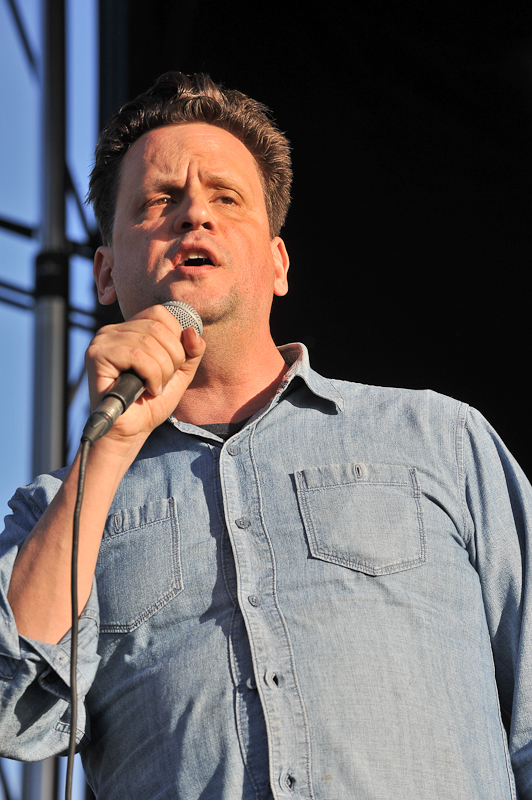 Sun Kil Moon's delicate and soulful "Micheline" was beautiful and serene in this rowdy festival atmosphere.  I popped in to catch indie vanguard filmmaker John Waters deliver a pitch perfect jest that people with allergies should not tell others because they'll then know how to kill them.  Back at SKM, "Richard Ramirez Died of Natural Causes" was a resentful and introspective account of caustic randomness about life.  The angered tone played well with the attentive audience.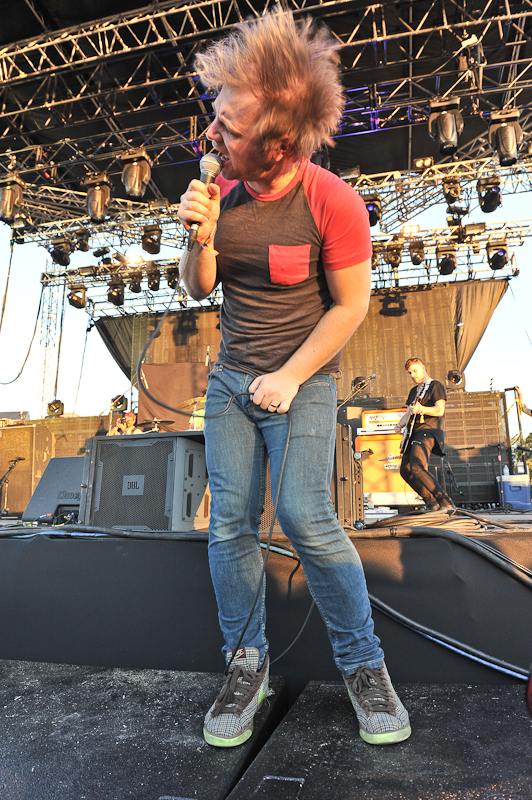 The Blood Brothers' dual vocalists' screams were music to the ears of the young disenfranchised congregation they formed.  The 90's R&B hit maker, Ginuwine oozed his patented charisma, executed suggestive push-ups and did not disappoint–sorta. "Same Ol' G" was preached to the choir, and then a medley of 90's covers ensued.  After a Michael Jackson tribute dance-along, Ginuwine went into a brief version of "Pony."  He could have just played that track repeatedly for the entirety of his set and nary an individual would have minded.
City And Colour's lush harmonies, dark tones and emotive falsetto made for a unique amalgamate.  With dusk in the background, "As Much As I Ever Could" was haunting and cinematic.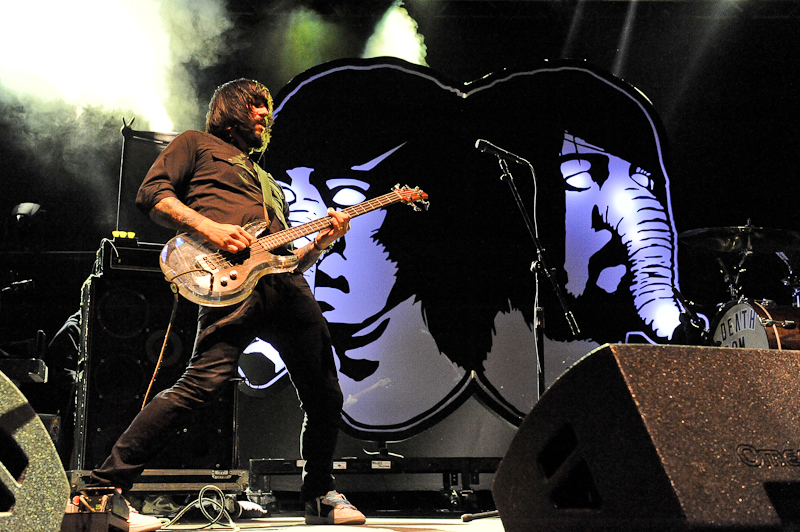 French dance pop act Yelle gave an eccentric and rousing performance.  Dramatic, effervescent, but never too self-serious, her show possibly made her the most new fans of the night.  Two-man dingy rock band Death From Above 1979 riffed and pillaged their way through some rawk cuts with the occasional buzz saw synth sound.
Dinosaur Jr. is a seminal noise rock band that continues to dazzle crowds 30 years later.  From lick and solo, the group captivated as I regrettably made my way to claim a good spot for Atmosphere.  Atmosphere's two DJ's competed for airspace that kept wafting weed.  The unsuspected indie rapper went right into "January On Lake Street" and never looked back.  Before the ominous "Puppets" Atmosphere engaged the crowd by saying that it's a party out here, a "pity party." It's an honest quirk of this endearing and contemplative emcee that's afforded him longevity in a fickle field.   The older cut "God Loves Ugly" stole the show.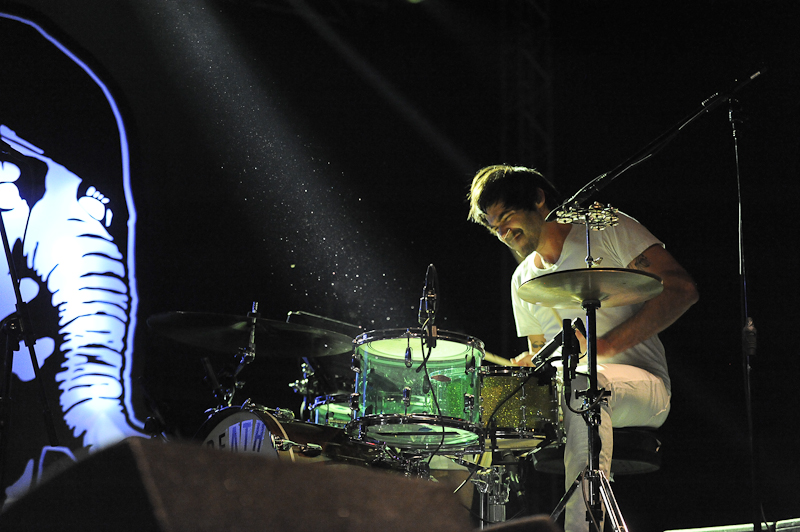 Part II – Fun Fun Fun Fest 2014 – "You've Got Another Thing Comin" when Judas Priest Is In The Park
Review by Donny Rodriguez