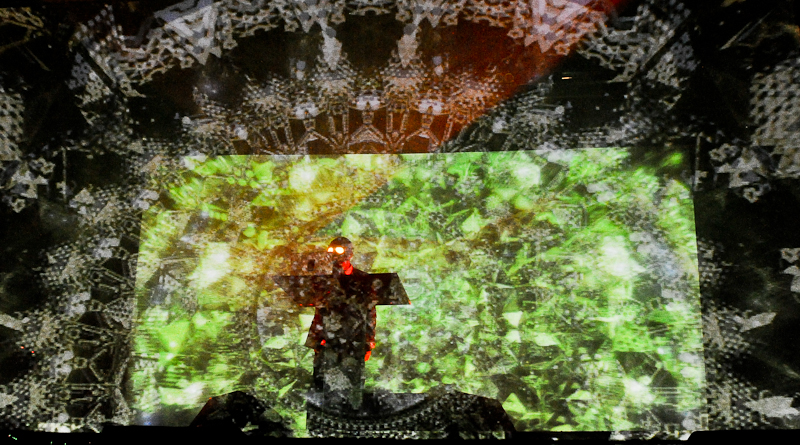 Austin, Texas – November 9, 2014: It's a bold gesture to list the word "fun" in a festival name three times, but Fun Fun Fun Fest truly makes sure to deliver a triple dose of entertainment as a three day event. Although there had already been two long festival days and nights, patrons showed up bright eyed and ready to celebrate a third round of fun.
Cashmere Cat played on the Blue Stage at 3pm; my original plan was to make it to festival grounds in time to catch his whole set, but pulling myself together after the two prior festival days took longer than anticipated. I did make it mid-way through and was immediately compelled to start dancing to the seriously sexy bass music. Luckily, I made it in time for his notorious remix to Miguel's "Do You", where the entire crowd seemed to know all of the words of the chorus. His music drives home the point that quality electronic music can be both heard and felt throughout the body.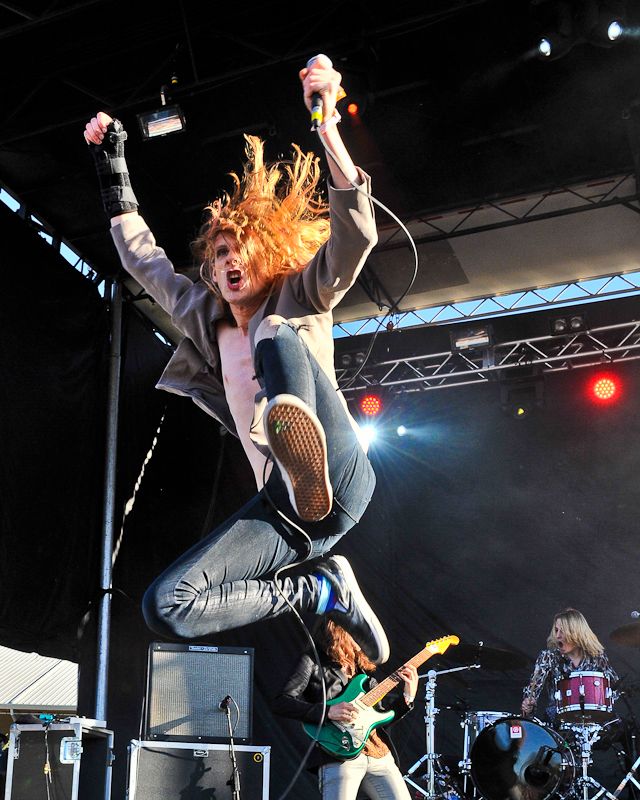 Ryan Hemsworth kept the electronic vibe up at the blue stage immediately after Cashmere Cat's performance. This was my first, and hopefully not last time to catch Ryan Hemsworth live. It's hard to determine if his insanely trippy background visuals or contagiously mellow yet danceable bass music was more entertaining. Either way, the two attributes came together to create an alluring performance.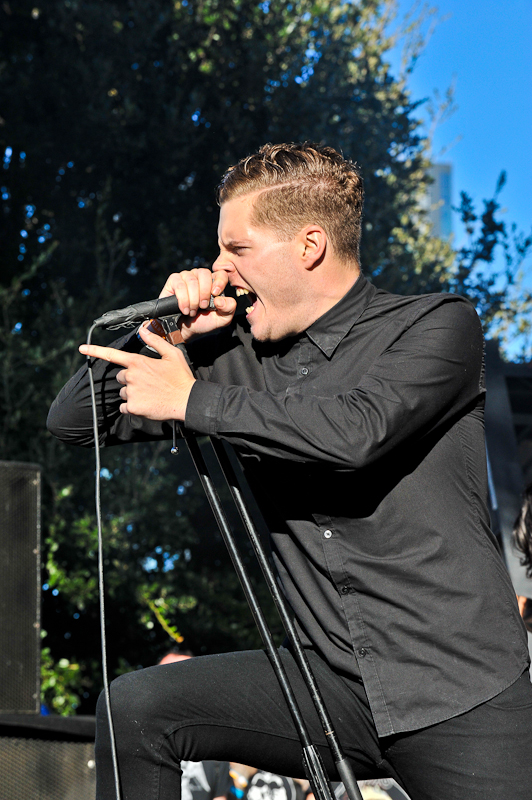 The blue stage seemed to be where my musical taste was most satisfied Sunday; I returned there for pop rock queen Sky Ferreria's set, only to learn that flight delays caused her set to be rescheduled for a NITES aftershow at the Belmont. Fortunately, the stand-in Sophie MSMSMSM was an incredibly entertaining surprise.
The London-based electronic music producer Sophie MSMSMSM was delightfully weird, as well as curiously entertaining. The synth-heavy, energetic dance music set kept the crowd dancing in the nightfall. "Hey QT" was the highlight of this set; the track had an introduction about a miracle energy drink and synthy high-pitched female vocals singing "Hey cutie" throughout its duration. All of this was accompanied with a futuristic looking girl dancing on stage to create an enthrallingly eccentric performance.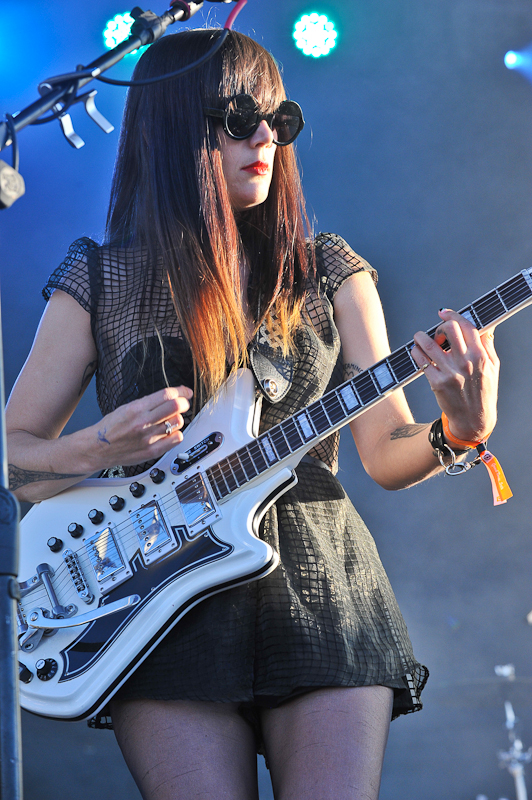 Neutral Milk Hotel took over the Orange Stage shortly thereafter. The indie-rock band has become a cult favorite-esque novelty in a similar fashion to that of Modest Mouse. Personally, I do not have much background knowledge of the band, but the festival was the band's last stop of their reunion tour. Neutral Milk Hotel made it clear that they did not want any photos taken, and asked the crowd to put away their phones prior to their performance.
Frontman Jeff Magnum opened the set solo with "I Will Bury You In Time" then the band accompanied him on stage shortly thereafter. "The King of Carrot Flowers, Pts. 2-3" seemed to be a crowd favorite – the words to the chorus "I Love You, Jesus Christ" were shouted out loud by the majority of the crowd during the song.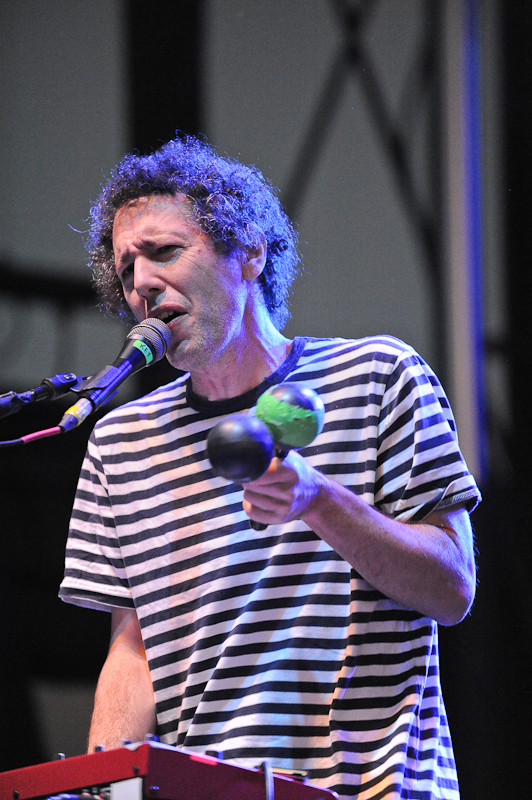 While I could appreciate the art and the band's roots of obscure lyrics and unique instrumentation, I decided that Neutral Milk hotel was a little too…neutral for me. I voyaged over to the Black Stage where I discovered the incredible Murder City Devils for the first time.
The Murder City Devils were absolutely incredible. The Seattle-based garage punk rock band has an incredible stage presence of high-energy thrashing and full throttle rock-outs. The hard rock music set was the ideal pick-me-up after the mellowness of Neutral Milk Hotel's performance.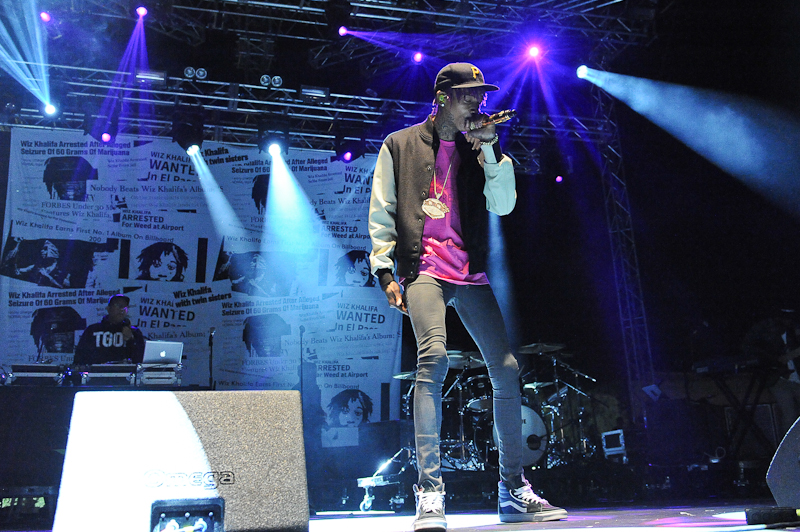 Hip-hop favorite Wiz Khalifa closed out the Blue Stage. It was a pleasant surprise that the hip-hop artist was accompanied by a drummer and a guitarist; this added a unique live rock element to the overall performance. The notorious bad boy also had a backdrop that stated "Arrested for Weed at the Airport" to capture more of his image. He played both mainstream favorites such as "Work Hard, Play Hard" and some of his more underground stuff to keep the entire crowd satisfied.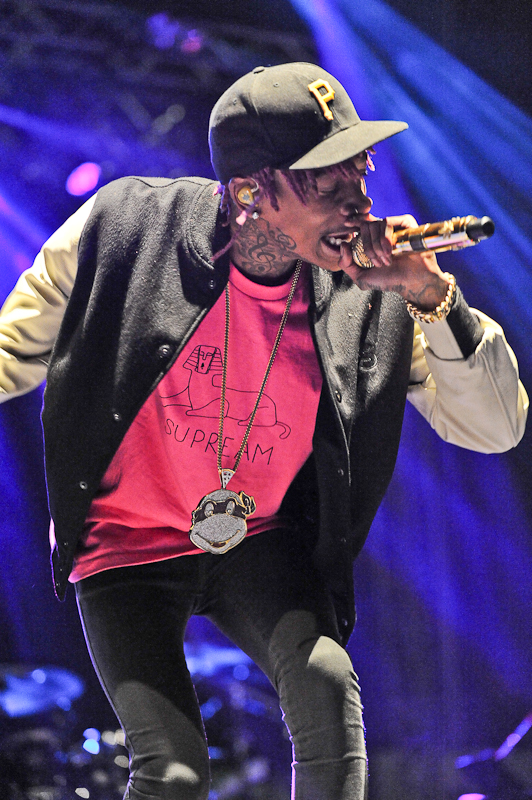 Although it was the end of three solid days of Fun Fun Fun Festing, the NITES after shows still had an impressive turn out. Red 7, down the street, was also packed for Gardens and Villas, an entirely different show that night. The huge turnouts for the NITES after shows proceeding a three day festival proves the point that Austin likes to party, a lot.
Many festivals take place throughout the year in Austin, but Fun Fun Fun Fest has its own unique flavor and definitely delivers in bringing an eclectic triple dose of entertainment to Austin. Its unique style of booking brings the most novel and cult-favorite acts to the heart of the proclaimed Live Music Capitol of the World. Fun Fun Fun Festival has won the heart of Austinites and music lovers nationwide, and I can't wait to watch it continue to grow within the community
Additional photos at our Facebook page https://www.facebook.com/texasrockreport
Review by Jacki Moon