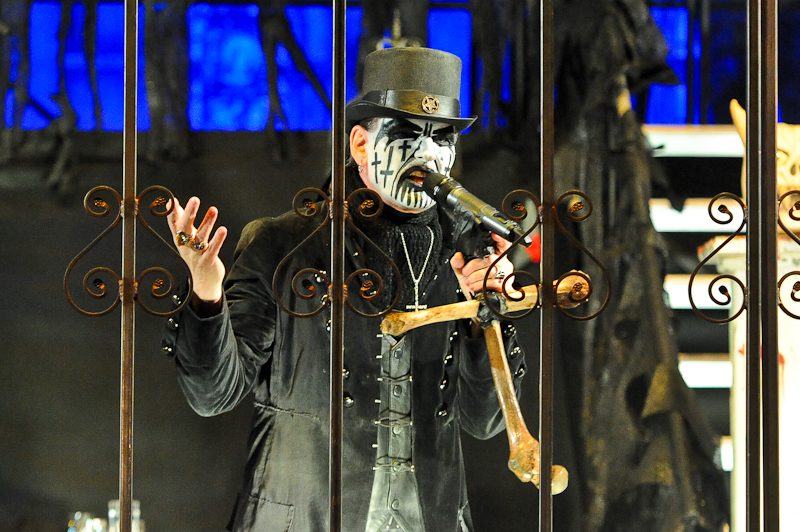 Austin, Texas – November 8, 2014: Austin was graced with another flawless autumn day to celebrate the second round of Fun Fun Fun Fest this year. There were a few major changes executed between Friday and Saturday of the festival, which created a much smoother entry process. The stages were also re-arranged on the second day to create more room and ensure less sound bleed.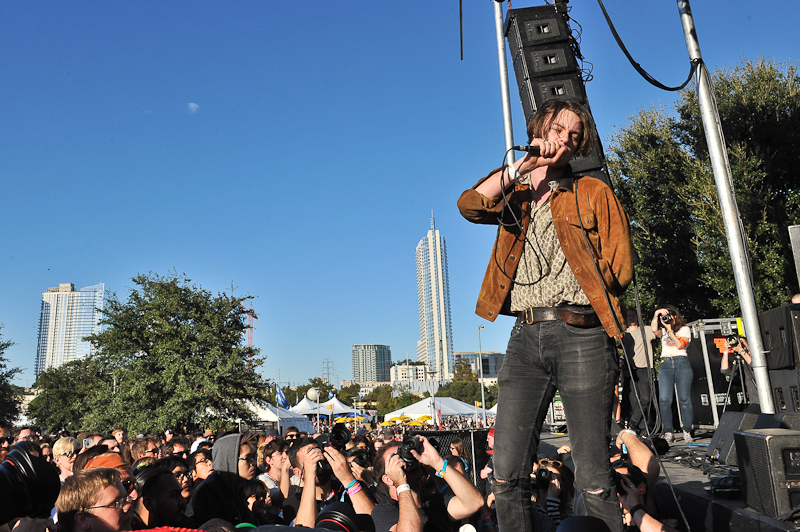 While some fans were upset about Friday's entry lines and the ground's set-up, festival organizers definitely worked to remedy the situation and fully executed that plan into fruition by Saturday. Given the cards they were dealt being that the festival's home of Auditorium Shores was heavily under construction at the time, the organizers did what they could to make sure F3 Fest still occurred this year. This includes rolling with the punches and acknowledging serious issues then fixing them in a timely manner.
Gates opened at 11AM on Saturday but speaking on behalf of myself, and a good percentage of the crowd, it was difficult to make it to the festival before the late afternoon hours after a full day of Friday festing and Friday "Nites" shows. However, I was able to pull myself together and stumbled into the park to explore festival grounds before evening hit.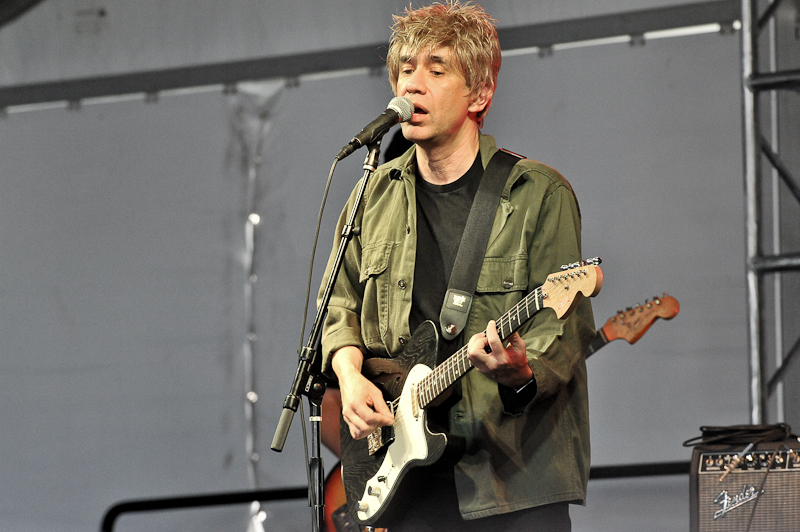 Fred Armisen on the Yellow Stage was the first act I caught that day, after spending a good hour roaming around festival grounds, exploring SprATX art and admiring BMX demos. I was extra stoked for Fred Armisen's set, because of a last minute cancellation for his "Nites" show at the Belmont during last year's Fun Fun Fun Fest. And I must admit, I was extremely thrown off when Fred took the stage with a full band and started singing, because I was expecting a one-man stand up comedy set since I know him from "Portlandia" and "Saturday Night Live".
Fred Armisen's band opened with "Hey Policeman", which sounded like a typical indie rock song. If there was supposed to be satire, irony or humor in this performance, I didn't find it. It wasn't horrible, but it wasn't funny and I was bored. I may have stuck around longer to wait and see if the performance would get Portlandia-esque, but I knew Z-Trip was starting over on the Blue Stage so I voyaged over there to get lost in his electronic hip-hop set and live record scratching.
Z-Trip never disappoints, and I can say with confidence that I made the right decision in leaving Fred Armisen at the Yellow Stage to catch the turntable master and hip-hop connoisseur, Z-trip, instead.
I waited around to catch The Presets at the Blue Stage after Z-Trip's set. I had honestly never listened to them prior to Day 2 of Fun Fun Fun Fun Fest, and I was pleasantly surprised by their unique take on indie-electronic, synthpop music. The duo possesses the ability to get the crowd dancing while simultaneously creating powerful emotion through relatable lyrics. The Australian musicians genuinely know how to put on an entertaining, energetic and interesting live stage set as well; I hope to catch more of them in the future.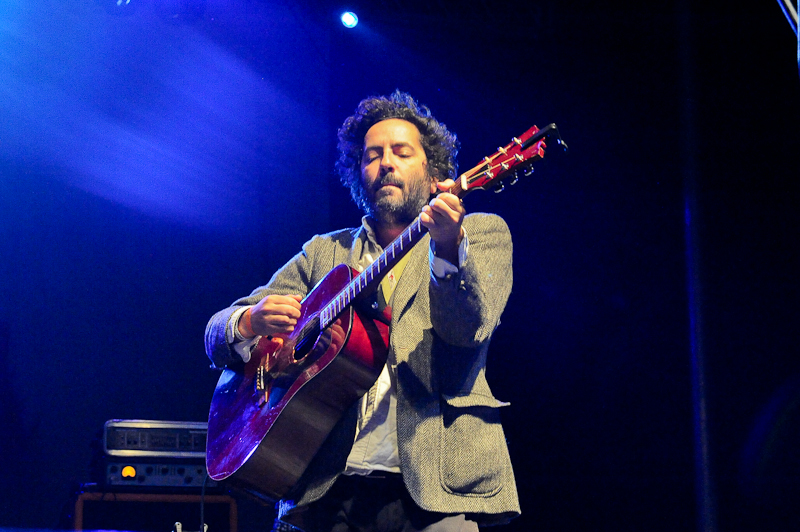 Though I thoroughly enjoyed The Presets, I left their performance halfway through to catch a bit of The New Pornographers over on the Orange Stage. The new Pornographers possessed a similar vibe minus the electronic elements, to that of The Presets. The Canadian band kept the crowd swinging their hips and flashing big smiles with their upbeat, feel-good indie rock music.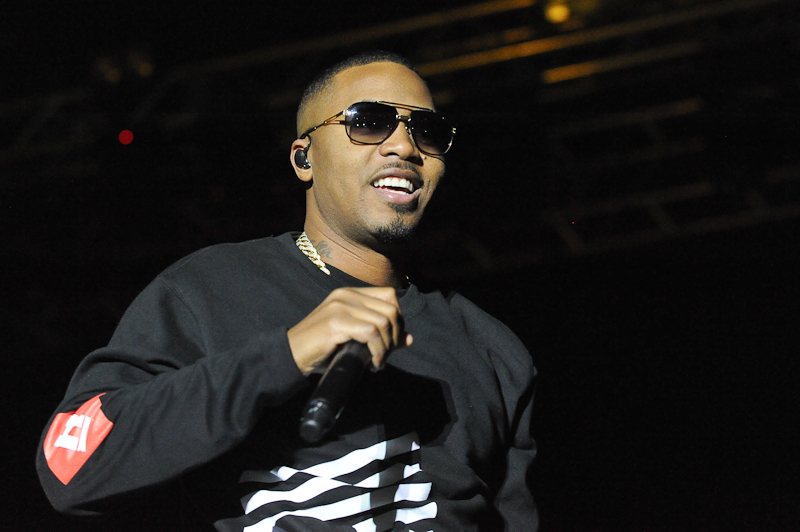 I wedged my way to the front of the crowd at the Blue Stage to lock down a good spot for hip-hop legend NAS. The entire crowd belted the lyrics to widely contagious and inspiringly uplifting "I Can" in unison; the song has become an anthem of sorts to inspire a younger generation since its released in 2002, because it's lyrics inspire youth to stay drug-free and pursue their dreams. It was definitely touching to hear it live in a crowd full of people who knew the words as well.
Shortly thereafter on the Orange Stage, Modest Mouse instantly won over an eagerly awaiting crowd as they opened with "World at Large". The band has become a novelty with an almost non-existent tour schedule over the years, and their cult following built up a lot of anticipation. Fortunately Modest Mouse doesn't disappoint and the universe was also in favor of this rare occasion; a meteor shooting star lit up the sky during "Dark Center of the Universe" in an unforgettably magic moment. Yet, the Fun didn't end there.
One of the most unique attributes of Fun Fun Fun Fest is that fact that after Auditorium Shores closes at 10 PM, the city becomes a block party in similar fashion to SXSW. This part of the festival is called FFF Nites, where several local bars participate across the downtown area. There are no cover fees to the Nites shows with a wristband, and it becomes a type of scavenger hunt to walk around and find more live music.
Those who ventured to The Belmont (indoor area) discovered the delightfully eccentric band of Macaulay Culkin, named The Pizza Underground. The name says it all, as the band has many songs dedicated to pizza. Clearly not taking themselves too seriously, the real best part of discovering this band was the fact that it disproved the internet rumors of Macaulay Culkin passing away. On the contrary, the man is still very much alive and rocking out about pizza.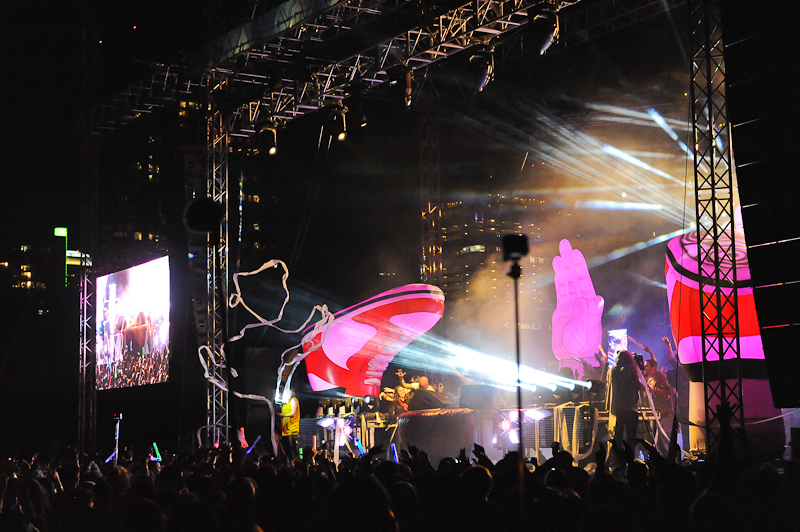 Day Two of Fun Fun Fun Fest was a success and memorable experience. I was truly impressed by the way festival organizers were able to overcome obstacles and rectify issues in order to create the smoothest round two possible. Some of the most unique and anticipated acts brought their flavor to Texas, and it all came together to create a remarkable day and night.
Additional photos at our Facebook page https://www.facebook.com/texasrockreport
Review by Jacki Moon