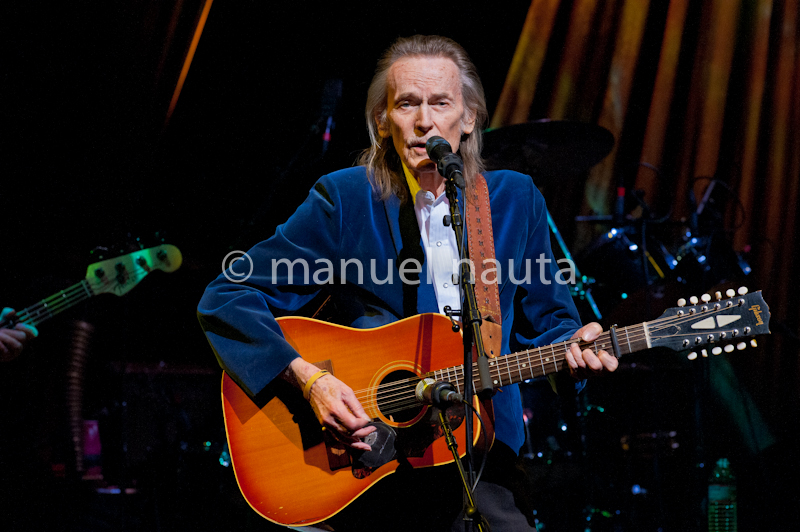 February 11, 2014 – Austin, Texas: On a dark and dreary Monday night, Songwriting Hall Of Famer Gordon Lightfoot blanketed the near-capacity crowd at the ACL Live at Moody Theater with a litany of quality and quantity from his half-a-century long catalog. The pre-show crowd was a humming symphony of swishy nylon rain coats and adults teeming with the excitement of being out on a school night. This wasn't a shot-of-Jack-and-a-Shiner congregation, this sophisticated audience preferred clear spirits and a pricey glass of wine. The perennially hardworking ushers at The Moody Theater could be a bit more at ease when manning their post, Lightfoot fan's are seasoned veteran's when it came to being polite and seated ahead of the baritone singers utterance of the night's first note.
With four piece band in tow, the lengthy Lightfoot—who's as slim as Mick Jagger, with a head of hair that would have Willie Nelson's blue eyes crying tears of jealous– graced the Persian rug carpeted stage but quickly ran off, which received a grand cheer then laughter from the room. The indigo-velvet jacketed singer forgot a guitar backstage, and when he promptly returned, he sustained the chuckles by jesting that he was from Toronto but doesn't partake in crack cocaine like some disgraced mayors do. The twelve string guitar was strummed and there was no undoing of the energy vibrating the building. The sound was sharp, the tone cutting, and the melodies could bleed you dry.
The wait was over, the preacher began his sermon. The spiritual Canadian national found common ground on the hallowed grounds of the Lone Star State as he sang "Waiting For You", with lyrics like "The skies of North America are covered in stars, over factories and farms, over hamlets and bars, the breeze of North America is breathless at night." Be you Lightfoot neophyte, or a Gordon devotee, the man's narratives are just as fascinating to fresh ears, as they are calming to weathered antennas.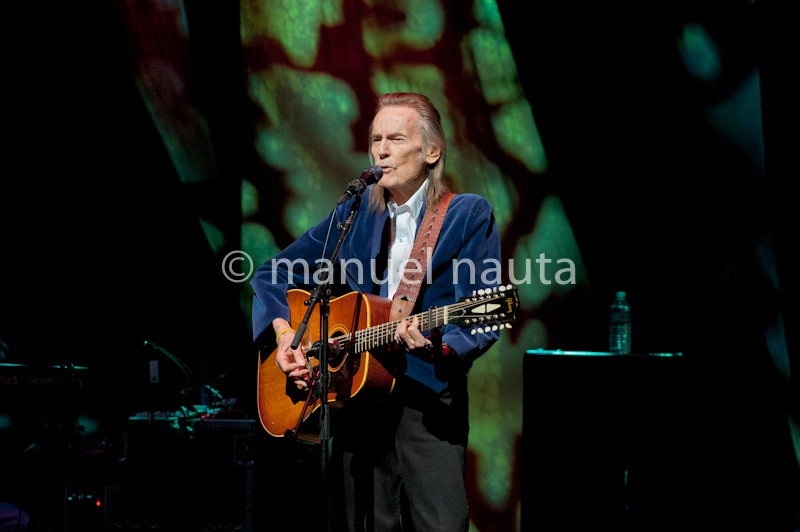 You could set your watch to the comedic timing of the 75 year old singer-songwriter. Whenever he offered anecdotes on mundane things like the positioning of his capo, the cackles grew contagious. In optimistic numbers like "I'd Rather Press On", Lightfoot muscle memory was fully on display as he flexed his effortless finger picking tendons. The first roar arched over Lightfoot was during the tropical "Christian Island" where lead guitarist Carter Lancaster played flamenco style guitar during the ditty's bridge. Lancaster normally played calmly within the scales, but in this instance there was no mistaking the musicianship of Lightfoot's first mate.
The 1975 number one hit "Rainy Day People" garnered the largest reaction thus far. All but a few patrons could be seen mouthing along to lyrics, and some were even caught locking lips with their loved ones. The lyrics that were most apropos of the conditions inside and outside were found in this oldie. "Rainy day people don't talk they just listen 'til they've heard it all", and all were here to hear Gordon.
The band played another Billboard Hot 100 champion, "Carefree Highway". A mid-tempo lament about letting love slip away but grasping it's memory. Afterwords, Lightfoot topically mentioned that the "Ann" in the aforementioned track, was a gal he met at a curling rink—curling, of course being a Winter Olympic sport that Canada dominates, which he made a point to mention. Before intermission the crowd turned choir when the sexy rock groove "Sundown" seduced their tongues into doing the song's sing-along bidding.
After the break, out came the consummate showman Lightfoot now wearing a maple-leaf-red velvet blazer. Wasting little time, the first bar of "The Wreck of The Edmund Fitzgerald" sent crashing waves of appreciation breaching past the stages' shores. The hymn is based on a true story but the anthem itself has become a mystifying tale in folk music's lore. The man made tragedy sound so uplighting.
What followed were more deep cuts, unsung keyboard accompaniment, banter, understated bass lines, and triangle percussion. When Lightfoot switched back into "tell and show" mode, the story of Elvis Presley turning a tune he wrote into a hit, felt unjust. Earlier Lightfoot, played a song of his that Marty Robbins made popular in "Ribbon of Darkness". Now while Elvis's version of "Early Morning Rain" and Robbins "Ribbon" are masterpieces, it's was that much more fulfilling to see the mastermind of the works perform them in the way they were intended.
If you closed your eyes, it would be hard to tell that you weren't listening to Lightfoot on vinyl, 8-track, cassette, cd, or mp3—which ever technology was a around when you first encountered the man's acute-in-specificity poems and obtuse-in-ambition lullaby's. He appeared rejuvenated by shows end, and by the looks of it, ten more tours wouldn't be out of the question.
"A Song for a Winter's Night" was the evenings encore. Three-thousand people shared in Lightfoot's loneliness lyrics, but the message was meant to serve as a tip of the cap and a thank you to all . "And to be once again with you, To be once again with you."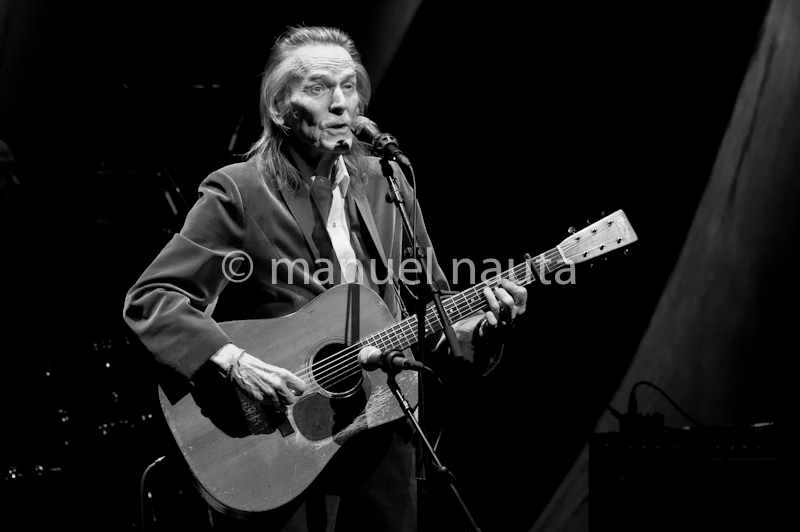 Folk music ebbs and flows in the sea of popular culture. The Coen Brothers Golden Globe nominated film "Inside Llewyn Davis" harkens to the 1960's New York folk scene, Bob Dylan was recently seen in a Super Bowl ad hawking cars for Chrysler, and pseudo-hipster-folk bands like The Lumineers and Mumford & Sons are chart toppers. Wherever folk is at in the current state of fashion, it will always be wearing a classic Lightfoot t-shirt, complete with a heart on it's sleeve. Back in 2010, erroneous news of Gordon's death caught wildfire all over social media, so after this night's celebration of a brilliant life's work, it's important to note that you can't eulogize a living legend the like Gordon Lightfoot. His stories never had epilogues, and as of now, neither should his own.
Review by Donny Rodriguez