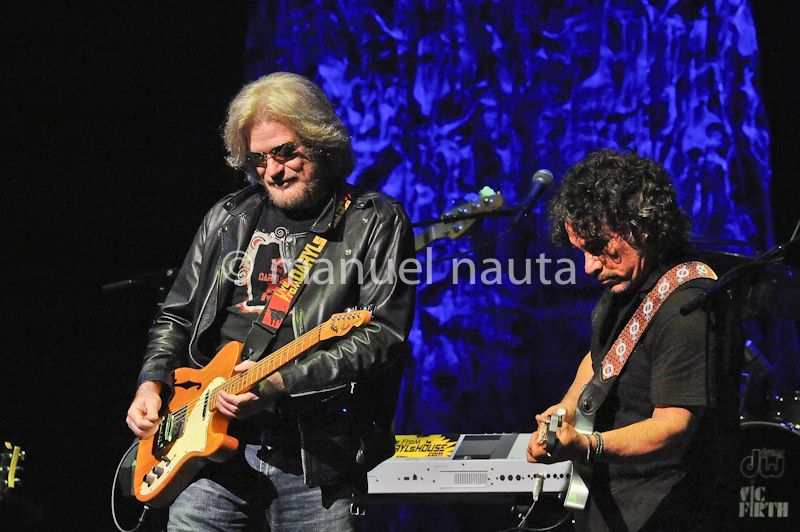 February 23, 2014 – Austin, Texas: Ahead of their long-over due induction into the Rock and Roll Hall of Fame this April, Hall and Oates launched a coronation-type tour last night at ACL Live in Austin.  The sold-out show was a treasure trove of Hall and Oates fandom.  There were those there who were present during the Golden Age of 70's AM Top 40 radio, the one's who contributed to the the Platinum selling days of the 80's were also in attendance, and a few tanning-bed bronzed damsels in nice dresses joined in on the festivities too.  The crowd was largely female.  The women were armed with Tito's & Sodas in one hand, and wedding rings on the other—with the diamonds strategically facing down of course, just incase Hall or Oates would ask for their hands in marriage.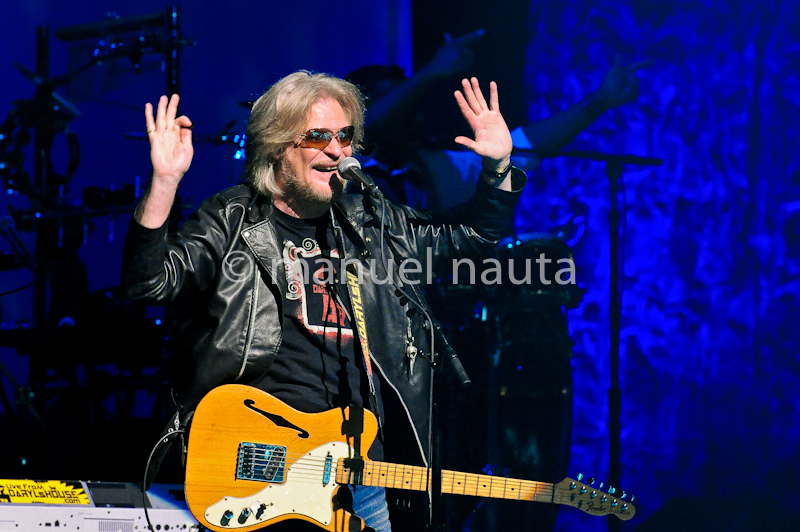 The friendly rivalry between the biggest selling duo in rock and roll history made it's way to the merchandise table.  The hot items were a black tee with red lettering that read "Live From Daryl's House", named after Hall's popular show on the Palladia Network, and a simple grey shirt with an image of a black mustache with the word "Oates" written in it.  Both sold well, thus the feud shall continue to the tour's next stop.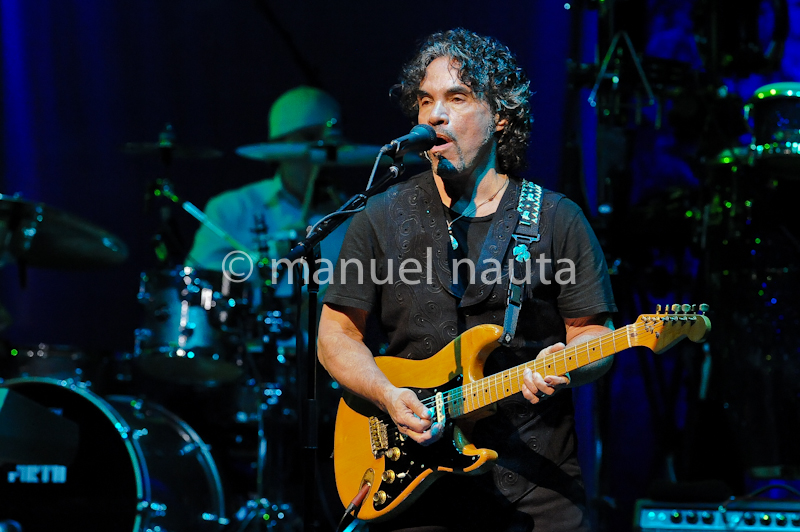 At first glance, the stage had the set-up familiar to a symphony orchestra.  Rows of bongo drums, Korg keyboards, and battle-scared amps lined the sightline of everyone's view.  The lights briefly dimmed, roars warmed up, and out came six musicians.  The music men offered a few bass-heavy bars of "Maneater", building exhilarating tension before Hall and Oates joined them.  The message of the song is to beware of dangerous women who could chew you up, the songwriting Hall of Famers should have heeded their own advice, as they were about to step out to a lion's den filled with said man eaters.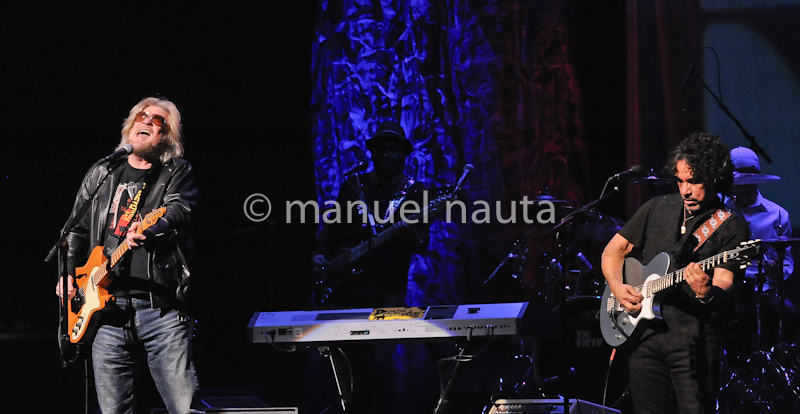 First to strut past the busy stage was the pocket-sized John Oates dressed in all black complete with his signature curls and recognizable facial hair.  Then it was Daryl Hall's turn to pierce through the fog of applause.  Hall, stood as tall as an alpine slope, with snow-dusted blonde hair, and a jarringly cool motorcycle jacket. A couple in front of me kept googling the duo's ages in disbelief (Hall 67, Oates 64), and I'm here to testify that the two looked at least twenty-years younger than their wikipedia page would suggest.  The introductory song was potent and had the concentrated energy of four encore closers.  Hall's voice doubled as a lion-tamer, it subdued the den, and ultimately no man was eaten.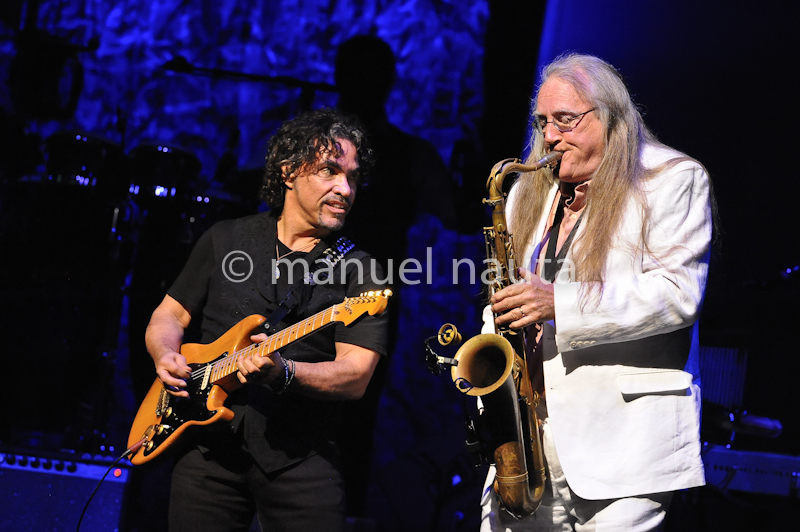 After Hall and Oates fixture Charles DeChant closed out the opening number with a rousing sax solo, the group went into the mid-tempo, 1980's time-warp of a tune in "Out Of Touch".  It featured all aboard, save for the mic-less drummer, making the complex vocal arrangements sound effortless.  There was ample amount of falsetto, harmonizing, and call & response to be had.   Up next were three lesser known, but deeply welcomed cuts from their earlier catalog. "Say It Isn't So" had some soulful major-minor tonality, "It's A Laugh" showed vibrant vibrato, and "It's Uncanny" seemed to be the bands favorite to play because they unsuccessfully couldn't get the smiles off their own faces during the duration of the piece.
The first banter and laugh break of this evening was when Hall introduced that the next song was one of John's and mentioned how it was "recently used on an HBO show as the theme song (the dry and absurd comedy "Hello Ladies"), but I tell you what, it's a better song than show".  The aforementioned ditty was the Oates lead "Alone Too Long".  The co-pilot has taken over the flight, and he took full advantage of this by dazzling us with some tricks like the loop-the-looping of octaves in mid-air.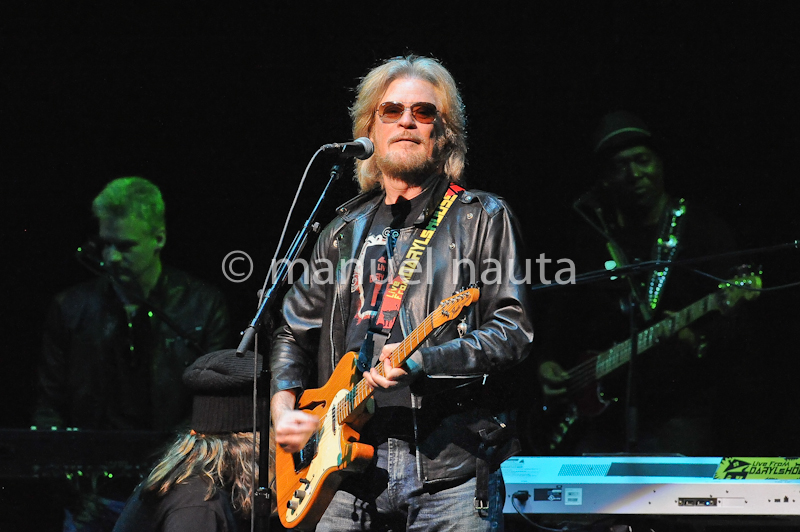 In "Las Vegas Turnaround" the duo traded verses and went all-in on one-upmanship by alternating who was bringing down the house.  Cue the house lights down, "She's Gone" was up.  An almost involuntary reaction to stand, cheer, and genuflect swept the venue in what felt like the first visceral response of the concert.  It was one big karaoke anthem.  Hall and Oates may have been mic'd up and feed through the PA system, but for this song, it didn't seem to matter to the choir.
"I Can't Go For That" upped the ante.  It started off slow, and couldn't be stopped as they turned the four minute hymn into a nine minute jam.  Percussionist Porter Carroll stole the show with a vocal solo that consisted solely of "No, No, No's".  The band said their "thank you's" and "goodbyes", but they weren't fooling anyone.  They still had to make some dreams come true.
The first of the two encore sets had everyone spilling into the aisles and transforming the side bar areas into makeshift dance halls.  Hips were going to be sore tomorrow.  "Rich Girl" felt like an epic battle cry.  The band was aware of it's affect and matched the intensity of the theater.  In "You Make My Dreams Come True" Hall let his impressive keyboarding skills do the talking, as a healthy portion of the crowd kept dancing but fumbled for their smart phones to become amateur filmmakers in this moment.  Syncopated fist bumps, and a light show later, the team scurried off for another false farewell.
The final encore called for some plugging.  Hall suggested that we all check out LFDH.com to catch his music showcase set in his house, and that he is seriously thinking of opening his second rock club here in Austin.  "I hear there's a few musicians in this town" he quipped.  Oates informed of us of his new album dropping March 18th,called Good Road To Follow.  A seamless mash-up of "Kiss On My List" and "Private Eyes"–complete with precision clapping—was the coup de grace on this heavyweight title card which came to an end after 14 knockout songs.
As I was descending the steep stairs of the Moody Theater, I overheard a glowing middle-aged women say to her friend "I knew they were good, but I didn't know they were this talented."  As simple as that statement sounds, it was the best way to describe this experience.  The band spent years experimenting and combining genres like Soul, Folk, R&B, and Rock and Roll, and looking through a lens with a wider scope it's clear that their sound is truly their own.
With six number one hits, dozens of songs that have landed on the Billboard Hot 100, and countless tracks having appeared in films, all the success never really painted the picture of how prolific the group was and is as performers.  The songs previously served as the background music to a lot of peoples lives but tonight it was in the foreground on what makes those people feel alive. Remove the hyperbole and what do you have? The best singing-songwriting duo of their time, still playing all the right notes and not skipping a beat as they march to the Rock and Roll Hall of Fame in six weeks.
Review by Donny Rodriguez