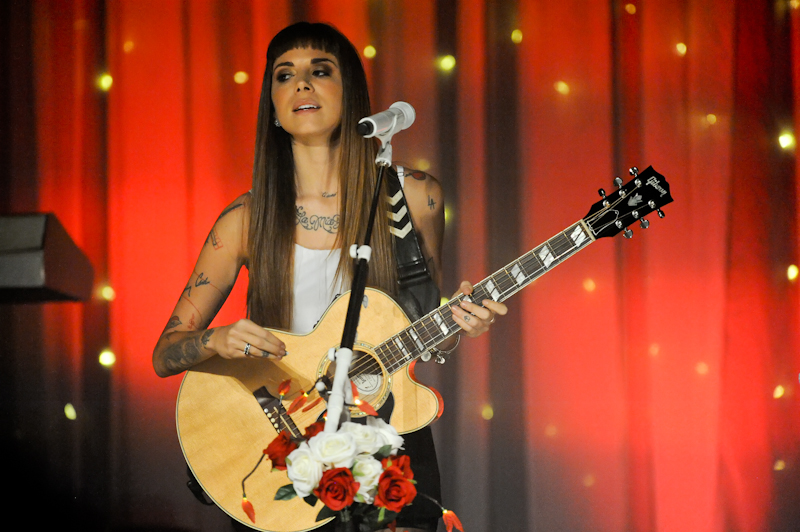 AUSTIN, TX – May 7, 2014 / Balladeer darling Christina Perri should no longer be considered an alternative pop-princess–she's the gold standard–which she proved Wednesday night, May 7th, at Emo's in Austin.  It's been a wild four year ride for the 27-year old Philadelphia native. In 2010, she went from waiting tables in LA to being featured on the competition show So You Think You Can Dance, which helped her sell 100,000 units of her song "Jar of Hearts" in a month without a record label deal–you know, that old cliché.
Two top five albums later—Head or Heart being the most recent and the reason for this tour– Perri has established herself as a popular music fixture, which last night's near-capacity crowd could attest to.  The make up of the venue's guests was nearly 70 percent female.  A few boyfriends earning brownie points could be seen in haphazard concert attire.  There were a lot of adorable mother-young daughter combos sharing soda-gun colas. Our brothers and sisters in the LGBT community proudly showed their support of the female crooner by showing up in large numbers.  As the reason for moving here, Austin wears diversity well.
Opening the show was British bird Birdy, or Jasmine van den Bogaerde, as her classical pianist mother would call her.  Birdy is about a week away from her 18th birthday, but is already an adult in search engine years.  After winning an unsigned artist contest back in '08, the emotive singer-songwriter has released two albums—one consisting of mainly indie-rock covers—and the other to hit our North American shores on June 3rd.  Birdy played an abrupt seven song set, which featured highlights like the authoritative "All About You", the combative "Words As Weapons", and the Bon Iver hit that also put her on the map, "Skinny Love".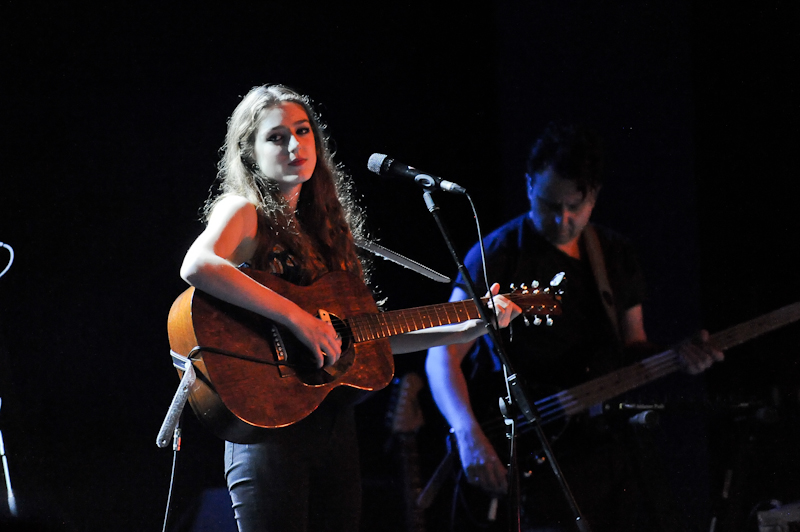 The dramatic themes, agony-pop melodies, and seriousness in her stage presence made for a well-rounded performance when juxtaposed to her affable personality that she displayed during a meet and great she conducted for 40 minutes.  The roadies readied the stage, which was made-over with white instruments, a starlit white curtain, and a mic stand adorned with roses and dorm-room Christmas lights.
As 10:04 PM made its way on our do-it-all devices, the Pilates-physiqued Perri flexed her vocal ligaments with a few acapella bars of "Trust".  Perri looked like Austin; straight-across bangs, navel-length hair, sparkly black tights, tutu-like skirt, and a sleeveless top to show her ink-stained arms.  I'm not sure I didn't sip steamed milk with espresso next to her two hours earlier at the hipster coffee shop BuzzMill one block away.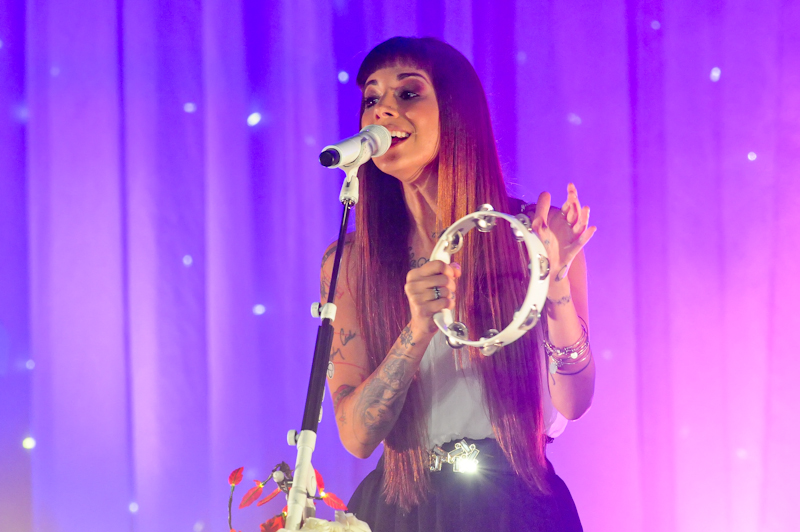 Seamlessly, Perri went into "Shot Me In the Heart" as her four-piece band joined her on stage.  Vintage-looking Gibson's howled as our front-woman intermittently fiddled with the tambourine and made contact with outstretched fingers in the front row like Elliott and the alien did in E.T.  The wordless hook had the sea of onlookers gasping for air.
In "Run", Perri channels the sense of urgency and cadence that The Cranberries bestowed in "Zombies".  Lyrics like "See right through my words/See I'm just like you/Watch me stumble, watch me choose all your lies" resonated with everyone who's been burned and fortunately, the arpeggio outro served as aloe vera soothing the third degree scars.
If she wanted to, Perri could be a successful podcaster—which doesn't pay too well so she'd have to keep her rock star day job.  She went into banter breaks virtually after every song.  The raconteur had everyone listening as attentively as they did during her music.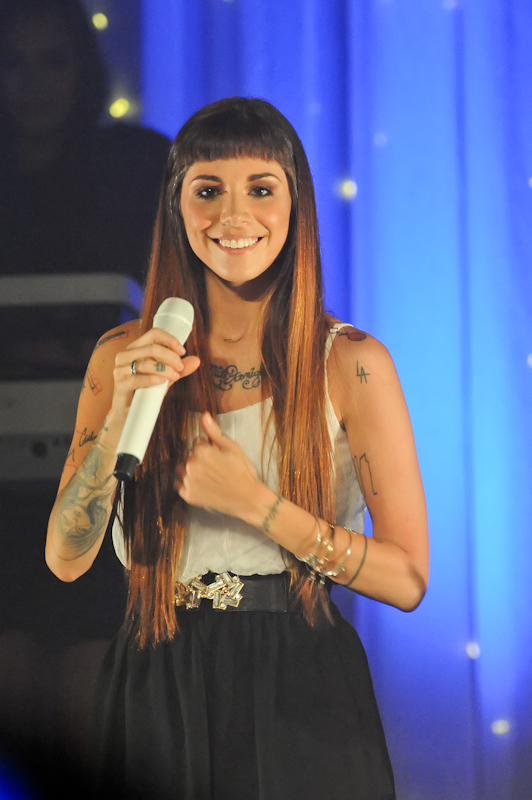 The Jason Mraz duet off her first album, "Distance", was the score to the interpretative dance that broke out to my right amongst the group of college-aged gals.  This might have been the most interactive number of the night.  A sing-along accompanied Perri and her guitarist Johnny Hanson.  The two had more chemistry than a binge watch session of Breaking Bad.
Retreating to the upright keys for the first time during "Sea of Lovers", she marched through her vocal runs with military-drummer percussion and soldier-like formation that called for the crowd to proudly salute.  "Burning Gold" showcased Perri's range as a singer and songwriter.  The verses had 70's soulfulness to it, while the chorus bludgeoned with polished angry-girl-rock.
Vulnerable but never losing self-respect, "The Words" brought optimism and emotion to Emo's.  As she held notes, holding back wasn't an option.  The bridge was beautiful.  Maybe it was the Lone Star talking, but seeing couples kissing during this moment was extremely moving.
In "Arms", the lights pulsed with the beat and the dynamics in the aria acted like a high-energy sedative.  An acapella cover of The Chordettes—truth be told, I had to Google the name of the mid-twentieth century barbershop girl group—"Lollipop" made the younger crowd go mild.  The harmonies were there, but the appreciation needed some auto-tuning.
"Lonely Child" had a quasi-calypso pseudo-tango vibe, complete with a high-neck electric guitar solo, and a "cha, cha, cha" outro.  Penned for the young adult fiction mega-motion picture series "Twilight", "A Thousand Years" let unleashed the audience's inner-tween.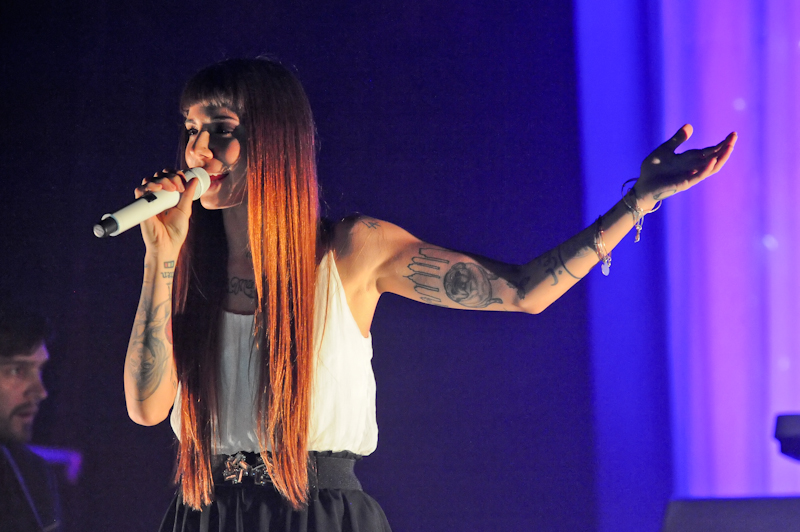 "Be My Forever" encapsulates falling in love in the Summer-time.  Before the ditty, Perri told how Ed Sheeran dared her to write this song after she wanted to bail on the songwriting session because she was too happy.
To the hip parents and pop-music fluent folks in attendance, Christina Perri presents: The Beatles "Please, Please Me".  I recommend checking out the amazing cover on YouTube—after you finish reading this review of course.  The battle cry ballad "Human" serves as an epilogue to her opus (Jar of Hearts—more on that later).  It's untraditional piano-pop that almost seems out of place on the Billboard charts –which it cracked the top 40 on the Hot 100 list—but only because there's nothing trite about it.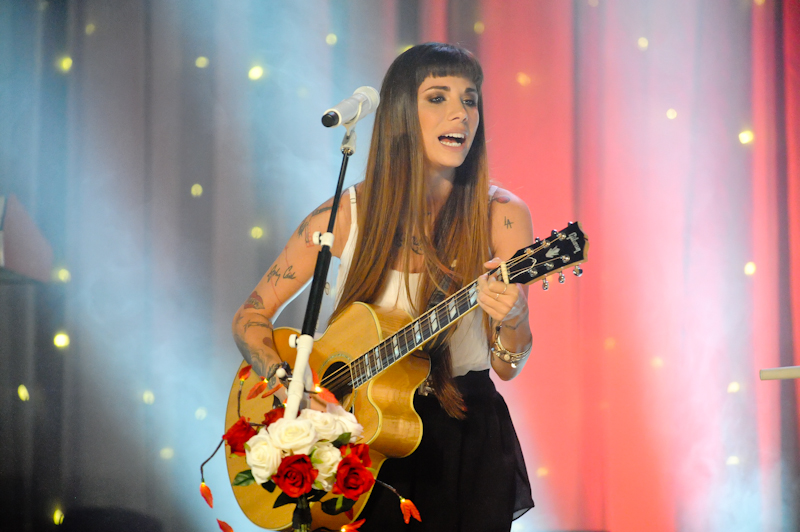 To the Perri neophyte—like yours truly—or a Perri parishioner, "I Believe" converted Perri agnostics into Perri zealots.  The performance went from unassuming at first to goosebump inducing.  Perri split the audience into three sections to help her sing the three-part outro.  Section A sang "This is not the end of me/this is the beginning," the middle group came in with "Hold on" after a couple of bars, and  "I am still alive" finished the arrangement.  As the crowd was on cruise control with their duties, the band exited.  I was blown away by the unsolicited claps that the concertgoers added.  The room kept singing for two minutes, getting louder and louder.  It was awe-striking.
Simplistic but cathartic, "Penguin" kicked off the encore set.  After sharing an anecdote about how this next song took her from waiting tables to here overnight, "Jar of Hearts" preached to the choir.  Perri displayed gratitude, as did the symphony.   The closing out cabaret was "I Don't Wanna Break".  This cut was ripe for an YouTube lyrics video, and consumable for those vested in Perri futures.
Perri has an underdog edge to her, even though she's accomplished something that only a handful of people will get to in their life.  She's a champion of the flawed dark horses, her aim is to reach the long shots, and she fights with those that struggle.   It's impossible not to root for her.
The night before, Perri tweeted "Movie Night" and posted a picture of a scene from the Princess Bride.  There isn't a warm-blooded female on earth over the age of six that doesn't have affinity for that 1987 classic.  This was a sweet reminder that under the tattoos, surgical lyrics, bone-shaking vibrato, and self doubt, that there's a woman unwilling to compromise on a story-book ending when love is concerned.
Review by Donny Rodriguez