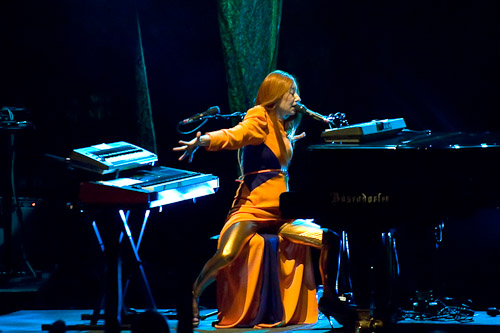 Saturday July 25, 2009 Tori Amos performed at the 2400 seat Long Center in Austin Texas to an almost sold out house.
The opening band for her entire Sinful Attraction world tour is One Eskimo. One Eskimo is a four piece band from England made up off Kristian Leontiou, Adam Falkner Pete Rinaldi and Jamie Sefton. The dimly lit band somewhat monotonously put me into a sleep state with the repetitive and similar drum sequences from song to song. I don't think I will rush to download their music to my iPod.
Tori Amos took the stage at around 8:50 PM to a loud and standing applause from the crowd. She has a flare for the dramatic as she walked to the front of the stage, turned around and with her back facing the audience raised up her hands and walked slowly to the Bosendorfer grand piano. For the tour, she is backed by bassist John Evans and Matt Chamberlain on drums. Her stage presence and voice are like no other performer, a great voice and one of the only artists who can simultaneously play on two keyboards. This skill is becoming her signature style as she plays the keyboard behind her with her right hand and the grand piano with her left hand while facing the audience. After 10 albums and multiple tours her songs still deal with provocative subjects. The songs for this tour supporting her Abnormally Attracted To Sin album deal with issues regarding religion, power, woman and sin. She gave a powerful and emotional performance that was loved by the audience.
The tour tightly controls access by photographers to the show and I was only one of three allowed in the theater. In addition, we could only shoot from a side balcony and from the back of the theater for the first song only. The media restrictions made it a more challenging shoot than usual.