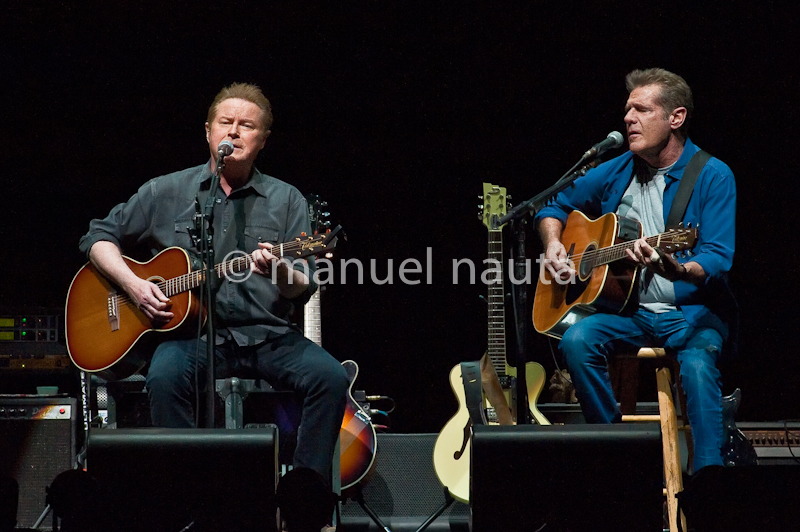 February 21, 2014 – Houston, Texas: How many bands get to a point in their career where they can go out on tour and NAME that tour the history of their band? Only one I know of – The Eagles, none better! And I had the pleasure of being part of the sold out crowd at The Toyota Center in Houston, TX to experience their interpretation of their own historic journey. Upon reflection, can't imagine not being there.
What qualities must a band possess to get to this pinnacle of a career? Let me count them down for you.
Talent: The show opened with Glenn Frey and Don Henley on stage for the first song Saturday Night, sitting on their amps.
As they eased into the set, returning member from the early days, Bernie Leadon joined them. Teasing us with one of their less familiar tunes, Train Leaves Here This Morning, by the 3rd song they gave us the gift of Peaceful Easy Feeling (and by the way, looked like that's what this audience was feeling) and by the 4th we had the Mr. Joe Walsh slide in and launch into Witchy Woman with a slightly updated, mellower and no less enjoyable tempo. Layer upon layer, they gave it to us. Sheer talent.
Generosity: As a photographer I was granted an unprecedented 6 songs to capture the images of this legendary group of musicians. Granted, I was back at the sound board, but I pulled out the long lens and shot with the confidence that I had some time to get some good shots. Other performers new to the fame game might take note.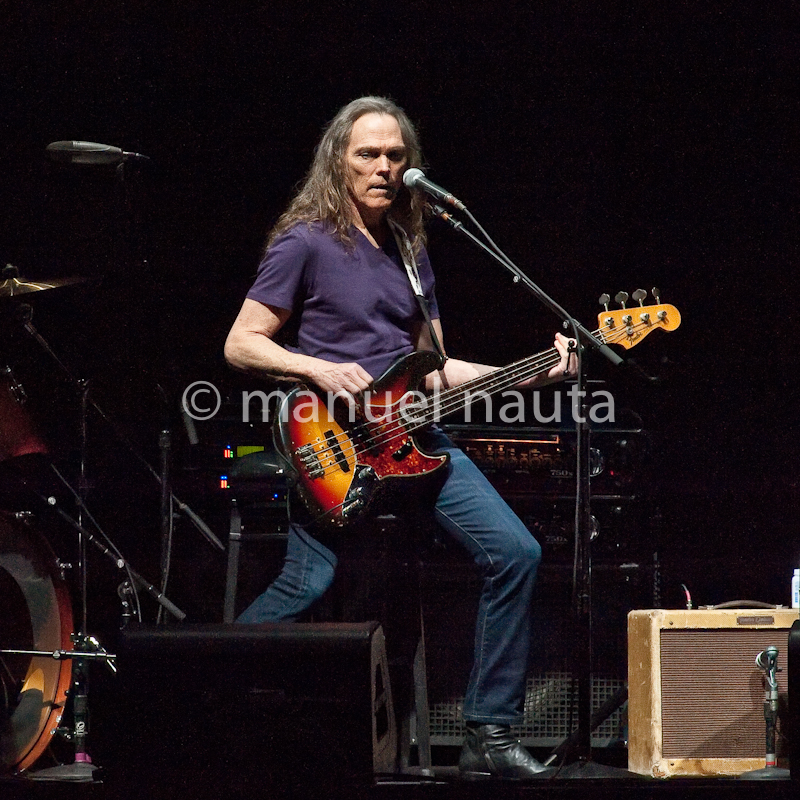 Professionalism: From our vantage point we could see clearly that this production stems from a tight, well-oiled machine. Lights dimmed only seconds between songs while crew and band members stuck to a choreography that carried them from great song to great song and it appeared to be effortless. I know it wasn't.
In the first set the audience continued to soak in their favorites such as Tequila Sunrise, Already Gone, The Best of My Love and One of These Nights.
ImagePersonality…plus!: Toward the end of the first set, Glenn Frey shared with us the inspiration behind the next song as he dedicated Lyin' Eyes to his 'first wife…otherwise known as Plaintiff'. This first set ended with Take it to the Limit (a song written and initially performed by another original Eagles member, Randy Meisner. Randy had been invited to tour but had to decline due to health issues. It was explained earlier in the evening that he is on the mend). This crowd knew however, there was no way the Eagles had taken US to the limit. We were right of course. In the second set – they did not disappoint!
Still exploring these iconic personalities, a crowd favorite and the most cool understated member of the group, Timothy B. Schmit took the stage solo early in the 2nd set. He sang I Can't Tell You Why and it felt like the whole crowd was swaying and 'in the moment'.
Don Henley was showing some serious enthusiasm for the drums throughout the night and continues to take an authoritative, co-leader role with Glenn Frey. Henley had partnered with the Shriners Hospitals for Children on this night, allowing them to sell the greatest hits CD. All profits went to the Shriners' organization. Awesome move and so generous.
Those Shoes got the audience from front to back up on theirs! The catalogue of classic hits performed this night was almost overwhelming. As Those Shoes ended, we met again the electrifying force (personality … plus!) that being Mr. Joe Walsh. The crowd was immediately engaged and stayed hooked as Joe slid into In the City, then followed immediately with Life's Been Good. His prowess on the guitar knows few rivals. And he digs into riff after riff with such abandonment you have to see it to believe it! Kudos to the Toyota Center staff operating their Jumbotron as they captured some of this greatness.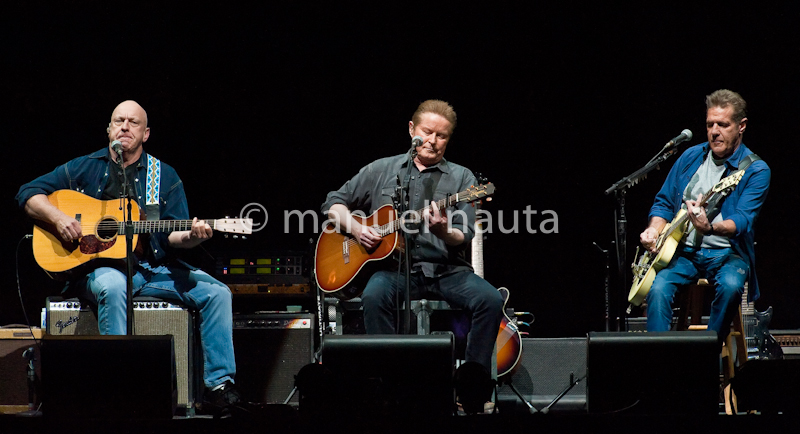 By the way, Glenn Frey struck again when, just prior to In the City he let us know that he was from the city of Detroit, 'that's right, Detroit, where mother is half a word'!  Rock on, Glenn!
Creativity: Keeping it fresh and fun when you're sliding into your fifth decade in the music business would be a challenge for mere mortals. However, deep into the second set we were treated to a kick butt guitar 'show down' by Joe Walsh and Glenn Frey. They covered the old James Gang's classic guitar tune Funk #49 and it was mesmerizing. This was the next to the last song (officially) and the energy level felt like the stage was going to levitate!
ImageLast but Not Least, Pure Stamina: Ending the second set with Life in the Fast Lane, the crowd was on their feet, living their own memories, taking the ride once again with this band we all shared a history with. First encore was Hotel California sung to a standing crowd of fans with big smiles and mouths wide open, singing every word. Pure classic rock and roll. Have I shared yet…none better?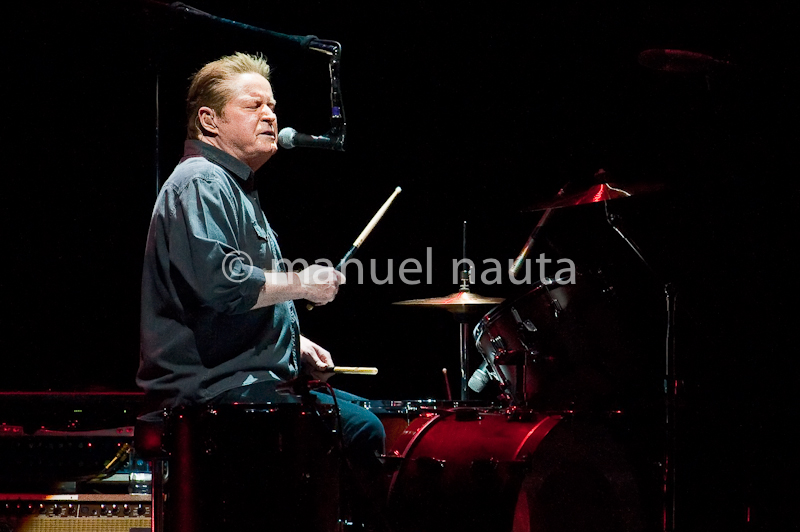 Next encore song Take It Easy (though clearly they were doing anything but!), then back to Walsh thrilling us with Rocky Mountain Way and the final song was the beautiful, haunting Desperado fittingly brought to us by one of the men who was there at the beginning of this incredible band, Mr. Don Henley.
History of the Eagles Tour. Way to Soar! Beautiful show from the band who has it all, shows us the way and continues to fly high above the rest.
Until next time please remember there's no time to kill.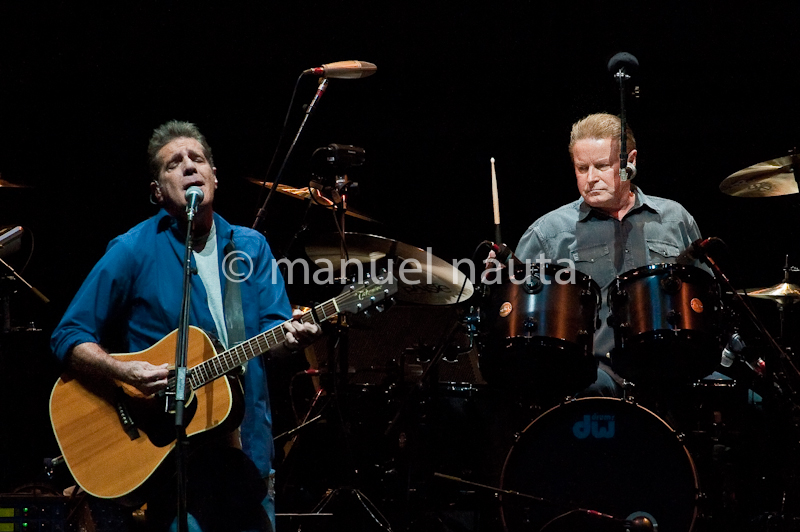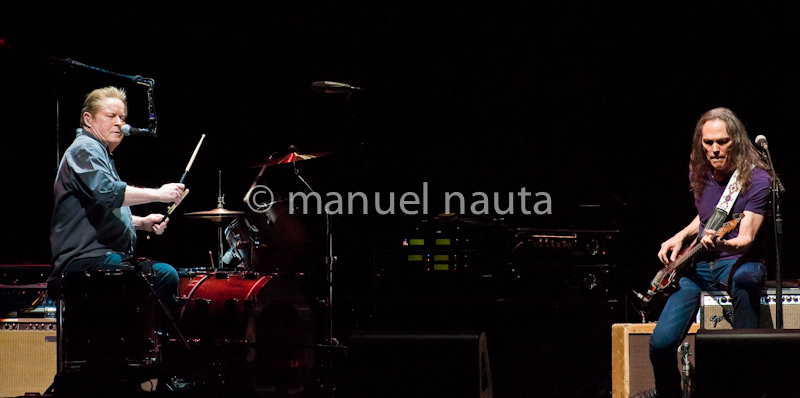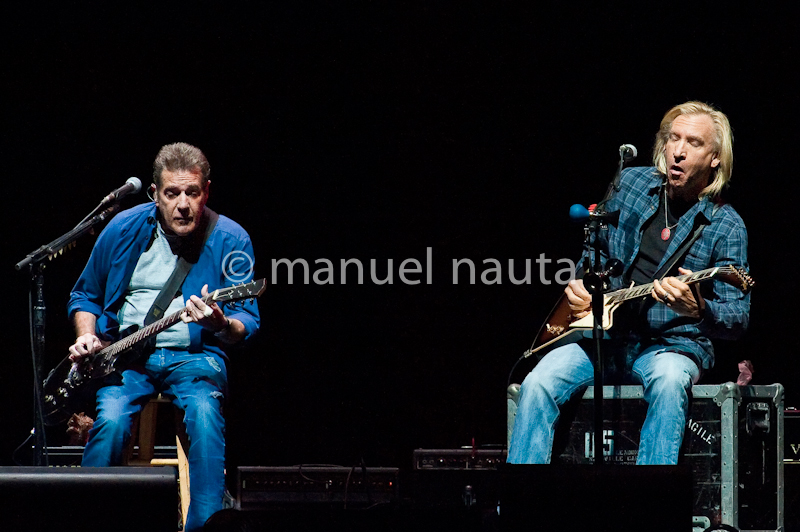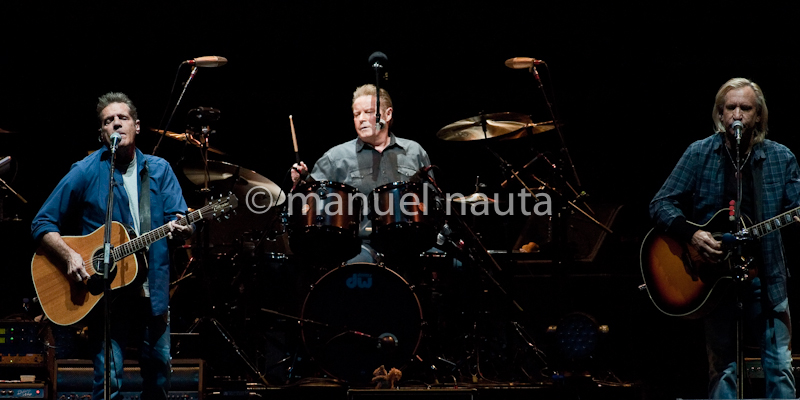 Review by David Clements / reposted with permission from Houston Music Review