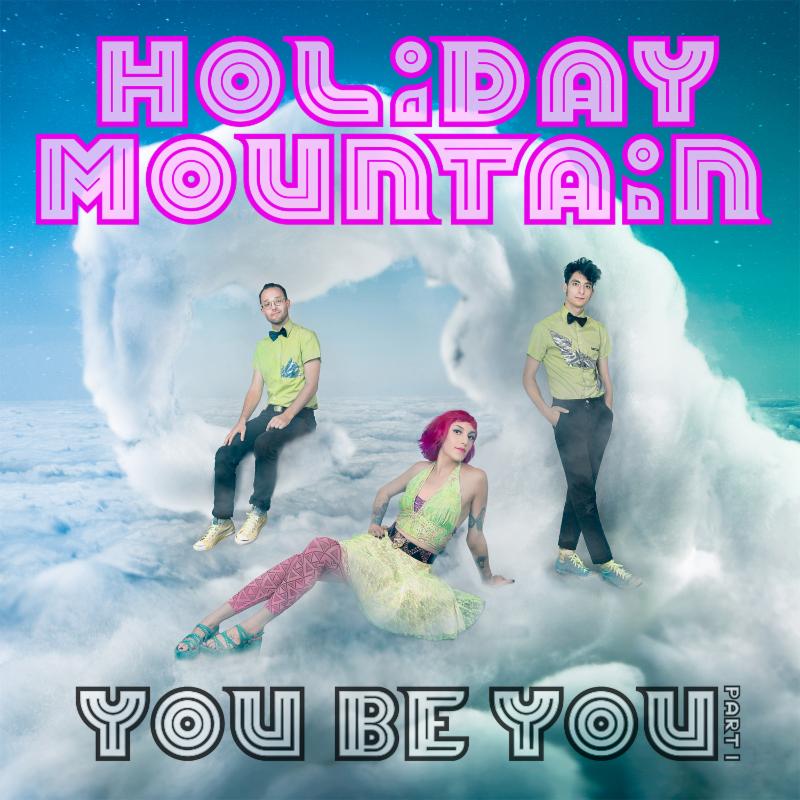 April 3, 2015 – Austin, TX – Colorful psych-dub trio Holiday Mountain are excited to announce that they will be hitting the road this spring for a North American tour in support of their upcoming EP, "You Be You, Part 1". Holiday Mountain recently premiered new song "Slow Motion Thugs" off the upcoming EP via SPIN, here: http://go.spin.com/1C1N1SB. Produced by the Grammy-nominated CJ Eiriksson (U2, Phish), "You Be You, Part 1" is set for release on April 28th, 2015. EP pre-orders, featuring an instant grat download of "Slow Motion Thugs," are currently available here: http://radi.al/HolidayMountain. The band will be holding down a month-long residency in their hometown of Austin, TX at The Scoot Inn, before they head out on tour.
New EP You Be You, Part 1 To Be Released April 28th, 2015
PRE-ORDER EP + RECEIVE INSTANT DOWNLOAD OF "SLOW MOTION THUGS" HERE: http://radi.al/HolidayMountain

Formed in 2011, Holiday Mountain is Laura Patiño (keyboard, vocals), Bradley Will (synth, bass, vocals), and Zander Kagle (drums). The group met while attending Berklee College of Music in Boston, where they were brought together by a common desire to push musical boundaries. With influences ranging from The Yeah Yeah Yeahs to M.I.A., Little Dragon, and Major Lazer to Billie Holiday, Holiday Mountain skillfully mixes unconventional melodies with danceable grooves and beats that are only enhanced by Patiño's wild yet ethereal vocals.
Patiño best encompassed the energy that radiates from Holiday Mountain when, in a packed club at SXSW, she exclaimed, "It's okay to be who you are, dance hard even when everyone is looking at you, and fuck the haters."
Holiday Mountain impressively combines influences from world, dance, and pop music to create a virally catchy – and completely unique — sound on their upcoming EP, "You Be You, Part 1".
For more information on Holiday Mountain, please visit: www.holidaymountainmusic.com.
You Be You, Part 1 Tracklisting:
My Body
Feelin' It
Starlight
Get Really Freaky
Slow Motion Thugs
Bug
With You (ft. Wild Child)
###
Upcoming Shows:
4.3 – Fort Worth, TX @ Lola's Saloon
4.4 – Austin, TX @ Scoot Inn (Residency w/ Mexican Institute of Sound)
4.10 – San Antonio, TX @ 502 Bar
4.11 – Austin, TX @ Scoot Inn (Residency w/ Man Man)
4.18 – Austin, TX @ Scoot Inn (Residency w/ Turquoise Jeep)
4.23 – Dallas, TX @ Three Links
4.24 – Corpus Christi, TX @ Texas House of Rock
4.25 – Austin, TX @ Scoot Inn (Residency w/ The Suffers)
4.29 – Jacksonville, FL @ Underbelly
4.30 – Orlando, FL @ Will's Pub
5.2 – Tampa, FL @ Tropical Heatwave Music Festival
5.3 – Dunedin, FL @ Dunedin Brewery
5.7 – Winston-Salem, NC @ The Garage
5.8 – Philadelphia, PA @ North Star Bar
5.9 – Brooklyn, NY @ Brooklyn Night Bazaar w/ Har Mar
5.11 – New York, NY @ Pianos
5.13 – Toronto, ON @ The Drake
5.15 – Providence, RI @ Fete Lounge
5.16 – Boston, MA @ 939 Café
5.23 – Columbus, OH @ Double Happiness
5.25 – Rock Island, IL @ Rozz-Tox (Daytrotter's Moeller Mondays)
5.27 – Chicago, IL @ Schubas
6.1 – Omaha, NE @ Slowdown
6.2 – Kansas City, MO @ Riot Room
6.4 – Denver, CO @ Lost Lake Lounge
6.5 – Salt Lake City, UT @ Kilby Court
6.6 – Boise, ID @ Neurolux
6.9 – Vancouver, BC @ Media Club
6.10 – Seattle, WA @ Barboza
6.13 – San Francisco, CA @ Neck of the Woods (Downstairs)
6.17 – San Diego, CA @ Soda Bar
6.18 – Los Angeles, CA @ The Satellite
6.20 – Tijuana, Mexico @ Moustache
6.27 – Austin, TX @ Keep Austin Weird
For Updates, Please Visit:
Website:  www.holidaymountainmusic.com
Facebook: www.facebook.com/HolidayMountainMusic
Twitter: twitter.com/HolidayMtnMusic
Instagram: instagram.com/holidaymountainmusic