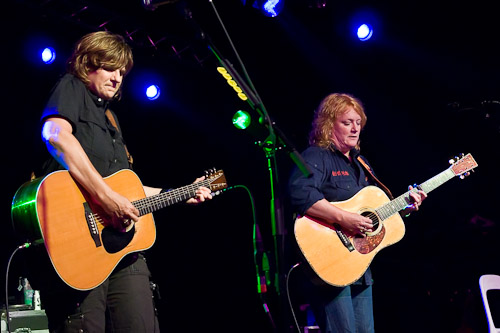 Saturday night, May 29, the folk rock duo Indigo Girls played at La Zona Rosa in Austin in support of their new CD release Staring Down the Brilliant Dream. Amy Ray and Emily Saliers did a complete acoustic show with out backup band. Local favorites Terri Hendrix and Lloyd Maines, producer, musician and father of Dixie Chick Natalie Maines joined one song. It is amazing how Lloyd Maines can immediately put his signature on any song with his distinct playing and wonderful chord progressions.
The audience seemed to love the duo. I did get the feeling that some of the enthusiastic applause was maybe more for their political and social message than for the pure quality of the songs. At times, it was difficult to distinguish one song from another. Amy Ray sure seemed to enjoy the show, however, Emily Saliers appeared to have a difficult time cracking a smile during the show.
If you were an Indigo Girls fan before, you will have liked the show but I don't think they made many new fans Saturday night.