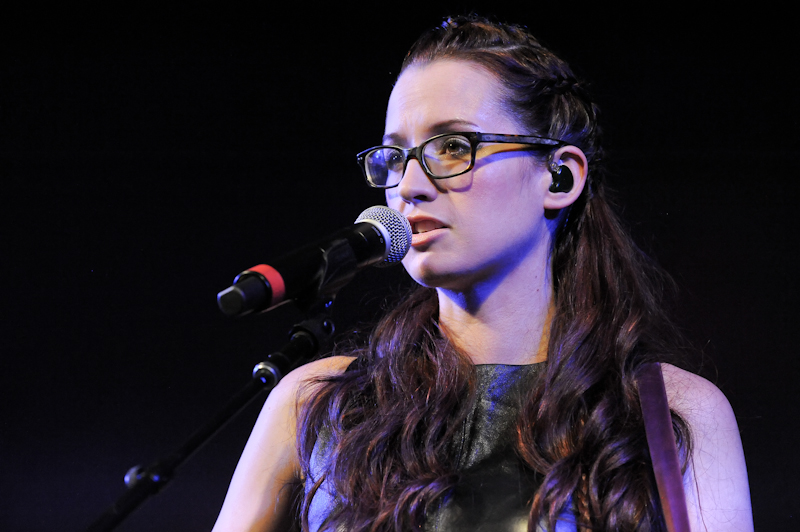 AUSTIN, TX – May 14, 2014 / Ingrid Michaelson's music is an indie-pop burlesque show that's so provocative that it borders on being voyeuristic pop-porn.  The multi-instrumentalist, singer-songwriter Michaelson took her catalogue of episodic TV Drama soundtracks, commercial jingles, and breathtaking ballads to the backyard of Stubb's Wednesday night, May 14.  This is the second time in as many months that Michaelson has visited the state's capital after a few SXSW sets, but this time she's headlining in support of her new album Lights Out.
Michaelson's concerts have a reputation for being cerebral, intimate, giggle-fests similar to a VH1-Storyteller type of engagement.  It's not uncommon to hear the phrase "I went to an evening of Ingrid Michaelson's stream of consciousness and witticisms, and a concert broke out."  Don't believe me?  Check out any live Michaelson performance on YouTube, and there's a good chance each song is front loaded with a banter buffer.  Last night, the near capacity crowd was ready for whatever she had for them.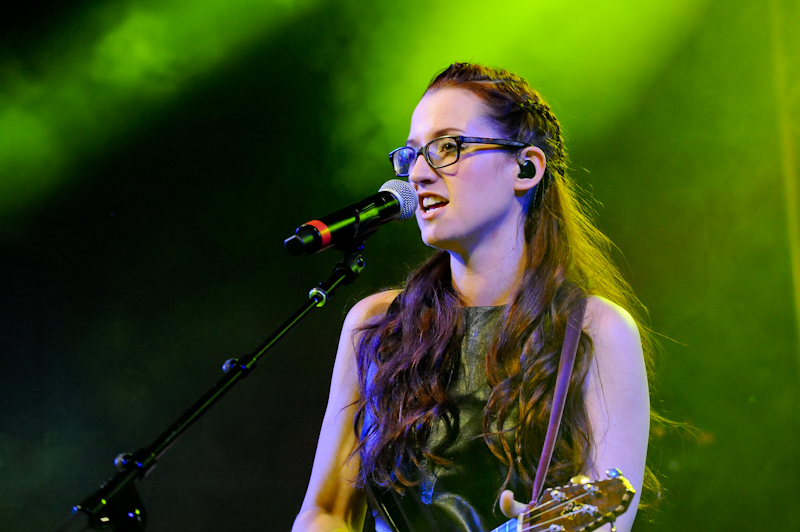 Nary a concertgoer could have asked for a more enjoyable Texas temperature this side of May.  When doors opened, it was in the low 70's with a chance of this being the last time until Pumpkin Spice Latte's return–where dresses, knee-high boots with Olive, Plum, or Oxblood colored tights could be appropriate.  Per usual for a concert of Ingrid's ilk, the few fellows in attendance wore patterned Oxfords and trying-too-hard-to-be-casual fashion sneakers.
Irish acoustic-and-synth duo Storyman has a catchy sound that with all hyperbole removed, is a Mumford meets non-experimental Radiohead, and you should introduce yourself to them.  Their capo chords, sustained keys, and falsetto in "I Think I Love You" and the impromptu sing-a-long of "Coming Home" are worth your online steaming due diligence.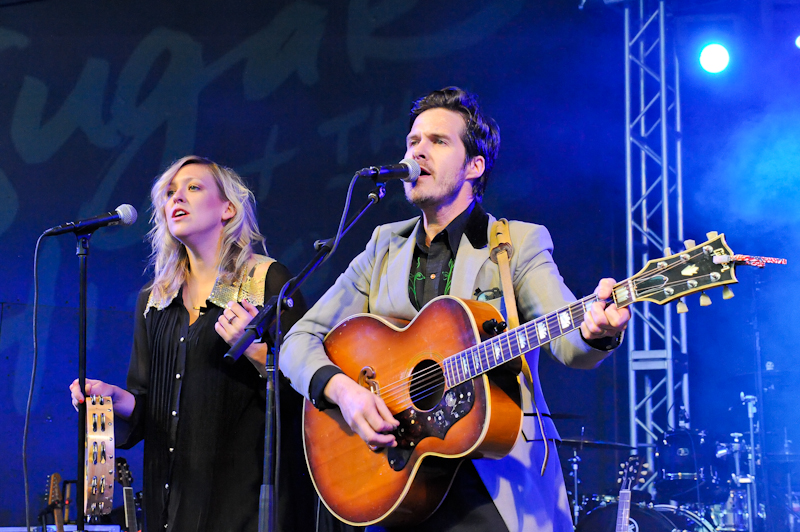 The second act on the bill was the Nashville-twinged Sugar & the Hi-Lows—a throwback country music twosome with present day songwriting credits that can be often heard on terrestrial radio and in television placements. If they wanted to, Trent Dabbs and Amy Stroup could open three of their own Stubb's franchises with their ASCAP paychecks.
Some of the more notable sets were: "See It For Yourself"–which is one of their many songs featured on the newly renewed ABC show "Nashville"; the Johnny and June cover of "Jackson", and the soulful "I've Got You Covered".  The latter is the type of track that will make you spontaneously text your lover that you're grateful for them—or it'll have you drunk text that one that got away.  Exit Sugar & the Hi-Lows.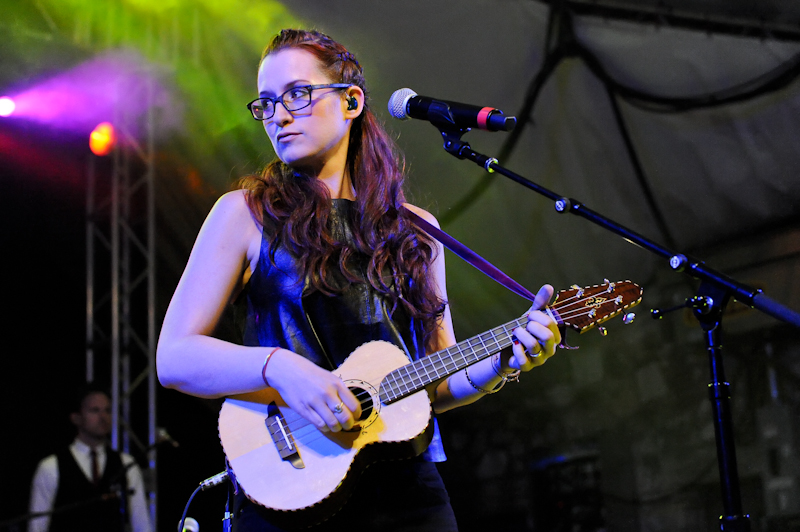 Enter a five piece crew of musicians who equipped themselves with their tools and readied for the arrival of their foreman.  A few bars into the opening cut of her month-old-album "Lights Out", "Home" showed everyone who's boss.  Dressed in all black, her signature long red hair paired nicely with wordless vocal runs, and prolific precision engineered a blueprint of things to come.  The song, like the album, is unapologetically epic with a sense of urgency.
Hurried strums on a baritone guitar, and a deep, rhythmic sing-speak delivery of "Soldier" made for an all out salute of Michaelson.  The band's military percussion and her effortless octave range dexterity were impressive live.  The A-plus B-side "Stick" might have been a bit too serious, and a bit too soon at this juncture of the gig, but the die-hards shoe-gazed in sporadic unison amongst the masses.  "Time Machine" is an endless loop of multiple frenzied hooks converging in on itself.   The spiritual chant breakdown, and sax solo that resembled the "Go, Go, Power Rangers" theme, were fun – for lack of a better term.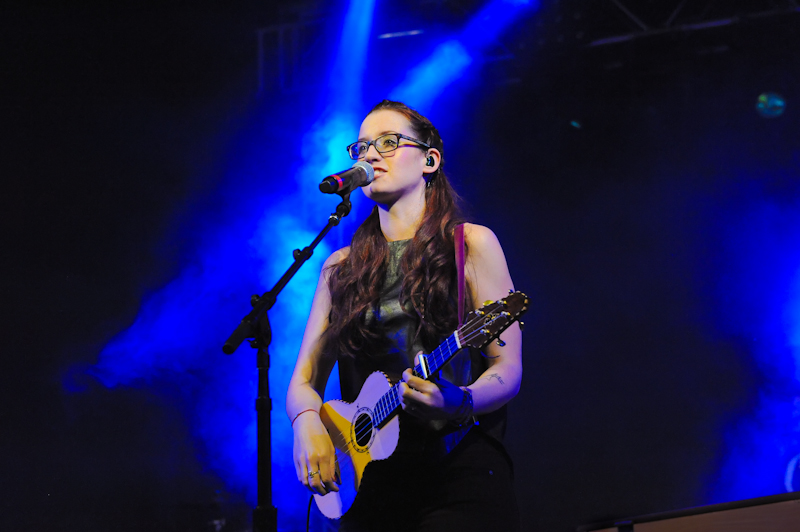 A mid-tempo, lyrically focused "Breakable" appeased fans of Michaelson since 2007.  This was the first time she left frontwoman-stage-gallivanting, and instead sat behind the ivory keys. Four-by-four box lighting blinded as it pulsed during the skin-cracking deep cut of "Blood Brothers".  The call and response shouting of "blood" from her accompaniment infused the space with next level energy.  Finally, after six songs, which must be a record for Michaelson, the singer paced the show by storytelling.  Michaelson joked that she stole the Storyman's song "You Got Me", and brought them out to perform the number.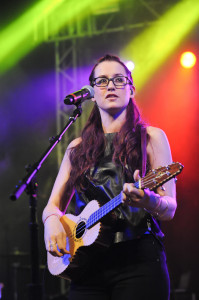 The ever-so-random non-sequitur of "it smells like chicken" had the audience in stitches to which she responded by haphazardly introducing Trent Dabbs.  According to Michaelson, she and Dabbs wrote and recorded the beautiful ballad "Ready To Lose" (Dabbs co-wrote half of her new album), in the span of a few hours.  The notes held during the chorus, were held for ransom like a completed note comprised of magazine lettering cut-outs with the kidnapper's demands.
The singer's version of "Can't Help Falling In Love" might as well be considered her own at this point, at least to all of us concerned.   During band intros, Michaelson played a game where, each musician acted like the celebrity she attributed to them.  As this segment went on, the chuckles from the crowd were as automatic as the laugh tracks on a CBS comedy.  The guitarist Allie Moss did a funny impression of Paula Dean simply by uttering "butter".
Amy Stroup provided the third part harmony to "The Chain".  Michaelson routinely changes arrangements of songs, and presents alternate interpretations, as was the case with "The Chain" as the outro was augmented.
Next up was the jazzy "Parachute", which was sexy and vulnerable.  A Polka polished remix of the crowd-favorite "You and I" was painfully precious and had our cell phone service providers noticing a spike in usage from selfies, vids, and boastful posts.
When a false start by eager fans threatened to derail the intro of "Be Ok", Michaelson quipped, "Ok, let's go with it", and grabbed a hold of the bull by the horns.  Handclaps and sultry vocal lashing in "Warpath" even had a prude like myself embracing the sensual vibe.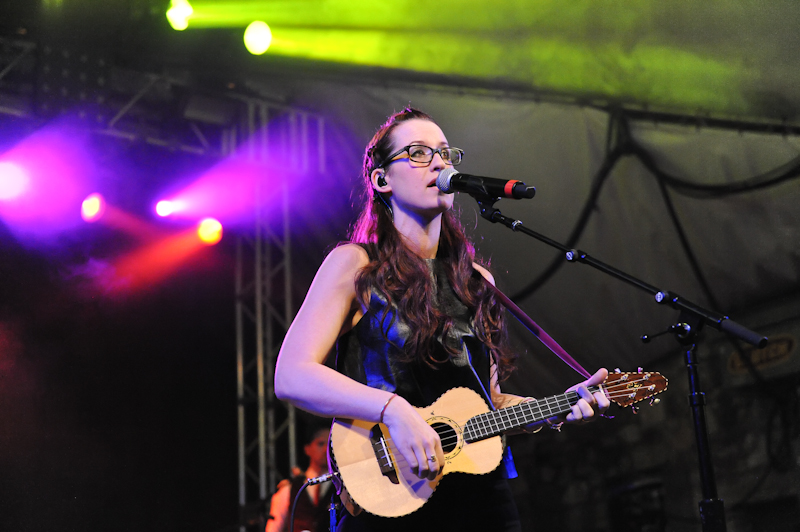 The dynamic and perpetually building "Handsome Hands" was like a battle-cry that escaped a rock-opera production of Game of Thrones.  Surprisingly, the largest reaction of the night was for the lead single off "Lights Out" – "Girls Chase Boys".  The Baroque pop radio hit was so infectious it gave the stereo speakers mono.  Clocking in at two-minutes, "The Way I Am" is perhaps the singer's most recognizable aria but after a night of the complex and creative new stuff, it seemed more like a relic of the singer's past.
"When we (Dabbs) wrote this, we pictured you guys, and kept crying," Michaelson shared before "Everybody Is Gonna Love Me Now".  Cue the fog machine.  The jam session outro is the reason why anyone picks up an instrument.
Faux good nights from the band had the hyper-vigilant Michaelson-ites sprinting to the port-o-potties so they wouldn't miss a nano-second of the encore.  "Fire" was musical theater that was angry, but composed.  A mash-up of "Maybe" and "Everybody" felt more like a main course than a side dish.  Everybody seemed to have a moment of introspection during "Everybody".  Calling on her allies in Storyman and Sugar + The Hi-Lows, the final sing-along was to "Afterlife".
"Afterlife" symbolizes the second phase of her career.  Compelling choruses, and structurally sound bridges—with drama-inducing chord progressions of I-III-IV-iv, boosts Michaelson's already skyscraper-high celling even higher.
Review by Donny Rodriguez