AUSTIN, TX – August 22, 2015 Thousands of fans poured in to Austin's Circuit of the Americas Amphitheater on Saturday night for a fully loaded lineup of today's hottest rappers.
Long before the stampede of latecomers pushed through the arena to catch Big Sean and J. Cole, Dreamville, YG and Jeremih dropped the beats and got the party rolling. As flip flops and shuttle buses scooted toward the front entrance, the artists' muffled reverberations sent waves of anticipation through the crowd's bloodstreams.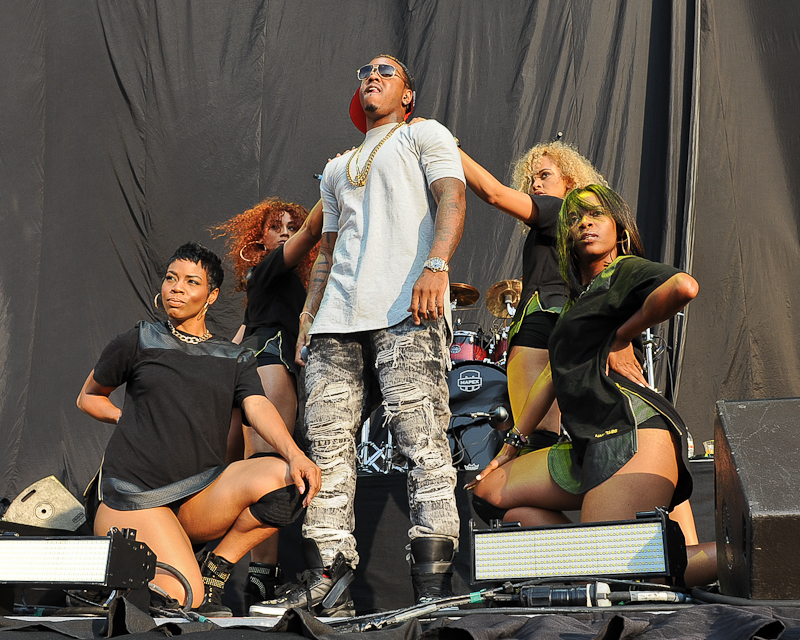 In order to find the best view, fans swiftly and strategically maneuvered their way through the hordes of people. Despite the nearly claustrophobic environment, nobody seemed too stressed. The masses of music fans felt like family members. Enthusiastic high fives and "hell yeahs!" kept the beer lines steadily moving, and sweaty strangers hugged each other in overwhelming excitement.
Once the four LED screens signaled Big Sean's entrance, the energy catapulted with wild abandon. Shirts came off. Rave lights switched on. Shouts and screams echoed through eardrums. "Paradise," a single from Big Sean's latest album, got everybody's hands waving in the air. The roaring beats shook the seats and delved inside skin cells. The opening song sparked a show that wasn't just a live reenactment of a few hit tracks; it was an experience that encapsulated everybody. Each reveler contributed to the energy, and it only multiplied from that moment forward.
"Clique," Big Sean's collaboration with Kanye West and Jay-Z, helped widen friend circles. Selfies turned into group pics when new companions joined each shot. Soon, the cliques grew so large, people had trouble fitting in the frame. Where's a selfie stick when you need one?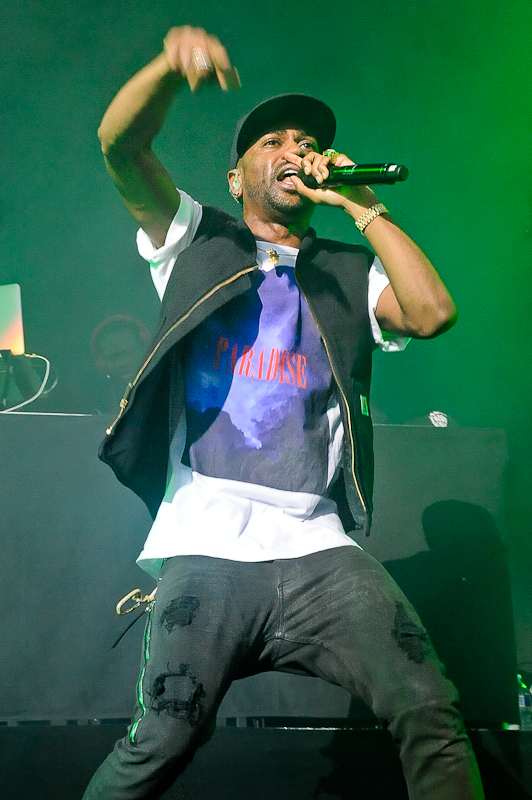 During "Play No Games," smart phones scanned the crowd and captured the waves of euphoric faces. Bobbing heads jammed in unison all the way back to the lawn seats.
Throwing it back to his first album, "Finally Famous," Big Sean launched in to "My Last." Chris Brown's catchy hook blared through the speakers, but it wasn't as loud as the vocal chords that screamed the lyrics through the amphitheater.
After "One Man Can Change the World," Big Sean got real. Stripped down and honest, this Grammy-nominated artist vulnerably talked about the manifestations of his dreams. His inspiring pep talk about the power of positivity seamlessly segued into "Blessings."
When the Texas heat overwhelmed him, some lucky fan in the front row expertly caught the soaking shirt he pitched toward the crowd. Closing his whirlwind set with "I Don't Fuck With You," Big Sean basked in the adrenaline-inducing waves of adoration flowing towards him.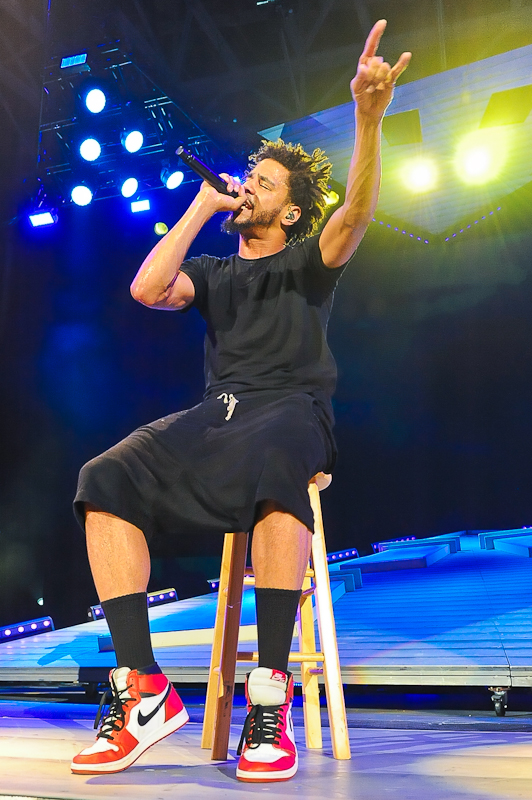 Pulses finally returned to a healthier rate just in time for them to rev up again. The black screen dramatically dropped to reveal J. Cole, wearing comfortable sweatpants and a T-shirt, leisurely reclining on top of a brick roof. A stop sign labeled "Forest Hills Drive" sat next to this expansive set and gave the stage a familiar suburban energy.
The intro to his latest album "2014 Forest Hills Drive" swirled in a dream-like haze. "Do you want to be happy?" the mesmerizing performer mused. The fans already were.
Perching on the edge of the stage, J. Cole had a question. Would the audience indulge in a sequential run of his latest album? Of course, he wanted to run this idea through the crowd first. Devotedly grateful to his fans, this platinum artist wouldn't want to disappoint anyone. The resounding cheers confirmed his plan, and he eagerly pushed forward with his autobiographical album in its entirety.
Full of expertly crafted visual effects, this concert was every bit as much of a celebration of his well-rounded album as it was a display from his enormously talented crew.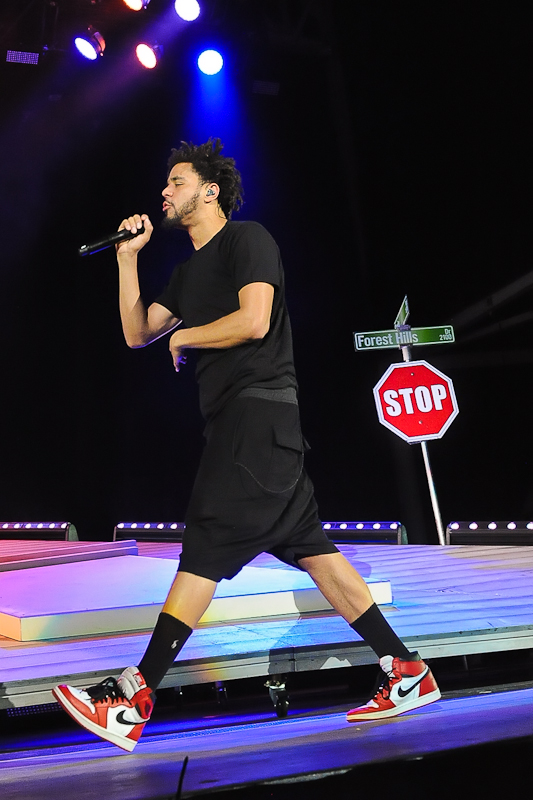 Floating rose petals drifted across the massive video screen during "Wet Dreamz" as J. Cole weaved his rhythmic words and relived his uncomfortably relatable adolescent years. The audience peered through Cole's childhood with all of his coming-of-age snapshots. "A Tale of 2 Citiez" recounted his pre-stardom uncertainty and "Fire Squad" boiled with his unwavering determination to make it.
As the people in the pit pushed even closer to the stage, Cole took a deep breath and rewired the energy. In order to make "this big ass venue as intimate as possible," he invited the fans to listen to his no-frills speech. Distancing himself from the stimulating lightshow and flashy theatrics, Cole spoke into the microphone with concise intensity and humbly thanked his listeners for their constant support.
Most of the fans partying that Saturday night have been J. Cole followers since his mix tape days. Knocking on doors and begging for MySpace listens, Cole relentlessly hit the grind before Jay-Z signed him on his label, Roc Nation, in 2009. Breaking away from the "2014 Forest Hills Drive" flow, Cole dedicated the next song to the fans who have listened to his music since day one. "Lights Please" from the 2011 album "Cole World: The Sideline Story," filled all of those loyal listeners with satisfaction.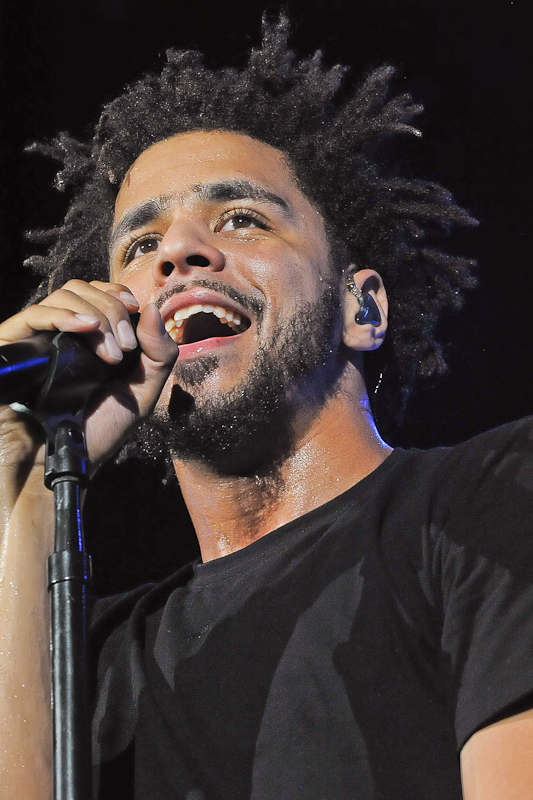 Another moment of raw insight followed as J. Cole shared his issues with Hollywood's insincerity. His stripped-down honesty bled into "No Role Modelz" and continued the full performance of "2014 Forest Hills Drive." When "Love Yourz" rolled up on the set list, J. Cole pulsed with pure emotion. There really is "beauty in the struggle," and J. Cole proved that his skyrocketing fame won't halt his engaging songwriting.