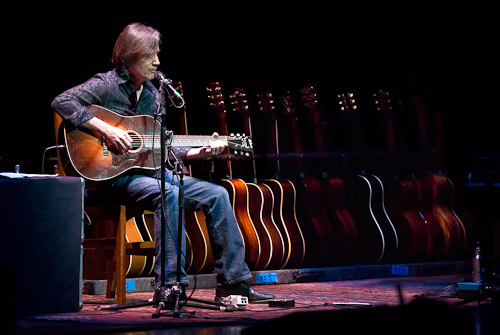 On Monday night November 30th, Jackson Browne performed a solo concert in Bass Concert Hall (the University Of Texas campus). With wine glasses in hand, the audience was to capacity by the 8 p.m. show. I even noticed that Austin's ex mayor, and avid live-music supporter, Will Wynn was seated near the front row. On stage was a single wooden chair, couple of microphones, a keyboard and a no less than 15 guitars!
After the first song, Jackson Browne assured the audience that the guitars were not just there to impress them. Which then led to the inevitable joke "How many guitars does a guitar player need? Just one more…" Jackson dedicated the song For A Dancer to Stephen Bruton, Austin's well loved guitar player who passed away last May due to cancer. The audience became so quiet you could hear a pin drop while he sat at the keyboard and sang that beautiful line "in the end there is one dance you'll do alone."
The show continued with the audience yelling out song names, and Jackson selecting different guitars for different songs. "Dr. My Eyes" seemed to be one of the audience favorite songs as they yelled out, whistled and clapped, this was a lively bunch! Jackson Browne is one of those few talented artist who can do a two hour solo concert that is engaging and truly wonderful from beginning to end.