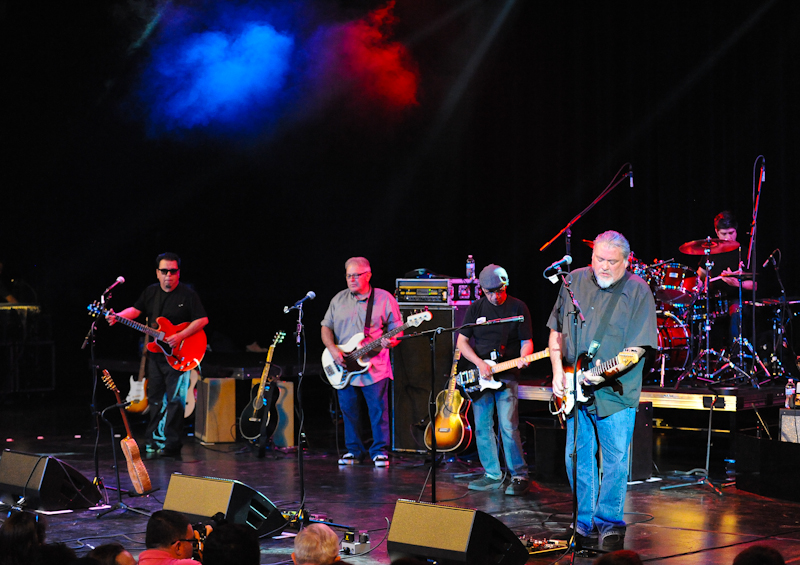 SAN ANTONIO, Texas, April 13, 2014 – It was a Sunday evening, but the crowd at the Aztec Theatre on April 13 exuded a festive, weekend-worthy energy. During Fiesta, every night is worthy of a celebration in San Antonio and this night was no different. Members of a more mature audience showed up ready to groove with Chicano blues-fusion group Los Lobos and blues-rock icon Robert Cray – both of which are multiple Grammy Award-winners and legacies in the blues genre.
The Aztec, a magnanimous Riverwalk-area venue built in 1926 and recently remodeled for a comeback, is jaw-droppingly epic. Gold trim and colorful lights embellish the rock walls of the theatre's ancient civilization-themed decor, and stone faces with glowing red eyes stare down from the walls on all sides. In the lobby, a giant, ancient-looking chandelier with dozens of dimly-lit candles hangs from the sky-high ceiling. In the actual theatre, four platforms staggered in height are designed to give all audience members a fair chance at a good view of the stage.
On the floor right in front of the stage would seem to be the most envious of locations to get up close and personal for legendary acts like Robert Cray and Los Lobos. It was definitely the most crowded area, but sizable groups also filled each of the platforms and the balcony upstairs with a buzzing anticipation for the show to come.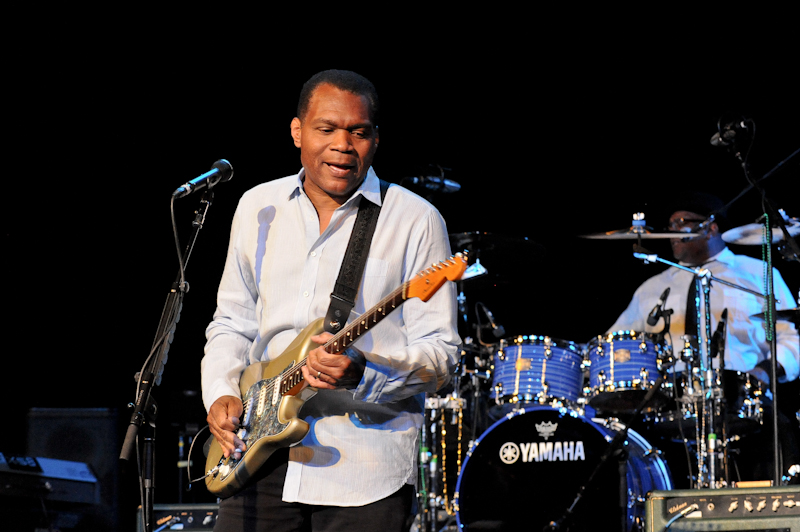 Blues Hall of Fame legend Robert Cray, with three-piece band and flashy gold guitar, took the stage around 8:15 p.m. to a roar of applause from the crowd, and kicked off the set with the soulful "(Won't Be) Coming Home." Cray tickled the crowd by thanking "our opening act… Huey Lewis & The News"–another legendary music group that happened to be playing down the street on the same night–then continued on with "I'll Always Remember You." A hazy fog rolled across the stage, awash in a yellow-orange glow, while Cray crooned to the crowd with both voice and guitar in his mesmerizing way of storytelling through blues-based rock, soul, jazz, and funk.
There was unmistakable passion in Cray's guitar solos, and he mouthed along with the sounds as though he were lip-synching to lyrics without words. He changed guitars a total of eight times, assisted by a stage tech whose sole purpose seemed to be prepping and shining the next guitar. Cray showed off an impressive range and falsetto in the ballad "Right Next Door (Because of Me)," picked it back up and got the crowd dancing with "You Move Me," then slowed it down again with the ironically mournful "Sitting On Top of the World."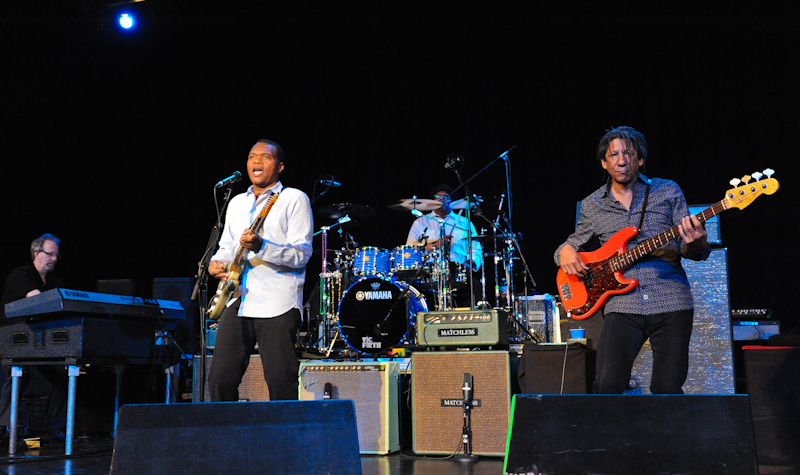 Keyboardist Dover Weinberg slipped in and out of classic piano and organ-sounding accompaniment, and drummer Les Falconer also sang the occasional vocal harmony. Each song allowed ample opportunity for members to jam instrumentally and, of course, for the wailing blues of Cray's guitar solos. There was a wailing in his vocals at times as well, especially during "Shiver All Over" when he seemed almost overcome with emotion. In this emotional state Cray would sometimes lose himself in the vocal delivery, abandoning his guitar completely–a luxury usually afforded only when a second guitarist exists to pick up that slack.
Cray introduced one of the final few numbers, "What Would You Say," as "a hippie song…a song of hope." Accordingly, bassist Richard Cousins took off his shoes and played the rest of the set barefoot. Cray and Cousins delighted the crowd with possibly impromptu synchronized dancing during "Hip Tight Onions," laughing while they moved together with their instruments to the music.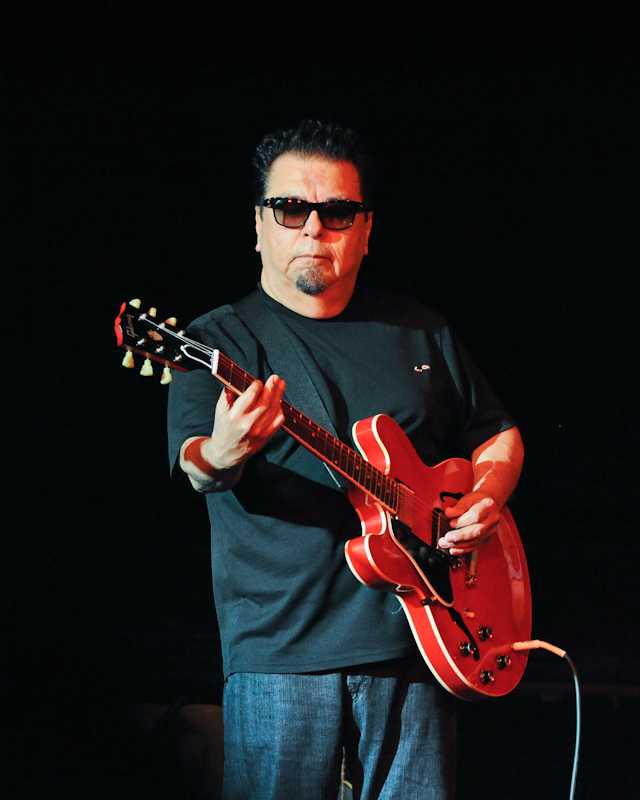 There was an intermission between the two acts which allowed ample time for attendees to order another round of drinks and maybe a pizza (served in the lobby by Big Slice Pizza), take a bathroom break, and buy some band merchandise. A booming voice over the speaker to draw the crowd back into the theatre for East Los Angeles' Los Lobos.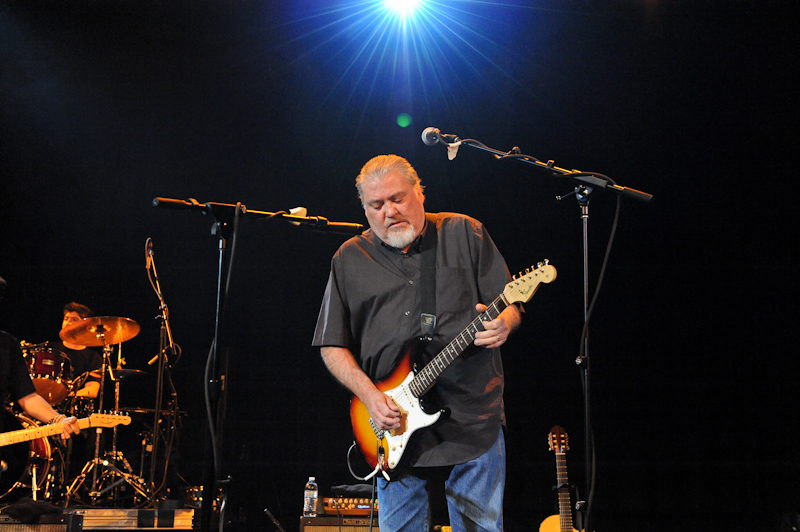 The six Lobos stepped out onto the stage and were met with thunderous applause. They didn't speak a word to the crowd at first, launching instead into a groovy Latin-based blues-rock jam. The band has been around for three decades, so most members are older, with the exception of drummer Enrique 'Bugs' Gonzalez. The two vocalists, Cesar Rosas and David Hidalgo, took turns singing the lead.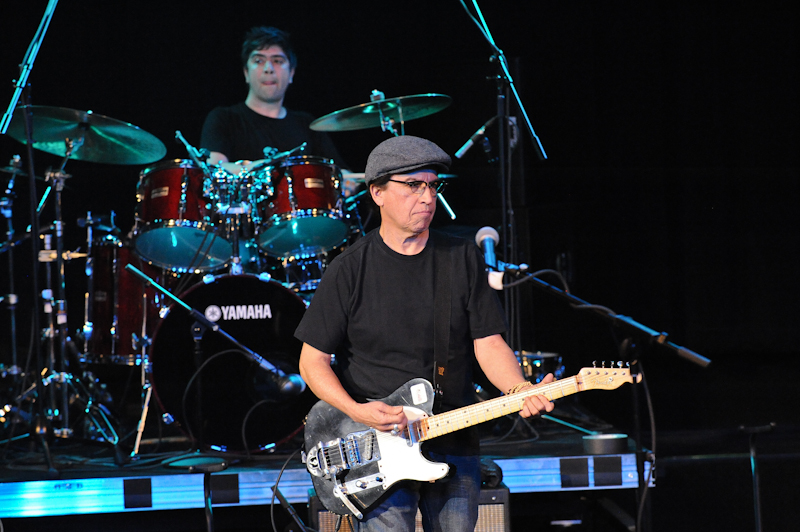 Audience members yelled out the names of favorite songs they wanted to hear, and the band seemed to oblige ("We will, man!"). When addressing the crowd, Los Lobos spoke predominantly in English. More than half of the Los Lobos set was instrumental, and you could tell they were each very emotionally involved with the music. Members who aren't vocalists per se often still sang along to lyrics from songs the Lobos have been playing for years and years.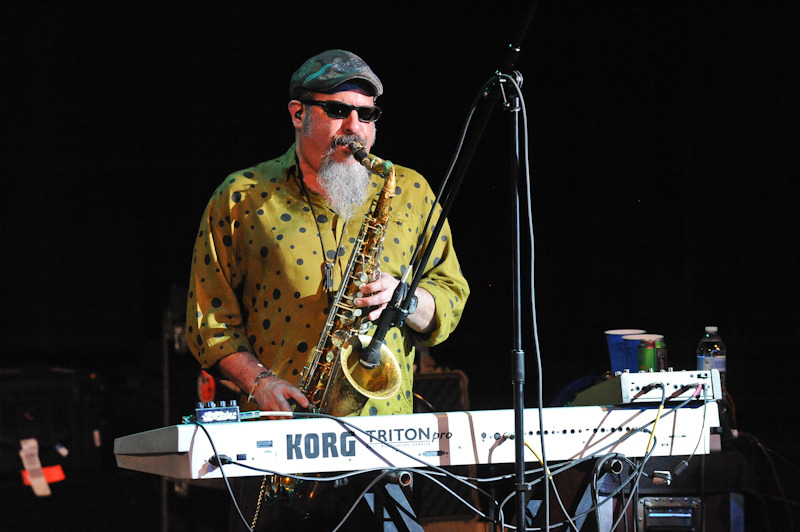 Los Lobos know how to jam. Some songs were more blues-based, others had a southern rock/country feel, and the group got into some distinct Latin vibes later in the set with Latin percussion and lyrics in Spanish. At times it was hard to tell whether the jamming in the middle was actually part of the song, or if the members were just having a great time being a bit improvisational.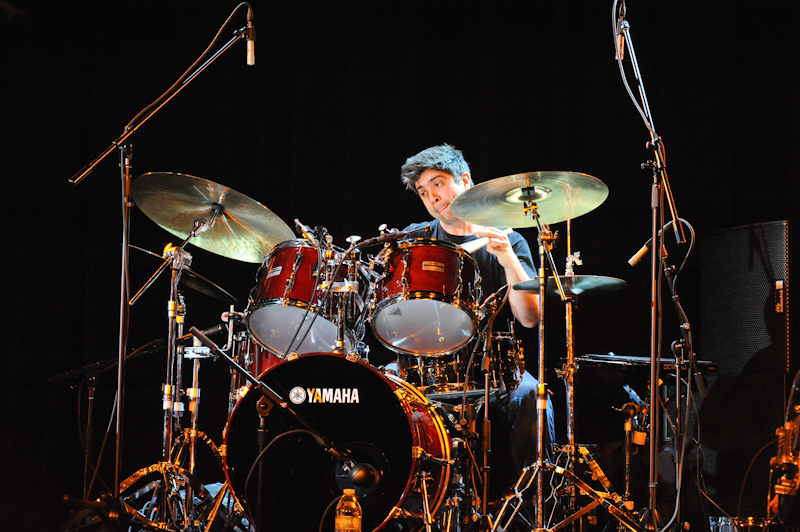 Almost all songs were more upbeat, with dance-worthy beats and anthemic choruses. In addition to keyboard and secondary percussion, Steve Berlin plays mean saxophone and flute solos. Drummer Enrique Gonzalez definitely had the most energy, playing the entire set with a big grin and intermittently laughing with other members. A surprise appearance by members of Los Texmaniacs, Max and Josh Baca, delighted the crowd as they joined Los Lobos for "Kiko."
Often there were no stops between songs, which kept people moving. Standouts included "I Can't Understand," "Que Bonito Suena Esta Cumbia," and covers of "Papa Was a Rolling Stone" (The Temptations) and "One Way Out" (Allman Brothers). The most dancing occurred during the more obviously Latin-influenced music–cumbias, boleros, and norteños. Los Lobos ended their set with a three-song encore which included a fantastic cover of "La Bamba."
All in all, the show at Aztec was a fun, high-energy live-music experience featuring a lineup of legends in an epic venue. Above and beyond any normal expectations for a Sunday night. ¡Viva Fiesta!
Review by Kimberly Johnson