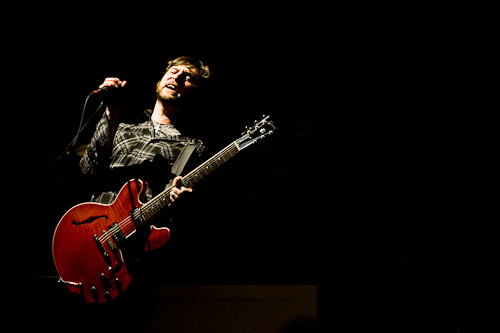 The Australian rockers JET played last Friday night in downtown Austin for a huge crowd, and they left quite a mark. The band consists of Nic Cester on lead guitar and vocals, Cameron Muncey on guitar and vocals, Mark Wilson on bass and Nic's brother Chris Cester on drums and vocals. This was a free show put together by C3 Presents and part of a nationwide series of pop-up concerts sponsored by Bud Light to promote their new wheat beer, which I suppose deserves a taste.
The parking lot on the corner of 4th Street and Colorado was used for the concert, a DJ warmed up the crowed and JET went on at 8:00 pm. They sounded like veteran rockers. It's no wonder they've been able to shared the stage with The Rolling Stones and Oasis.
Their debut album Get Born, released in 2003, sold 3.5 million copies! Tonight they played not only songs from their new album Shaka Rock, but also some of their biggest hits such as "Are You Gonna Be My Girl". During the first song JET was joined by four members of the Longhorn drum line. Nic and brother Chris Cester provided the energy and power to the songs complemented by Mark Wilson's solid bass line. Cameron Muncey seemed cool and collected playing his gold colored Gibson and wearing a well tailored sports coat. The crowed loved the show and the setting could not have been better with cooling temperatures.