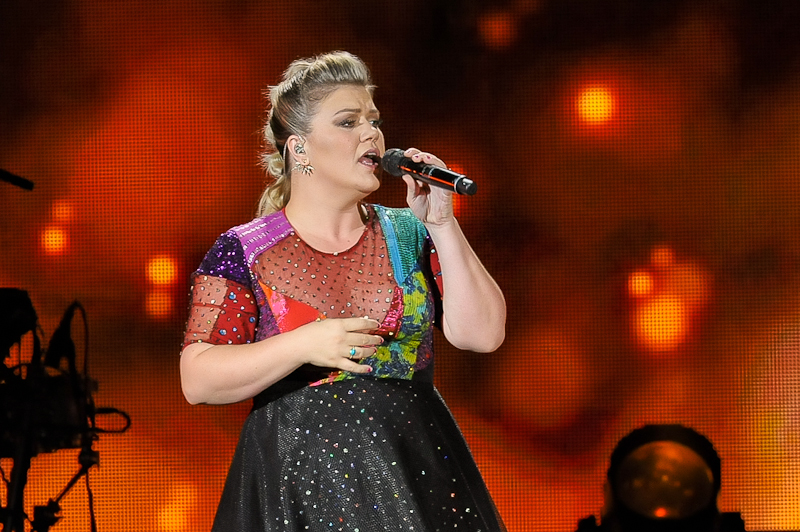 When Fox aired the season one American Idol finale in 2002, fans waited with bated breath and crossed fingers. When the streamers danced toward the stage to welcome the winner, Kelly Clarkson's tears left tracks down her cheeks. The loyal followers at home erupted with joy. To many aspiring singers watching at home, this was the most spectacular display of triumph.
Thankfully, Clarkson's burst of fame hasn't clouded the endearing, down-to-earth spirit that captivated American Idol voters thirteen years ago. Her fabulously colorful concert at Austin's Circuit of the Americas Austin360 Amphitheater beamed with poppy pizzazz while still maintaining the spontaneous, fizzling fun this superstar is known for.
The city's thriving social calendar may have overshadowed this bubbly concert on Saturday, for even the middle floor seats had several empty rows. Through openers Abi Ann and Eric Hutchinson, mother-daughter dates leisurely scuffled among the food trailers and picnic tables. A handful of harmonious voices sang along to Hutchinson's "OK, it's Alright With Me," and the crowd's enthusiasm slowly grew from there.
The sonically synchronized a cappella group Pentatonix perked up the energy with their arrangement of Ariana Grande and Iggy Azelea's "Problem." The elementary school aged fans leapt on to their parents' shoulders and stood on their seats to get a better view. While many fans danced to their caffeinated pop arrangements until they were drenched with sweat, some listeners just stood in overwhelming awe and fixated their unblinking eyes on the stage.
Mitch Grassi's whistle tones rang on their arrangement of Lady Gaga's "Telephone" and made heads shake in dumbfounded disbelief. It wouldn't feel fair to call him a tenor when his crystalline vocals rival the money notes in a Whitney Houston song. No, Grassi sounds like a classically trained soprano.
Although Pentatonix are famous for their quirky arrangements of top 40s hits, they aren't about to peak there. Their original song, "Cant Sleep Love" will shine on their latest album when it's released in October. Just as danceable and joyful as their covers, this peppy little pop number only marks the beginning of their new found songwriting territory. Despite the occasional cliché lyric and overblown vocal embellishment, "Can't Sleep Love" will no doubt tickle pop-lovers' eardrums and attract new PTX fans.
Following a mashup of Michael Jackson's most famous melodies, PTX closed out their set with their Daft Punk arrangement. The fans in the front rows had to catch their breath before letting their shrill shrieks vibrate through the amphitheater.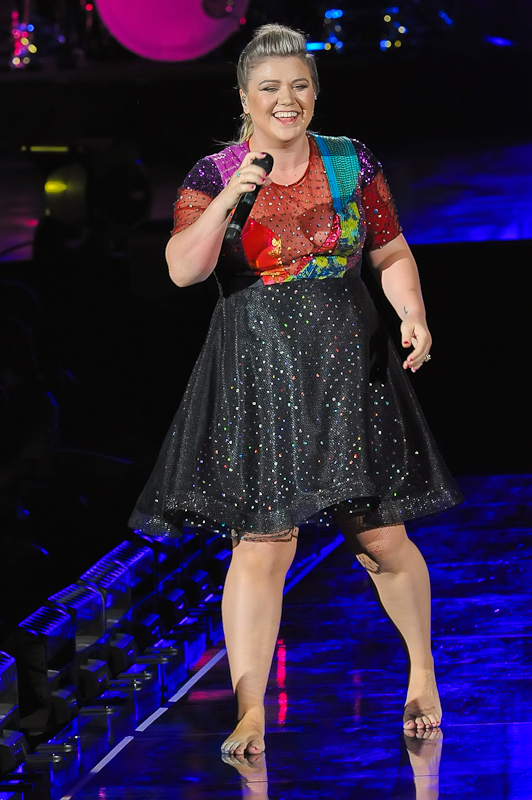 Kelly Clarkson's dramatic entrance, however, brought the deafening cheers right back. Skipping down the runway, pregnant Clarkson let loose with "Dance With Me." Her bare feet playfully scooted and sashayed across the stage as her genuine joy gleamed in her eyes. She was erupting with happiness to be back in her home state, and she made sure to mention that nearly every chance she could.
After her win on "Idol," Clarkson's fame shot to the top with the help of a series of talented songwriters. While these tunes are undeniably catchy and well suited to her personality, they don't ring with much vulnerability. She plowed through the perfectly polished crowd favorites "Dark Side" and "Mr. Know It All," but her real heart and passion beat through during her acoustic set.
Plunging in to some delicate, scary topics, Clarkson's original ballad "Piece By Piece" brought her to another level. The titular song from her latest album reflects on her tumultuous childhood and goes deeper than any of her songs have before. Tears threatened to stop the flow of her performance, but she humbly laughed through the blunder and restarted the verse.
Jokingly calling herself the Joni Mitchell of pop music, Clarkson kept the mood light through her heavier songs. After "Because of You" and "Breakaway," Clarkson returned to the party and frolicked across the stage during "Take You High." The audience lit up right with her as she reveled in her favorite song of the night.
The love poured through after a public marriage proposal and a performance of "Heartbeat song" with Pentatonix. Effervescent and life affirming, this bubbly collaboration sent silly grins across everyone's faces. The 2003 single "Miss Independent" replaced its electro-pop sizzle with a rough, sultry texture. It's new found brazen intensity raged with power as Clarkson's iron pipes wailed. She concluded her concert with one last belted high note in "Since U Been Gone."
With tour dates extending until November, it's a wonder Clarkson keeps her vocal endurance up. Her inspiring voice will no doubt exhilarate crowds at every performance. Only the screaming fans will wake up with sore voices the next morning.