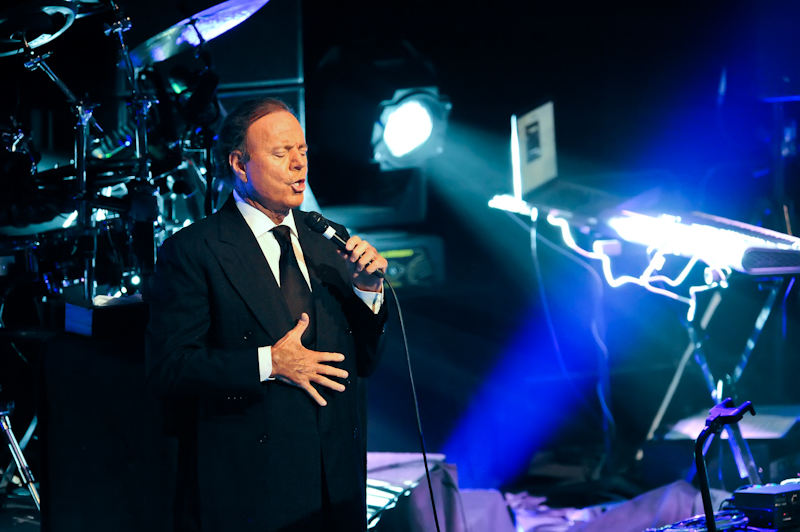 Austin, Texas – April 1, 2014 — Globetrotting troubadour, Julio Iglesias romanced the easily seduced crowd at ACL Live at Moody Theater  with a bi-lingual set that was equal parts Spanish, and the language of Love.  Since 1968, he's recorded over 80 albums, in 18 different languages which have gone on to sell 300 million copies worldwide.  Be it Peso, Lira, Euro, Ruble, or US dollar, that's a lot of zeros.  So why is this legend embarking on another world tour commitment in the twilight of his career?  As he put it "the stage is the only place on earth where I feel free."
The median age of the attendees was: distinguished.   Though it wasn't marketed as, this was undoubtedly  ladies night.  Draped in evening garb, each woman was more stunning than the next. The meager amount of men who accompanied the fairer sex wore tucked in oxfords with a select few spicing up their look with forward facing flat caps.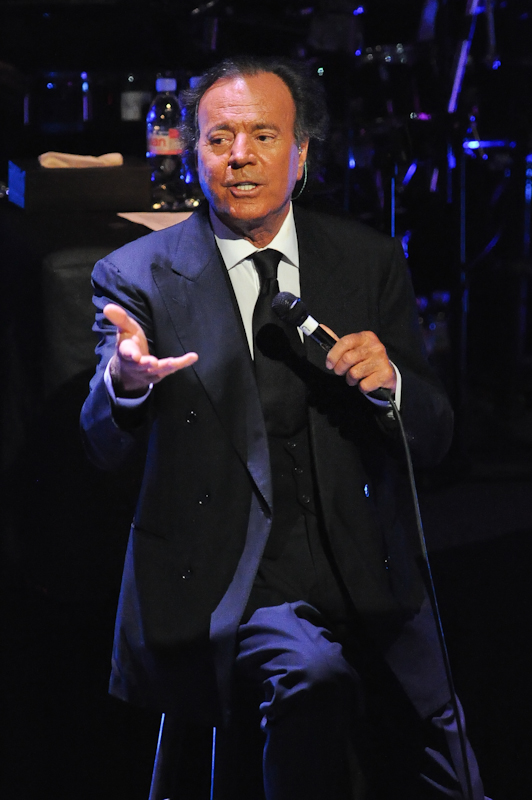 Not to get terribly Census Bureau on you, but the representation of Hispanic and Hispanic-Americans here was of note.  The rapid rolling of R's and a dollop of sashes and mini-flags representing Latino nations were pridefully present.  All in all, the venue was about three-fifths full, but filled to capacity with anticipation of the balladeer.
A couple of nano-seconds before 8pm, Iglesias's 10 piece band, humbly sauntered on stage as the lights retreated.  Electric drums, a guitar, bass, saxophone, a gaggle of synthesized ivory keys, and three mic stands were to back the best selling Latin-pop artist of all time.
The 70 year old crooner is moxie personified in a black three-piece suit shining with a suave sheen.  His effortless hair blew in the breeze of the randy reception that greeted him upon his arrival.
The 1982 up-tempo Spanish ditty "Amor, Amor, Amor" had hips and shoulders expelling kinetic energy—albeit while still seated, as they were most of the night.  The back up singers—outfitted in matching black flapper dresses– mesmerized vocally with their azucarado harmonies juxtaposed to Iglesias's husky baritone pipes.  After the passionate and muy caliente "Moralito (La Gota Fria)", it was clear as a Cumbia beat that the songs on the setlist will primarily be in Spanish.
Full disclosure, outside of ordering Mexican cuisine sans Pico de Gallo, my Spanish is limited to "yo soy ignorant-o".  Fortunately Iglesias well-traveled tongue, did the lion-share of his bantering in English.  Once dubbed the "Spanish Frank Sinatra" Iglesias's candor and comedic timing in between numbers was more akin to that of Sammy Davis Jr. or Dean Martin.
Iglesias quipped about his birthplace of Spain being like Texas in the sense that it's surrounded by two countries, "Texas boarders Mexico and the US".  Deafening laughter sounds the same in any dialect or accent.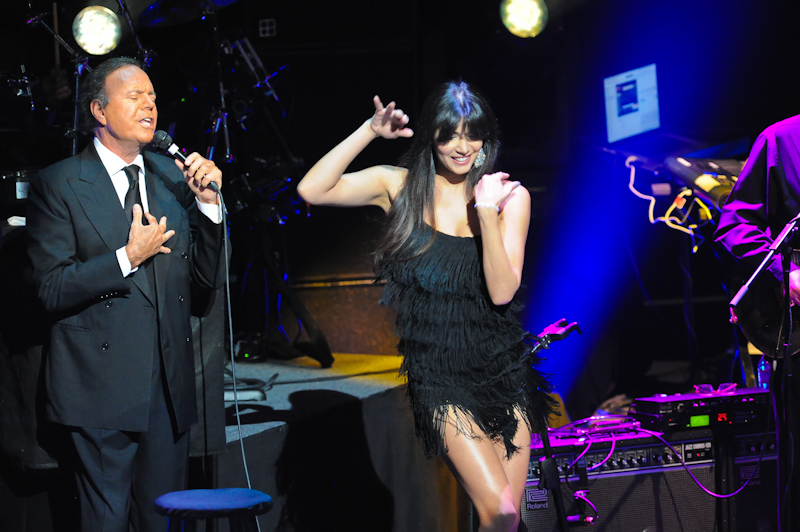 "Me Olvide de Vivir" highlighted the sustaining of the final few bombastic notes.  It would have been a showstopper if the man hadn't just been getting started.  His cadence was so crisp that at times it felt as if it was being amplified with studio polish and engineered clarity.  He never actually held the microphone close to his lips, it remained near his sternum, which makes the tone of his voice that much more astonishing.
For the sensual "A Media Luz", Iglesias brought out two tango dancers who took over the stage.  This was a nice change of pace as our night's MC stood or sat in a stool most of the concert.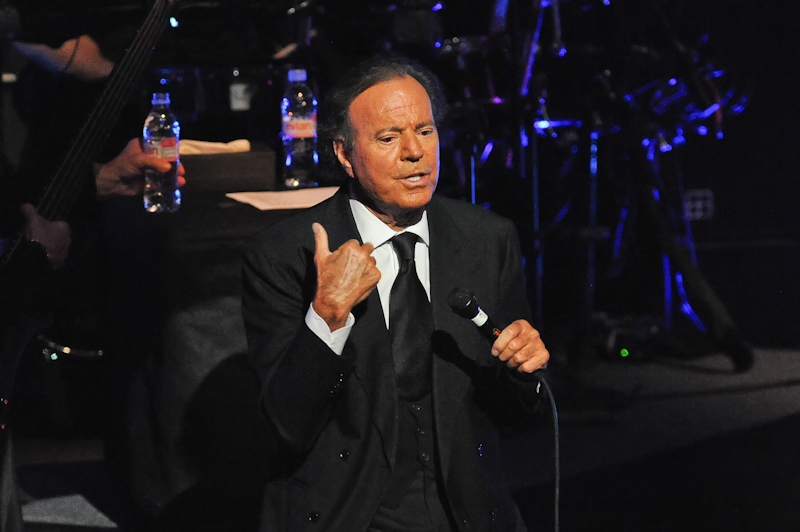 The first full participation sing-a-long was ironically the French-English emotive cut, "Mammy Blue".  There was a boisterous call-and-response moment in "Manuela", where Iglesias and his congregation traded "Manuelas".  As soon as a song was finished, the ladies in the gallery would cackle "you're sexy" and "I love you" in Spanish.  He drove them wild when he said that he used to have to make love in his dressing before he could reach the stage, and now, he's changed, there's no way he could perform if he had just made love.
"Careless Whisper" had the saxophonist front and center, with the back-up singers doing the heavy lifting during the aggressive chorus parts of the George Michael gem.  "Cuparsita", "Abrazame", and "Hey" were a couple of the final Spanish tracks that hypnotized the throngs with elegance, introspection, and rhythm.
As you walk into The Moody Theater, you're met with a statue the honorary mayor of Austin, Willie Nelson.  Julio and the Red Headed Stranger have a history together.  Iglesias told of the first time he set foot in Austin and met Nelson at a recording studio.  He didn't speak a lick of English, but that didn't stop them from sharing marijuana cigarette he added. The Nelson penned "Crazy" and Nelson famed "Always On My Mind" had the Anglo-saxons glowing with appreciation.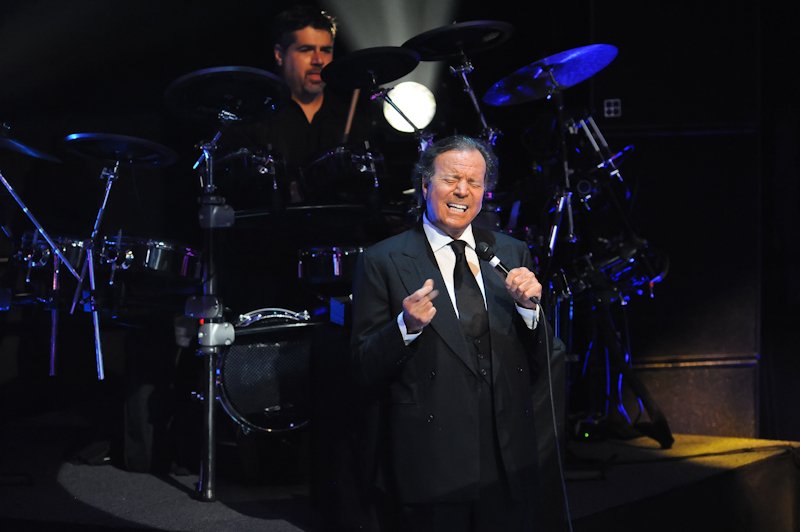 The Nelson, Iglesias duet "To All The Girls" was a sentimental and sweet.  "Can't Help Falling In Love" was appropriate and powerful.  Iglesias left the stage for the requisite fake-out goodbye.  "Por El Amor de Una Mujer" saw him return for a spirited send-off—people and their iPhones crashed the first few rows to capture the moment and get close to the legend.  "La Vida Sigue Igual" played as the clock struck 9:30 and Iglesias said his thank you's.
What's most impressive of Iglesias's show–cliché spoiler alert—is that the songs don't matter as much as the singer does.   He could read an Icelandic phonebook in an odd time signature, with dissonant chords careening into each other and the lot would still lap it up.
Rarely does an artist who's written and recorded as many tunes as Iglesias has, gets the opportunity to put his catalog on shuffle and garner the same unapologetic adulation as he got tonight.  B-sides or deep-cuts, they were all seen as hits.  Iglesias's art emulates life, and his life intimates his beautiful art.
Review by Donny Rodriguez