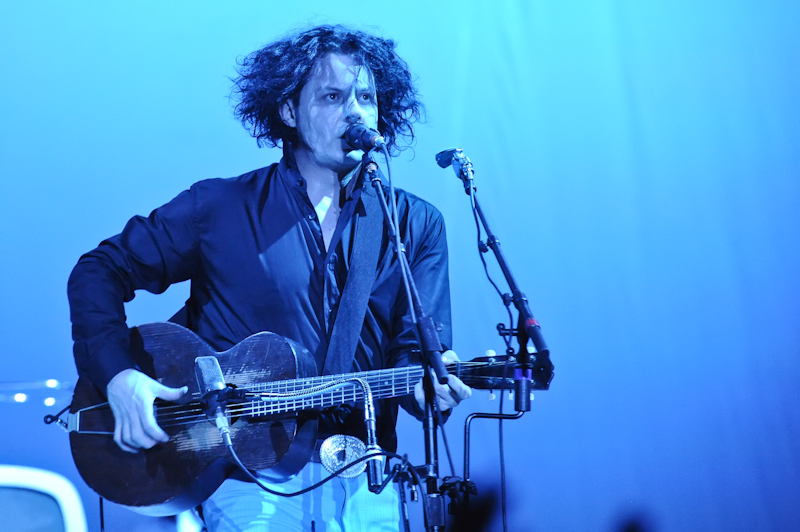 HOUSTON, TX – June 1, 2014: Via Detroit, by way of Nashville, the well-traveled Jack White came to the Free Press Summer Festival in Houston on June 1st. The vampiric, rock-a-billy troubadour filled hot and humid Eleanor Tinsley park air with highly contagious numbers–from his many bands–like "Hotel Yorba", "Steady As She Goes", and "I Cut Like A Buffalo".  White also played a few cuts off his new record, Lazaretto, which hits iTunes Stores, pirate sites, and Spotify streams June 10th.
The instrumental "High Ball Stepper" is right out of slow-mo scene in a big-budget Summer action-comedy like The Hangover.  Due to electrical issues as he put it, White went acoustic—which is always a treat that he doesn't serve as often as you'd like–for the country ditty "Temporary Ground".  Title track, "Lazaretto" is a Garage Band mix-tape, with profuse flow, and data-rock riffs—oh and fiddles too, it also alternates between a hi-fi, low-fi feel, ostensibly the song is everything.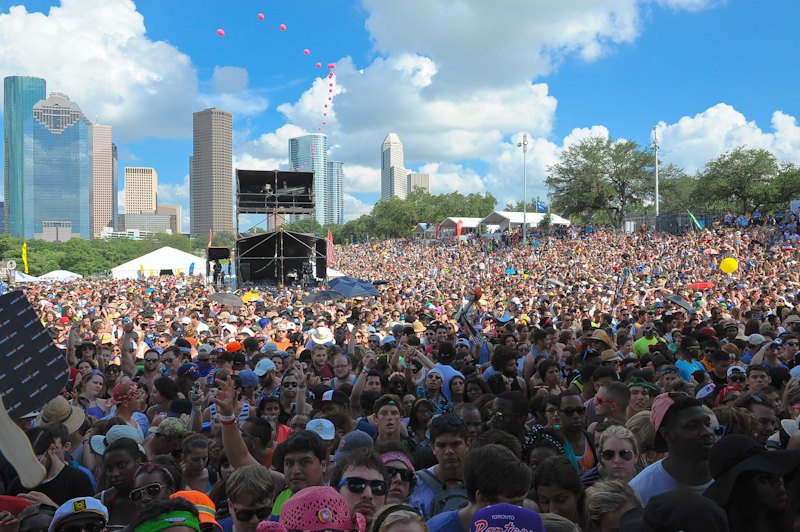 The White news doesn't stop trending and click baiting there.
In the cover story from the current issue of Rolling Stone Magazine, White spit more gas and tinder on the flames of the well known disdain pit he's lit for The Black Keys.  In the article White had this to say:
"There are kids at school who dress like everybody else, because they don't know what to do, and there are musicians like that, too. I'll hear TV commercials where the music's ripping off sounds of mine, to the point I think it's me. Half the time, it's the Black Keys," White said. "The other half, it's a sound-alike song because they couldn't license one of mine. There's a whole world that's totally fine with the watered-down version of the original."
On Saturday, somewhere in between gigs in Lubbock, and Houston, White took to his website and issued a pseudo-passive aggressive apology which I'll paraphrase here:
"I wish the band the Black Keys all the success that they can get. I hope the best for their record label Nonesuch who has such a proud history in music, and in their efforts to bring the Black Keys songs to the world. Lord knows that I can tell you myself how hard it is to get people to pay attention to a two piece band with a plastic guitar, so any attention that the Black Keys can get in this world I wish it for them, and I hope their record stays in the top ten for many months and they have many more successful albums in their career."
White also addressed his less than flattering words about the homogenization of female radio-artists and the "hermit" Meg White:
""I wish no slight to the talents of Winehouse, Duffy, Lana del Rey, and Adele, all of whom are wonderful performers with amazing voices. I have their records and I hope for more success for them all as the years go on. They deserve all they've gotten."
"Meg White, who I also talked about to Rolling Stone about our working conversations, or lack thereof, is, of course, a musician I've personally championed for 15 years, she is a strong female presence in rock and roll, and I was not intending to slight her either."
The validity of White's sincerity certainly is at question, but ultimately he said he was sorry for his opinions given during an extended and pressing interview.
White—and The White Stripes–started the garage-rock revival conversation in the "The (insert band name)" era of the early 2000's (The Strokes, The Vines, The Hives) and is the only one still audible—He made it out of that contrived record label arms race, I'm sure he'll make it out of this "controversy".
Not only does Jack's art crosses state lines here in Texas but it infiltrates entertainment boarders here in the crown jewel of the South.  Last June, Spurs fans at the AT&T Center decided to "troll" the Miami Heat during the Game 3 blow-out of the NBA Finals by chanting "Seven Nation Army" (https://www.youtube.com/watch?v=tYJ2riKsErI)  as Heat fans do during their home games (Let's hope this moment replays during Game 7 of this years NBA Finals in close-out fashion by our Spurs!)
Check back at the Texas Rock Report for White's soon to be released Texas tour dates in support of Lazaretto.
Review by Donny Rodriguez