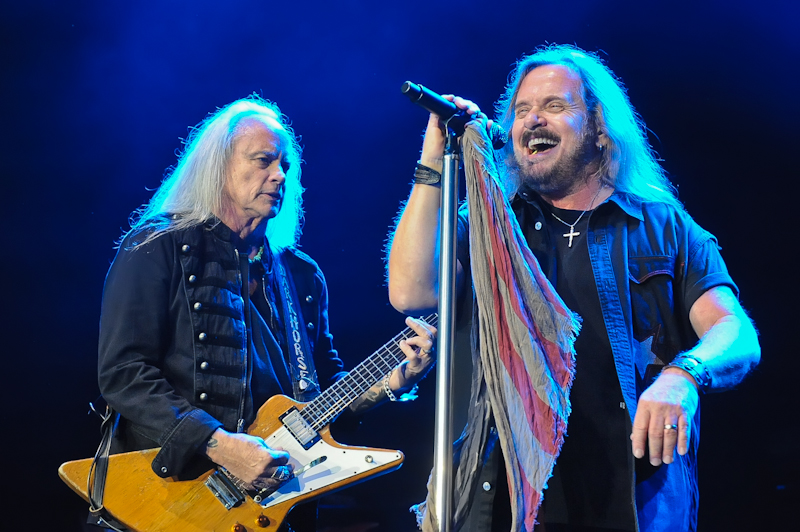 – Weaving through the Cedar Park Center is like finding your way through a festival corn maze. Obstacles pop up at every turn, but the process is undeniably fun. Feet crunch on the stray popcorn littering the linoleum, cheesy pretzel dip temps taste buds, and bits of conversations flit through the air. I dodged through this buzzing circus for twenty minutes before I reached my destination. Yes, sometimes having an atrocious sense of direction can have surprising benefits.
After all, if I hadn't gotten lost on my way to my seat, I would have missed out on the tangible anticipation floating through the area. Ticketholders tested their Zippo lighters and thoroughly warmed up their vocal chords. This was a Lynyrd Skynyrd show, after all, and you've got to prep for all the fire-lit anthems about to spring forth. Nobody wants to hear their voice crack during the chorus of "Tuesday's Gone," am I right?
Texas troubadour Dale Watson suavely bounced his white pompadour for the early birds at 7:30. Shortly after, Jason Boland and the Stragglers twanged some red dirt Oklahoma music for our delighted ears. My fiddle-loving heart ached for a spotlight to sweep in and summon Nick Worley's violin prowess to center stage. Of course, Jason Boland's rustic, down-home singing can charm any country music fan, but it's nowhere near as captivating as those fiddle licks. If it were up to me, I would rename the group Jason Boland, Nick Worley, and the Stragglers. But I guess that doesn't have the same ring to it.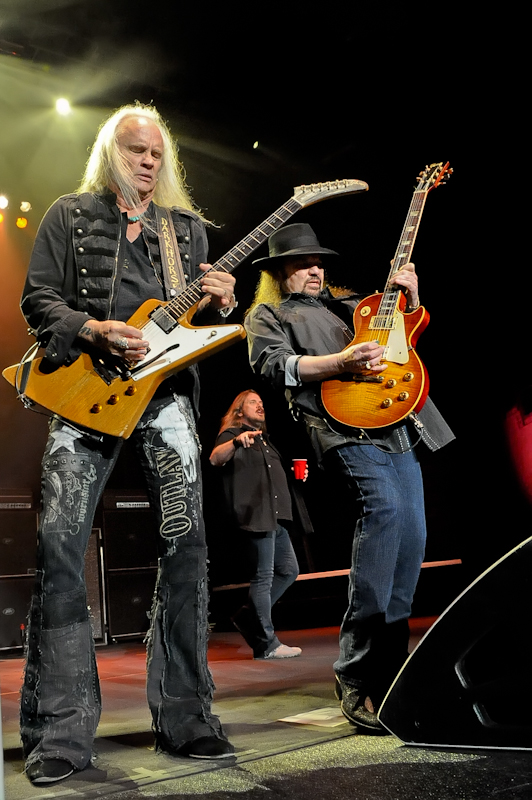 A booming, resonant voice jolted the stadium out of their casual conversations. The precise enunciation spitting the syllables, "Leh-nerd Skin-erd" could not have roused any more energy if it tried. AC/DC's "Thunderstruck" pumped the volume as the band geared for their set. Just in case we forgot, the booming voice returned to announce the rock and roll hall of famers once more. The cheers got even louder.
Opening with the 1974 track "Workin' for MCA," Lynyrd Skynyrd coasted into their ninety-minute set. Heads bobbed and fingers snapped, but the crowd's enthusiasm was far from rapturous. I guess when a band's big song is the unanimous favorite "Freebird," audiences have to pace themselves for the build up. By the time they launched in to "What's Your Name," however, the singers in the audience started to make themselves known. They may not have remembered the lyrics to the verses, but this crowd could sure belt the five-word chorus.
When Johnny Van Zant reached for his red Solo cup, we knew this show would soon explode into a party. During "Saturday Night Special," the Thursday evening doldrums quickly turned into a riotous weekend spree. The bartenders probably sold more beer during this song than they did during any part of the night. It was hard to tell what kind of delicious libation lived in Van Zant's plastic party cup, but with the sound of his honeyed Southern tone, I'd venture to say he was sipping on smooth Tennessee whiskey.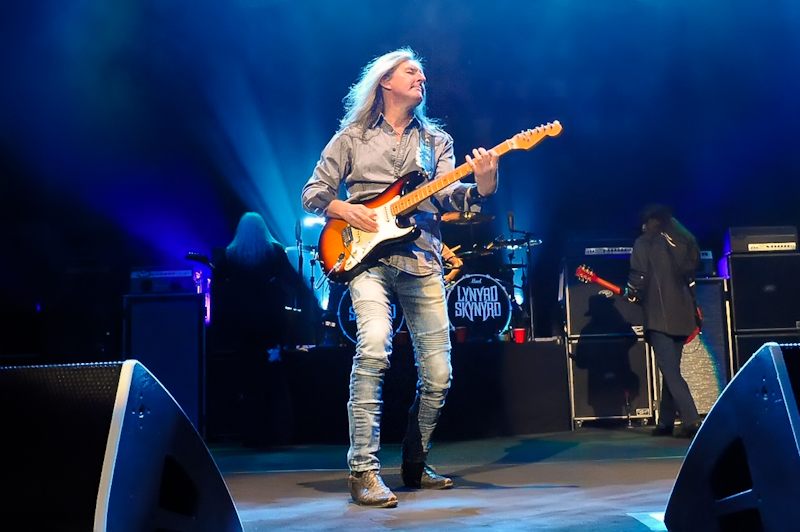 The wild revelers caught their breath during "That Smell." Despite this song's immediately catchy and adrenaline-pumping hook, this song reminded many spectators about a time when sex, drugs, and rock and roll were met with fatal endings.
Peter Keys tickled the keyboard and turned "Tuesday's Gone" into an orchestral and introspective symphony. There's no denying the affect that Lynyrd' Skynyrd's guitarists have on the band's characteristic Southern rock sound, but Key's piano playing brought it to another level.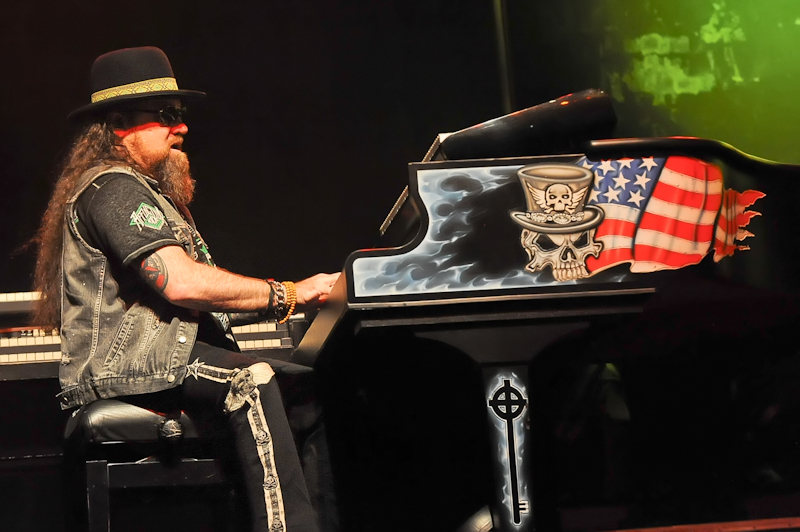 "Simple Man" and "Gimme Three Steps" nearly exhausted the listeners with the required dancing and fist pumping. Then "Sweet Home Alabama" swooped in and filled this little music reviewer with overwhelming hometown pride. Just when we thought we reached our peak excitement, Key's cascading piano solo built up mammoth-sized intro to our (quite possibly) favorite song ever.
This one was bucket-lister for nearly 90% of the stadium, and now the time had come. Now was our moment.
Finally, we could all un-ironically shout "Freeeeeeebiiiiiird!" through a crowded arena.
We wouldn't be met with unstifled groans and rolling eyes this time. No, on Thursday January 28th, we finally got what we wanted. And we basked in every last drop.
SEE ALSO: 38 more concert images in our Facebook Page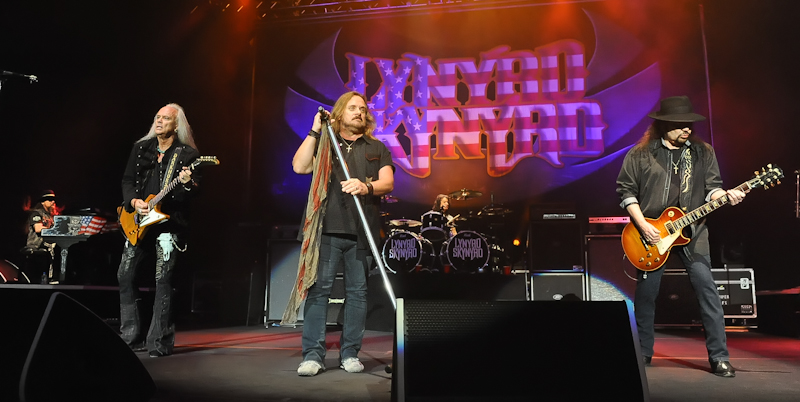 Review by Elisa Regulski