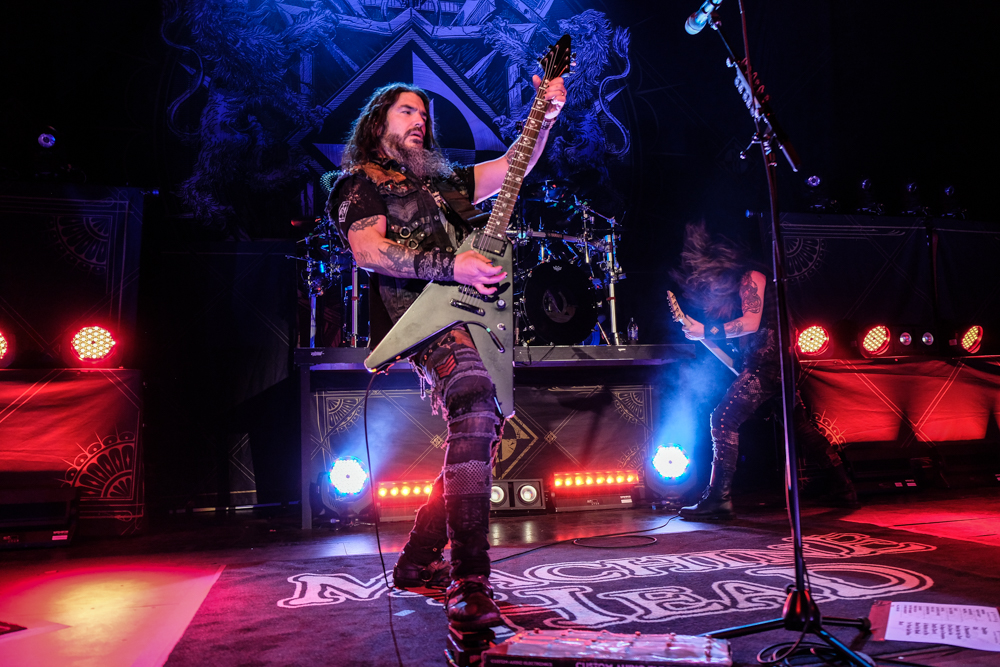 San Antonio, TX – January 21, 2020: Celebrating a 25th anniversary is an impressive feat for any band. It is especially the case when you've gone through the genre changes, and survived nu metal, like Machine Head has. Even though their most recent album, Catharsis, was a generally unwelcome return to rap-metal stylings, Machine Head fans still came out in droves to headbang on a Tuesday night in San Antonio.
With a line up that recently underwent some turnover, Machine Head opened the night with "Imperium," the opening track from their 2003 album Through the Ashes of Empires. It was here that Machine Head set the tone for the night: loud groove metal riffs, thunderous bass, power drums with plenty of double bass, chugging guitars, and lots of harmonics, of both the natural and pinch variety. Frontman Robb Flynn (the founding and only original member remaining) instantly commanded the stage with gritty shouting vocals that cut through the guitars. The energetic crowd clearly adored Flynn and were happy to oblige in his first request, of many, for circle pits.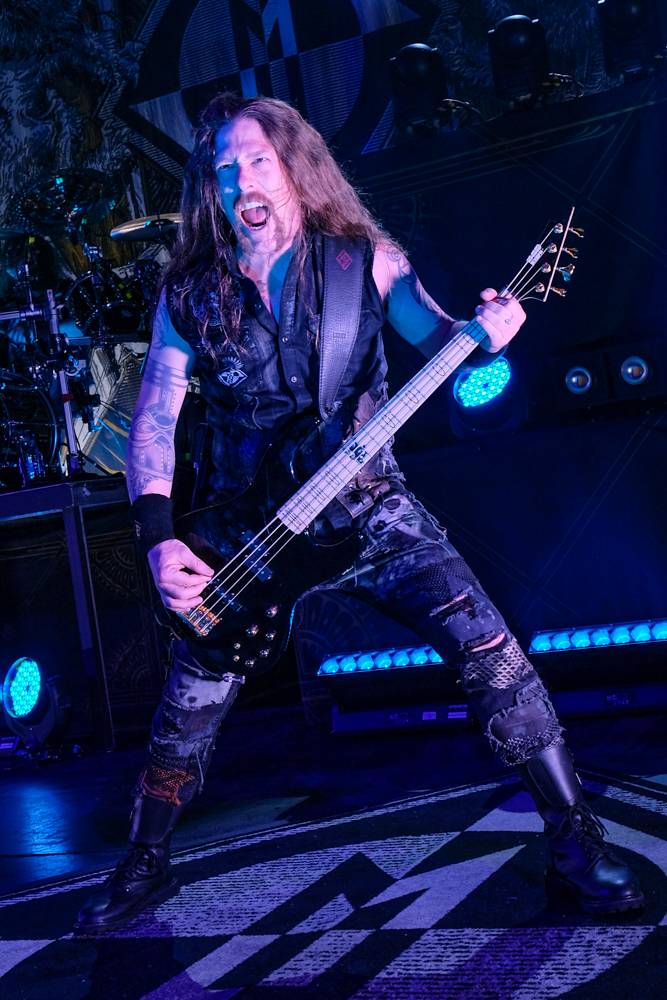 From the get-go it was clear that Machine Head had one goal in mind: keep it heavy. There seemed to be a conscious decision to ignore the parts of their career that were not as well received. Of the three albums generally considered to be their worst, including the most recent Catharsis, a total of two songs were played all night. Instead, Flynn and company stuck mostly to the middle chunk of their career where thrash metal took a front seat.
After longtime guitarist Phil Demmel and drummer Dave McClain departed the band in late 2018, Flynn went on a search for permanent replacement members. The greatest find of this was apparent with guitarist Waclaw "Vogg" Kieltyka. Formerly a guitarist of the death metal band Decapiated, Vogg was incendiary, playing Machine Head's entire catalog with technical perfection. Beyond that, he seemed to really have great chemistry with Flynn. In a set highlight, the uber thrashy "I Am Hell (Sonata in C#)," Vogg and Flynn harmonized leads before giving way to a great guitar solo and more dual guitar goodness. Flynn had a visible smile this entire segment, clearly having a great time with his new axemate.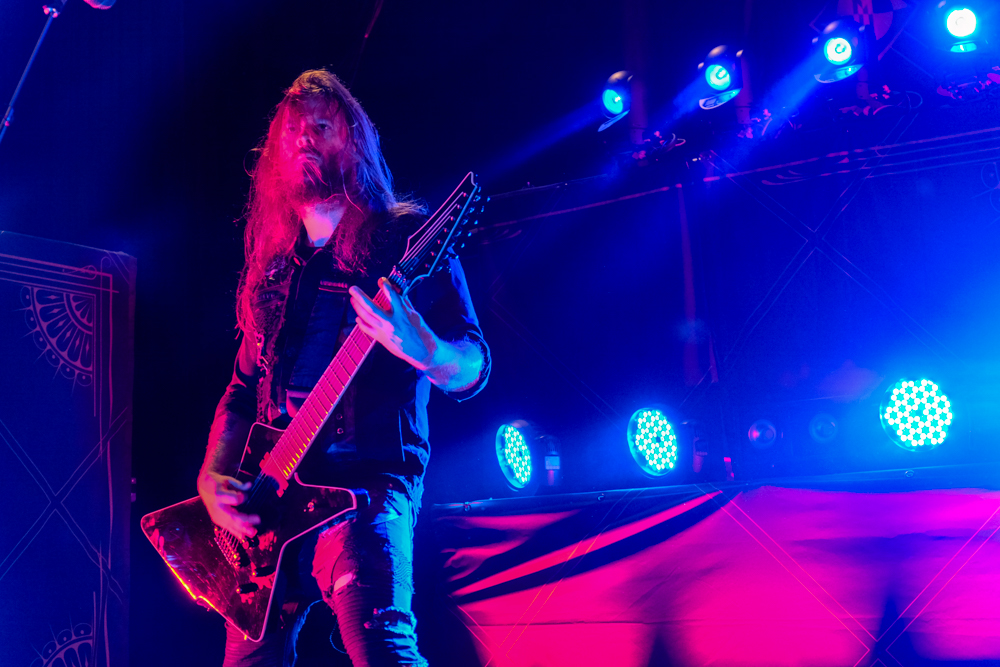 Flynn had a great rapport with the raucous crowd throughout, regularly calling for "jumping to the ceiling" and circle pits, and at one point during the acoustic guitar intro for "Darkness Within," lamented about how people spend too much time on their phones and not being in the moment during the concert. It was also during this speech that Flynn declared the Aztec Theatre his "favorite venue in the United States of America," a nice feather in the cap for a gorgeous venue.
Other set highlights included "Ten Ton Hammer," which mixed the classic Machine Head combo of deep neck-breaking grooves and harmonics and some of the most melodic vocals of the night, which were on point from Flynn the entire evening. For their penultimate first set song, the band pulled their strong cover of Iron Maiden's "Hallowed Be Thy Name," from the album The Blackening. Though the song admittedly sounds slightly different due to the detuned guitars, it is nearly impossible for Iron Maiden to go unappreciated in San Antonio.
With a confetti-filled performance of the groovy "Halo" from The Blackening, Machine Head put a cap on a 2-hour, heavy and energetic set. Fans could have left (and several did) feeling like they got their money's worth. But Machine Head was just getting started and began to prep for a full play-through of their debut album Burn My Eyes.
Returning to the stage after a 10-minute break and a backdrop change to the album cover, Machine Head returned to the stage bathed in red light and ripped into album opener "Davidan" with new guitarist and drummer replaced by original members Logan Mader and Chris Kontos.
Though "Davidan" was monstrous with a new coat of paint, many songs from Burn My Eyes felt slightly dated. "A Thousand Lies," for example, has a great intro before eventually giving way to a chorus that feels Pantera-esque and very much like a product of its time. That isn't to say that these songs and their performances are bad, by any stretch, as songs like "Death Church" in particular finds a great mid-tempo groove that serve as a great display for Kontos and really got the crowd moving.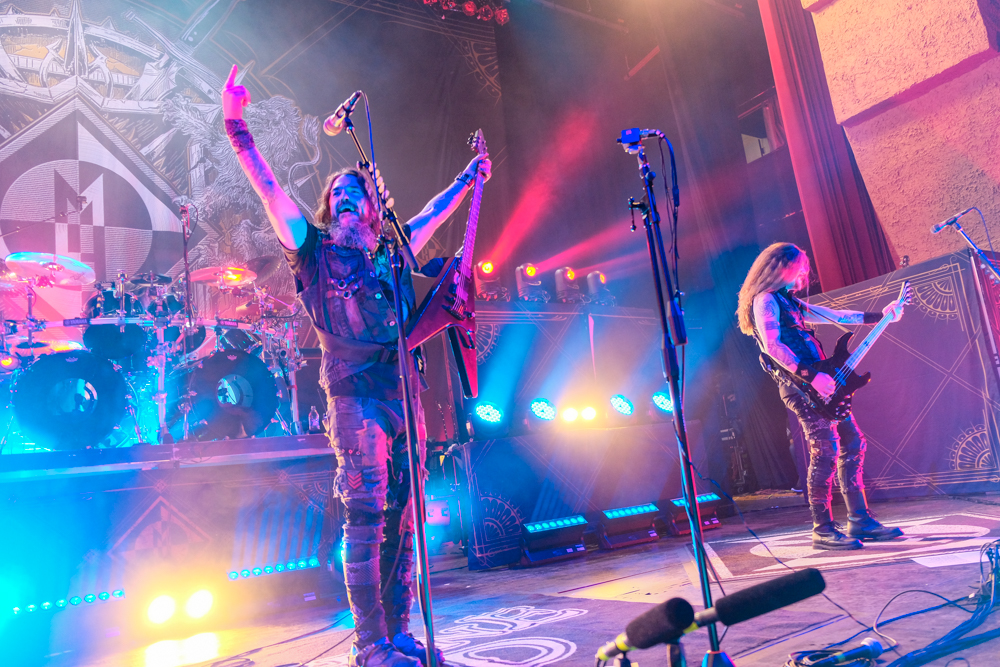 Through no fault of Mader, who was very solid, Machine Head's style on this album was a little more straight forward. Because of that, the Gothenburg style guitar interplay and harmonizations seen throughout the first set were gone which led to a less satisfying musical experience and on stage chemistry.
With a concert clocking in at 3 hours and change, the feat is impressive and concertgoers won't be feeling shortchanged. It is nearly impossible, however, for fatigue to not set in and the second set borders on excessive after an already lengthy opening set. One wonders if the concept may have worked better with a condensed, tight, 60-75 minute opening set. Casual fans can feel comfortable taking off after the first set and leaving satisfied. Fans of Burn My Eyes and Machine Head diehards, however, will get enjoyment sticking around for a trip down memory lane with a close approximation to an original line up. Either way, Machine Head is going to give you a satisfying night of metal.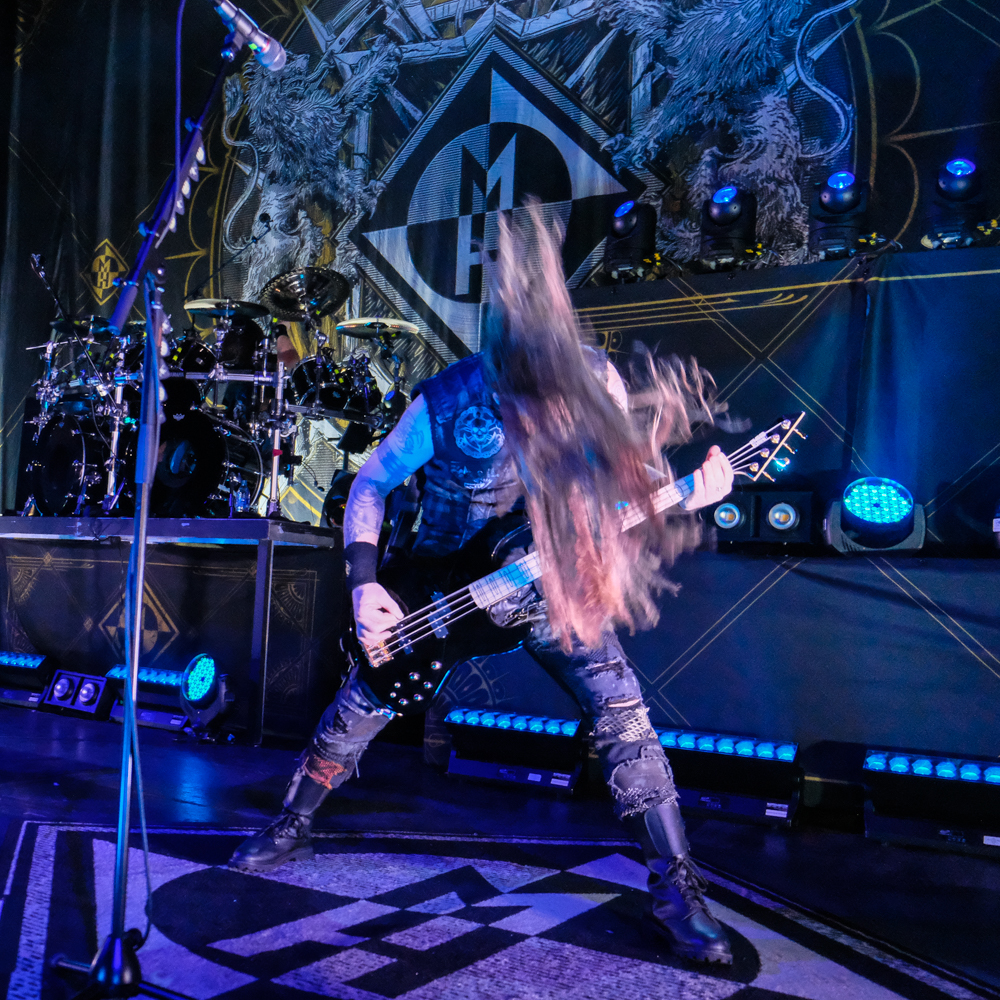 Review by Cody Villafana